Get 50% Discount On Vvege.com Contest – Get Part In Contest In Only $1
Hello Friends, Many Of You Already Knows About New Lucky Draw Contest Site Vvege.com. If You Not You Should Know About This.
Because This Site Running Online Lucky Draw Contest Where You Have To Pay $2 And Participate In Contest. And After A Few Days, Contest's Winners Will be Announce And 10 Lucky Winners Can Win Nokia Lumia 800 Smartphone.
This Contest Is Running All Over The World And The Site Is Verified By Many Networks.
So, We Having A Coupon Code For Vvege Contest With You Can Get 50% Discount In Nokia Lumia 800 Contest. That Means, You Can Get Participate In Vvege Contest As Low As $1. Is Not That Amazing ?
So, Here Is The Coupon Code : MaherHackers
How To Use This Coupon Code On Vvege.com
Go To http://www.vvege.com/contest/nokia-lumia-800-contest/ You Will Se  Page Like Below…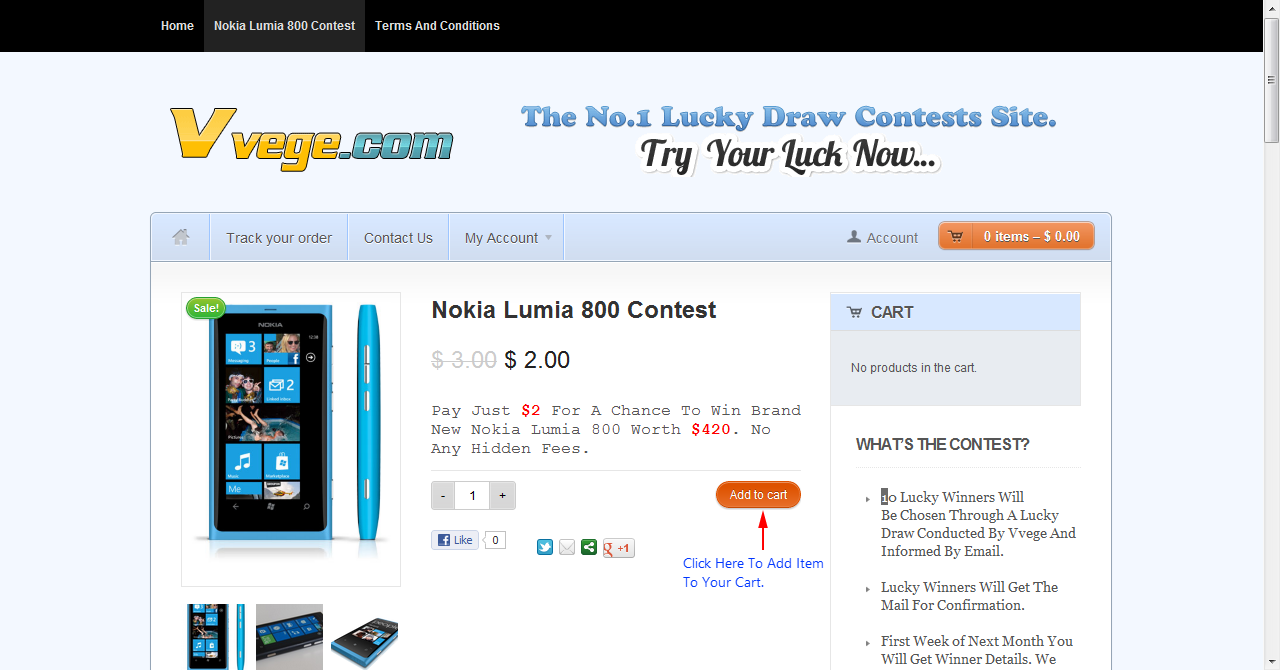 (Click To Zoom)
Now Click On Add To Cart To Add Contest In Your Cart. Now Click On View Cart And You Will See Page Like Below..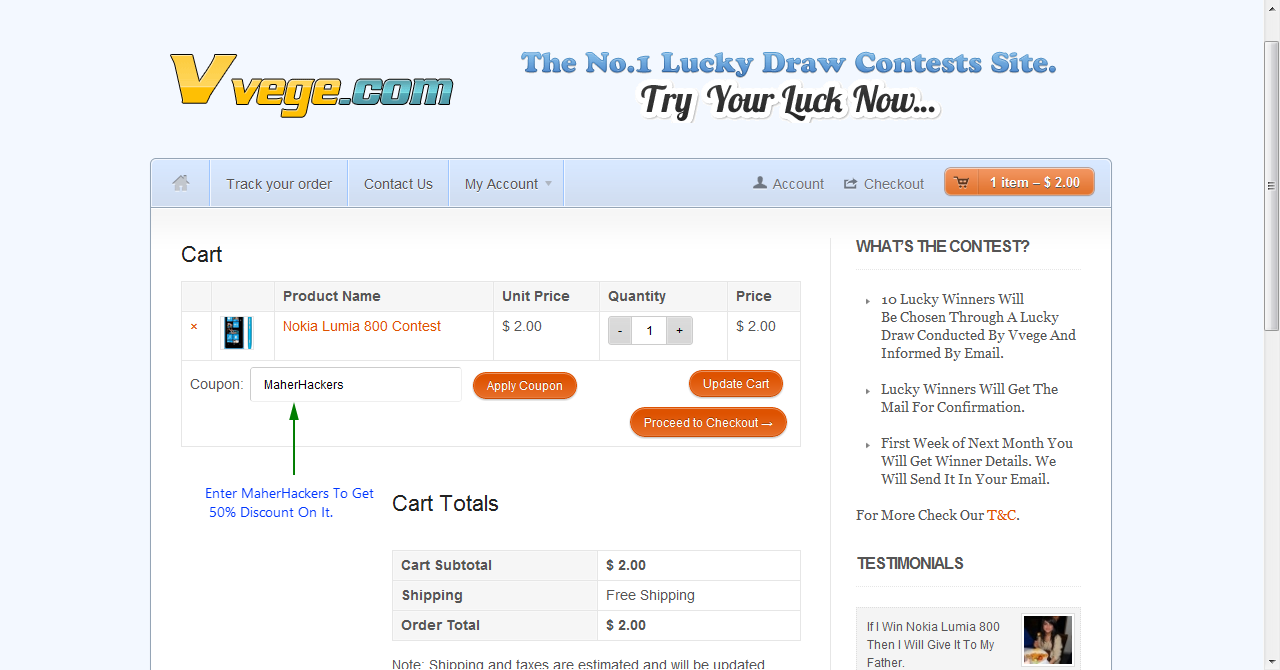 (Click To Zoom)
Now Enter MaherHackers In Coupon Code Box And Click On Apply Coupon.
Now You Will Get $1 Discount As Shown In Image…
(Click To Zoom)
That's It. Now You Can Proceed To Checkout And You Can Get Part In Vvege Nokia Lumia 800 Contest In Only $1.
[sws_button class="" size="sws_btn_large" align="sws_btn_align_center" href="http://www.vvege.com/contest/nokia-lumia-800-contest/" target="_blank" label="Click Here To Visit The Site !" template="sws_btn_skyblue" textcolor="" bgcolor="" bgcolorhover="" glow="sws_btn_glow_redbrick"] [/sws_button]
If You Are A Web Developer And Want A Coupon Code Of Your Site Name, You Can Contact Vvege Via Their Contact Us Page. They Will Provide It Free. 
[sws_button class="" size="sws_btn_medium" align="sws_btn_align_center" href="http://www.vvege.com/contact-us/" target="_blank" label="Click Here To Visit Their Contact-Us Page" template="sws_btn_skyblue" textcolor="" bgcolor="" bgcolorhover="" glow="sws_btn_glow_applegreen"] [/sws_button]
If You Have Any Problem Or Solution Than Just Comment Below…