How to Post to All Your Social Media Accounts at Once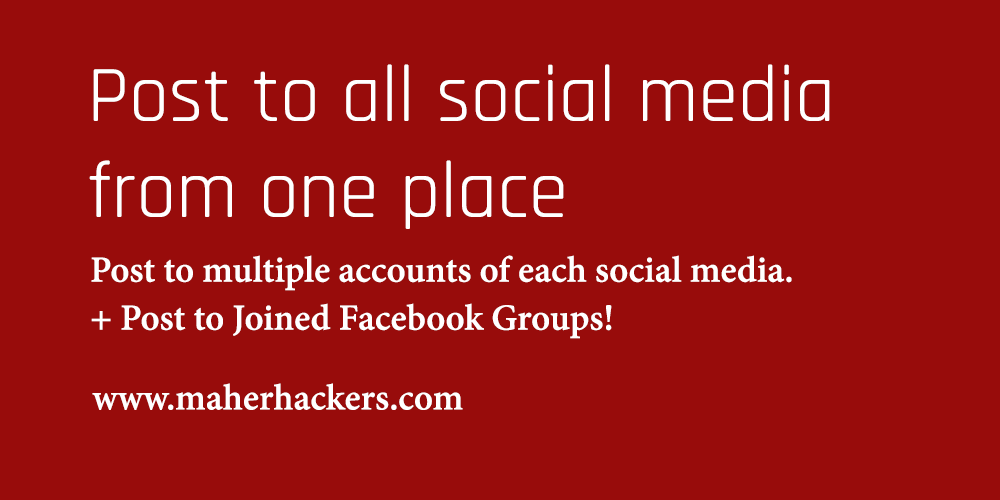 With every passing day, Online marketing is getting harder and harder, Especially Social media marketing. There are many social networks and to get your company or website exposure, you need to up your game.
Posting smartly and strategically to your social media accounts is the key to success.
In this guide, I'll show you how you can post to all your social media accounts from one place and improve your social media marketing game.
But first,
How to Post to Social Media For Maximum Impact
To get your company, product or website to reach more and more people, your social media marketing shouldn't be just to send a tweet and post to one of your Facebook pages.
That's a recipe for failure.
Where and how should you post then?
First, you should have 2-3 (5-7 is better!) accounts on each social media sites like Facebook, Twitter, LinkedIn, Pinterest, and Instagram.
Second, you should join lots of Facebook groups related to your niche and post to them as well.
Why is it necessary to post to multiple social media accounts?
If you look at this post by Moz, It is clear that even Google considers social media shares as ranking signal and if you are a blogger or web developer, if your site gets many shares instantly after a new blog post or a new product, it'll receive good search engine ranking as well.
So posting to multiple social media accounts is very important and beneficial.
Now that we got all that out of the way, How exactly would you post to all these social media accounts and Facebook groups and all?
Are you going to do that one by one every day? That would be a stupid thing to do in this day and age.
Let's discuss that,
Also read:
How to Post to All Social Media Accounts at Once?
To post to multiple Twitter accounts, multiple Instagram accounts, multiple Pinterest accounts, multiple LinkedIn accounts, multiple Facebook accounts, pages & groups, doing it manually is never an option.
So how to automate your social media postings for maximum results?
Easy, by using MaherPlanner Social Media Scheduler.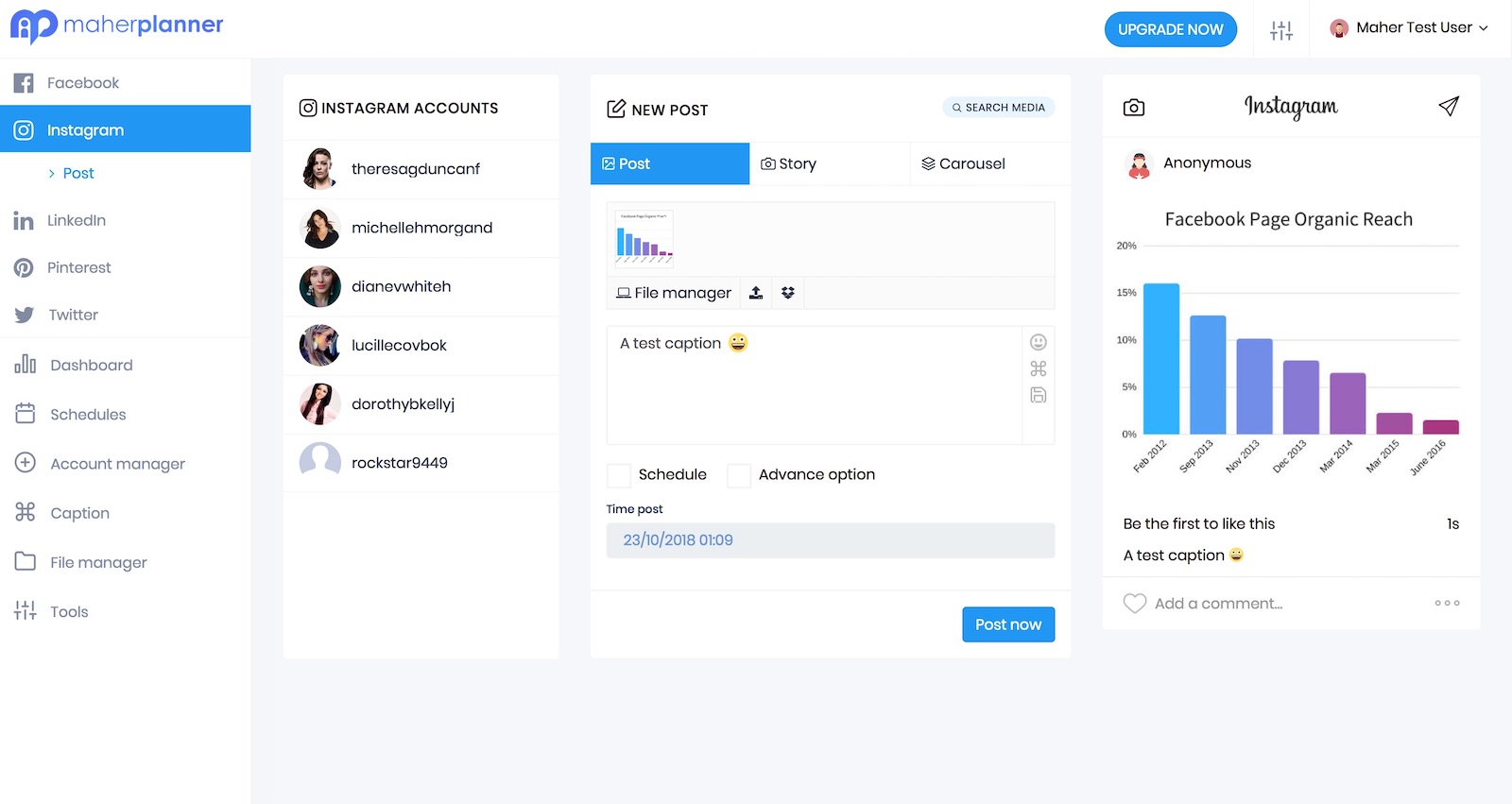 MaherPlanner allows you to schedule posts to all social media accounts.
MaherPlanner Features:
Post to multiple Instagram accounts
Post to multiple Twitter accounts
Post to multiple Pinterest accounts and boards
Post to multiple LinkedIn accounts
Post to multiple Facebook accounts, Facebook pages & Joined Facebook Groups
Automatically add your watermark or logo to every image being posted
Edit images on the go
How to Schedule Posts to Multiple Social Media Accounts using MaherPlanner
Using MaherPlanner is very easy, it is by far the most user-friendly tool we created.
To schedule posts to social media accounts, go to MaherPlanner dashboard, and first, go to Account manager by selecting it from the sidebar.
Here, you can connect multiple social media accounts of each respective social media one by one.
Note: How many social media accounts you can connect depends on the MaherPlanner plan you select.
After connecting your social media accounts with MaherPlanner, you can start posting to those social media accounts and can also schedule your posts easily.
To start, go to any of the social media name > post on MaherPlanner and you'll see a page like this: (this is the twitter posting page for example)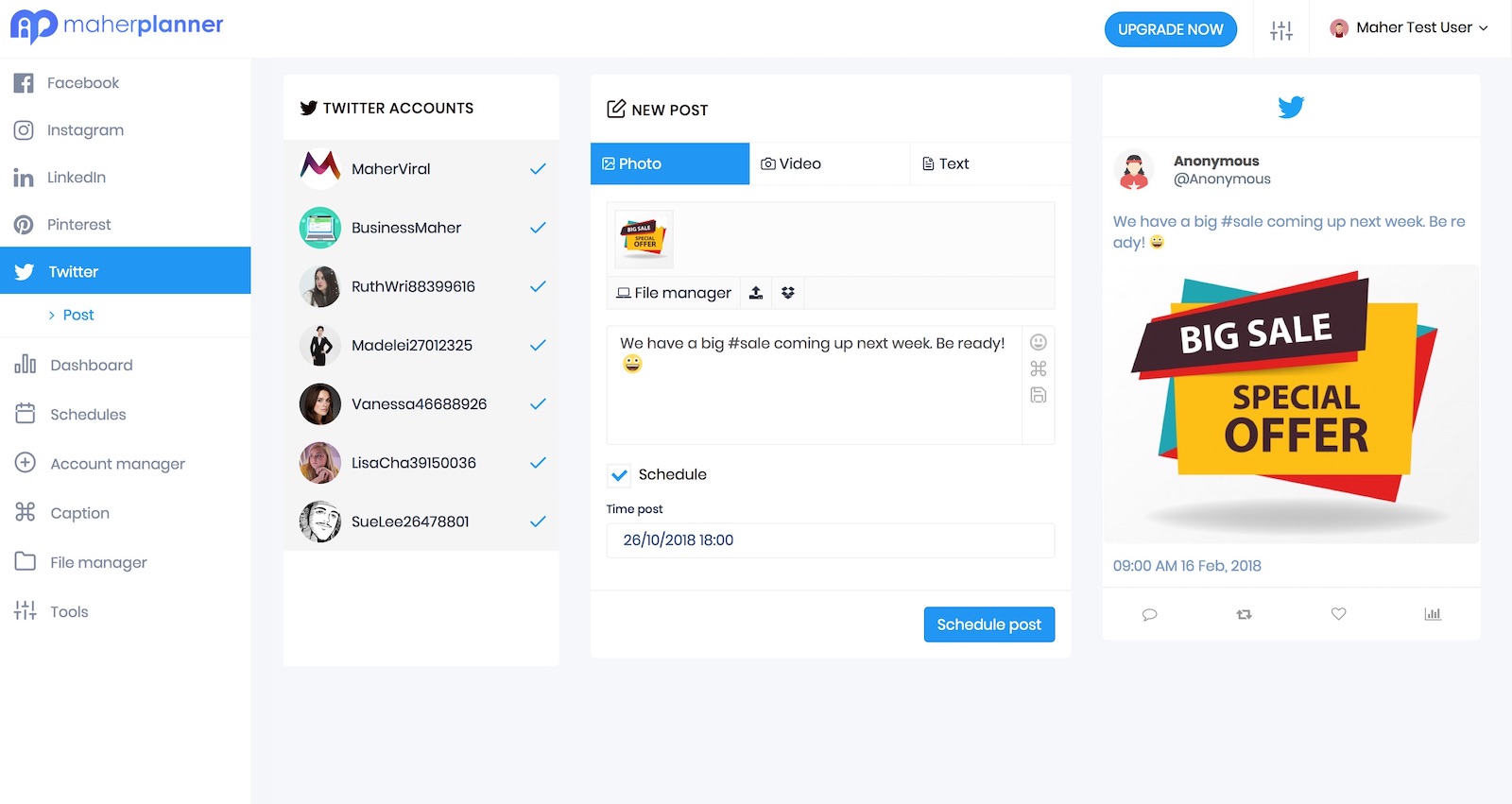 As you can see, on the left side, you can select which Twitter accounts you want to post. Then in the middle, you can curate your message and add images/links and select schedule time, etc.
On the right side, you can see the preview of how your post will look after posted.
After everything is set, you can click on Schedule post button and voila, your post is scheduled to be posted to all those twitter accounts and will send out at your selected time.
You can also post your message right away instead of scheduling. To do that, just uncheck the schedule option and click post to send out the post.
How to Sign up to MaherPlanner
MaherPlanner is the most affordable social media scheduler. And signing up is quick too.
MaherPlanner doesn't offer any monthly plans, so you don't have to worry about paying high fees every month to use it.
MaherPlanner offers yearly plans only.
MaherPlanner Plans
MaherPlanner offers 3 plans: Basic, Plus, and Premium.
Here are the details of each plan:
Basic: In the basic plan, you get access to Facebook, Twitter, Pinterest, and LinkedIn.
You can connect up to 2 social media accounts on each social media in the basic plan.
Instagram is not included in the basic plan.
Plus: In the plus plan, you get Facebook, Instagram, Twitter, Pinterest, and LinkedIn,
You can connect up to 5 accounts of each social media.
Premium: Same as plus plan, you get access to all social media sites and can connect up to 10 accounts on each social media site in the Premium plan.
To sign up, Go to https://www.maherplanner.com and scroll to the pricing section, select the plan that best suits your needs and click get started.
After payment, you'll get access to MaherPlanner and can start using it to manage your social media accounts.
That's It!
Going to all social media one by one and posting or not utilizing social media at all is not a smart idea.
So you should start utilizing the power of social media to improve your business' online presence.
If you have any queries, Please comment below.