Post To Multiple Facebook Groups Or Pages at Once
With growing norm of marketing techniques, It is not easy to stay ahead of the competition and get traffic and conversions on your website you should. Facebook is one of the best ways to gain a good amount of traffic to your website. Posting on all Facebook groups you are a member of is a great way to gain instant traffic to your website.
But going to each group one by one and posting your website link etc will take you days to post on just 100 groups! But MaherPost Facebook Group Poster can automate this for you and you can post to all groups you are a member of at once.
Facebook Group Poster: https://www.maherpost.com
Features of MaherPost Facebook Group Poster:
Facebook Group Poster from MaherPost comes with many unique features that benefit your business in a great way you cannot imagine.
Post to all groups you are a member of

Post to all pages you have liked

Post comments on others posts

Add send interval between posts

Real-time status of your campaign

Post links with full previews

User-friendly design

Top-notch customer support

Spintax support

Create groups of groups

Complete automated: Set it and forget it.
MaherPost is a complete automated solution for Facebook Marketing. You connect with the app and it'll load all your groups and pages.
You can then go to add new post page and can schedule a post with a message, link, or picture then select send interval between posts and select groups you want to post to. After scheduling a post, You can close the app as it'll post to all selected groups/pages at your scheduled time itself.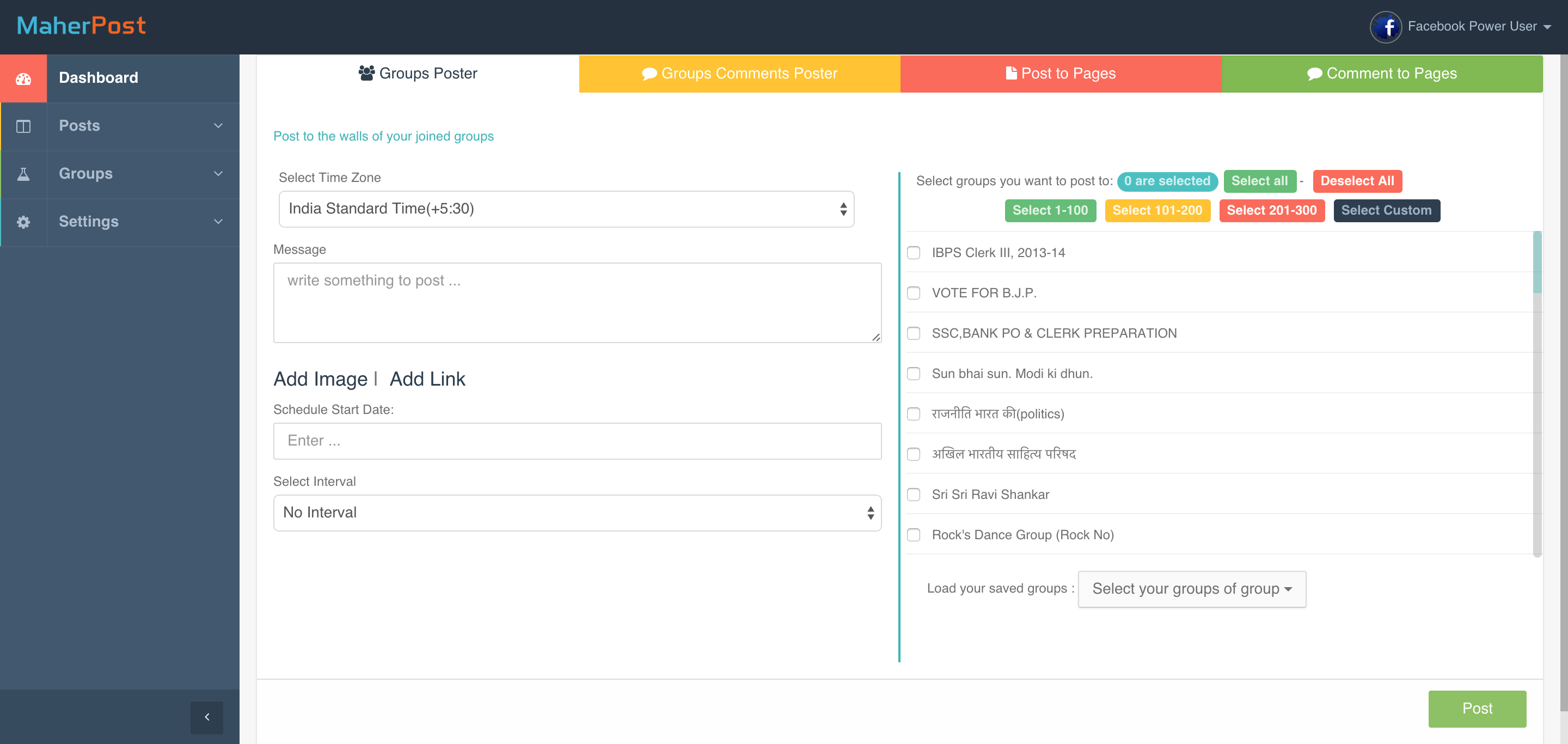 After you have scheduled a post, you can go to scheduled posts page and see how your campaign's doing. You can check the status of your posts group by group.
If you need more details and step by step guide, Visit Post to multiple Facebook groups at once guide.
You can also create groups of groups so if you post to one set of groups every time, You can create a group with that set of groups so it'll be easy to post to them the next time.
Facebook Group Poster tool by MaherPost is the best Facebook Marketing tool right now and you should take advantage of that to gain traffic and/or new customers to your websites.