10 Best Premium WordPress Themes for Your Blog
The design of the website speaks many words. Whether you are a new blogger or experienced, You should be familiar with the importance of a website's design and user experience over the success of the website.
We have created this list of Best Premium WordPress Themes to help bloggers choose from some of the finest WordPress themes available on the web.
Many beginner bloggers or even experienced ones don't pay attention to website design and well-coded theme and end up with bad user experience and website reputation.
Premium WordPress themes are themes crafted for design, speed, and usability. Premium themes are made with care because unlike free themes, developers get to earn money with these themes, So they work as hard.
One other advantage of a Premium WordPress theme is Updates. Since you pay for these themes, Theme developers keep updating the themes with new features and fix any vulnerabilities that arise. So your website code is always up-to-date.
A good designed website or blog also shows your website readers that you are serious about your website and that increases user interactions and loyal readers.
1. Marketers Delight WordPress Theme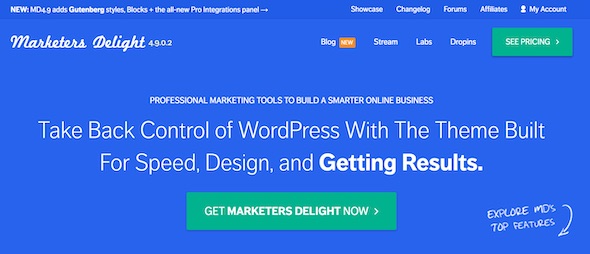 Check out Marketers Delight Theme
Marketers Delight is my favorite WordPress theme and I am using it on this site itself.
It is very lightweight and provides many customization options without using too many resources.
Creating a unique and eye-catching WordPress site is very easy with Marketers Delight.
2. GeneratePress WordPress Theme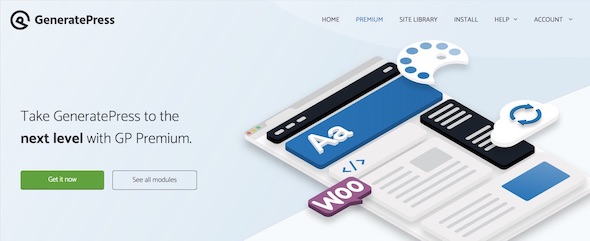 GeneratePress is one of the most selling WordPress themes right now for Bloggers. It provides a complete package with GeneratePress premium and helps you set up a website with a lot of customization options.
I am personally using the GeneratePress theme on some of my affiliate sites and it is perfect for that kind of site. You can set it up easily and give it a distinct look with so many styling options.
3. Newspaper from ThemeForest: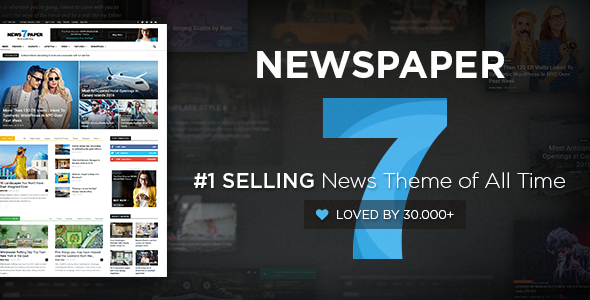 Check the demo | Purchase Newspaper
Newspaper theme from ThemeForest is one of the best selling WordPress Blog/Magazine themes of all time.
The theme is designed very professionally, and it comes with many functions to make your website look professional and unique. It is an all-rounder theme for your Blog or Magazine website.
There are endless possibilities to customize your site with the Newspaper theme. You can change colors; there are hundreds of possible ways to change homepage design, there are many different header designs you can choose from, you can also change single post page styling to dozens of ways.
The Newspaper theme is Mobile-Friendly as well; The Newspaper loads way fast on mobile and looks gorgeous as well.
There are many options for mobile optimization as well. Taking all the design and features aspects, Newspaper takes the first position in our Best premium WordPress themes list.
4. MyBlog from MyThemeShop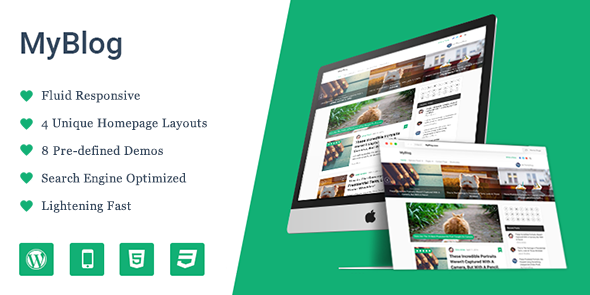 Check the demo | Purchase MyBlog
MyBlog is a modern and beautiful theme for bloggers. It is one of those designs used by many top bloggers. It's crafted to look and feel like a professional and a reputed blog theme.
It is fully responsive. There are 8 pre-defined layouts you can choose from, and it comes with Megamenu compatibility.
MyBlog is my favorite theme right now because of a simple yet innovative design.
5. socialMe from MyThemeShop
Check the demo | Purchase socialMe
socialMe is yet another theme from MyThemeShop that catches your eye immediately. It is social media styled design and it's good for building a community and increase user engagement.
It is very light but a powerful theme and that design is definitely going to win some hearts.
Though it's not just the design that you'll like, It comes with many features like 4 different homepage designs, fully responsive and WooCommerce compatible. The theme is also optimized for performance and speed.
6. Voice Theme from ThemeForest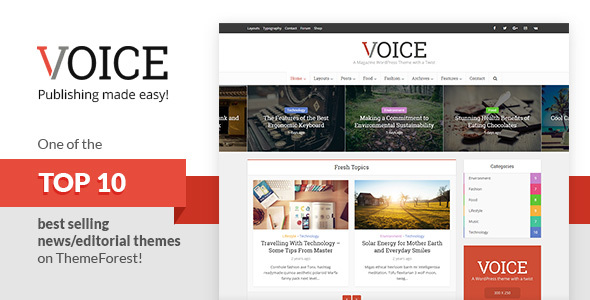 Check the demo | Purchase Voice
Voice theme from ThemeForest is a complete package for WordPress. The theme comes with all the features you can think of and it is highly customizable with many options to choose from.
The design of Voice is very professional, and it can be used for Blog or Magazine websites.
Voice is a responsive theme with built-in performance options, WP Review Plugin support, and built-in banner ads system. It is a very advanced theme but configuring it is very easy.
Also read:
7. Interactive from MyThemeShop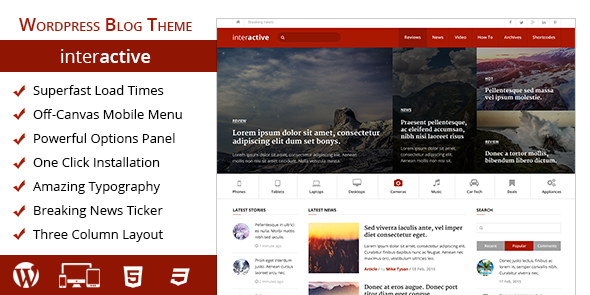 Check the demo | Purchase Interactive
Interactive from MyThemeShop is one of the modern design many users will love to have. If your website has a lot of content and you update it very frequently, then the Interactive theme will suit your needs. It looks very professional and can make your news website stand out too.
There are unlimited color options, Many different Homepage styles and website load time is very fast. The theme is designed with Adsense in mind so that you can show your ads to various places easily.
The Interactive theme also has a mobile-optimized feature that loads on mobile automatically. The theme comes with many other features a complete WordPress theme should have.
8. Read WP from ThemeForest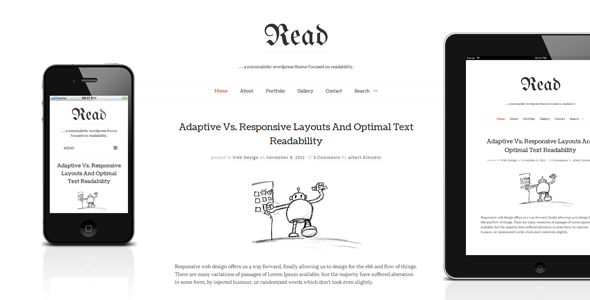 Check the demo | Purchase Read WP
Read WP is a minimalist blog theme that would be good for many bloggers searching for a simple, minimalist design for their sites. The theme looks very professional, and it's very lightweight.
The theme is completely responsive and retina ready. The theme is focused on readability. It supports all post formats.
Read WP is also SEO ready and provides 3 different blog layouts to choose from.
9. Hemlock from ThemeForest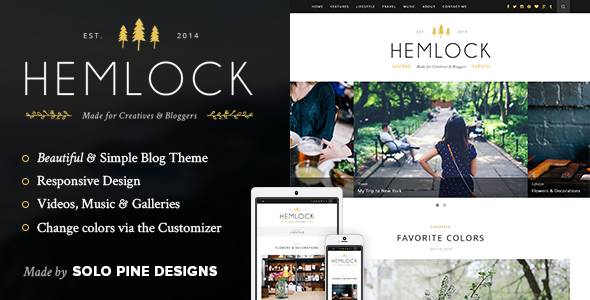 Check the demo | Purchase Hemlock
Hemlock is a clean and creative WordPress theme. The theme is designed primarily for distraction-free blogging. They have removed all the distracting elements on the theme and crafted this one-column theme which is suitable for serious bloggers.
10. Goodnews from ThemeForest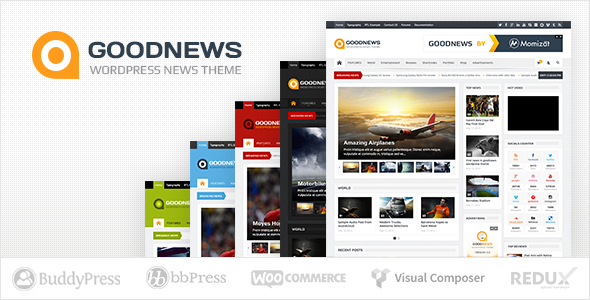 Check the demo | Purchase Goodnews
Goodnews is a WordPress news theme for the everyday blogger or a news site. If your website has too much content or it's a news site, then this theme is for you.
Goodnews fulfills the needs of every blogger no matter what they want. This theme has got it all. It is very quick to load, it's responsive, you can create your own unique styles, and you can optimize it for both: your customers and search engine alike.
There are monetization settings built-in to display ads in various places. It comes with its own review system. So if you run a product review website, it has that function built-in.
Not only that, It has BBpress integration, MailChimp integration, WooCommerce integration, and Google rich snippet support built-in.
Bonus Themes:
11. SociallyViral from MyThemeShop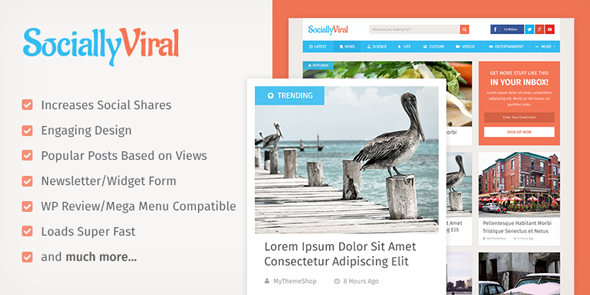 Check the demo | Purchase SociallyViral
SociallyViral is a very beautifully designed WordPress theme that is built to boost viral traffic. The theme is designed to increase social shares and get more traffic to the website from social media.
The theme has full social integration and comes with lots of unique features. It is also Adsense optimized so more money in your pocket!
It is very light and easy, SEO ready and speed optimized.
12. SmartMag from ThemeForest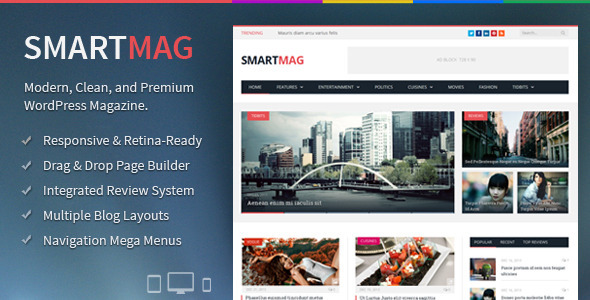 Check the demo | Purchase SmartMag
SmartMag is a modern, clean and aesthetically pleasing WordPress theme with tons of features built-in. Not on front-end but the admin back-end has many options as well and is easy to use.
SmartMag is the perfect Premium theme for Magazine, Newspaper, blog or review site. The theme comes with Drag & Drop page builder to easily build most complex pages and homepage.
Like many other themes in this list, This theme also has an integrated review system and BBpress support.
So that concludes our review of Best Premium WordPress Themes for Bloggers that needs something special.