Namecheap Hosting Review: Why It's Better Than Other Budget Hosts?
Are you hoping to cut a piece of the online mega pie? Then getting a domain name and hosting it is a must.
However, you need to see through the hundreds of web hosting companies who are fighting to win your patronage with ads on almost every social media and online news outlet, fake reviews and whatnot.
Choosing from this army of hosting companies is like looking through yellow pages trying to find the right apartment on rent for a family. This is how difficult pitching your tent with the right hosting provider can be, especially if you are just starting with your online presence.
Namecheap is widely known for its cut above services in the domain registration and management industry, with particular attention focused on domain registration.
Today, they provide a comprehensive range of web hosting plans, including all you'll ever need to get your website up and running smoothly.
In this Namecheap hosting review, you will get an insight into what Namecheap has in stock for thousands of would-be clients looking for stable and secure providers to manage their hosting service needs.
In this review, we will be touching on the good and the bad sides of Namecheap web hosting, which also include the pricing structure and sometimes Namecheap discount available for you, their uptime claims, their actual hosting speed, their cPanel, their customer support, and of course, my final verdict.
So let's get the ball rolling…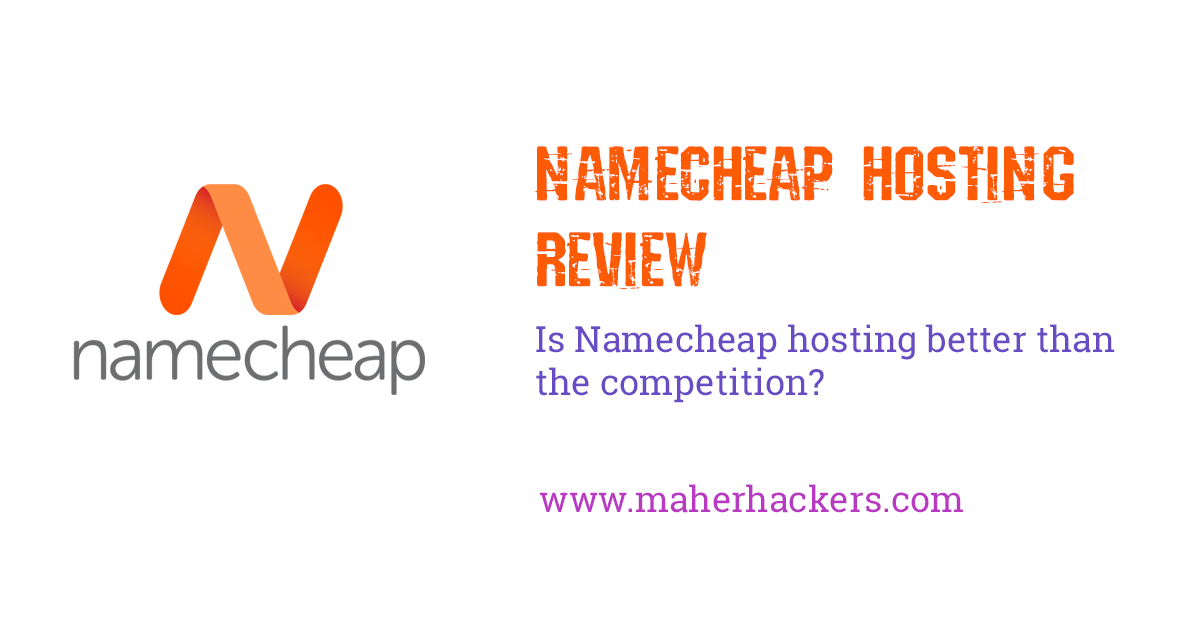 Choosing the right Hosting
If you are a business owner and you want to stay online for a very long time, choosing the right hosting company is a must. Choosing a bad provider will give you a headache and waste your time. Two things you never want in your life.
With a bad hosting company, be ready for slow website loading, poor uptime, and sometimes they arbitrarily shut down your website without giving you prior notice.
This is quite a terrible nightmare, especially if your website is popular, and your fans/visitors expect daily updates from you. Or, more importantly, if your site is an eCommerce site, which means you are losing money every day until your server comes back on.
On the other hand, a good web hosting provider is the opposite, and their service will give you peace of mind. In fact, from the moment you signed up for their services, you get this feeling that you are in the hands of professionals.
For instance, you will discover that your website loading time is immediate with minimal to no downtime. The hosting plan won't be getting more expensive year after year; you have customer support that is there to help you out and, most importantly, help your business to grow and make money!
So, if you are a business owner, a blogger, or you're just a fellow who wants to bring his cool idea to life, this guide is all you need to choose the right hosting provider.
About Namecheap Hosting
Namecheap was founded way back in 2000 by a guy called Richard Kirkendall.
They are a force to reckon with on the internet when it comes to getting a domain name (the reason for their name). Domain name registration is their game, with over 7 million subscribers under their belt.
Over the years, they have transformed themselves into providing hosting services at affordable prices to businesses. However, one question that readily comes to peoples mind when it comes to their hosting service is:
Can Namecheap replicate its success story as a super domain registrar to providing excellent hosting plans to millions of internet users?
Read on to know more…
Namecheap Plans & Pricing
Namecheap provides different kinds of hosting services including Shared Hosting, VPS Hosting, Dedicated Hosting and Managed WordPress Hosting. Take a look at this guide for the difference between Shared, VPS and Dedicated Hosting.
But most of you are looking to purchase Shared Hosting services, so we'll discuss shared hosting plans and pricing only.
Namecheap shared hosting has 3 different plans: Stellar, Stellar Plus and Stellar Business.
Namecheap Hosting Plans & Pricing:
| Features | Stellar | Stellar Plus | Stellar Business |
| --- | --- | --- | --- |
| Storage | 20GB | Unmetered* | 50GB |
| Websites | 3 | Unlimited | Unlimited |
| Auto Backups | No | Yes | Yes |
| Free SSLs | Yes | Yes | Yes |
| Free Domain | Yes | Yes | Yes |
| Website Builder | Yes | Yes | Yes |
| Free Migration | Yea | Yes | Yes |
| cPanel | Yes | Yes | Yes |
| Custom Nameservers | No | No | Yes |
| Pricing | $1.44/mo | $2.44/mo | $4.44/mo |
The pricing for Namecheap hosting is very affordable for everyone, especially if you buy annual plans, you get a really good discount.
If you think this is expensive, wait till you see what others are charging. You will need to cough out $12-$50/month for the same service you get from Namecheap.
So currently, it is at 50% off for your first year of purchase, but if you're not into the annual purchasing system and you want to go as simple as possible, then the monthly option might be of your liking.
These prices are pretty low, considering what you get for it.
Currently, the most basic plan Stellar offers 20 gigabytes of SSD – so that is as they call Accelerated Disk Space, but for me, it's just a standard marketing term. But if they say it's accelerated compared to the stellar business option which has pure SSD, I'm guessing they're just running this on a super hybrid drive.
It's not going to be as fast and as SSD but it's going to be stellar to your traditional hosting solutions.
Besides you have of course unlimited bandwidth to host up to three websites and included website builder and the choice of the US or UK data center.
So what does this mean for you?
It means that if you're in the US and you're going to want to serve the American people, of course, you want a US data center which means anyone from the US accessing a user state – the center will get much better speeds and reliability compared to someone accessing it from outside of the United States
If you're from the UK and you want a UK data center, you're going to have to pay an additional dollar for that.
On top of the current price, it's just freedom of choice depending on where you live and what your target market is or where you want your website to be hosted.
100% Uptime Guarantee?!
Most hosting providers these days offer a 99% uptime guarantee.
But Namecheap offers a 100% uptime guarantee. That means your website will always stay online.
Namecheap might be the only hosting service that offers this kind of uptime guarantee.
I'm not making this up, and they're actually advertising it as such.
The 100% uptime guarantee is applicable to all plans and if your website is ever down for some reason, they will make it up to you.
Meaning that for any day (each day), it goes down, or your websites are offline; they're going to offer one-day service cycle pollination of downtime.
Say it went down for two hours or three hours, you're going to get compensated for three days worth of additional uptime on top of your plan for free.
So it's a good deal, and you're much more secure since they don't want to be giving out free hosting for people. So they make sure that their service is very reliable and their website and their web hosting servers do not go down and inconvenience their customers such as me and, of course, you.
But, if you are into reseller options and VPS, we all know these are much more expensive, and it's a bit more unstable some times.
So, in that case, they only offer a 99.9 percent monthly guarantee!
Although they also offer the one-day extension of your hosting subscription for each hour the server went down below the limit advertised.
So basically if it goes down lower than 99.9 percent, there's going be an extension on your end and of course, we don't want any inconvenience on our ends.
Already my experience with Namecheap has been very positive in terms of the uptime, and they're 100% reliable.
However, in some cases which is very rare, I've had some times the site went down, and it really was only during a server update, but their customer support has been very proactive with reaching out to me and advising me that 'hey your site's gonna go down since we're doing maintenance and updates but you will be well compensated for that matter.'
So, the reason they do this is because they want to improve their service and make sure that you get the best service possible for the amount that you pay them.
Loading Speed (With Tests)
Just like many web hosting companies, the website loading speed of any host will determine how fast your website loads on your browser.
Here is a speed test of a website hosted on Namecheap:
Namecheap provides very good loading speeds for the price it offers.
But, they might not be super fast if you are having lots of traffic to your site, say hundreds of thousands of visitors are hitting your website in a day.
But this is a typical scenario for most hosting providers. This type of traffic is always a problem for many hosting companies, Namecheap included.
That is why before you sign up with their hosting plan, it is ideal to speak with their customer service about your daily traffic hit; this way they will be able to give you better suggestions on what you will need to do or they can go the extra mile to customize a plan for your traffic.
However, if your traffic to your website is not as much as in the hundreds of thousand, Namecheap has you covered.
With your three websites (They have plans where you can add up to 3 or more websites to your server), you can host your site without any hiccups from the central server.
Let's talk about their Control Panel and how helpful it is for a beginner or a pro.
cPanel (User Control Panel)
cPanel is the most user-friendly control panel to manage your websites, its file, databases and so on.
For beginners or advanced users, cPanel is very important.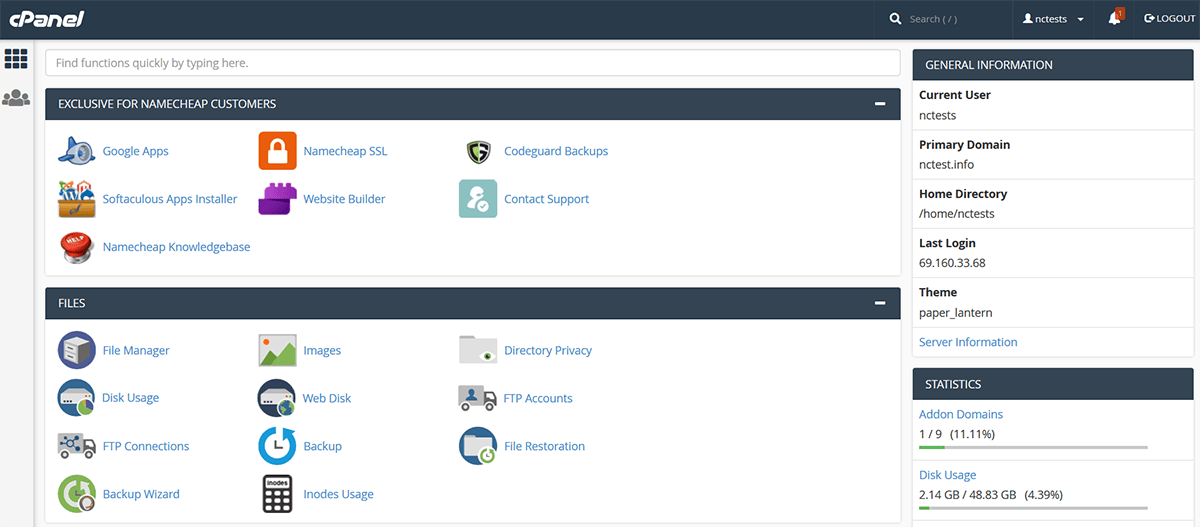 Due to the recent changes in the cPanel pricing structure, many hosts have started to not provide it to their customers or increased the pricing of their hosting plans.
But Namecheap still provides the cPanel control panel to subscribers of all plans.
30-Day Money-Back Guarantee
The good thing about Namecheap service is that if after subscribing you are not satisfied with what is sold to you, you can immediately ask for a refund.
Namecheap offers its unsatisfied customer a 30-day no question asked, iron-clad money-back guarantee.
This way, if you are not the kind of guy that quickly jumps into offers, this is a great one as you have 30 days to test out what sort of service you will likely get when you finally become a full member.
Customer Support
I kept this point to be my last before I finally give my verdict if this hosting company is worth your penny.
The icing on the cake for Namecheap as a hosting company is their customer support.
They have a live chat and a relatively short wait time. The good thing about their support is that they categorized your query or your concern, and they create a department for almost every issue that a client might be having.
So if you have problems with configuration, they have a department for that.
If you have issues with your site going down, they have a dedicated department for that – to handle that particular kind of problem.
And if you need to get in touch with an actual person, Namecheap has that, and they have always responded to my questions promptly in my tests.
In fact, on many occasions, they have even gone above and beyond and proactively taken a step further without me having to ask them to fix an issue that is a concern.
In reality, they have excellent customer support that is dedicated to serving their customer base.
This is a big thumbs up for their excellent customer support.
My Final Verdict
Ultimately, if you ask me if I can recommend Namecheap hosting for anyone, the answer will be,
Definitely YES!
I would without reservation recommend Namecheap; and yes, you can always get a few complaints about them.
This is normal for every business organization.
In fact, literally, every single company out there has one complaint or one issue filed against them online. So do not let that deter you from signing up and trying this service.
You have nothing to lose if you think of how much their hosting plan cost in a year compared to other hosting providers like Bluehost.
The truth is, you will always come across unhappy customers as well as happy customers. So if thousands of customers are satisfied with Namecheap service (although I can't speak for everyone) but from my experience, Namecheap hosting is better than the most.