WPX Hosting Coupon 2021: 50% Discount + Freebies
For serious businesses, WPX Hosting is the best hosting provider right now due to the unmatched performance it offers. It's fast, secure, business-friendly hosting with incredible support.
But when you are signing up for the first time, you should get all the discounts you can get!
Click on the below link and use our coupon code "MaherHackers" and get instant 50% OFF of your first-month subscription.
Click here for 50% OFF WPX Hosting >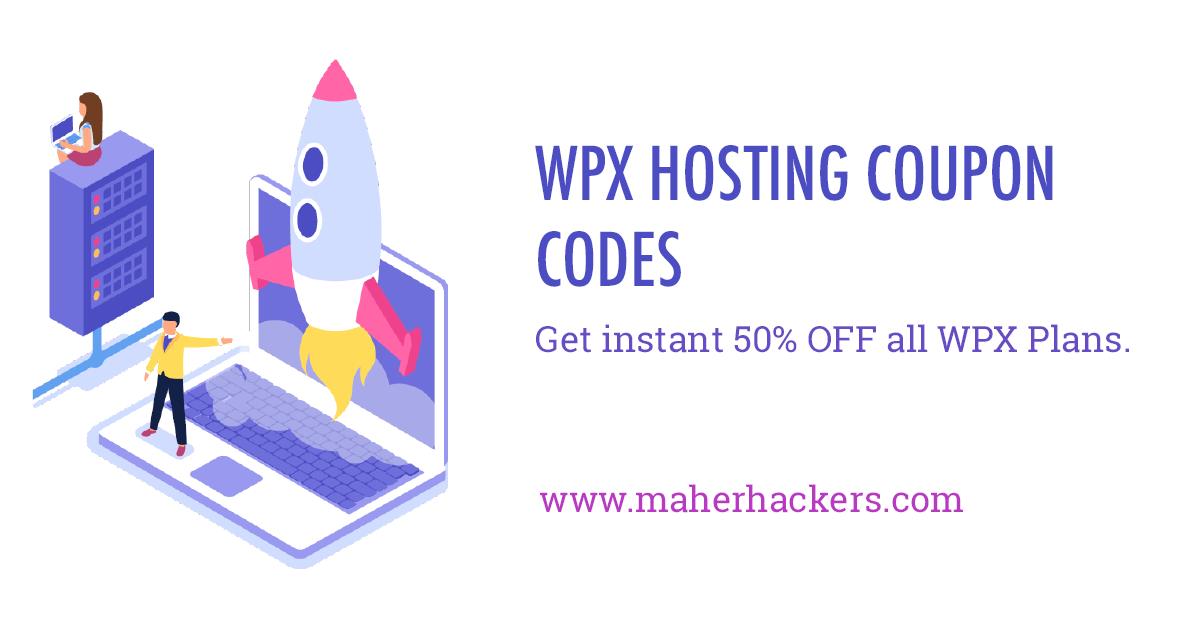 | WPX Hosting Plan | Coupon Code & Offer | Link for Exclusive Discount |
| --- | --- | --- |
| Business | MaherHackers ($12.49) | |
| Proffesional | MaherHackers ($20.83) | |
| Elite | MaherHackers ($41.58) | |
How to Claim your Exclusive WPX Hosting Coupon?
Visit wpxhosting.com and follow the following steps to claim your 50% off WPX Hosting Coupon:
Once on the WPX Hosting website, press 'Start Now' on the top right-hand corner of the webpage.
On the 'Plans & Pricing' page select the 'Monthly' subscription model then choose between Business, Professional and Elite Plans.
Press on 'Get Started' and select with 'Host in USA' or 'Host in UK'.
On the next page, select between 'Hosting Only' or 'Domain + Hosting' options.
Select the 'Monthly' billing cycle then paste the coupon code ("MaherHackers") in the 'Use promotional code' box to apply your exclusive WPX Hosting Coupon code.
Why WPX Hosting is a Perfect Choice for you?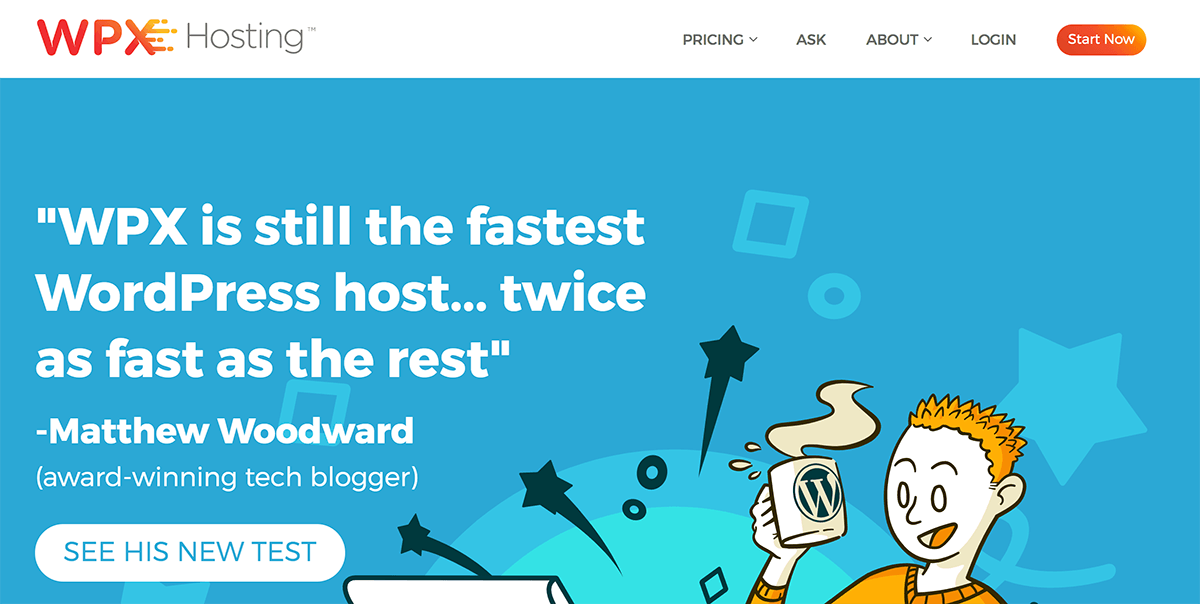 Any online business that depends heavily on healthy traffic flow to their website for sales or promotional purposes, understands the value of reliable web hosting.
Unfortunately, a majority of hosting providers have some sort of drawback.
Those that have good speeds are terribly pricey, those that offer a good price have terrible speeds, those that offer a balance between pricing and speed have other caveats like traffic limits and other unreasonable restriction.
And the rest aren't just worth it with no customer support, unexpected service outages, downtimes, and general unreliability.
If you are a business that has had to wander from host to host multiple times over the years and still aren't completely content with your current choice, it's time to give WPX Hosting a go.
This WordPress Managed Hosting provider has redefined hosting blowing other hosting providers out of the water.
Although every web hosting provider you go to will promise to offer the best service and a whole host of other things, only a handful manage to deliver on more than one or two of these promises, and WPX Hosting delivers on them all.
WPX Hosting claims to provide extremely fast speeds, airtight security, an impressive 99.9% uptime and lightning-quick response time at a reasonable price, and this is exactly what you get.
WPX Hosting offers several subscription plans all designed to offer value to you whether you are a blog writer or a business owner.
Switching to an annual billing cycle will give you two months of free hosting, or if you just want to try out their services, you can use our exclusive WPX Hosting Coupon for a massive 50% off on all monthly hosting plans.
WPX Hosting has been rated the most trusted web hosting provider on Trustpilot with users extremely happy with its value proposition and customer service.
Subscribers can choose between 3 subscription plans, with the Business Plan being the cheapest at $24.99. Users can get extra value on the first month's subscription with our exclusive 50% off WPX Hosting Coupon and try it for the nominal price of $12.49.
Why Choose WPX Hosting Over Other Hosting Providers?
Although there are a number of hosting providers to choose from like Bluehost, SiteGround, WPEngine, and others, which are popular multi-platform hosting service providers, WPX Hosting is a dedicated WordPress hosting provider.
By choosing not to branch out and maintain a singular focus on a single platform, WPX Hosting has achieved unparalleled reliability that customers have come to trust.
Another service feature that gives WPX Hosting a clear edge over other popular hosting providers is the efficiency of its customer support, which is phenomenal fast to respond and incredibly helpful.
| Features | WPX Hosting | Bluehost | SiteGround | WP Engine |
| --- | --- | --- | --- | --- |
| Websites | 5 | 1 | 1 | 1 |
| SSD Drives | Yes | Yes | Yes | Yes |
| Site Migration | Free | $149 | Free | Free |
| WordPress Support | 5/5 | 1.5/5 | 3/5 | 5/5 |
| Free Backups | Yes | No | Yes | Yes |
| CDN | WPX Cloud | CloudFlare | CloudFlare | MaxCDN |
| Free Malware Scanning | Yes | No | No | Yes |
| Pricing | $20.83/mo | $7.99/mo | $11.95/mo | $35/mo |
But don't take our word for it, browse customer reviews on Trustpilot yourself to see how satisfied customers are WPX Hosting.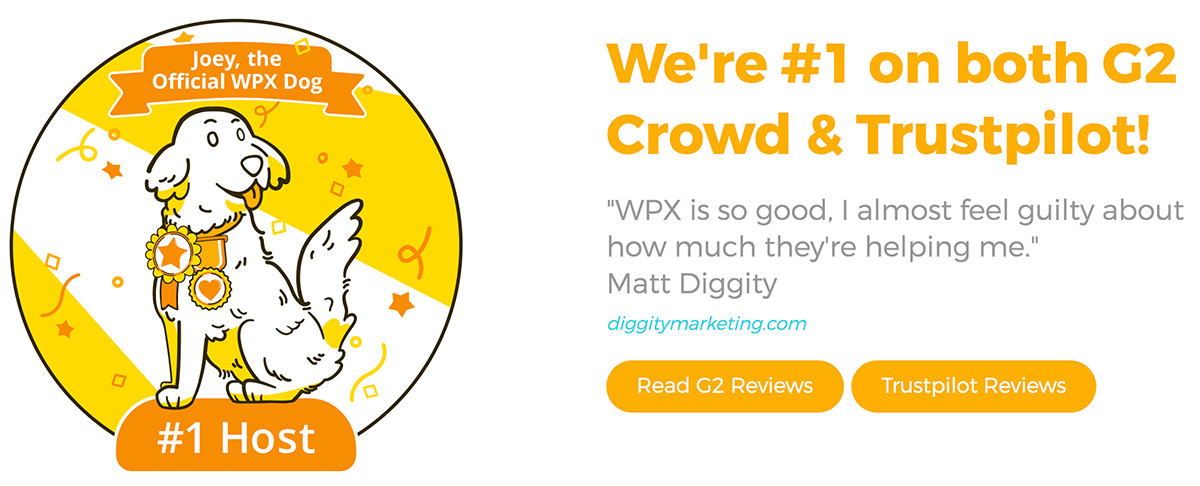 WPX Hosting Features
WPX Hosting's USP isn't variety and an over-abundance of useless features that other providers use to justify their abnormally high prices.
Instead, WPX Hosting operates with a singular focus on a catalogue of select core features packed in a choice of 3 different subscription plans.
These subscription plans are expressly designed to cater to all types of customers be it a large enterprise or a small business, and even individual blog writers.
Following are some key features WPX Hosting offers:
Fast Loading Speed
Websites that load faster are given a more prominent position by Google in its search results.
WPX makes it possible for websites to load faster, from light blogs to content-heavy webpages, provided the website is based on WordPress.
The speed test of our site hosted on WPX Hosting: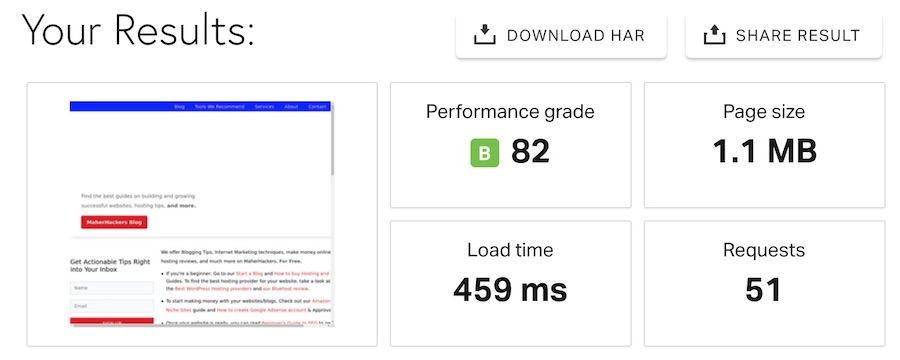 WPX Hosting manages light-weight lightning speed servers that are strong enough to not be crushed under the weight of heavy traffic.
Efficient Customer Support
A lot of host providers don't give you the luxury of live chat and you have to open a support ticket that can take anything between a day to three days and sometimes, even more, to be responded to.
Hosting providers that do offer live chat don't hold a candle to the speed with which WPX Hosting representatives handle queries.
When designing or managing your website, you can often hit a brick wall with a feature you just can't understand or implement, and what any customer would value in such an instance is instant support so their workflow doesn't break.
WPX Hosting's instant support and knowledgeable representatives make this possible, redefining what live support should look like.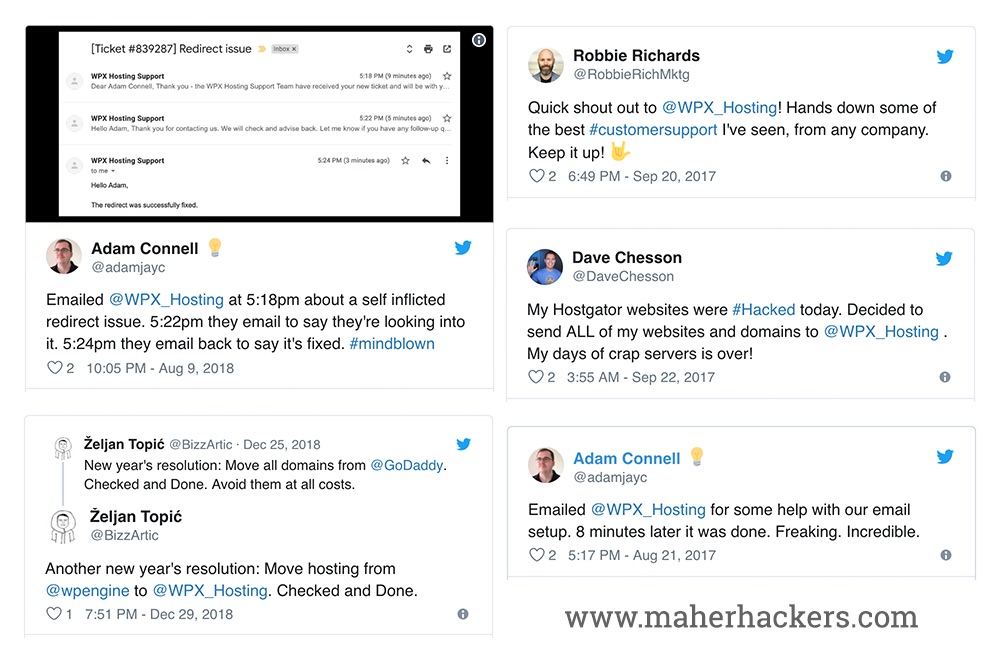 Free SSL Certificates
SSL Certificates secure WordPress websites allowing them to be ranked better in Google search results. SSL Certificates are incredibly important to ensure your security and that of visitors that come to your website.
Google promotes the SSL Certificate encryption by prioritizing websites with SSL Certificates over those without.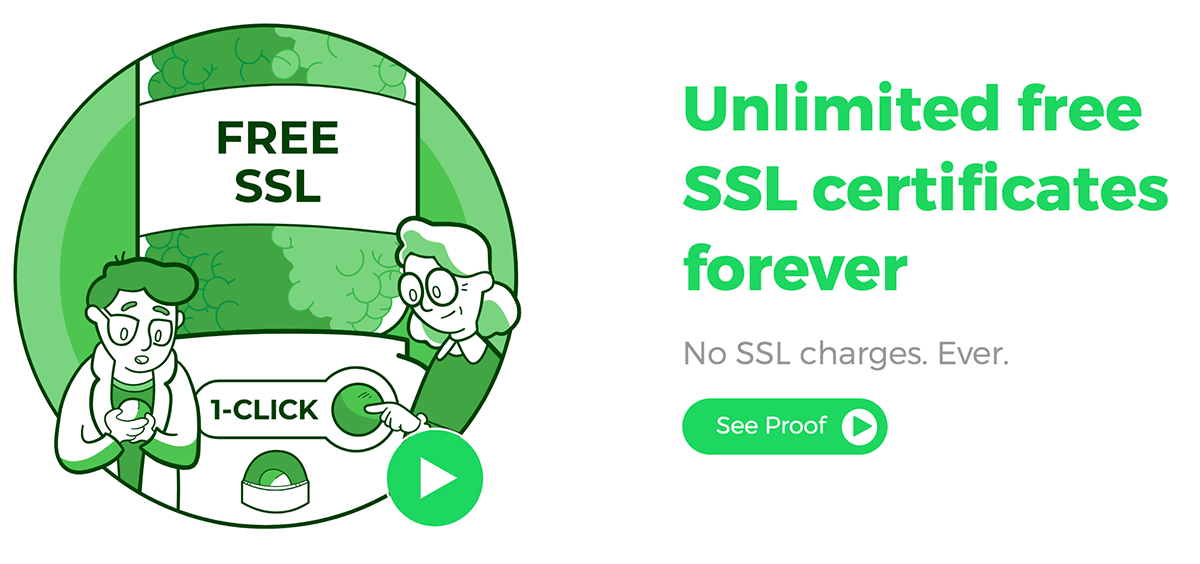 WPX Hosting provides a free SSL Certificate with every purchase of a domain name.
Significantly Lower Prices
WPX Hosting provides fast and reliable hosting at significantly lower prices than other popular hosting providers offering similar services.
Additionally, users get two complimentary months when they subscribe to an annual subscription.
WPX Hosting provides better value for money than most of its competitors making it an ideal and pocket-friendly choice for users.
User-friendly Management Panel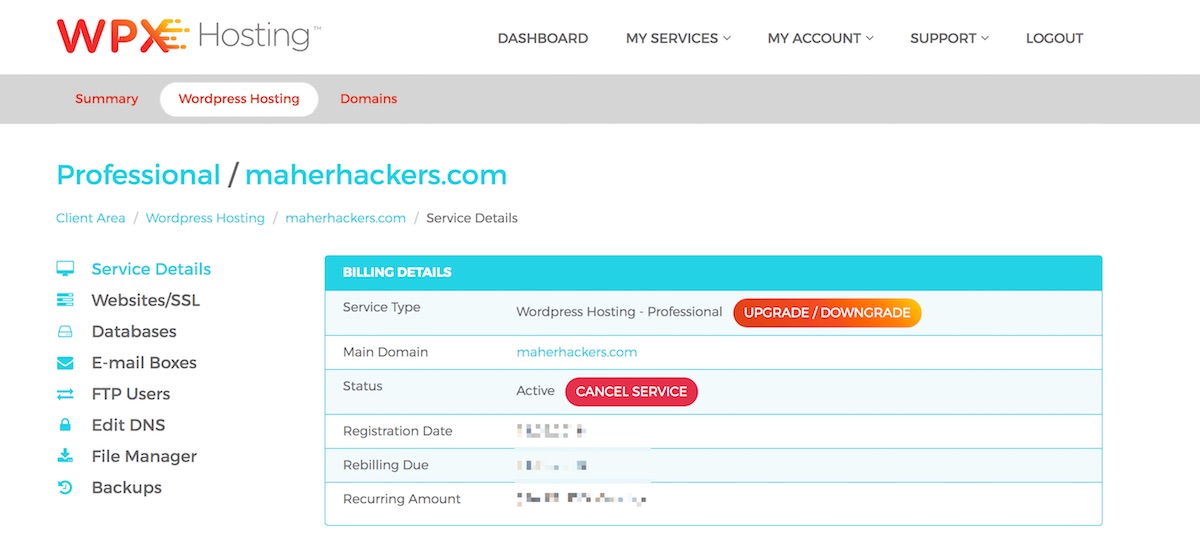 You don't have to be an IT professional in order to use WPX Hosting's services, with admin and management panels that are easy to understand and use.
The admin panel is so easy to use that even if you don't have prior knowledge of webpage hosting, you can do everything yourself.
However, if you do hit a snag, the fast customer support is live 24 hours a day to cater to all your queries and issues.
They will even do the set up for you undertaking all the hard work if you ask them to.
Multiple Website Hosting
Subscribers are allowed to host multiple websites on each subscription plan, with the number of maximum multiple websites varying from plan to plan.
This allows WPX Hosting subscribers to host a number of webpages and blogs on the same server without the need to subscribe to separate hosting plans for each individual website.
Easy Setup
Setting up WordPress is a fairly simple process, however, if you consider yourself to be not very tech-savvy you might find yourself confused and intimidated by the process.
WPX Hosting simplifies this by offering a 1-click setup for WordPress with all of its hosting plans.
They couldn't have made it simpler than this!
30-Day Money-Back Guarantee
This is best for all those hesitant subscribers who have already been bitten by unreliable hosting providers multiple times.
WPX Hosting lets users get a feel of their services for 30 days, during which time if they decide that the service isn't for them, they can cancel the subscription for a full refund.
This coupled with our exclusive half-price WPX Hosting Coupon code should really put first-time users to ease.
Other features that you can enjoy include Free site migration, Regular malware scans, Regular Backups, an almost 100% uptime, and free email accounts with all hosting plans.
Conclusion
Unfortunately for hosting service providers that have enjoyed free reign for far too long, WPX Hosting changes the game.
There is no longer room for inefficiency and subpar service quality that had come to plague website owners.
WPX Hosting offers a complete package for WordPress based websites that is reliable and easy to afford.
WordPress website owners should definitely give it a chance; with a 30-day money-back guarantee and our exclusive half-price WPX Hosting Coupon, what have you got to lose!
Also, check out our comparison of WPX Hosting vs SiteGround and WPX Hosting vs Bluehost.