SEMrush Review – Everything you need to know!
What is SEMrush?
SEMrush is basically an all-in-one Digital Marketing tool which helps to find useful and money-making keywords. SEO is the key to success in this digital world. SEMrush is one of the best tools to optimize your site. It helps to gain a better user experience and have a large audience. It increases the traffic on your site. SEMrush works to have more visitors. It presents great services in SEO, keyword research, competitive analysis, social media, PPC and other related fields.
Why SEMrush?
Digital marketing should be easier so that even a common person can understand it. SEMrush does the same job. It entered the market in 2008. Now, it has been developed to perform even better tasks in Digital Marketing. It helps you to get knowledge about your competitors. It gives you a better understanding of your industry. You can frame your policies by using this tool. It will give you a better position in the market.
Some Statistics and facts about SEMrush
140+ Database Covering Regions
3.7 Billion Keyword Analyzing Power
30 Best Tools
4 Trillion Backlinks Analysis Capacity
Global Coverage
Supports Mobile Search
SEMrush; Full Market Solutions Toolkit
SEMrush is well aware of your needs. It is fully loaded with all the necessary tools. You can use them according to your requirements. See the top left corner of the menu bar. Click All Tools and you will find a full toolkit here. See the picture below.

It gives you these options: SEO, Advertising, Social Media, Content Marketing, and Competitive Research. If you are a subscriber, then you can have access to all the reports and tools. You can manage an amazing online market campaign with this tool.
How to do Keyword Research in SEMrush
An expert SEO technique demands a high-quality research on Keywords. Your customers will search your products and/or services through some keywords. So, you need to use the same words and phrases in your contents. SEMrush helps you conducting that keyword research.
If you don't have the account of SEMrush, then you can get it from the link below.
After logging in, go straight to the left column, navigate down. You will find the Keyword Research column. Click Overview.  See the picture below.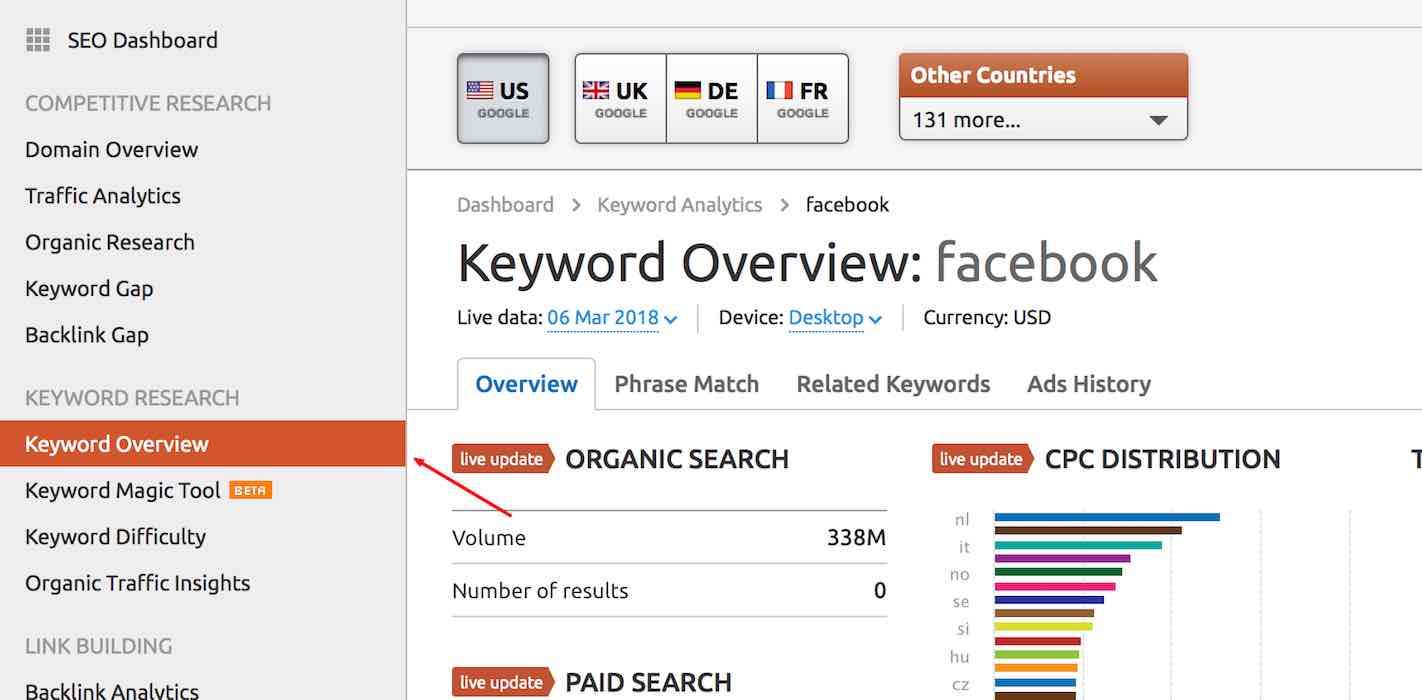 Select some Topic like if your business is regarding foods then search some cuisine for example "Chinese Food" or " Continental Food". Click Overview and type your topic in the research bar and hit Enter. See the picture below.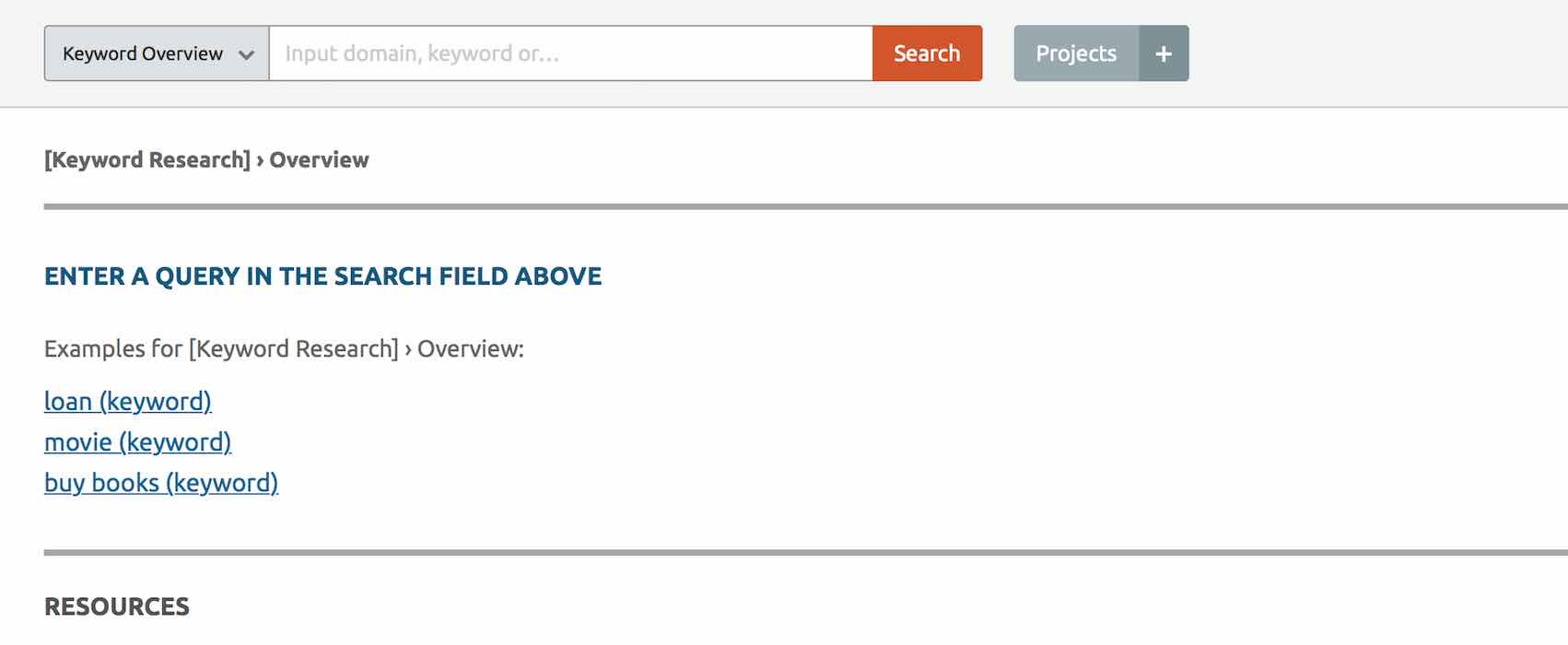 The tool will guide you to the data on your topic. See the picture below.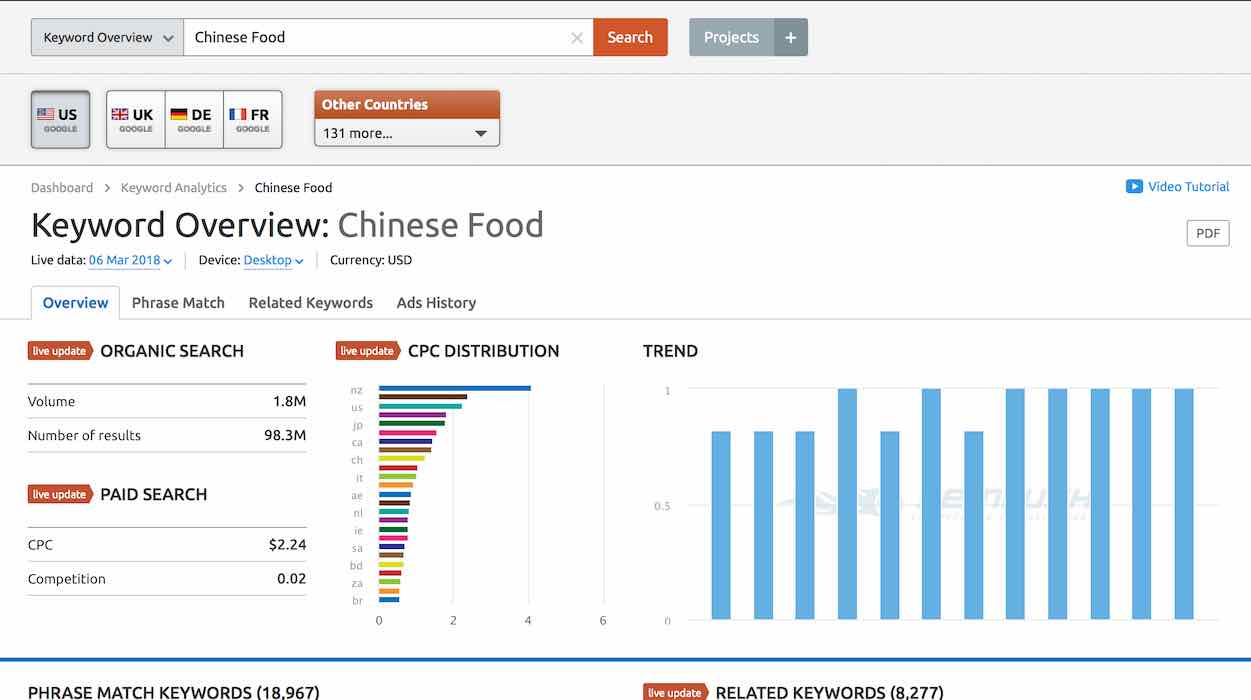 Organic research: It shows the volume of organic traffic. Volume shows an average number of searches with this keyword on monthly bases.
Paid search: It shows the paid data, CPC (Cost Per Click) and concentration of competition.
How to Add Keywords to a Position Tracking
When you have a project and want to add keywords to the Track Positioning or Monitor your Brand then follow the instructions. Go to the Project in the upper left corner. Hit Position tracking overview Page and hit Add Keywords.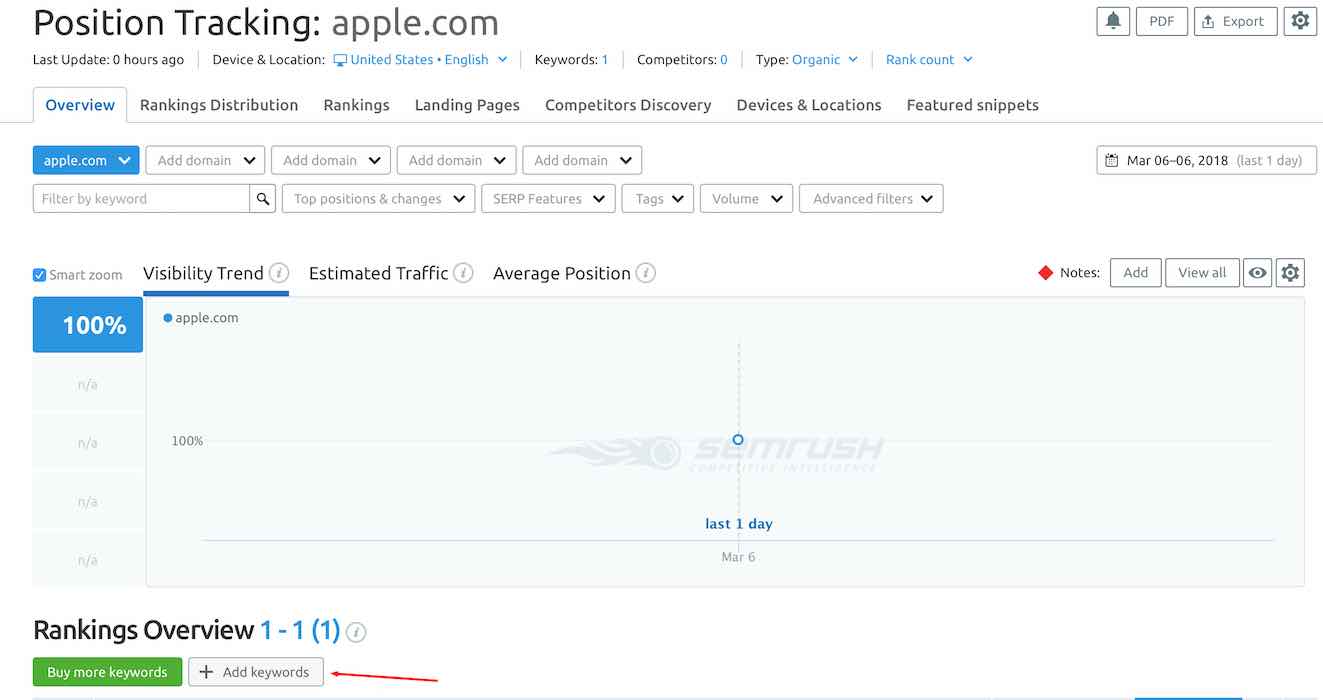 Go to the top right to the Position Tracking Tool and click Settings.  Now click Tracked Keywords. See the picture below.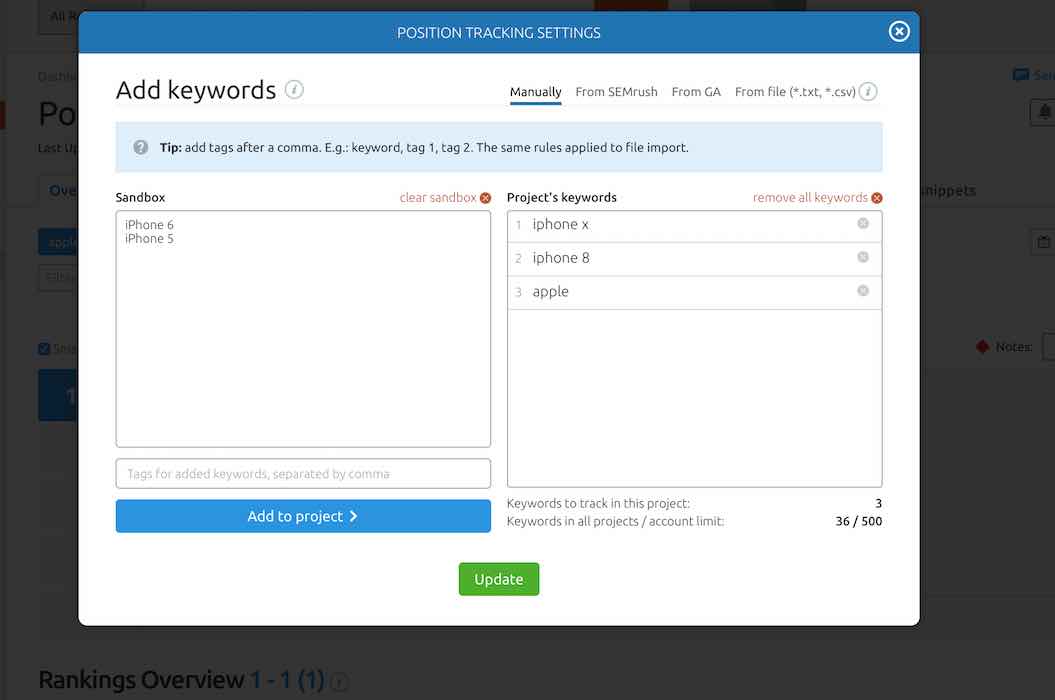 Add your keywords and Save Changes.
Searching a Website Ranking via SEMrush
This is an easy task to do. Navigate to the search bar and enter a root domain. Avoid adding "HTTP://" or "www.". click on the Organic Search Bar. Now, Navigate down to the Organic Search Position. You will find a detailed list of Keywords, Keyword search Volume, Page ranking and Positioning in Organic Search positions.
Searching a Page Ranking via SEMrush
Enter your full URL of the target page in the Search Bar and find its ranking with the best possible detail. A big dip can show that the site was affected by an algorithm modification. Improvements propose that a site has focused on their SEO enhancement or launched new campaigns to rank higher with more keywords.
Finding the History of Site's Projected Organic Traffic
SEMrush will help you to identify the website's organic traffic statistics. It shows it by the ranking system. You can see that where your competitor is standing regarding traffic trends.
How SEMrush can Help in Business
We are living in a digital age. Digital marketing is changing so quickly. More progress in this field means more competition. If you want to beat your competitors, then you need to have a strong marketing position.
This article gives you a better idea that how SEMrush can help you in your business.
Effective Keyword Placement through SEMrush
A well-planned marketing strategy needs a top class SEO skill. It increases your visibility in the market. SEMrush gives you a detailed guide in conducting a keyword research. You need to be updated about the new terms and phrases to stay on the top.
SEMrush gives you a complete Keyword Overview report.
It supports mobile and desktop results. It gives you a variety of 30 dissimilar locations. It's Phrase Match report helps you understand the changes in your query.
It presents Related Keyword report which gives you information about the words and phrases which are connected to your query.
Detailed Competitor Analysis
You cannot make progress unless you know that what your competitor is doing. You should keep an eye on the marketing campaigns of your competitor. You can stand in the market only if you know that what others are doing in your field. SEMrush gives a detailed Analytics Report. This report enables you to know that what are the strengths and weakness of your competitor. You can hit those areas where your opponent is lacking.
SEMrush's multiple reports give you a better idea of the top keywords of your competitor. You can come to know that who is your new competitors in the market. It shows the advertising strategies of the opponents. It makes you aware of your competitor's traffic results and backlink profile. You can see the sources of their audience and can get a complete list of their backlinked sites. You can reach the owners of those sites so that they can help you make more money.  You can also conduct the comparison of keyword ranking up to 5 domains. It helps you beat out the competitors in the search results. You can make more sale in your marketing campaigns through this tool.
It gives you monthly report about the traffic.
Strong Brand Name with SEMrush
If you want to have a big name in this much-advanced world, then you need to build your brand. It gives a separate identity to your business. You will have a better access to great deals. Customers want to stay on the top and will prefer a well-establish brand.
You can have an operative marketing strategy through this tool. Brand Monitoring Tool of SEMrush makes you capable to gather and sort online mentions of your own and your competitors' company. You can search your opponent's promotional activities.
Enhanced Advertisement Opportunities
You can make money online by the placement of advertisements on your blogs. There are a lot of websites which are making a lot of money through this process. Business owners pay for traffic on their websites. They pay through different channels like Google AdWords. These are quite expensive options. So, if you can reach that business owner to get their adds then you can earn a good amount of money. You can display their advertisements and join their affiliate plans.
SEMrush has made it so easy. It analyses all the keywords of your ranking. It looks the organizations which are paying for promotions based on those keywords. Then, it shows them in the form of a chart. Paid traffic is a great opportunity to make money for bloggers.
Complete Performance Report
SEMrush also keeps a strong track on the history of your ranking. It gives you a detailed report about different trends on blogs and websites. If you are not using this tool you will possibly forget that which keywords or entities gave you the best organic traffic. You will not be able to know the reasons for your success and will not be able to move forward in a handsome manner. You can see that from which country you are getting more traffic. It gives you a better idea about the visitors with the time of their visits.
SEMrush is cost effective and you can use it as a free member. If you want a better experience, more reports, and more research then you can purchase its premium packages.
Conclusion
SEMrush is the best and versatile tools to increase your traffic and trade. You can have a free version in the start. You will see your business boosting so quickly. You will like to purchase it to frame a better market strategy. It will give a positive force to your business in the cyber world. So, if you want more and more audience on your site then don't forget to avail this awesome opportunity.