SiteGround Review: Honest Review with Actual Data
SiteGround is the best new host in town. For past few years, It's known as the best hosting provider for its excellent services. SiteGround offers excellent shared hosting service for the price. SiteGround is one of the best hosts in the segment. With this SiteGround Review, We aim to provide you a better understanding of the host and whether it is the one to go with.
SiteGround is now listed on WordPress.Org recommendation list, which makes it one of the best indeed.
SiteGround Hosting only $3.49/month + Free Domain
SiteGround Review: Pros and Cons
PROS
Incredible Hosting Performance
99.99% actual uptime
24/7 genuine support
Free domain name and SSL certificate
SuperCacher for great speed
4 data center locations
SiteGround's unique server monitoring
CONS
Basic Plans allows only one domain hosting
Bigger plans are costly
Performance:
Websites hosted on SiteGround are faster than the competition for shared hosting according to our tests and research. We have tested many websites hosted on SiteGround Shared Hosting, and this is the load time and uptime info about SiteGround:
Avg. Page Load Time: 373ms
Avg. Uptime: 99.92%
* Last 7 days figures.
So with SiteGround Hosting, You can rest assured your sites will load way faster than many other popular hosts. For a shared hosting, It is the best you can hope for, and that's what makes SiteGround one of the best web hosting providers.
And the good thing is, It's not just a one-time thing, Page load time and Uptime are always at its best.
SiteGround Hosting performance is unmatched. SiteGround's platform is built on the cutting edge LXC technology. LXC is extremely resource efficient, highly flexible and provides excellent stability in the times of traffic spikes.
SiteGround has developed a Pro-active server monitoring that prevents and fixes issues without delays. It is very lightweight and can check the server status more often than standard systems. It is one of the crucial and useful things you will get on the SiteGround platform.
Uptime:
As per our tests, We found that websites hosted on SiteGround have 99.99% uptime.
Almost all web hosting providers boast about having 99.9% server uptime, but when it comes to actual results, Most doesn't hold up to that promise.
But SiteGround is one of those hosts that comes true on that claim. Websites hosted on SiteGround has about 99.99% uptime and most times even 100%! Although 100% uptime is just a possibility, Not a promise.
And SiteGround guarantees that if you experience more than 0.1% downtime yearly basis, They will compensate you for that. For this SiteGround Review, we closely looked at day to day uptime of test sites and found it to be very excellent.
Support:
One of the most important thing you should get from your Hosting provider is SUPPORT! Because you don't know when and what kind of issues you might encounter problems with your server in future and need the help of your host to resolve it. If a host is providing good support, You won't have to worry about the issues.
SiteGround's customer support is one of the best in the industry. SiteGround provides instant phone and chat support and 10-minute ticket support. That is the best you can expect from any host because, with most hosting providers, You have to wait more than 15 minutes on chat and 24 hours for a reply to your ticket. In this SiteGround Review, We can proudly say that SiteGround support is truly remarkable.

It is not just how fast their support it but how helpful it is. SiteGround customer representatives are experts on all sort of issues, and they will help you to the extent you can't imagine. Not only issues with your host but they will assist you with any issues you are having with your websites, whether it is WordPress or any other site. That is one of the reasons why we love SiteGround.
Some Important Features:
Not only does SiteGround offers all essential features on their plans but they also offer many extra features that ensure your websites are always fast, secure and ahead of the competition. For our SiteGround Review, we researched all these features and found them very useful.
SuperCacher:
SuperCacher is developed by SiteGround exclusively for their customers. It boosts your website loading speed significantly just by activating it. SuperCacher offers 3 level of caching directly from your server for maximum optimization of your websites.
On Shared Hosting, SuperCacher can be used for only 1 level with StatUp plan, but you can use it up to all three levels with GrowBig and GoGeek plans.
SiteGround also offers managed WordPress hosting on all plans. With that, It is very easy and fun to host your WordPress sites on SiteGround. There are many essential and unique features available with managed WordPress hosting that you'll love.

SSD Drives for All Plans:
SiteGround uses SSD Drives on all accounts to provide more speed to all web hosting plans. It is noteworthy that most of the competitors charge extra for that or doesn't offer it at all.
SiteGround Review: Plans and Current Offers: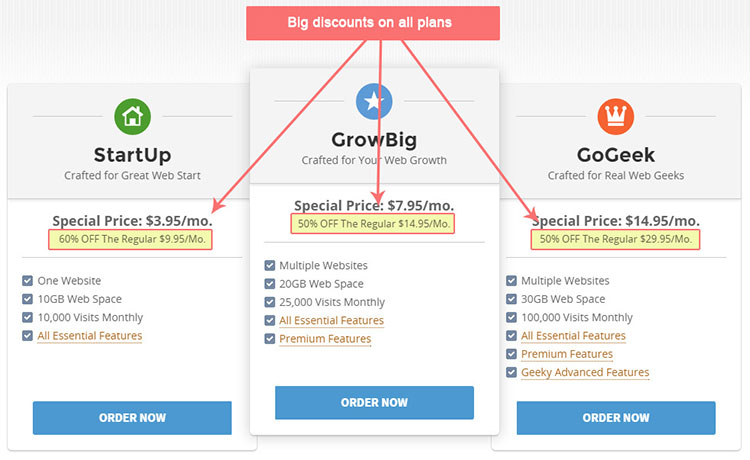 Currently, SiteGround Shared Hosting has 3 plans for your different needs. StartUp plan is great for starters for one website. It is suitable for around 10,000 visits monthly.
GrowBig is for growing website that generates medium to high traffic of around 25,000 visits per month. It has all the premium features the host provides same as GoGeek.
Most people go with this plan because it is all you need unless you are a Geek!
GoGeek is for well, Geeks. People that drives many visits to their sites(100,000 monthly) and need much more resources and features.
If you are confused on what plan you might need, You can always Contact Us, and we'll help you choose the right one for your needs.
Compare features of all the 3 plans here: SiteGround Plans Features Comparision
StartUp: $3.95/mo – For single websites
GrowBig: $7.96/mo – For multiple websites – Recommended
GoGeek: $14.95/mo – For more resource demanding websites
Get these discount prices when you buy from this discount link!
Final Verdict:
With the growing number of hosting providers, It is very difficult to find a good hosting for your websites. A quality hosting will ensure you will rest assured that your data and sites are in right hands. SiteGround is truly the best option for Shared hosting with all the features it provides at the affordable prices. It is certainly not a cheap host but it's without a doubt, a quality hosting provider. Don't think twice, Just go for it, you won't regret choosing SiteGround as your hosting partner!
Keep in mind that currently there are discounts available on SiteGround that you shouldn't miss out. Visit www.SiteGround.com now to avail discounts and save as much as you can with your next hosting purchase.
So that concludes our SiteGround Review. If you have any questions or issues, You can comment below or contact us for help.