HostGator Review: My Unbiased Review With Pros & Cons
In the digital era, Everyone seems to be getting online.
But when starting out, or looking for a new hosting provider for websites, it often leads to a bad experience as there are too many hosting providers, most of whom are providing not-so-good hosting services.
So when looking for a web hosting provider, you should always do some research and select the one which you can fully trust.
HostGator is one of the most popular and top-rated hosting provider. Find out if it deserves the spot in this unbiased HostGator Review.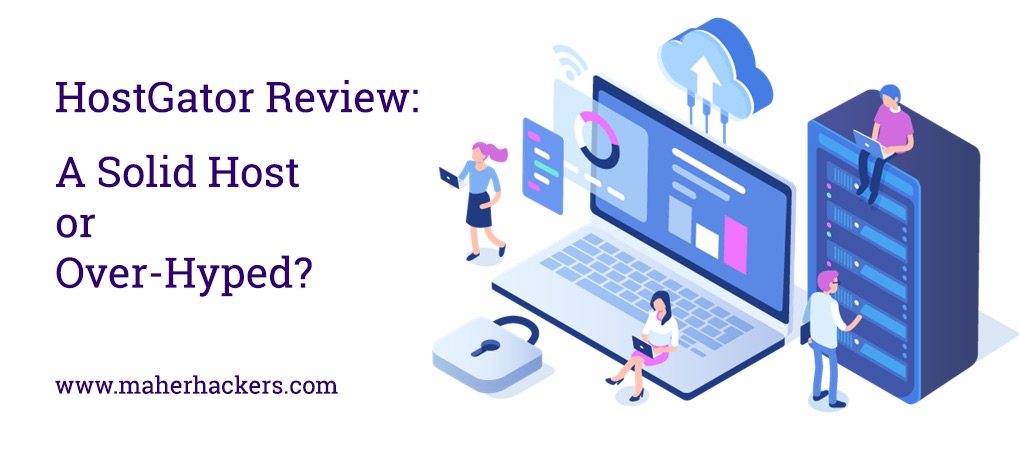 About HostGator

HostGator was started in 2002 and it has since grown to be among the top web hosting companies in the world today. It has its headquarters in Houston, Texas.
Currently, it hosts more than 8 million domains.
It has more than 12,000 servers under its management and boasts of 90% customer satisfaction.
They also have more than 850 employees who offer 24 hours customer support to their clients from various business enterprises.
HostGator is renowned for its consistency and reliability.
HostGator is mostly known as a shared hosting provider but they also offer VPS and dedicated options if you need to upgrade your site hosting needs.
HostGator is a bit expensive as compared to other shared hosts but their support and reliability compensate for the extra cost.
They offer modern and decent features such as free website templates, a good control panel, and unlimited disk space.
However, as compared to other hosting companies, their list of features are fewer but it gives you the flexibility to add as many features as you want.
HostGator was meant mostly for semi-technical users but because it is very flexible, it can be used by all kinds of users. They use languages such as SSH, Python, root access, Perl and Ruby.
They also offer different kinds of hosting such as Windows hosting, VPS and dedicated.
Apart from that, HostGator hosting comes with unlimited control and options for their servers. However, you need some technical know-how of more than a beginner for you to use it. If you are looking for a host with multiple sites, their wide array of offerings makes them the best option.
HostGator Features
Loading Speed
The most important performance indicator of a site is speed. A website that loads faster is good for clients. It also helps to improve the SEO ranking of a site.
As a matter of fact, a study found out that a 1-second delay in page loading can lead to a 7% decrease in conversions, a 16% decrease in user satisfaction and an 11% decline in page re-views.
Here is the loading speed of a website hosted on HostGator: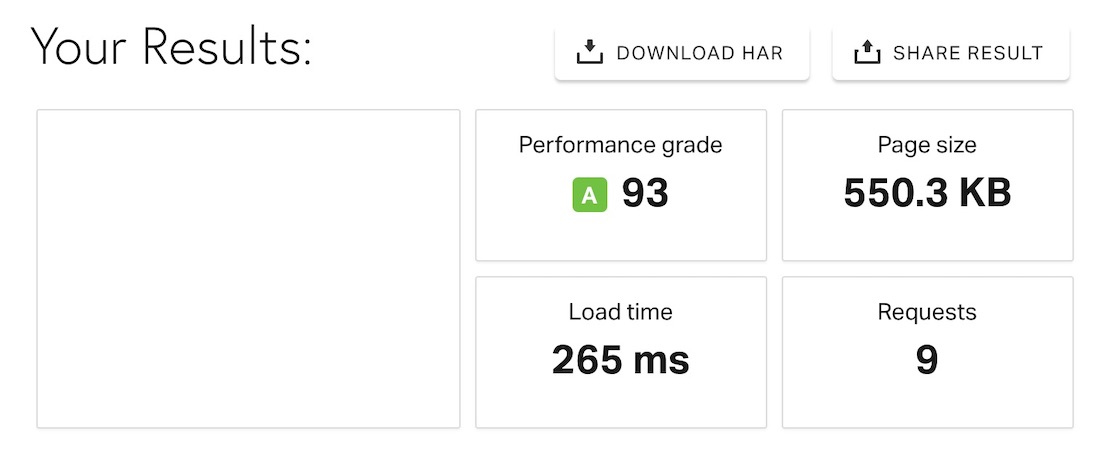 However, the content that is available on a website can affect the page load time. for instance, a website that contains a lot of images is likely to take more time to load.
So how do you test a hosting speed irrespective of the page size? By measuring Server Response Time.
Server response time is the time it takes the server to respond to users' queries of visiting your website.
The lower the server response time, the better. 
HostGator has a good server response time.
Here's the server response time of a website hosted on HostGator: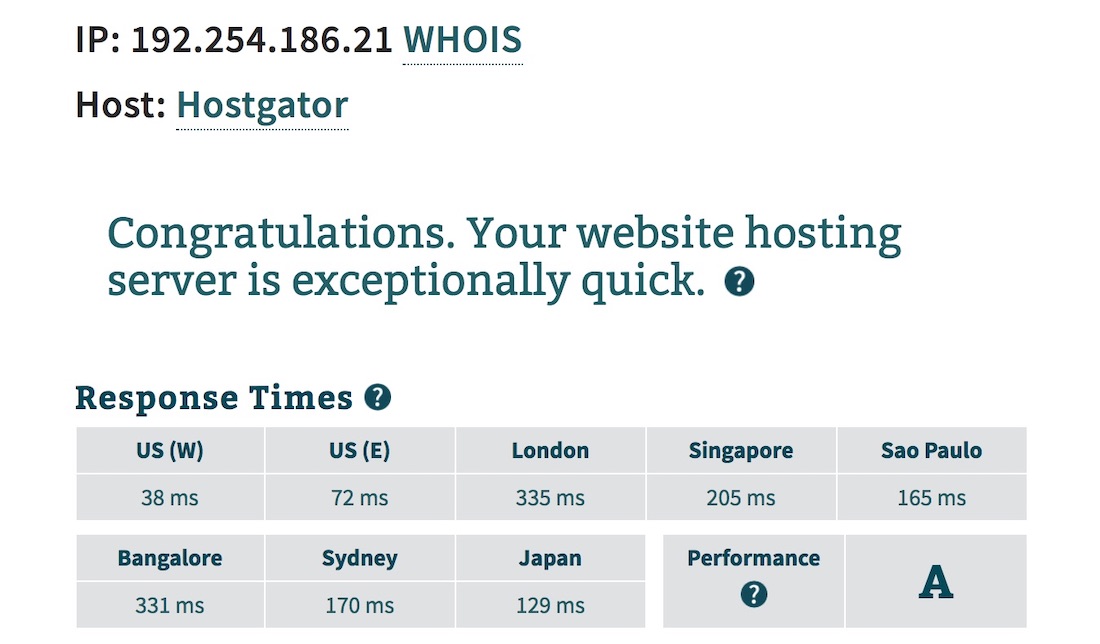 This is a wonderful load time and it guarantees that your site will load very quickly irrespective of your location around the globe.
Uptime
Uptime is what percentage of time your website was up on the internet.
Some low-quality hosts would cause your website to go down from time to time and your uptime would be too low.
HostGator guarantees a 99.9% uptime.
This is the best and standard uptime in the web hosting industry. With over a decade of experience in the hosting industry, you can be assured of good uptime throughout.
HostGator Uptime Test: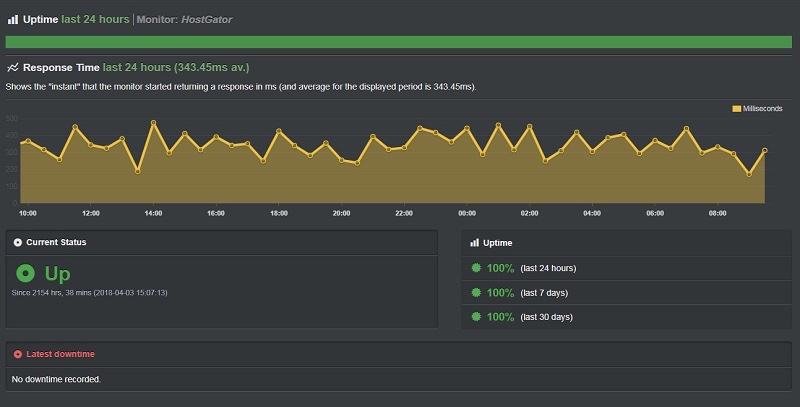 Control Panel/Intuitive Dashboard
Another important feature to consider when selecting a hosting company is its dashboard.
HostGator uses the standard industry cPanel in all its hosting plans. HostGator has customized its cPanel to make it user-friendly hence even new web owners can easily navigate through it.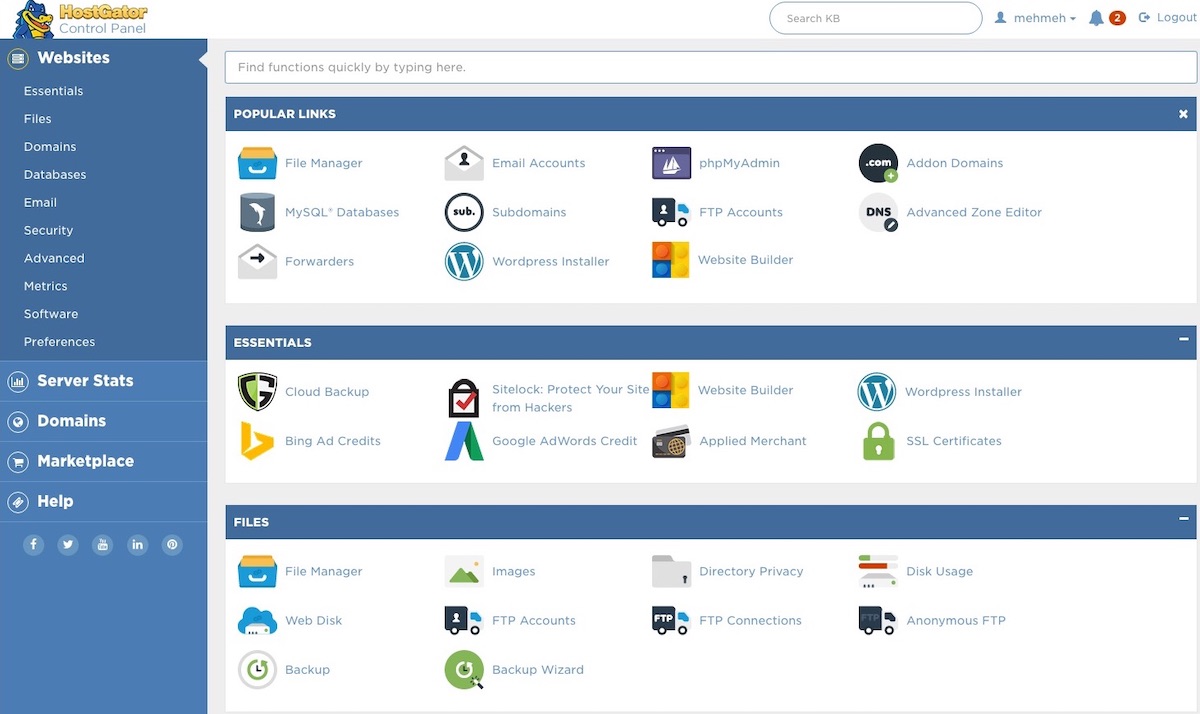 HostGator's cPanel is more user-friendly as compared to the default Cpanel dashboard.
All their features are arranged in tabs hence making it easy to find whatever features you are looking for.
From their cPanel, you can easily get the customer knowledgebase on the sidebar and the support tab at the top of the dashboard. Most of HostGator's advertisements are done on the sidebar.
Its user-friendliness makes it easy to use and find whatever you are looking for easily.
HostGator comes with the latest cPanel software that powers its administration control.
The panel allows you to navigate around easily to perform different functions such as launching eCommerce shopping carts and organizing other features.
By using HostGator's backend panel, you easily gather logs and stats with the help of Error logs, AWstats, Raw Log Manager and Webalizer.
It also comes with a web-enabled file manager which will help you to keep your server free of junk and clean.
Customer Support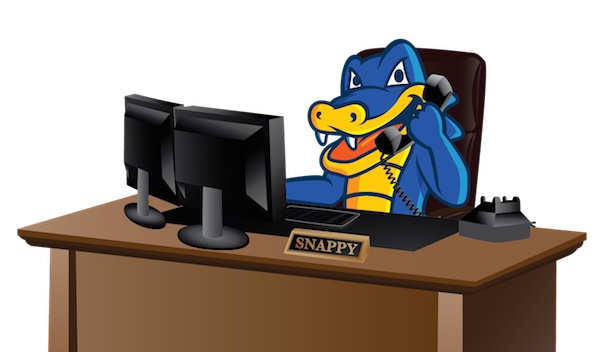 HostGator has extensive online customer support via live chat, phone calls, and email, available 24×7.
It also has an online knowledgebase where you can get tips on how to solve some basic problems.
Apart from that, in your hosting dashboard, you will get HostGator's supporting portal.
In this portal, you will get quick answers to some basic problems from their knowledgeable base. The base contains more than 680 articles and more than 500 tutorial videos.
Here is how much people love HostGator Support: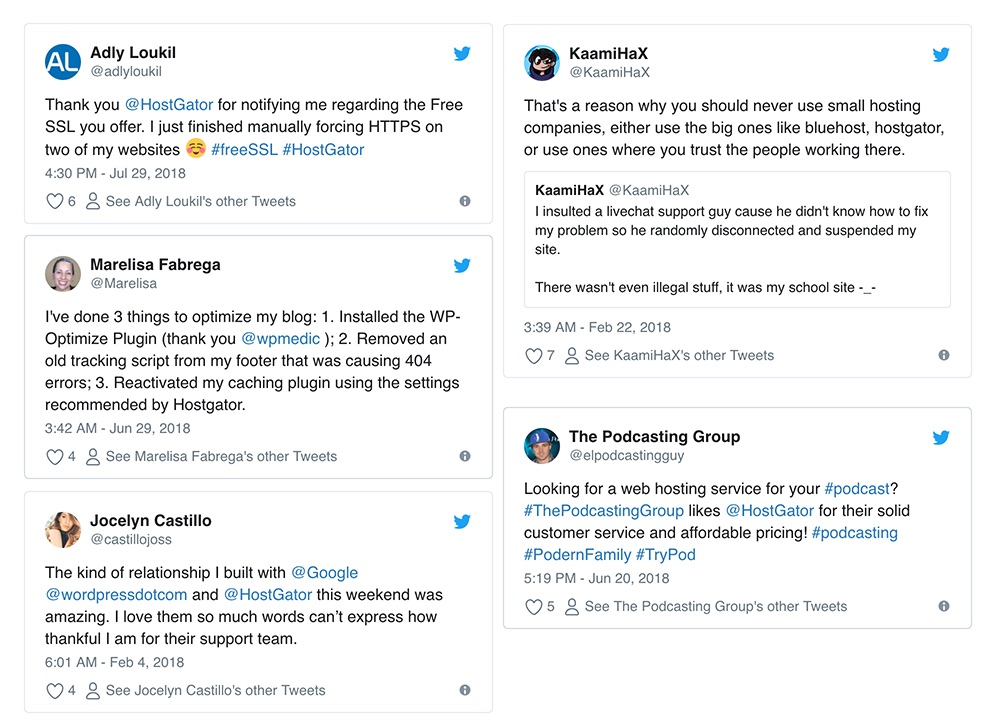 Most importantly, each of HostGator's account has a full guarantee of contacting HostGator's CEO Adam Farrar.
Therefore, if you are not satisfied with help from the regular customer support, then you can request for your ticket to be directed to the CEO, Adam. He is known to respond in person to all the tickets that are assigned to him.
Money-Back Guarantee
HostGator guarantees you a 45-day money-back if you are not satisfied with their services.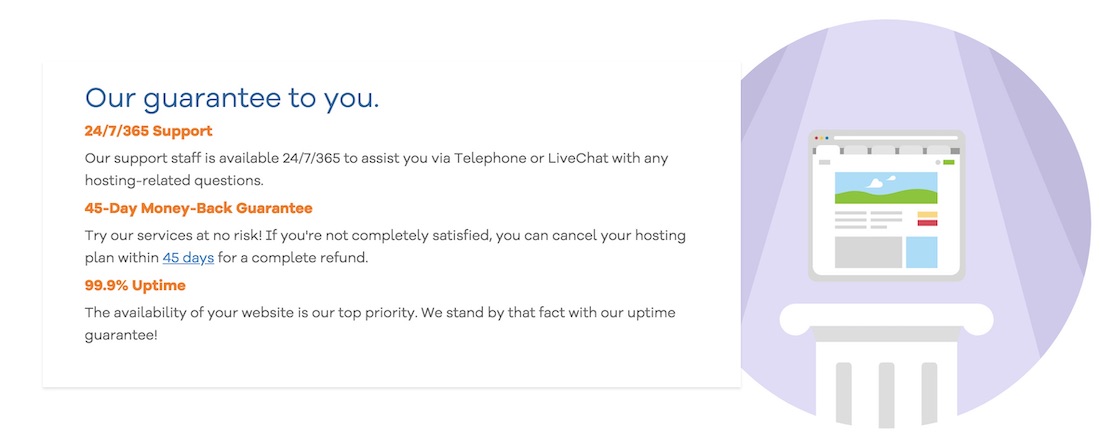 Within this period if you feel that their services do not meet your hosting needs, you can terminate your contract with them and get back your money.
Freebies
Under each hosting plan, HostGator throws in lots of freebies.
Some of the things that you will enjoy for free include a free website builder, unlimited bandwidth and disk space, more than 4,000 website templates, website building tools, free domain transfer, and unlimited MySQL databases.
Besides that, if you are a new website owner, you can be able to call attention to your site by using $100 worth of Google Adwords credits that are provided for by HostGator.
In addition to that, they also have 1-click installs that are readily available for all major open source projects such as Magento, Joomla, and WordPress.
PCI Compliant
HostGator's servers are PCI compliant.
This is important for anyone wanting to accept Credit card payments on their websites, eCommerce sites mostly.
However, they are not PCI compliant by default.
The company will assist you with some PCI compliance settings but it will be entirely dependent on you to get all the other settings.
Data Centers
HostGator has data centers in different places. The major data centers include the following:
When you are signing up for HostGator, they do not allow you to select the data center that you would like to house your website.
On the contrary, they will choose the server that is nearest to you to host your site.
The closer the data center is to your web, the faster it will be because it will be easy for communication between your site and the server.
Free Migration
HostGator has a policy that anytime within 30 days of you signing up with a shared hosting account, they will transfer one of your websites free of charge to your new domain.
In addition to that, they will also help you to transfer 1 full control panel which contains all the settings, domains and email accounts.
However, if you are using their VPS hosting plan, then you are eligible for unlimited migrations or transfers.
Hosting Options
HostGator offers different types of hosting options including Shared, Dedicated, and VPS Hosting.
If you need help deciding which one you need, you can check our guide of Shared, Dedicated, Vs VPS Hosting.
The following are some of HostGator's hosting options (Click to expand and read more):
Shared Hosting Plans & Pricing
HostGator has a deep knowledge of shared hosting which makes it the top-notch host.
Their top-notch service on shared hosting has made them the number one choice for several businesses.
HostGator has 3 major shared hosting plans; Hatchling Plan, Baby Plan & Business Plan, and each plan is available at its own price.
The following are some of its hosting plans:
Hatchling Plan – it costs $2.75 per month. This package allows you to host only one website at a time. Some of the features that you will get with this plan include the 1 click WordPress installer among other standard features.
Baby Plan – it costs $3.95 per month. Under this hosting plan, you will be able to host unlimited websites. This plan comes with all the Hatchling plan features. Also, it comes with additional add-ons like a free private SSL certificate.
Business Plan – it costs $5.95 per month. This plan is suitable for small business websites. It comes with features such as a free dedicated IP address which is necessary for the creation of eCommerce sites. Additionally, you will get a PCI compliant SSL certificate.
It is important to note that you get these prices if you buy the hosting for the long term.
So if you buy 1,2 or 3-year hosting, you get discount prices and also don't have to worry about renewing the hosting every now and then.
All these hosting plans come with unlimited bandwidth and storage.
The main difference between the 3 plans is the number of websites that can be hosted on them.
These hosting plans are ideal for new website owners. This is because they allow you to easily set up a website and they are easy to use as you grow your online business.
You can upgrade to other hosting packages as your website grows.
HostGator Vs The Competition
The main competitors of HostGator are Bluehost, SiteGround, and InMotion Hosting. But there are other contenders as well that people consider when choosing a web hosting provider which includes WPX Hosting, A2 Hosting, StableHost, etc.
| Features | HostGator | Bluehost | SiteGround | InMotion |
| --- | --- | --- | --- | --- |
| Websites | 1 | 1 | 1 | 2 |
| SSD Drives | No | Yes | Yes | Yes |
| Site Migration | $149 | $149 | Free | Free |
| WordPress Support | 2/5 | 4/5 | 4.5/5 | 4.5/5 |
| Free Backups | No | Yes | Yes | Yes |
| Control Panel | cPanel | cPanel | cPanel | cPanel |
| Recommended by WordPress.Org | No | Yes | Yes | No |
| Pricing | $2.75/mo | $3.95/mo | $3.95/mo | $5.99/mo |
Basically, HostGator is the cheapest hosting provider. If you have a certain budget, HostGator would be ideal for you. But if you can spend a few bucks extra, you can definitely get something better.
For detailed comparisons, you can check out our Bluehost versus HostGator & SiteGround versus HostGator posts.
Pros of HostGator
The following are some of the pros of HostGator:
Free Website Migration – HostGator offers free migration to all new clients. If you would like to transfer your website from another host, the HostGator team of experts will help you transfer your web to their site free of charge. However, this service is available within the first 30 days of signing up with HostGator.
Reliability – HostGator guarantees all its customers a 99.9% uptime. If as their user you experience a downtime below the guaranteed uptime, then you will receive a one month credit on your hosting plan.
Flexible billing period – they have different payment plans. You can choose between the monthly and yearly payment plans. The longer the billing period you choose, the more the discount you will get.
Money-back guarantees – they offer 45 days money-back guarantee. Usually, there is no hosting company that offers a money-back guarantee of more than 30 days, it is HostGator only.
HostGator has fantastic customer support 24/7/365
Their optimized cloud hosting for WordPress websites is fast and has a good uptime
HostGator's unmetered hosting resources for all their shared hosting plans are available at very affordable prices.
Cons of HostGator
Just like a coin, there are two sides to each. The following are some of the drawbacks of HostGator hosting:
Upselling – it is advisable that you review well all the additional services that you will select when you are signing up with HostGator. If you are not sure which additional services you chose, then uncheck them as soon as possible. You can add them later as you will find them necessary. This is due to the fact that they charge for most of the additional services that they offer.
No free domain – unlike most web hosting companies that offer free domain, HostGator does not offer free domain registration. Upon signing up with HostGator, you will be required to pay for your domain.
The websites are not automatically PCI compliant
They use unmetered hosting. This limits big businesses from using their services.
Their customer support knowledge base is difficult to use more especially for new website owners.
Conclusion
HostGator offers a wide array of hosting plans that can meet all the hosting needs and budget. HostGator Shared Hosting is one of the most popular and most used services and it doesn't disappoint.
Apart from that, they also offer all the necessary tools to build a new website from scratch. More than 2 million people from different parts of the world are satisfied with HostGator's services.
Therefore, whether you are a website newbie or a seasoned internet guru, HostGator has all the necessary tools that will help you take your website to the next level.
How would you feel or do if you sign up to a web hosting plan today and find out that your site is not only snail slow but also it often disappears from the internet?
You will switch hosting providers, right? But this will not only give you a headache but also it will cost more money.
It is for this reason that you should choose a hosting company that is fast, reliable and has a stable performance record.
HostGator has proven through and through for more than a decade now that they are not only reliable but also fast and stable. Try it today and you will not regret your decision.