HostGator Hatchling Plan Review + 60% Exclusive Discount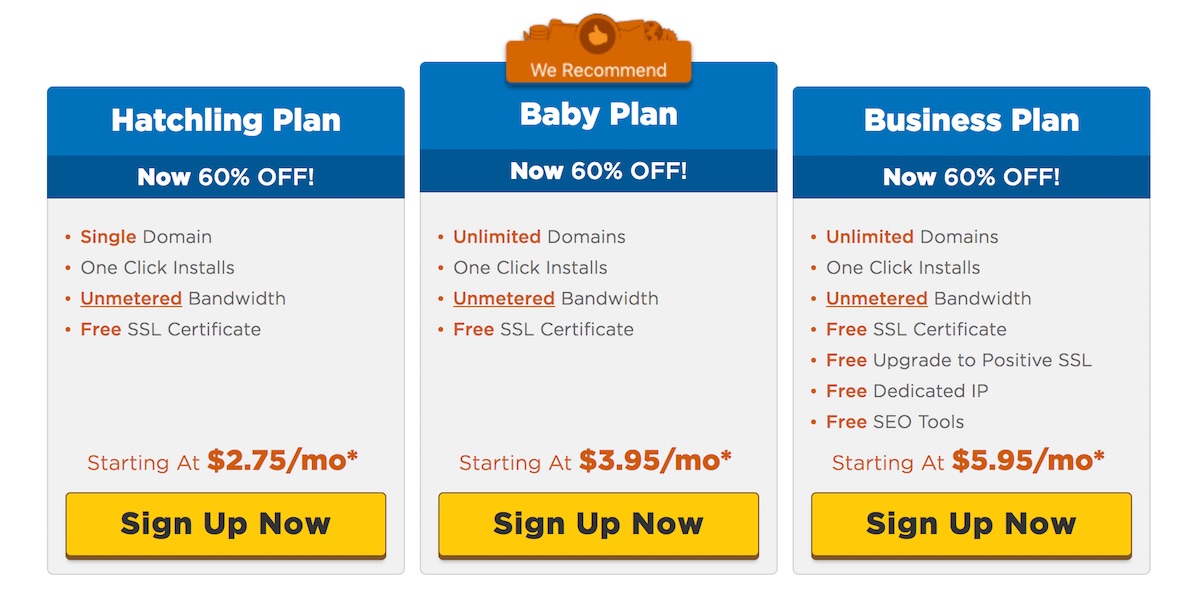 Looking for affordable and quality hosting for your blogs? Then you're in the right place. HostGator is a leading hosting provider and HostGator Hatchling Plan is fairly priced hosting which provides quality.
Now Hosting is an enormous place. Once you start looking for a hosting provider for your blog, you are presented with countless options. Everyone will be recommending you one or another hosting provider.
There are just so many. Once you find a Hosting provider like HostGator, you have to decide which plan you should get.
It is confusing because you don't want to end up hurting your online business by making the wrong choice.
That's why we are here to help you determine if the HostGator Hatchling Plan is right for you or not.
If you end up signing up for a low-quality hosting provider when starting out, the loss will be bigger than you have imagined.
Why? Because you'll be putting yourself at risk of never getting the opportunity to be successful in online space.
So it is paramount to choose your hosting provider carefully. That's why we decided to do this HostGator Hatchling Plan Review.
HostGator is superior in terms of the quality of hosting, support, and affordable pricing. One thing you can be sure of is that you won't regret choosing it as your web hosting provider.
HostGator Hatchling Plan Review
HostGator Shared Hosting Plans
Being in business for a long time, HostGator has figured out which plans to offer to individual customers.
There are 3 Shared Hosting Plans on HostGator: Hatchling, Baby, and Business.
Hatchling Plan: If you're a new blogger/website owner and wish to host only 1 domain, this plan is perfect for you.
Baby Plan: If you wish to host multiple domains and need more resources than the Hatchling plan, then get this. Read the full review of Baby plan here.
Business Plan: If you need much more than above two and not just start a simple blog/website but give it a professional/business identity, this is the plan for you.
The business plan comes with Free dedicated IP, SEO tools, Free positive SSL and much more.
So as you can see here, the Hatchling plan is perfect for you if you're just starting out and don't need those extra features.
While it may seem quite a bit limited, for a new website or blog, you won't need that many resources.
50GB space, for example, will be more than a lot.
You also get a Free SSL with your plan, since Google now puts more importance on SSL sites, this will be very helpful.
Now if you need more than 1 domain hosted and choose to get more, Baby Plan is recommended. So by spending just a few cents more, you can get Baby plan.
The Business plan is for those who run a successful website or blog already or for those who need to give the website a unique place with unique dedicated IP, Positive SSL(It is much more than the default Free SSL on other plans) and establish your site as a business.
All HostGator shared hosting plans have a 99.99% uptime guarantee, so your websites will be online for other people to see, no matter what.
The Cpanel(control panel) is also very user-friendly and even if you're a total newb in the hosting space, you won't have any problem figuring out how to get things done.
How to Sign up for Hatchling Plan
To Sign up for Hatchling Plan, follow these easy steps:
Step 1: Visit HostGator by Clicking this link, and you'll be redirected to the HostGator homepage with a 60% discount added to your card automatically.
Step 2: Click on Buy Now button and you'll be taken to the hosting plans page. Select the Hatchling plan(or any other if you decide so) and click buy now for the respective plan.
Step 3: In the final step, you can enter your existing domain name or select a new domain. Choose your preferred plan term, you can select from monthly to 3 years term.
The longer the term, the higher the discount.
As you can see in the screenshot below, you get more than
$150 off your subscription with the MaherHackers discount link.

How cool is that! 60% discount just like that!
HostGator Hatchling Plan Features
Unlimited storage space
Single domain hosting
Unlimited email ids
User-friendly site administrative controls.
Unlimited Bandwidth
Unlimited sub-domains and FTP accounts
One-click automatic WordPress installation
Free Google Adwords credit worth $100. This is only for a few AdWords accounts.
Free HostGator Website Builder
45 Days Money Back Guarantee
HostGator Hatchling Plan Pricing + 60% Discount
HostGator has been very generous with us by giving a 60% discount to all users that sign up with our link.
Visit HostGator by Clicking this link and get your discount codes applied automatically.
HostGator Hatchling Plan FAQs:
What if I decide to upgrade later?
It's possible that after signing up for the Hatchling plan, you might think you need something more. The good news is, you can very easily upgrade to any of the other plans from your control panel.
What if my website starts getting too many visits a day?
Worry not, Hatchling plan comes with unmetered bandwidth, so you won't have any issue for up to 5000 visits per day. Which is huge for a small-medium site, so as not to worry.
Is their support any good?
Yes. HostGator provides 24/7 chat, email, and telephone support and their support staff seems to be very knowledgeable and will resolve your queries very quickly.
Is it easy to install and setup WordPress on HostGator?
Yes, HostGator provides one-click installations to famous CMSs including WordPress. So you can install WordPress on your domain easily with just a click.
Still, if you need any help setting it up, We can help you set up WordPress on your domain for completely free. Email me at vinod@maherhackers.com and I'll help you get it done.
Final Thoughts on HostGator Hatchling Plan Review
We always thrive to write honest and thorough reviews about hosting companies and hosting plans to help users like you find the best hosting service that will get your online business to the next level.
This HostGator Hatchling Plan review is created after thorough research and we tried to add as much information to help you figure out if this plan is right for you.
Overall, This plan is perfect for anyone starting a new website online. Even if you think you might need more resources later.
If later you need more resources, you can easily upgrade. So sign up with the Hatchling plan now and if you think it is not enough later, you can upgrade it in a few seconds!
Still unsure? Shoot us an email at vinod@maherhackers.com and I'll help you out.