HostGator Baby Plan Review + 60% Coupon Code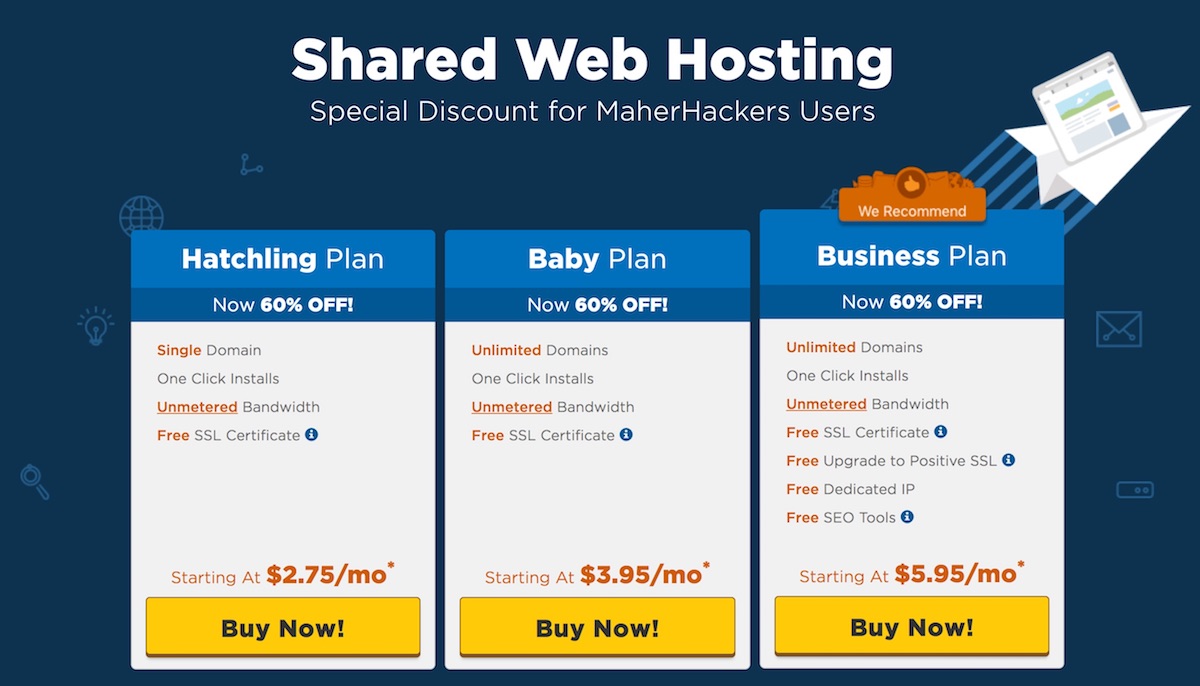 You want a quality hosting that doesn't give your website any issues and you don't have to break the bank, right? If so, you're in the right place.
HostGator is a perfect choice. But is the baby plan the one?
Finding the right web hosting service is not easy today because there are too many hosting providers and some provide hosting that costs a lot of money and some provide hosting completely free or under $1.
A hosting that costs too much is understandable as if you have multiple sites getting too many hits daily, you can opt for it.
But I don't understand the use of free or cheap hosting services at all. If you want to start your own blog or get hosting for your website and make money from your blog, then you should stay away from these free and cheap hosting services. It's just a waste of time.
But for someone who needs hosting in a budget that provides high value, provides optimum space, uptime and allows hosting of unlimited sites, the HostGator baby plan is a perfect choice.
Visit HostGator – 60% Discount for MH Users >
HostGator Baby Plan Unbiased Review
HostGator is one of the leading web hosting service providers.
It is serving numerous users for their web hosting demands and offering quality support with many additional perks.
It is a hosting service that permits the customers to host multiple sites and ensures there will be no issues of downtime.
HostGator offers some great web hosting plans and its baby plan is quite popular among the users nowadays.
Here we are sharing HostGator Baby Plan Review in order to help you in understanding how effective the HostGator baby plan is for your web hosting needs.
Popular Web Hosting Plans Offered by HostGator
HostGator is providing its users with three popular hosting plans, which are hatchling plan, baby plan, and business plan.
Though the names of the first two plans are a bit weird, the users will get what each plan is about by checking a brief description of each plan:
Hatchling Plan
It is a perfect plan for the beginners who want to hold one website for their business or a simple blog.
Baby Plan
If you choose this plan, HostGator will allow you to host multiple sites. It is the most widely chosen plan for blogging.
Business Plan
If you are looking for some advanced features like SSL and dedicated IP, HostGator's Business Plan is great. It is for the businesses and heavy sites with some additional features.
As you can see, HostGator is providing you with three different plans and now you might wonder why should I choose the baby plan?
It is a plan that comes with many perks and impressive features. It can be the best for some users and simply useless for some users. So, let's explore all the important details about the HostGator Baby Plan in this review.
Why HostGator Baby Plan?
The HostGator baby plan is quite impressive when it comes to blogging. There are many other web hosting service providers, The problem with them is the cost of their web hosting plans.
Many people need an affordable plan that can meet their web hosting requirements and HostGator is offering a very impressive solution in the form of its Baby Plan.
There is no reason to stick to a free web hosting plan if you want to be a successful blogger.
Suppose you succeed in gaining people's attention across the web and get thousands of visitors.
A free web hosting plan cannot allow you to entertain your visitors in an impressive way. Slow loading of the blog and downtime can cause a huge loss.
You may lose many visitors and that will eventually cause you a considerable loss.
How Can HostGator Baby Plan Help You?
HostGator's baby plan is designed to help you in providing your visitors with impeccable service.
Your site or blogs will load quickly and you can store a lot of data without spending a lot of money.
It prevents you from the potential loss of clients and visitors. By choosing this particular web hosting plan you can host multiple domains without paying any extra penny.
Any of your domains will never go down, even if your blogs or sites are entertaining numerous visitors at the same time.
We are not promoting this plan, but stating what the users' opinion is about this particular plan.
HostGator is not a new player in the market. It is a web hosting service chosen by millions of users across the globe.
HostGator has maintained its reputation as one of the leading hosting service providers by offering flawless solutions for all sorts of web hosting demands.
Many users end up buying a poor web hosting plan and later their sites do not load up quickly and they face loss. It rarely happens when you have chosen the HostGator baby plan to host your domains.
Continue reading this review to reveal some more technical details about this web hosting plan.
HostGator Baby Plan Packages
HostGator assures the users for offering 99.9% uptime and virtually no downtime at all.
You are allowed to host as many domains as you can host and it will provide unlimited bandwidth with shared disk space.
It will also provide you with some great suggestions regarding website builder tools to develop a site or blog. It will look professional and engaging. The packages offered with the HostGator baby plan are as follows:
1 Month: $11.95/month
3 Months: $11.95/month
6 Months: $11.95/month
12 Months: $8.95/month with 25.10% discount
24 Months: $6.95/month with 36.53% discount
36 Months: $3.95/month with 60.30% discount
As you can see, the price will decrease as you move towards a longer plan. The 36 Months plan is the best for you if you are a professional blogger and want to be active in this field for the next three years.
You will save a lot of money and enjoy all the features offered by HostGator with its baby plan.
Features Of HostGator Baby Plan
When it comes to choosing a new web hosting plan, you should always consider the features first.
HostGator Baby Plan is full of luring features that turn it into one of the most affordable and attractive web hosting plans. Its key features are as follows:
Free Site Builder
HostGator not only care about your website, but it also provides you with a website builder tool that can help you in creating an attractive website.
It is quite helpful, especially when you do not want to hire a website designer to create a website.
Unlimited Disk Space and Bandwidth
This feature will ensure that you can load any amount of data on your blog and website and still your site will work quite effectively.
Not every web hosting service allows you to change the domain name time and again, but you get this feature with the HostGator baby plan.
In addition, unlimited bandwidth and disk space allow you to run your site with more freedom.
99.9% Uptime Guarantee
What if you spend a lot of money and get a lucrative looking web hosting plan, but the downtime reduces your visitors' experience with your blog or website?
It will not only frustrate your visitors but also cause you a considerable loss. You will lose your visitor and potential income.
HostGator guarantees you that your website will be 99.9% uptime and none of your visitors will face any troubles in loading and using your website.
24/7 Support
Not every website owner is a technical expert who can understand why a particular issue is affecting his blog and website.
HostGator understands that and therefore it offers 24-7 support to its customers. You can get immediate support and feedback from the HostGator team if anything wrong goes with your website.
45 Days Money Back Guarantee
HostGator is providing 100 USD Google Adwords credits, unlimited FTP account along with MySQL database, unlimited add-on, parked domains, and subdomains.
All these facilities along with the mentioned features will overwhelm any website owner.
However, if you experience that any mentioned promise is not fulfilled or your website is not 99.9% uptime, you can claim for refund. HostGator will return your money if you face any sort of inconvenience.
Buying HostGator Baby Plan With Discount
HostGator has kept the subscription process pretty simple and straightforward in comparison to other web hosting companies.
You will have to sign up in order to buy any of its packages. You can access the package from the Shared Hosting Page on HostGator's official website.
Follow the given steps in order to buy the Baby Plan.
Visit HostGator website and then click on the "Buy Now" option.
You'll receive a 60% discount when you visit from our link provided above. So you'll save a lot of money on your hosting purchase.

As you will click on "Buy Now", you will be directed to different web hosting plans offered by HostGator. You have to click on Baby Plan and then click on the sign up option.
Once you have chosen the type of package you want like 1 month, 3 months, 6 months, 12 months, 24 or 36-month package, now you will move to the final step.
You have to provide the billing details in order to buy the chosen package for the HostGator baby plan.
It will ask for the domain name or you can get a new one if you do not acquire one.
Once all the details are filled and the package is chosen, click on sign up and your plan will be active.
This whole process will take only two or three minutes and you will get a secure shared hosting plan for launching your domains on the web.
Final Thoughts
HostGator has gained a reputation as one of the most reliable web hosting services in the world.
It has been possible because of flawless services and supports it offers with its web hosting solutions.
As this HostGator Baby Plan Review endorses, this web hosting plan is quite better than other more expensive shared hosting plans offered by other web hosting companies. So, you must go for it.