InMotion Hosting Review: Honest Review + Discount Code
Too many hosting providers on the web today. Is InMotion Hosting the best bet for your sites?
That's the question many have. Because web hosting providers spend millions on promotions and marketing so not every popular host is the right one.
But after being with InMotion for more than 2 years. I can vouch for their service.
Yes. InMotion hosting is better than many other popular hosts.
Read on for full Inmotion hosting review breakdown.
InMotion Hosting has grown immensely over the years and has become known as a reputable web host for a large number of users out there.
Even though they provide a wide range of services for the people to take advantage of such as dedicated servers, VPS, reseller services, the web hosting service is mainly acknowledged for its shared hosting abilities.
So we decided to do an InMotion Hosting Review and see if it's worth it.
It has excellent performance and an affordable price, which is mainly what users search for when on the lookout for hosting services.
InMotion Hosting only $5.99/month + Free Domain
InMotion Hosting Review: Pros and Cons
PROS
SSL Drives on All Accounts
Free Domain Name when you Signup
Totally Free Website Transfers
Free Data Backups
SSH Access to all Accounts
CONS
About InMotion Hosting
Being in business for over fifteen years really puts InMotion Hosting near the top because it has an immense amount of experience and knows what the customers are looking for.
InMotion shared hosting service was first established in the year 2001 and ever since then, it has managed to stick around and become one of the most popular shared hosting websites around the world.
Thus, InMotion Hosting can also be described as an independent, and one of the largest hosting companies operating as of today.
It has numerous exciting aspects that are accompanied by its shared hosting plans.
It is a host that you can trust.
The data centers that InMotion Hosting has in the United States of America utilizing Smart Routing technology, premium bandwidth, and DDoS protection to provide the clients with a stable uptime.
InMotion Hosting Review: Loading and Uptime

No matter how many features a host provides or what its reviews are, One thing that matters most is website loading speed and Server Uptime.
In my opinion, You should only care about that. If your website is loading slow or has many server outages, then it'll hurt you in an awful way.
Fortunately, InMotion hosting doesn't disappoint here. I believe it's one of the fastest and reliable hosts in the business.
What You Can Expect from InMotion Hosting
Free of Charge Domain Name
The best part about InMotion Hosting is that it will provide you with a new domain, even if you did not register to be given a new domain while you were signing up.
That is a very beneficial offer that the hosting service provides you with because you can get a free domain credit that you can make use of in the future.
That is a huge advantage because there are not many hosting companies that provide people with the benefit of free domains.
You can secure your identity online today and build your website by reserving your spot, so it is instantly available whenever you are need of it. You can get a free domain by following the steps given below:
Register for a hosting plan at InMotion Hosting
Purchase a one or two-year business class plan
Obtain a free domain for your first year at InMotion Hosting
Managed WordPress Hosting At Its Best
InMotion Hosting has 100% compatibility with a wide range of WordPress plugins and other features. You can expect InMotion Hosting to work extremely well with not only the essential features of WordPress but also operate smoothly with the most advanced ones too!
So, you can expect staging, WordPress automatic installation, and numerous other features to be offered and supported by InMotion Hosting. Key advantages that you may find with this feature are:
Pre-Installed And Ready to Go anytime
Quickly create unique websites with BoldGrid
Staging for secure WordPress testing
Secure and enable application rollback

Friendly and Quick Customer Support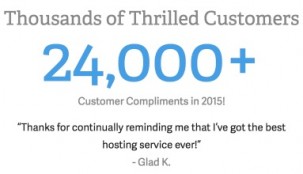 InMotion Hosting has customer support services as well that will assist the customers in different sectors and provide them with the answers they need to resolve the issue currently at hand. It also provides the customers with:
24/7 Live Chat
Call support
So, the customers do not have to worry about waiting for opening hours to call anymore.
If you ever face any difficulties with the server or a service that InMotion Hosting is offering, then you can call or chat whenever you want and fix the issue within just a matter of minutes!
Visit InMotion Hosting Now and Avail Great Discounts!
Money Back Guarantee:
If you at any point feel that the InMotion Hosting reviews you read online did not guide you properly, and you find the service not to be up to the mark, then InMotion Hosting provides you with the ability to obtain their 90 days money back guarantee offer.
That will give you the opportunity to test the service and see if it is exactly what you have been looking for.
You can select the right plan for you and talk more with a member of the customer support team to guide you throughout the selection process.
However, If you feel you should change the plan or reconsider using the services of InMotion Hosting, then do not worry because it provides you with a money back guarantee within 90 days of purchasing their services.
InMotion Hosting Review: Pricing & Offers

InMotion hosting plans start from $5.99/mo. All three plans are created for a specific audience.
Launch Plan is offered for $5.99/month and allows hosting of 2 websites. For most of the starting blogs/websites, It'll suffice as it'll provide with all the features for a new website.
Once your site started getting more traffic and need more resources, you can easily upgrade to other plans at any time.
Power Plan for $7.99/month allows hosting of up to 6 websites and offers more features than the Launch plan like E-commerce functions etc. It is suitable for most websites that generate moderate traffic.
Most web developers would go for this plan because it offers best features at affordable prices against other plans.
Pro Plan is offered from $13.99 and offers many features specially designed for web developers/bloggers that you will often find very useful.
You can host as many websites as you can on this plan, and you won't run out of resources even if your website generates too much traffic.
If you have any confusion on what plan would be best for you, You can always reach out to us!
Launch: $5.99/mo – New websites that are just starting out.
Power: $7.99/mo – Most web developers who need more resources.
Pro: $13.99/mo – For maximum resources and premium features.
Conclusion
After observing different InMotion Hosting reviews and doing lots of research and tests, We found InMotion to be amongst the best web hosting providers of the time.
InMotion Hosting would receive a 4.5/5 rating on its overall performance.
It is a reliable hosting service that provides value for money hosting for experienced users and beginners alike.
You will receive support, impressive uptime, quick loading, and excellent performance, a price that is somewhat affordable by most and so much more.
In conclusion, there may be a few aspects you feel InMotion Hosting does not have if you begin comparing it to other web hosting services, but if you look at it, InMotion Hosting itself has a wide variety of features that are unmatched.
Overall, this web hosting service deserves a thumbs-up, and you should consider taking a look at it if you are in need of web hosting services.
Hopefully, this InMotion Hosting review helped you receive a better insight of the host, and we hope it helped you in your decision to choose the new host.