Bluehost Vs HostGator: Head to Head Comparison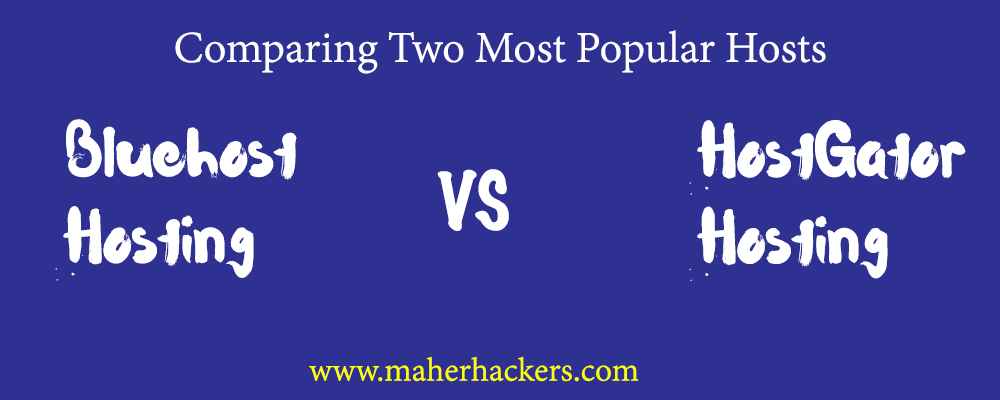 Do you want to know which hosting platform is the best for your blog?
Are you still unable to make the right choice? Is Bluehost better than HostGator or is it the other way around?
This detailed Bluehost and HostGator comparison will help you out.
Remember, the comparison is based on the top five hosting features you need to look for.
It is not an easy task to compare two of the most popular hosting sites, but taking the features one by one can make things a lot easier.
Top 5 Hosting Features You Cannot Overlook
Though there are several factors to look for, some are highly significant.
You can't think of compromising on those important features if you really want to build a promising blog.
In this comparison, I've selected the top 5 factors based on what is required for a successful blog.
WordPress Compatibility
Ease of Use (For Beginners)
Security
Speed
Customer Service
You can't really think of a blog/website without WordPress compatibility because it has just changed the online world and more and more successful blogs and websites prefer WordPress for one reason or the other.
User-friendliness, speed, customer support, and security are the prime factors you can't ignore.
It is time to compare two contenders on the basis of these factors.
Let's divide the comparison into five rounds and see which of these two wins the most.
ROUND 1. WordPress Compatibility
Serving over 25% of the total number of websites on the internet, WordPress becomes the most preferred platform for websites and blogs.
It is highly important for a hosting company to offer top-notch WordPress-compatible features. Users must not face issues with the WordPress installation, themes and plugins.
Bluehost
HostGator

$2.95/month WordPress Hosting
Easy for the beginners
VPS powered
Optimized WordPress, starting from $19.99/month

$5.95 starting price for WordPress Cloud Hosting
2.5x speed
Site Migrator
Enhanced security

Officially recommended by WordPress.org
Association with WordPress since 2005

Never recommended by WordPress.org

One-Click WordPress Installation
User-Friendly cPanel

Free migration from WordPress.com to HostGator
Instant One-Click WordPress Installation
Enhanced cPanel

Free SSL certification
CloudFlare CDN (free/requires no coding)
Customized control panel
ManageWP (pre-installation) with Premium Package
Malware scanning (daily)
SiteLock WAF
Advanced CDN
SiteLock Security
Automated Backups
Dedicated Backup Storage

SSL certification is NOT free
SiteLock security/malware removal
Global CDN
HackAlert Monitoring (daily)
Automatic CodeGuard
Automated Backup
1-Click restore

NGINX architecture (Advanced)
VPS powered platform
PHP-FPM custom configuration

CND and Caching configuration
Low Density Server
Cloud Architecture
Multiple Caching Layers
Round 1 Winner?
As far as WordPress speed is concerned, HostGator takes the lead, but added security features, Free SSL, and WordPress.org recommendation helps Bluehost win this round.
Let's move on to the next round.
ROUND 2. Ease of Use (For Beginners)
How easy is it for the beginners to use any of these two promising hosting platforms?
In this round, we'll have a look at different features including money-back guarantee, domain registration, and site transfer, etc.
Bluehost
HostGator

30-day money back guarantee
The guarantee doesn't facilitate add-ons
100% refund (within 30-days)
Partial refund (after 30-days)

45-day money back guarantee
Doesn't facilitate add-ons and domains
Full refund (within 45-days)

Free domain name
One-year domain registration
Renewal of the hosting plan renews the domain registration

Doesn't offer free domain name
Offers free domain transfer
$12.99 is the starting price for the new .com domain

Manual site transfer
Bluehost transfer service (5 sites max. and up to 20 email accounts)
Cost equals $149.99
FTP option required

Offers Free Migration
Valid 30-days after the purchase or upgrade of the hosting account

MOJO Marketplace for WordPress Installation
Installation option on the cPanel Dashboard

Also offers MOJO Marketplace
How-To tutorials for easy WordPress installation
How-To guide for an optimized WordPress site

On-site builder (Weebly)
Mojo Marketplace offers more options

Propriety site builder (free)
Drag and drop feature with intuitive interface
WYSIWYG functionality
Around 100 optimized templates (mobile-friendly)
Pre-built site sections
Free upgrades
Round 2 Winner?
HostGator wins this round for its extended features, free site migration in comparison of $149.99 charged by Bluehost.
But HostGator doesn't serve you with a free domain name. Overall, HostGator is more convenient for beginners.
After Round 2, the score is 1-1. Let's see who takes the lead in Round 3.
ROUND 3. Security
Security stands out as the topmost consideration for website and blog owners. You can't even imagine your blog suffering from malicious files and unauthorized access.
If it happens, there can't be a more terrifying nightmare than running a compromised blog.
Let's see how these two popular hosts Bluehost and HostGator ensure foolproof security.
Bluehost
HostGator

Auto-Generated backups (complimentary)
Custom scheduling
Doesn't offer a backup guarantee
Recommends personal backup through cPanel

No auto-generated backups
Maintain your personal backup
CodeGuard (paid upgrade) for daily automated complete backups and 1-click restores

Shared SSL (free) only for the accounts using Shared IP
One SSL certificate for Pro as well as Standard accounts
One Dedicated IP for Pro and Standard accounts
Multiple SSL certificates and Dedicated IPs for VPS, managed, reseller, and dedicated accounts

Does NOT offer free SSL certificate
Free SSL includes
Company Validates
Domain Validated
Vildcard
Multi-Domain
Extended validated
These certificates don't facilitate the Hatchling packages

Only the paid upgrades enjoy malware scanning
Spam monitoring
Site Verification Certificate
Malware Monitoring
Blacklist Monitoring
Site Doctor ($249.99/year)

SiteLock malware scans
HackAlert monitoring service (daily updates)

DDoS Protected Infrastructure
No advance warning about DDoS attacks

Protection against DDoS attacks
Custom firewall
Protected network-level flood
Round 3 Winner?
Bluehost takes the lead once again with better security features.
HostGator lacks the free SSL certification, which lets Bluehost come on top.
In addition, complimentary website backups also help Bluehost to perform better in terms of security.
So, with Bluehost 2, HostGator 1, let's see if HostGator manages to bounce back in Round 4.
ROUND 4. Speed
You can't compromise on the speed of your blog or website. If a hosting website fails to offer maximum and consistent uptime, you can't choose it at any cost.
You have to facilitate your audience and if the speed is not up to the mark, your visitors will never return.
Bluehost
HostGator

SSDs are not available with shared hosting
Server infrastructure offers SSD storage (enterprise level)

SSDs are not available with shared hosting
WordPress and Cloud hosting plans offer SSDs

Data center locations are secret
US, India, Europe and China facilitate these data centers

Tier 4 data centers in Utah and Texas
HVAC, backup generators and reliable electrical facilities
Controlled access to highly protected centers

Tier 3 certified servers
Superior uptime i.e. 99.982%
1.6-hrs/year average downtime
Diesel Backup Generator
Quad-processors
Mirrored storage backup
Uninterrupted Power Supply

99.9% (guaranteed by HostGator) uptime thanks to the SLA
Linux container technology
Built-in redundancy

CloudFlare for Content Delivery Network
Global Network Routers

CloudFlare for CDN and Firewall Network Solutions
Round 4 Winner?
Well, there is nothing to choose between Bluehost and HostGator in terms of speed and uptime.
Both offer exceptional features and technologies to ensure the least possibility of downtime and consistent provision of maximum uptime.
Round 4 is a tie.
ROUND 5. Customer Service
It is important to get support at the right time when you really need it.
When it comes to website or blog hosting, you can't deny the chances of minor or major issues so you need to remain prepared and ready to seek guidance.
For a hosting company, to guarantee top-level services, customer support is highly important.
Let's see how HostGator and Bluehost customer service performs in the final round.
Bluehost
HostGator

Dedicated Toll-Free Numbers
Tech-Support
WordPress Support
Hosting Support
Offers Support Tickets
Offers 24/7 Live Chat

Toll-free Numbers
Live Chat
Forums

Instant Chat (less than 10-minutes)
Instant Calls (toll-free numbers)

Instant Chat (less than 15-minutes)
Billing support may take from a few minutes to 24-hours
Instant calls

Professional team of experts serving 24/7-365
Sales
Account Management
Technical Support

Forums featuring the experts
Tutorials and videos available 24/7
Round 5 Winner?
Once again, both, HostGator and Bluehost offer promising customer support so there is nothing much different in what both of them offer.
It's a tie again.
So the final score is…
Bluehost 2 and HostGator 1 and 2 ties.
It's a really tough competition as both of these hosting companies are contributing more and more to the industry.
Both have attracted millions of clients from all over the world.
Both have an extensive and reliable history.
We've decided on the basis of minor differences that Bluehost is better than HostGator, but it doesn't mean that HostGator isn't a wise choice.
For an extensive review of each hosting, Check out our Bluehost Review and HostGator Review.
It depends on what you exactly need. It also depends on your budget because, at times, the additional features may cost you more in the case of Bluehost.
On the other hand, you can't compromise on those additional features.
So this is it for our comparison of Bluehost vs HostGator. I hope you found what you were looking for.