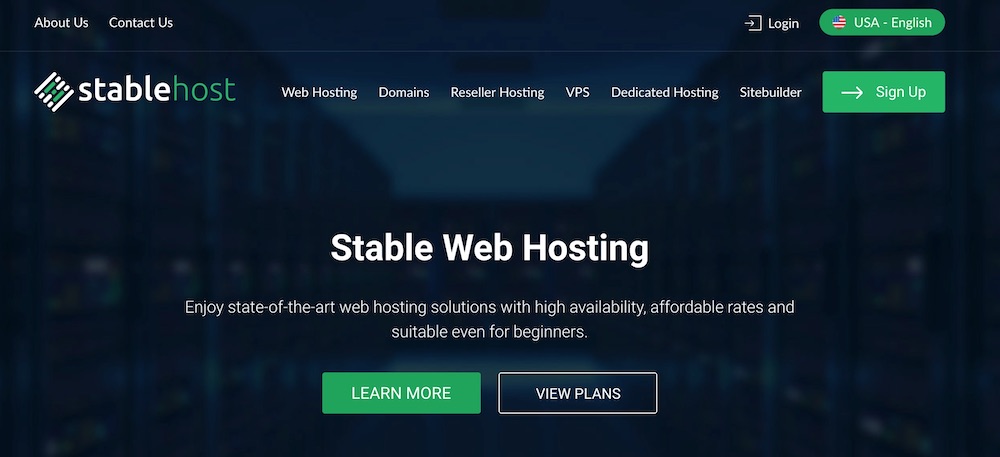 Hosting space is getting crowded and most of the so-called "top hosts" are providing terrible services and don't care about providing quality hosting anymore.
StableHost provides high quality hosting in the budget.
I have tested most of the hosting providers and most of the highly marketed hosting providers are the ones where customers are most unhappy.
That's because they care only about money and spends it on marketing rather than providing value hosting services.
So it becomes hard to find a host that cares about just providing the hosting services that are value for money.
StableHost is the one you can trust. I highly recommend StableHost. Read the next section to know why.
StableHost Features
StableHost comes with some of the features that are not available even with big hosts like Bluehost & HostGator.
Short List of StableHost Features:
Unlimited Disk Space*
Unlimited Bandwidth*
Unlimited MySQL Databases
Unlimited FTP Accounts
SSD Drives
Free Website Builder
Daily Backups
Free SSL Certificates
Free Website Migration
24/7 Server Monitoring
StableHost provides unlimited Bandwidth, MySQL databases and FTP accounts on all plans.
And like most of the other hosts, StableHost has started using SSD drives and provides them with all plans.
Debunking Unlimited Space & Bandwidth Myth
Just like most of the shared hosting providers, StableHost also advertises Unlimited Disk Space and Unlimited Bandwidth. But in reality, it's just not possible to offer unlimited disk space and bandwidth.
I mean, when was the last time you went to buy a laptop and bought one with unlimited storage? Never, right?
That's just not possible.
So I don't like it when they advertise it like that, but all hosts do this and the truth is, most of the people buying shared hosting won't need much disk space to begin width.
And for low to medium traffic website, bandwidth should be sufficient.
On each plan, you get the Site.Pro Web Builder which comes in handy if you are a newbie and don't know how to build a website. The free website builder makes it easy for you to create a website easily after signing up for StableHost.
StableHost also provides a 99.9% Uptime guarantee and unlike most of the other hosts who promise that StableHost doesn't disappoint there. With StableHost there are not many website downtimes.
If you are moving to StableHost from another hosting provider, you can ask StableHost to migrate your website to their server for Free!
Not many hosts offer Free migration on Shared hosting plans. So it's a good thing that StableHost does.
Softaculous is also offered on StableHost. So you can install various scripts like WordPress, Joomla, Drupal, etc. with just a click from your backend control panel.
StableHost runs on the LiteSpeed server. LiteSpeed is said to be faster than Apache and also processes PHP processes a lot faster.
StableHost also offers SSH access but you have to pay an additional $2.5 per month in order to access it. It's a nice addition and charging separately ensures anyone who needs it can purchase it and others don't have to pay for it if they don't.
StableHost also takes care of your website security for you. All plans come under DDoS protection.
In addition to that, All plans are on Clustered Hosting. Let's discuss that in the next section.
Clustered Hosting
StableHost doesn't offer the ordinary shared hosting that other hosts offer. Instead, they offer Clustered Shared Hosting.
In Clustered Hosting, your data and workload are spread across multiple servers. So if any issue happens on one server, your website won't go down.
In a way, it is much like Cloud Hosting.
StableHost has data centers in Phoenix, Amsterdam, Chicago, and Stockholm. Out of these, Clustered Hosting is available on Phoenix and Stockholm data center only.
So choose either of these two data centers to enjoy the benefits of clustered hosting.
Features like Automatic IO Re-allocation, Automatic Node Failover and Smart Load Balancing resolves any issue with the server automatically and quickly so your website doesn't experience any downtime.

Website Loading Speed
The most important thing for a website is Loading speed. Because whoever is visiting your website won't stay long waiting for your website to load.
And website loading speed is also an SEO factor.
StableHost servers are fast and well-configured. So your website will load lightning fast.
Here is the Speed Test of a Website Hosted on StableHost: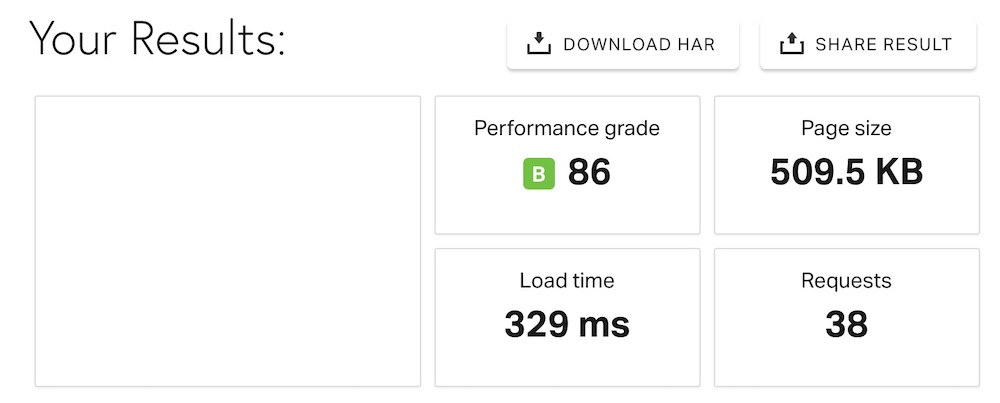 Customer Support
A hosting company that provides good customer support, especially WordPress support is essential. You never know what kind of issue your server or website will get, You want your hosting company to fix it.
StableHost provides good hosting support, but not great. If you want GREAT customer support, then take a look at WPX Hosting.
StableHost support typically takes 10-15 minutes to answer to your chat queries. That's not a big issue as most of the other hosting provides takes ever more than that to answer to live chat queries.
But if you are one of those people who needs hosting support frequently and immediately, then there is nothing better than WPX & SiteGround.
StableHost Pricing & Plans
StableHost offers many hosting solutions including Shared hosting, VPS hosting, Dedicated Hosting, and Reseller hosting.
Most of the people are looking for shared hosting, so we'll discuss prices of Shared hosting here.
StableHost Shared Hosting Plans Comparison:
| Plans | Starter | Pro | Platinum |
| --- | --- | --- | --- |
| Websites | 1 | Unlimited | Unlimited |
| Storage | Unlimited | Unlimited | Unlimited |
| Bandwidth | Unlimited | Unlimited | Unlimited |
| Free Migration | Included | Included | Included |
| Accounts Per Server | 500 | 500 | 50 |
| Monthly Plans | $4.95/mo | $8.95/mo | $29.95/mo |
| Yearly Plans | $3.50/mo | $7.50/mo | $28.50/mo |
StableHost Review Conclusion
After testing it for ourselves and checking countless reviews on different platforms, I think StableHost is a good choice for anyone looking for a quality hosting at affordable prices.
Quick Summary:
What's Good:
High-Quality Hardware
Fast Load Times
Hosting Features
Uptime
DDoS Protection
If you are looking for a host that doesn't go down every now and then, provides stable hardware and software, has good customer support, then StableHost is just what you need.