HostGator Business Plan Review (2021): Read This Before Signing Up!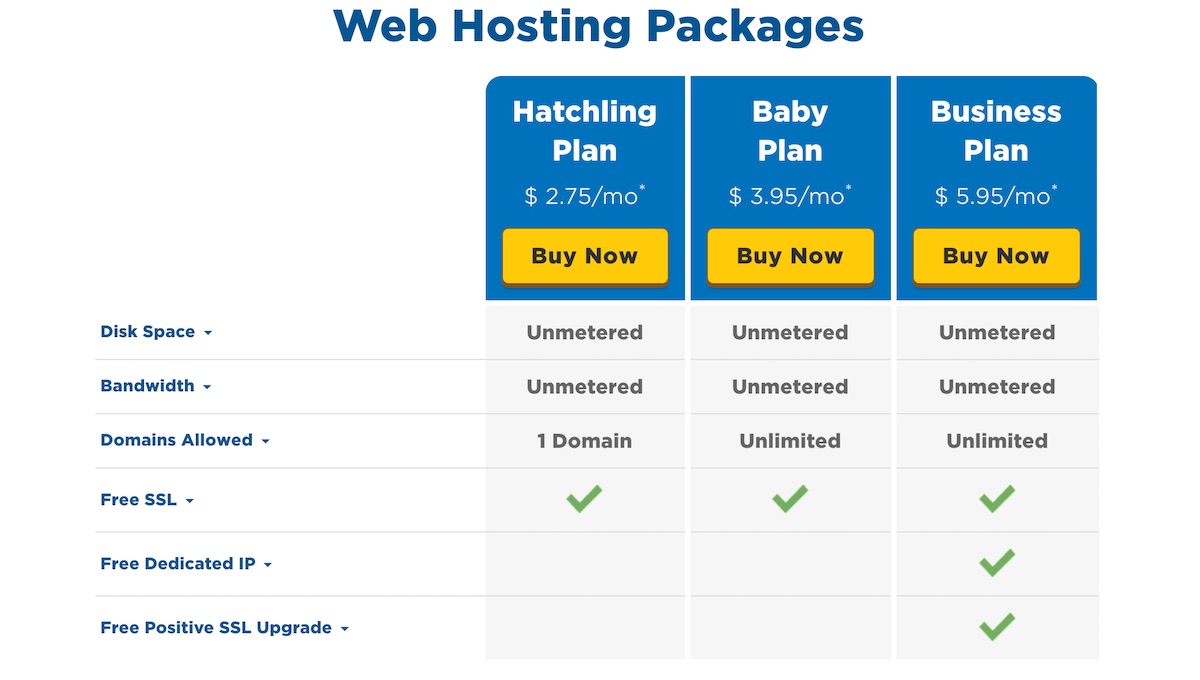 The best way of expanding any business in today's time is by taking it online to expand the service area.
The leading e-commerce platforms like Amazon and eBay used to serve only a few hundred people in the beginning and then many new people recognized the benefits of using their services and thus their service area expanded.
Today, these are global e-commerce platforms. Any business can achieve success with impeccable marketing tactics, a user-friendly website, and a beneficial web hosting plan.
When it comes to ranking the leading web hosting solutions, HostGator always gets ranked among the world's leading web hosting services.
It is offering a variety of hosting plans in which its Business Plan is quite popular. It is a web hosting plan designed for SMBs which are looking forward to expanding their reach to millions of new customers.
HostGator claims that it is offering the best shared hosting solutions for commercial sites. Is it true or just another big claim?
Let's find out the truth in this HostGator Business Plan Review.
Visit HostGator – 60% Discount for MH Users >
HostGator Business Plan Review
At the first glance, HostGator Business Plan looks like an extended variant of the Baby Plan.
It seems perfect for small and medium-sized businesses. This web hosting plan is perfect for you if you are now prepared to take your brick and mortar store online.
You can choose this plan, hire an experienced developer to create an engaging website, and host your site with the HostGator business plan.
It is an affordable shared hosting plan offered by HostGator to empower small businesses and take them online.
HostGator Business Plan Features
When it comes to comparing features, HostGator Business Plan stands tall as the leading web hosting feature provider. Its key features you can check in this HostGator Business Plan Review.
Unlimited Domains
While other web hosting services are allowing users to use only a few limited domain names in shared hosting, HostGator is allowing its users to host unlimited domain names.
So, whether you want to use .com, .net, .org, or whatever domain you prefer, you can pick it if you choose the Business Plan offered by HostGator and host multiple domains.
The Baby Plan also offers a similar feature, but it lacks other features and therefore it is not feasible for small or medium-sized businesses.
Unmetered Bandwidth and Disk Space
When you choose the Business Plan offered by HostGator, you enjoy its special Unmetered Bandwidth and Disk Space feature.
It means you will not pay according to the disk space or bandwidth you use while hosting your website.
However, the user needs to comply with the terms and services applied to the usage of the disk space and bandwidth offered by HostGator.
It provides unlimited access only when you are using this plan for your personal website or small business website.
In case you have a heavy website that requires 25% or more of the system resources for more than two minutes, it will be considered the violation of the terms of use.
So, you must consult this feature with HostGator before you get amazed by seeing unmetered disk space and bandwidth feature.
24-7 Customer Support
When it comes to resolving customer issues and providing them with quick feedback on their queries, HostGator has performed really well.
With its Business Plan also HostGator promises to offer 24-7 customer support.
You can use the toll-free number and other means of communication provided by this web hosting service to get instant support from the customer executives.
Free SSL Certificate
This shared business hosting plan includes a free SSL certificate. This certificate encrypts the communication between the visitors and server in order to provide additional security to your users and the website itself.
It flags your website secure by endorsing a padlock icon in the address bar. By using 256-bit encryption and 2048 bit signatures, this Free SSL certificate provides your website with 99.9% browser recognition.
It is an amazing and necessary feature that every business website seeks, but they get it only with HostGator Business Hosting Plan.
Free Upgrades to Positive SSL
You get a free positive SSL upgrade with the Business Plan. It is vital because it offers a TrustLogo® Site Seal along with a $10K warranty, which is displayed on your website.
Thus, it becomes another premium feature.
Free Dedicated IP
You might be wondering how many features we are going to include in this HostGator Business Plan Review, but keep patience because many important features are yet to come.
HostGator assigns a dedicated IP address to every single hosting account in its Business plan. You cannot get a dedicated IP address if you are choosing the Baby Plan because it is assigned only to business accounts.
The dedicated IP feature is important for any business because of the following reasons:
It lets you view your site by using its dedicated IP address.
It lets you use FTP to use your account when you are unable to access your account by using the domain name. This issue often affects the domain name propagation time.
A dedicated IP address lets your website respond quickly when experiencing high traffic.
All of these features make dedicated IP essential for any business website and HostGator Business Plan is offering it for free.
Free SEO Tools
It is an impressive feature in many ways. HostGator not only helps you in taking your site live but also ensures it succeeds as soon as possible.
When it comes to promoting any website or blog online, SEO is essential. It is the most widely chosen digital marketing technique.
Every website that is ranked among the leading sites in the search results, is a well-optimized site.
Businesses spend hundreds and thousands of dollars to bring their official website at the top in the search results. With the HostGator Business Plan, you get free SEO tools.
The value of these tools is about $50/year which you get completely free. Your website will be more visible, profitable, and it will draw more traffic in comparison to the websites launched by your competitors.
There are many hidden features you get with the Business Plan. HostGator is the leading web hosting service that offers such impressive features with shared hosting plans.
Buying HostGator Business Plan
The purpose of showing the buying process in this HostGator Business Plan Review is to endorse how simple the whole process is.
In fact, it will take only a few minutes and you will get a reliable business hosting plan to host your website.
Follow the given steps if you are buying this plan.
Visit HostGator by clicking this link and then click on web hosting.
Sign up for HostGator from the link above and you'll receive an exclusive 60% discount!

Now you will see three different plans "Hatchling Plan, Baby Plan, and Business Plan". Click Buy Now option given in the Business Plan column.
Now HostGator will direct you to the signup form, where you will get multiple details to fill. Provide the domain name, along with package type and choose the best options suitable for your business.
Provide the billing details and then proceed ahead.
Now select any suitable payment option and buy the plan.
That's how simple it is to buy the HostGator Business Plan.
Why Should You Choose HostGator Business Pan For Your Business Website?
HostGator is not the only web hosting service provider in the market. There are many old and new web hosting services that claim to provide an exceptional experience.
The truth is, users always face some technical and non-technical issues because of which they face loss.
When it comes to HostGator Business Plan, buyers have always praised the services, features, and support offered by this web hosting company.
Here are some tweets about the HostGator service and support: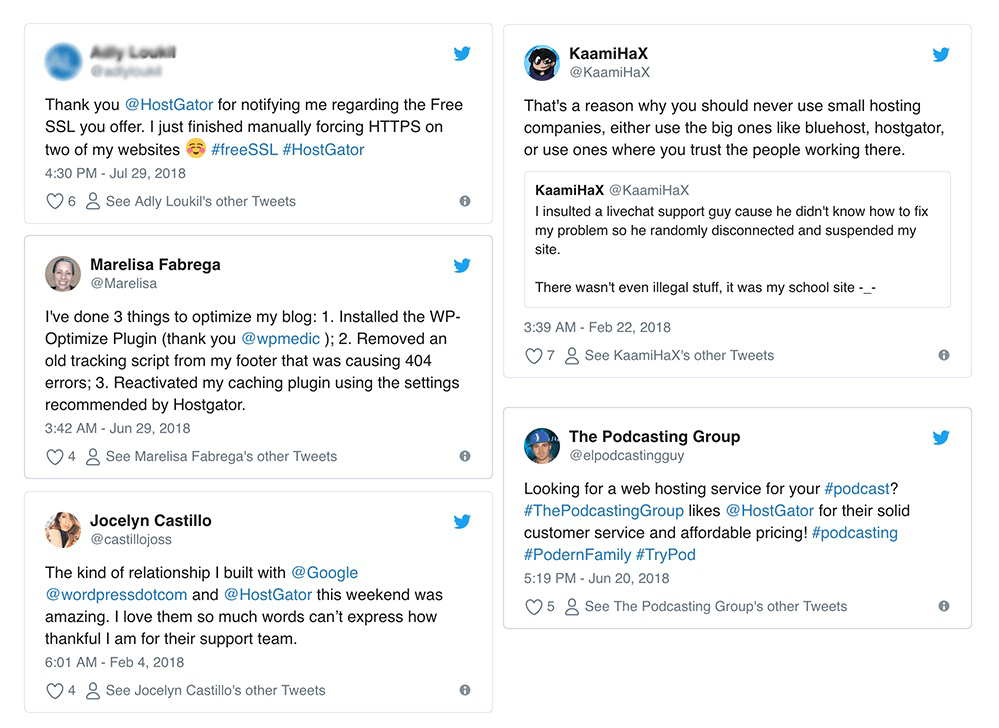 HostGator is not one of those, which claims a number of features and does not offer many of the promised features. It promises what it provides and that's why it has many happy customers.
To summarize the whole HostGator Business Plan review, we would say that it is the best business hosting plan for small businesses.
Whether you are looking for Linux based plans or Windows-based plans with shared or dedicated servers, HostGator offers at a very affordable cost.
In many aspects, HostGator is even better than its rival Bluehost.
In addition, it is promising to keep your website 99.9% uptime throughout the year, free SEO, 24-7 support, and more than anything 45-days money-back guarantee.
All the other freebies are already explained in this review, so it seems like a lucrative and effective business hosting plan.
Things We Don't Like About HostGator?
Of course, there are many good things that HostGator offers for free, but not everything. Long commitment periods might not be suitable for all.
You need to buy at least a 2-3 year plan in order to get an impressive discount.
In addition, there is no Windows-based VPS hosting and free domain registration facility.
Final thoughts
If you are comfortable with buying a 2 or 3-year plan, then HostGator would happily offer an impressive discount + More with MaherHackers discount links.
Its Business Plan is designed particularly for small-sized and medium-sized businesses.
It's especially ideal for those with a low budget. Though if you can shelve a few dollars extra every month, I would recommend you check out the pros and cons between HostGator and SiteGround. SiteGround is better than HostGator, but a bit pricier.
So, go for HostGator Business Plan if you are planning to go online and provide your services in a much larger region.