SiteGround VS Bluehost (2021): 11 Tests, Only 1 Winner!
Choosing a web hosting service can be difficult considering the number of options available.
Things get even murkier when you consider the affiliate programs offered by hosting companies.
This makes "experts" recommend web hosting services for affiliate income and not because of how good the service is.
Do you have a problem deciding between SiteGround and Bluehost, Two of the most popular hosts?
Then this comparison will clear your confusion.
Selecting the best hosting company is paramount towards the success of your website.
A bad hosting company can set you back and can be the reason for the failure of your site through poor uptime and performance.
With all that said, we're here to compare 2 of the most known hosting companies today; SiteGround Vs Bluehost.
A quick comparison of the two hosts before we go further:
| Features | SiteGround | Bluehost |
| --- | --- | --- |
| SSD Storage | Yes | Yes |
| Support Ratings | 4/5 | 2/5 |
| WordPress Support | 5/5 | 2/5 |
| Free Backups | On All Plans | Only on Prime Plan |
| Free Backup Restore | Yes | No |
| Free SSL | Yes | Yes |
| Anti-Hack Protection | Yes | No |
| Caching | SuperCacher | No Specialized Cache Service |
| WordPress Staging Area | Yes (On GoGeek Plan) | No |
Before going any further, let's have a look at the history of the 2 sites.
A little Background of SiteGround and Bluehost
Both SiteGround (read full review) and Bluehost (read full review) have been in the hosting business for 10+ years now. With that said, they both took different paths as they grew bigger.
Here's some background on both hosting companies.
SiteGround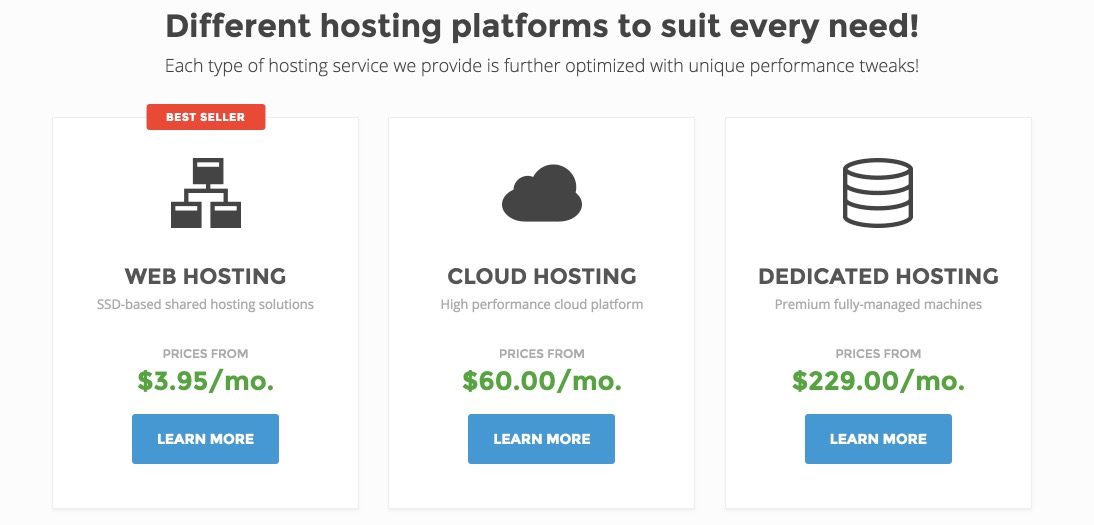 SiteGround is one of the most loved hosting companies online. Most of its reviews online are mostly positive.
This comes as no surprise as they offer one of the best hosting services, more on this later. The hosting company has its headquarters in Sofia, Bulgaria and is one of the few big hosting companies located outside of the U.S.
SiteGround was founded over 14 years ago in 2004 and now hosts over 1,000,000 domains worldwide.
Like any other hosting company, SiteGround offers different hosting packages like Shared Hosting, Dedicated Servers, and Cloud Hosting.
SiteGround also boasts of 97% satisfaction rate for their services. Which is huge.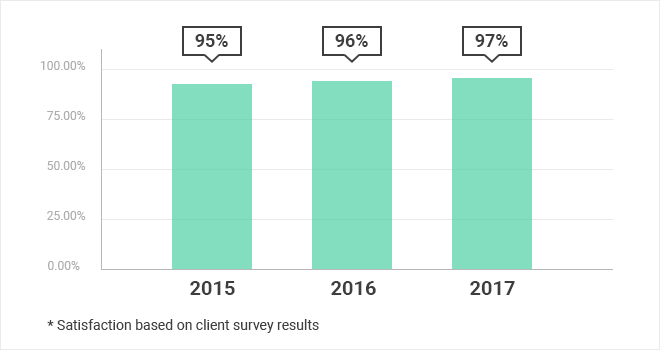 The company also boasts over 5 data centers located in the U.S., Netherlands, UK, Italy, and Singapore.
SiteGround offers different packages to meet your needs.
SiteGround Shared Hosting packages start as low as $3.95 per month. Let's have a look at the shared hosting plans they offer:
StartUp
You can consider StartUp the beginner plan on SiteGround. The startup plan is $3.95 per month.
It's great for those starting out or even those with a small website. Basically, good enough for any new websites.
If your website visits exceed 10,000 unique monthly visitors, then this plan is not for you.
In this plan, you can host one site and get Cpanel and SSH access.
On top of that, you get a free domain and website transfer as well as free daily backup and CDN.
You also get 10GB of web space and emails.
GrowBig
The next stage up is the Growbig plan with a monthly cost of $5.95. With this plan, you get all the features of the startup plan, but with some extra perks like Premium support.
Your support emails are given more priority.
On top of that, you also have the ability to host more than one site with this plan (unlimited addon domains).
You get Supercacher as part of your account for premium speed and also get 20GB of webspace.
This plan is best suited for sites that get under 25,000 unique monthly visitors.
GoGeek
The highest-tier plan, GoGeek, provides you with more resources at $11.95 per month. You get all the features in the previous plan plus some more.
30GB web space, PCI compliance for e-commerce stores and staging tools for WordPress to name a few.
It's a great plan for websites with heavy traffic (about 100,000 monthly visits). These are not the only plans SiteGround offers.
It also has other plans depending on your needs. There are cloud storage and dedicated server hosting if you're to need it.
Get Exclusive SiteGround Discount 2020
SiteGround plans offered right now are already on discount but we got you even greater discount deal.
Sign up using our discount link given below and receive an exclusive SiteGround discount.
Visit SiteGround & Get Discount >
Bluehost
The oldest of the two, Bluehost was founded in 2003 by Matt Heaton.
It's one of the largest hosting companies in the world and is located primarily in the U.S. The company's servers are located in Provo, Utah.
Bluehost offers many packages including Shared Hosting, WordPress Hosting, VPS Hosting (What is VPS?), Dedicated Hosting, Cloud Hosting and Woocommerce Hosting to name a few.
In 2010, the company was acquired by EIG (Endurance International Group), a web hosting company that has gain infamy by acquiring smaller web hosting companies.
It's at this point that Bluehost started getting most of the negative press seen online.
You see EIG acquired companies are not known for good hosting or customer service. With that said, We find Bluehost to still be one of the best companies in the market today.
There is a reason they also host over 2 million sites online.
Bluehost offers an array of hosting packages, Here are the shared hosting packages offered by Bluehost:
Basic
This is the lowest tier plan that costs $3.95 for the first term and $7.99 after that. It's the best plan for beginners as you get 1 free domain, 100GB of web space and 100 email accounts.
You can only host 1 website with this plan.
It's a great option when you're starting out and are yet to get much traffic to your website.
Plus
This is the next plan up. You get unlimited bandwidth and website space. 1 free domain and unlimited email accounts.
You can also host an unlimited number of websites.
It costs $5.95 for the first term and $10.99 after that.
Prime (Choice Plus)
The highest tier plan in the shared hosting package, you get everything offered by the Plus package with some extra features. You get 1 dedicated IP address, 1 domain privacy add-on as well as Site Backup pro.
It's $14.95 for the first term and extends to $19.99 after that.
It's a great solution for businesses or people with larger sites. Now that we know a bit about the two hosting companies, let's move on to the comparisons to see who comes out on top.
Get Exclusive Bluehost Discount 2020
Bluehost plans offered right now are already on discount but we got you even greater discount deal.
Sign up using our discount link given below and receive an exclusive Bluehost discount.
Visit Bluehost & Get Discount >
For the comparison, we've decided to look at features that make a hosting company great, Features we consider essential to look at when selecting a web hosting company.
Hosting Comparison: SiteGround Vs Bluehost
Comparisons we did and who won the tests:
Scroll down below to see detailed comparisons and tests between the two hosts.
WordPress Hosting
| SiteGround | Bluehost |
| --- | --- |
| Starts at $3.95/mo | Starts at $3.95/mo |
| Free SSL Certificate | Free SSL Certificate |
| Advanced security features | Security features not as advanced |
| Optimized for WordPress | Optimized for WordPress |
| Incredible Support | Support not as good |
| SuperCacher | No Specialized Caching Solution |
Both companies offer WordPress Hosting. SiteGround offers WordPress hosting with a ton of features and premium support.
Both hosting companies offer plans starting at $3.95/month.
On top of that, WordPress.org also recommends SiteGround as one of the best hosting companies for their platform.
In terms of security, The company has experts that monitor for WordPress related issues and vulnerabilities. On top of that, they are quick to point out when an issue is found.
You also get automatic updates and backups of core WordPress files with every plan. Let's not forget the free SSL certificate with every plan.
The support team in SiteGround is also well versed with WordPress related issues and can normally offer solutions for easy to expert level problems.
Here's how easy it is to set up WordPress on SiteGround:
Let's not leave behind Bluehost that also offers WordPress hosting with an entry-level plan that starts at $3.95 per month (price depends on the duration of hosting plan).
Bluehost has been working closely with WordPress since 2005, so it's no surprise that they're also a recommended hosting provided by WordPress.org.
Like SiteGround, Bluehost offers a free SSL certificate and one-click installations to have your site up and running in a short amount of time.
Unfortunately, this is where the similarity ends. With Bluehost, you need to purchase the more expensive Managed VPS WordPress Hosting solution named WordPress Pro that starts at $19.99/month to enjoy advanced security features.
Here's a guide on how to set up WordPress on Bluehost:
Winner: SiteGround clearly took this round. You get more for your money with the hosting company.
They also offer tons of important features with all their plans that Bluehost doesn't. This makes SiteGround the better option for people who are starting out.
Loading Times
Loading time is a crucial feature to consider when selecting a web host. You want your web host to offer fast loading times.
Better loading times bring better user experience which can lead to better rankings on Google.
SiteGround has been known for the great loading times on sites their servers have.
This comes to no surprise as their hardware and infrastructure are one of the best on the web.
Besides that, SSDs are included with all plans. SSDs can pull data quicker than the old version hard disks.
On top of that, the 5 data centers they have helps ensure their customers have quick loading times no matter what part of the world they're in.
Bluehost also offers decent loading times, but not as good as SiteGround.
Bluehost also offers SSDs in all its plans. But their hardware and software are slow and outdated.
There are even complaints of Bluehost using old versions of PHP that is no longer supported.
Those in lower-tier plans might not experience fast speeds as those in the higher-tier plans.
On the data centers, reports do vary, as some state that Bluehost has only one data center while others claim that they have 23 data centers. Bluehost's lack of statement on the matter probably doesn't help.
With all that said and done, we also performed some tests to see which hosting companies offered better loading times.
We tried a website on both SiteGround and Bluehost to see how quick it'll load in different locations.
Speed tests of a website hosted on SiteGround: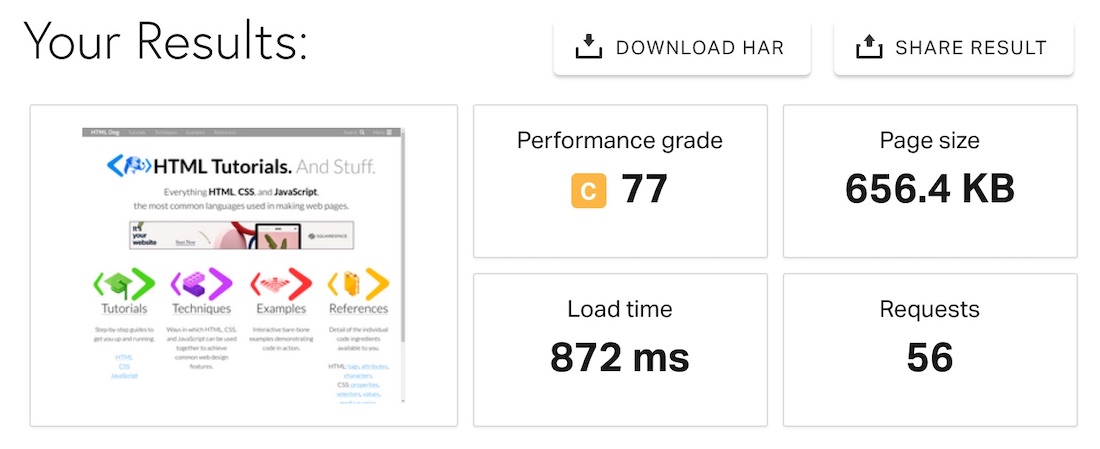 Speed tests of a website hosted on Bluehost: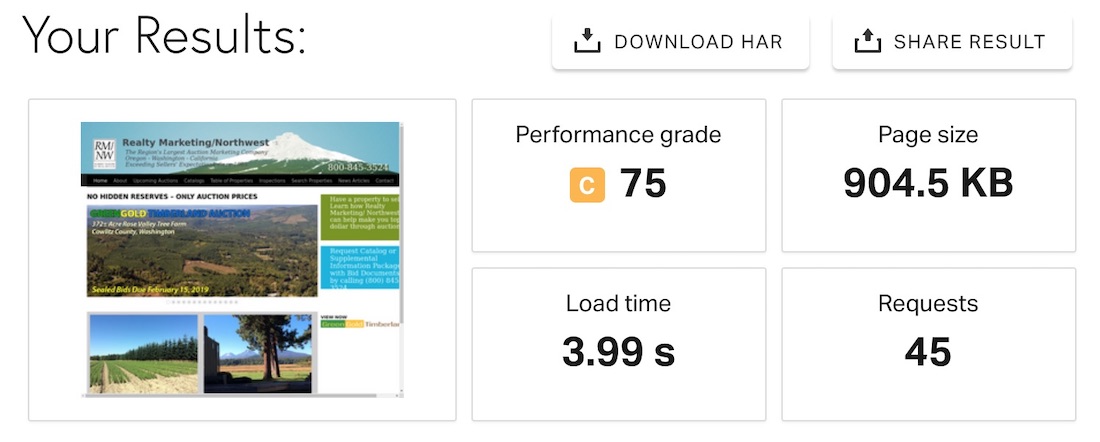 Winner: SiteGround clearly took this round as well.
They offer better loading times in different locations when compared to Bluehost.
Added to that, all plans come equipped with SSDs and that's great as it means good loading times no matter what plan tier you're in.
Uptime
Uptime can be defined as the amount of time that your site stays online.
The hosting company you choose has to offer a good uptime rate. As any time your website is down, you stand to lose traffic or even worse, money.
While Bluehost boasts an uptime of 99.98%, SiteGround boasts of uptime of 99.99%. The difference here seems small, but it means a lot when translated to the actual time your site stays offline.
Again, we also did a test to see which hosting company has the best uptime. We used the same site on both servers for the test.
SiteGround Uptime:

Bluehost Uptime:

SiteGround came out as the clear winner albeit not by much. With that said, both companies boast quite the infrastructure that ensures the system is stable and that the interruptions are kept at a minimum.
Bluehost has Quad-processor servers, mirrored storage backups together with a diesel backup generator to ensure constant power supply.
On the other hand, SiteGround uses the LXC- Linux container technology that is stable and resource-efficient. This is combined with the Linux code made by the SiteGround developers to further stabilize the system.
Winner: We'll give this round to both.
The two hosting companies boast of incredible uptime that they live up to.
On top of that, they both have systems in place to ensure the stability of the system (for constant uptime) is maintained at all times.
There are a lot of personal reviews of real users for the hosts on social media sites like Twitter, Facebook, etc.
The personal experiences of users help you understand why a host might not be the right choice for you.
When we analyzed reviews of SiteGround and Bluehost on the various online platform, It is clear that most of the customers of SiteGround have nothing but praises for their hosting.
You can find countless good reviews of SiteGround. Check some of the reviews here: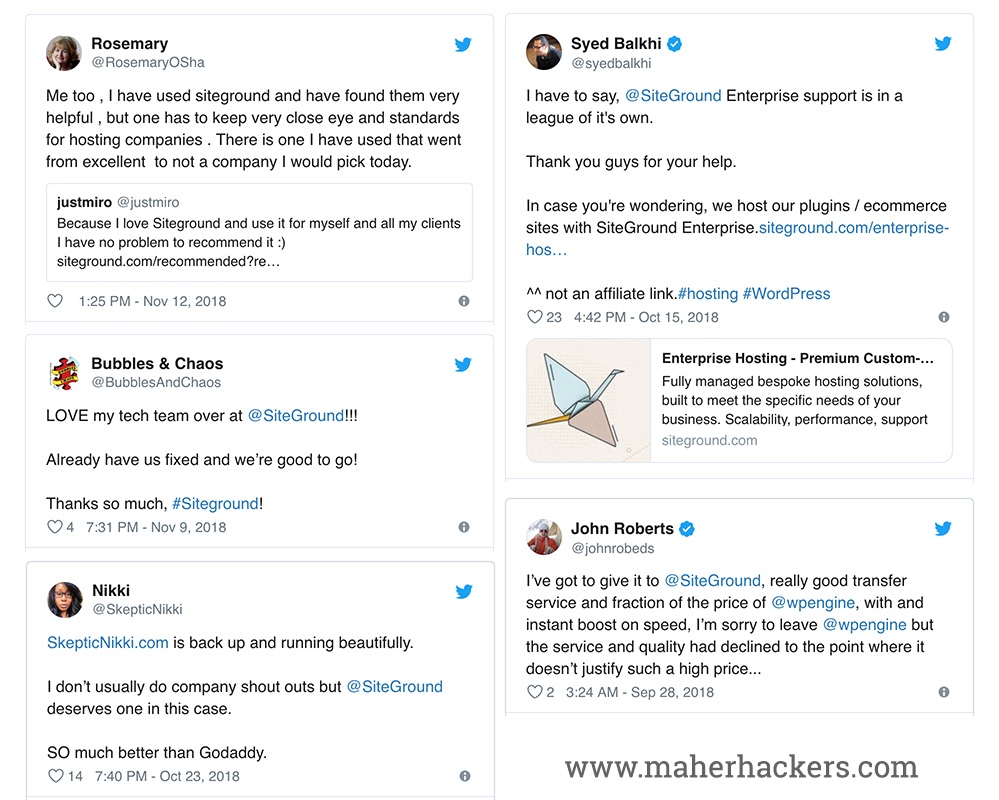 On the other hand, Bluehost has been receiving a lot of hate from existing customers for various things.
The main problem is the poor performance of Bluehost servers and not so good customer support. Check out Bluehost user reviews here: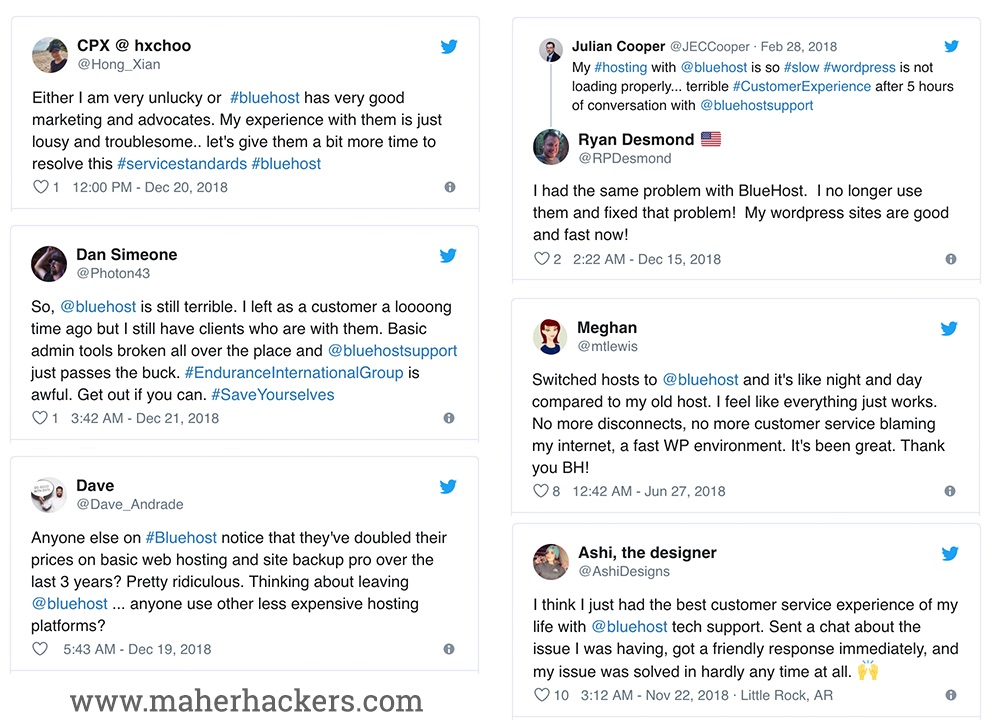 Customer Support
Your hosting company of choice should always be customer-focused. They should always be there to assist if any problem were to arise.
Believe us when we say with hosting problems always come up. It's unavoidable. What you should aim for is for any issues to be mitigated as quickly as possible via the use of customer support.
SiteGround is known for its legendary support. Don't take our word for it, read the reviews online.
It's known that the hosting company normally has more staff per shift than what is required. This is because they want all queries solved as soon as possible.
The customer support staff is also well versed in hosting and WordPress issues. They provide meaningful answers to problems and can provide extra services like site migration.
Apart from the staff, SiteGround also has an extensive knowledge base that is backed up by countless tutorials and webinars.
The hosting company offers its customers 3 different ways to reach their support. Live chats, support tickets, and calls. You can expect a 10-min response time for support tickets, but for the rest, the response is almost instantaneous.
Bluehost, on the other hand, doesn't hold as good of a reputation. EIG held companies are notorious for sub-contracting support to other companies in places like the Philippines. What this leads to sometimes is poor support.
With that said, the hosting company has an extensive knowledge-base coupled with plenty of articles and tutorials. If that's not enough, there is a dedicated and active member's forum that you can visit for your issues.
Bluehost offers 3 ways to get in touch. Like SiteGround, they have support tickets, live chats, and calls. Unlike SiteGround, support tickets tend to have long response times. Live chat and calls also have longer waiting times.
The customer support staff at Bluehost is well versed on many issues like account management, tech support, and sales.
With that said, company support does not offer site migration assistance for free.
When doing this SiteGround Vs Bluehost comparison, we talked with both SiteGround and Bluehost's customer support about different issues and found the SiteGround staff to be very informative and knowledgeable.
Winner: The clear winner of this round is SiteGround.
They have legendary support that is always available to help and has expertise in hosting and WordPress matters.
On top of that, their response times are also amazing. Any issues you have will be solved almost immediately.
Security
Security is fundamental for any site and it doesn't matter whether you have a small blog, company website or e-commerce site. You should always make sure that the host you use has security measures in place to keep your site free from malware and hackers.
SiteGround does this well as they use HackAlert. A proprietary malware detection system powered by GlobalSign.
HackAlert is one of the best as far as early malware detection is concerned. It can let you know about potential dangers before the site is completely affected.
On top of that, the hosting company also offers DDOS protection by limiting the number of connections a remote host can make at one time, checking for the increased number of failed login attempts from the host, using a complex IPS system to block malicious bots and hackers among many other things.
Let's also not forget about the daily backups and the free SSL certificate they offer to all accounts.
SiteGround also offers free backups but they have to be set by the user. The frequency of the backups is also left for the user to decide.
Unlike SiteGround, Bluehost doesn't proactively offer any free protection or detection options.
You'll need to pay about $2 per month for the Sitelock addon. Once paid and activated, the addon will offer options for Malware scanning and detection as well as DDOS detection.
With that said, Bluehost does offer free SSL certificates to all plans.
Winner: SiteGround wins this round.
Unlike Bluehost, SiteGround seems to take security seriously. The hosting company has put in place measures to ensure its servers are clean and that all sites on it are safe.
On top of that, the free daily backups also help lower stress as you have a place to restore from in case anything happens to the site.
Data Centers
SiteGround Data Centers
Bluehost Data Centers

United States
United Kingdom
Netherlands
Singapore
The number of data centers a company has is important especially if you're outside the U.S. You see, the closer the server is to your target user's location, the better the site loading times will be for them.
Many of the hosting companies have their servers located in the United States. For those, outside the U.S., using CDN is needed to help reduce load times.
SiteGround has partially solved this by having four different data centers, 1 in the United Kingdom, 1 in the Netherlands, 1 in the United States and 1 in Singapore.
These choices make it easier for you to choose the best server based on the location of your target users and this can do a great deal for your site loading times.
On the other hand, Bluehost has only disclosed one data center, which is located in Provo, Utah.
They have been tight-lipped about data centers since the EIG acquisition. There is a growing consensus that Bluehost only has one major data center and that it's yet to consolidate servers with other hosting companies owned by EIG.
Winner: SiteGround takes this round as well.
They have more data centers than Bluehost (as per our knowledge), so you have more choice depending on your users' locations.
Money-Back Guarantee
A money-back guarantee is an offer that some companies provide users who purchase their products.
It's a promise to pay you back your money within a certain time frame if you're not satisfied with the product. It shouldn't be a top priority when selecting a hosting company, but we consider it important because you might make a mistake choosing hosting.
For us, it shows how much confidence the company has in the product/service they offer.
In this category, both Bluehost and SiteGround offer a 30-day money-back guarantee for all hosting plans. With that said, the money used paying for domains or add-ons isn't included in the refund. The refund is only for the hosting plan paid.
Winner: Both SiteGround and Bluehost take this one.
The two hosting companies offer 30-day money-back guarantees for all their hosting plans which is great.
Upsells
Upsells are extra services that are sold on top of the product/ service you're about to buy. Many people including us are not a fan of upsells. This is because they increase the cost of the product/service without adding that much in value.
SiteGround is not known for its upsells. They do offer extra perks, but this is made clear to you before you purchase them. You normally pay for the hosting plan and that's about it.
The same can't be said about Bluehost.
They're infamous for the upsells they offer especially when signing up for a hosting service.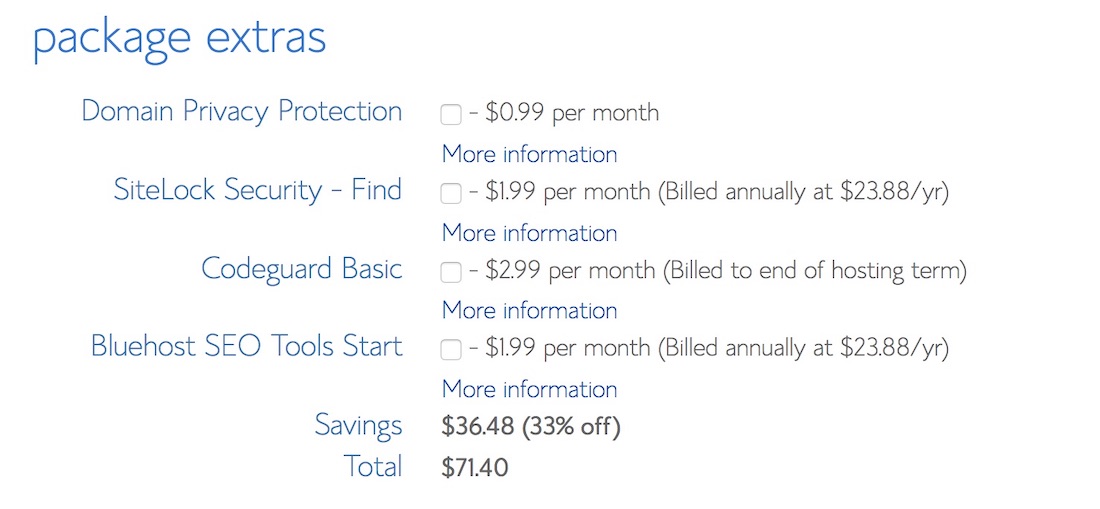 If you're not careful, you might find yourself paying more money than was originally planned.
When signing up, always keep an eye on the checkboxes. Some of them are extra services that you don't need.
The main problem is these checkboxes are already selected by default, so you need to make sure to uncheck them to avoid any extra charges.
Winner: SiteGround shows how much they care for their customers by not trying to upsell them.
Their services and pricing are straightforward. You only pay for what you need and not more. Contrary to Bluehost that might trick you into paying for extra services that you don't need.
Extra Features
You should also check what else is offered with the hosting plan you get. Some companies go over and beyond to ensure your experience is as smooth and easy as possible.
SiteGround is one of those companies.
Their support is truly helpful and can offer onboarding assistance to help you get the appropriate plan without issue. You can get a site migration done for you for free with SiteGround.
You also have the extra security features that are active at all times. These security features are meant to keep your site safe while hosting with the company.
The same can't be said about Bluehost. You can get to ask pre-sale questions and get support. You also get some onboarding assistance of some sort like knowing what plan is right for you, but that's about it.
Bluehost charges $149.99 for site migration and many of the important security features provided by SiteGround are offered as paid add-ons on Bluehost.
Winner: It's clear to us that if you want extra features, more than what is offered than the hosting plan, then SiteGround is the best choice for you.
The free site migration is definitely a huge plus as it makes moving to them (site migration between hosts can be complex) an easy process.
Pricing & Plans
SiteGround (SiteGround Coupon) and Bluehost (Bluehost Coupon) offer different plans and pricing so it is better to compare and evaluate both.
The main thing to keep in mind is that the pricing you see on their sales pages is introductory pricing and when you renew your hosting, you pay a higher price.

You also get more discount the longer duration plan you buy. So when purchasing the hosting for the first time, if you buy longer term, you get better pricing.
Here is a breakdown of SiteGround and Bluehost pricing:
| Plans | SiteGround | Bluehost |
| --- | --- | --- |
| Starter Plan (First Invoice) | $3.95/mo | $3.95/mo |
| Middle Plan (First Invoice) | $5.95/mo | $5.95/mo |
| Top Plan (First Invoice) | $11.95/mo | $5.95/mo |
| Starter Plan (Renewal) | $11.95/mo | $7.99/mo |
| Middle Plan (Renewal) | $19.95/mo | $10.99/mo |
| Top Plan (Renewal) | $34.95/mo | $14.99/mo |
Winner: If we compare the prices head to head, Bluehost is definitely cheaper.
You don't get as many features and performance as SiteGround but someone under a very tight budget could benefit from the cheap pricing.
SiteGround Vs Bluehost Vs Other Hosts
SiteGround and Bluehost are not only two popular hosts. There are different hosts like HostGator, InMotion Hosting, WPX Hosting, Namecheap Hosting, etc that compete with these hosts on features and pricing.
SiteGround Vs Bluehost Vs HostGator Vs InMotion Hosting Vs A2 Hosting
| Features | SiteGround | Bluehost | HostGator | InMotion Hosting | A2 Hosting |
| --- | --- | --- | --- | --- | --- |
| Websites on Basic Plan | 1 | 1 | 1 | 2 | 1 |
| SSD Storage | Yes | Yes | No | Yes | Yes |
| Storage on Starter Plan | 10GB | 50GB | Un-metered* | Un-metered* | Un-metered* |
| Free SSL | Yes | Yes | Yes | Yes | Yes |
| Control Panel | cPanel | cPanel | cPanel | cPanel | cPanel |
| Malware Protection | Yes | No | No | Yes | No |
| Site Migration | Free | $149.99 | Free, Limited | Free | Free, Limited |
| Pricing from | $3.95/mo | $3.95/mo | $2.75/mo | $6.39/mo | $3.92/mo |
For more thorough comparisons, check out SiteGround's comparison with WPX Hosting, Bluehost's comparison with HostGator, Bluehost's comparison with Godaddy, Bluehost Vs Namecheap, Bluehost Vs HostMonster, SiteGround's comparison with A2 Hosting, Bluehost's comparison with WPX Hosting, SiteGround Vs WP Engine, and SiteGround's comparison with InMotion Hosting.
Which One is Better, SiteGround or Bluehost?

Let's see which one is better in the comparison of SiteGround Vs Bluehost!
Selecting a hosting company can be difficult and complex as there are many things that you need to consider. On top of that, it's not easy reading every review for every hosting company available online.
This is why we decided to do a head-to-head between two of the biggest hosting companies available online.
As per our review, SiteGround scored an 8 out of 11 with Bluehost scoring a 1 out of 11 and 2 Tie. SiteGround came up as the clear winner because:
Between the two, SiteGround clearly has a better support system. Queries are answered almost immediately.
The staff is also made of expert individuals that can assist you with most of the problems you'll encounter while hosting. On top of that, they also offer on-boarding assistance and free site migrations.
Value for Money Hosting Plans
When comparing the hosting plans between the two, it's clear that SiteGround is cheaper considering the features it offers.
You need to note that the shared hosting plans offered by Bluehost are not managed WordPress hosting plans. They aren't made/customized especially for WordPress.
On top of that, you also get your money's worth as far as features that accompany the plan are concerned.
It's without a doubt that SiteGround offers better speed and uptime when compared to Bluehost. Their use of SSDs and HTTP/2 has definitely helped them edge Bluehost in the race for fast loading times.
On top of that, their uptime record is better than Bluehost albeit slightly better. You are guaranteed more uptime and speed with SiteGround.
It's clear between the two that SiteGround takes security seriously. They want their servers to be clean and all the sites on their servers to be safe.
This is why they offer extra features like HackAlert, DDOS protection and Daily backups to keep all their user's sites safe.
These security protocols are a feature of all hosting plans.
Compare this to Bluehost where security features like the ones mentioned above can only be obtained once you pay for an add-on.
SiteGround is the clear Winner!
Out of the 11 tests done, SiteGround surpasses Bluehost in 8 of them! So it's a clear winner of the two.
Sign up using our discount link given below and receive an exclusive SiteGround discount.
Visit SiteGround & Get Discount >
That concludes our comprehensive comparison Bluehost Vs SiteGround.We hope you are able to find your suitable host out of the two.