SiteGround VS BlueHost: Which is Better Web Hosting?


SiteGround and BlueHost are the two most loved and reliable web hosting providers right now. They both offer good web hosting service with excellent technical support and many innovative features. But when choosing a best web hosting provider out of those too, You need to evaluate everything and make sure you are choosing right one for your sites.
SiteGround VS BlueHost: Find Best Web Hosting Provider for you
One thing to keep in mind when choosing between SiteGround VS BlueHost, They are both great web hosting providers, so there is no real winner out of two. You only need to find the best one for you, The one which works for you. And we are going to help you do that.
We'll list most helpful details about both of them here and then you can choose the one which suits you the best.
SiteGround: SiteGround VS BlueHost – Visit Now
SiteGround is a web hosting that's getting better and better every day with its innovative features that make web hosting very reliable and fast. SiteGround customer support is just outstanding; They will go out of their way to help you solve any problems, and they reply to your tickets within 10 minutes, What else do you need?!
SiteGround Web Hosting starts from just $3.95 per month for shared hosting, and they also offer cloud, dedicated and reseller hosting. Each hosting service on SiteGround is uniquely optimized with performance tweaks.
SiteGround provides SSD drives for all plans. They offer latest speed technologies so you can get most out of your sites, They will load very fast compared to some other hosting providers.
For WordPress sites, SiteGround is the best. They have a SuperCacher plugin that caches your website from server side and makes your site very fast. They also have Managed WordPress Hosting on all plans which provide 2-click installer and free transfer for an easy start. It also auto updates your plugins etc.
Your server and websites security is important to SiteGround. That's why they create their firewall security rules and apply it whenever there are any vulnerabilities with your sites plugins/software etc.
SiteGround provides automated monitoring and daily backups as well, so your data is always safe.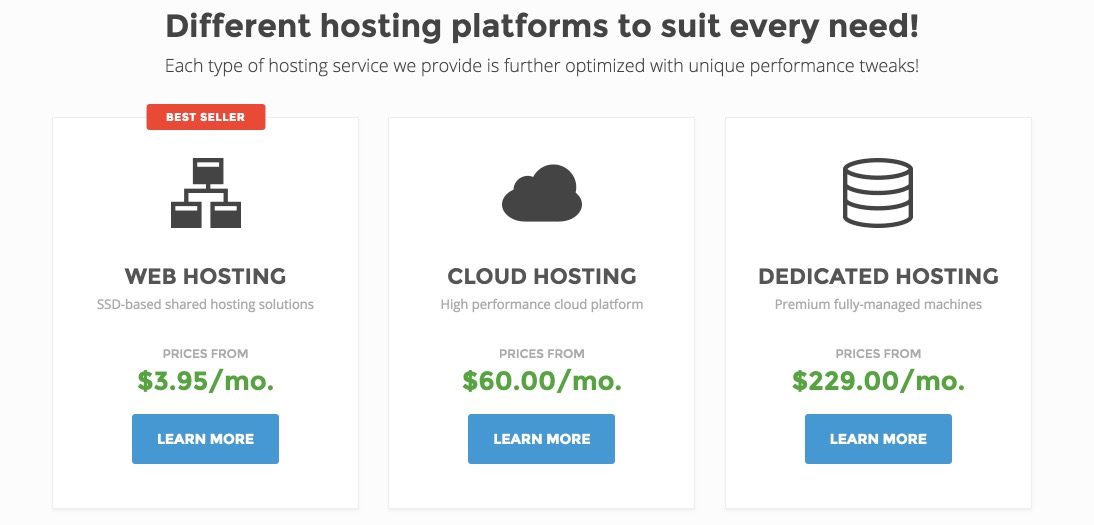 BlueHost: SiteGround VS BlueHost – Visit Now
BlueHost is the industry leader for years when it comes to quality web hosting. Unlike many hosting providers, Which promises great things on the sales page and customer support, BlueHost actually delivers what they promise. Their customer support is great also, and they care about the customers.
BlueHost hosting starts from just $3.95 per month for Shared Hosting. If you need more resources, You can choose from VPS, Cloud, and Dedicated Hosting solutions. There is a plan for every website on BlueHost!
BlueHost also offers special hosting services for WordPress and WooCommerce. They offer over $150 worth of free advertising credit and a 30 days money back guarantee if you for any reason don't like their services.
BlueHost provides many additional features like unique IPs, SSL certificates, Sitelock for security, Site Backup Pro, and Spam Protection. Just like SiteGround, BlueHost doesn't rely on others for technology; They design their servers and software to deliver performance, reliability, and functionality you need.
So all in all, Both hosting provides are pretty great than the competition. You just have to find the one which works best for you.
If you require any help regarding Web Hosting, You can comment below or contact us.
Also check: Best Web Hosting Providers of 2016