Which BlueHost Hosting Plan Is Most Ideal For You: Basic, Plus or Prime?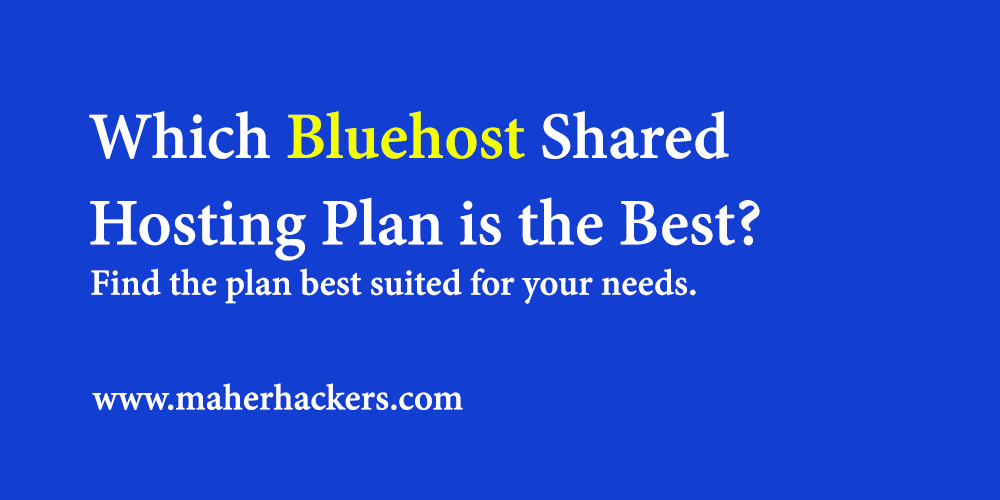 Bluehost is an industry standard host for many years.
Started in 2003, Bluehost has been around for ages, and it hosts over 1.9+ million domains worldwide, Which shows how many people trust and rely on Bluehost for web hosting services.
If you are a new blogger and want to buy hosting from Bluehost for your website or blog, It might be confusing to find which Bluehost shared hosting plan you should buy at first.
Because all plans are different and offer unique features of its own, there needs to be a better understanding of differences.
Which Bluehost plan to choose is one of the most asked about questions by users who are looking into Bluehost for their hosting needs.
So here is the complete guide to choosing the best Bluehost plan for your website.
Bluehost Shared Hosting Plans
Before we go into differences between each plan, Let's head over to www.bluehost.com and check out their plans first.
So we can get a better understanding of what Bluehost has to offer.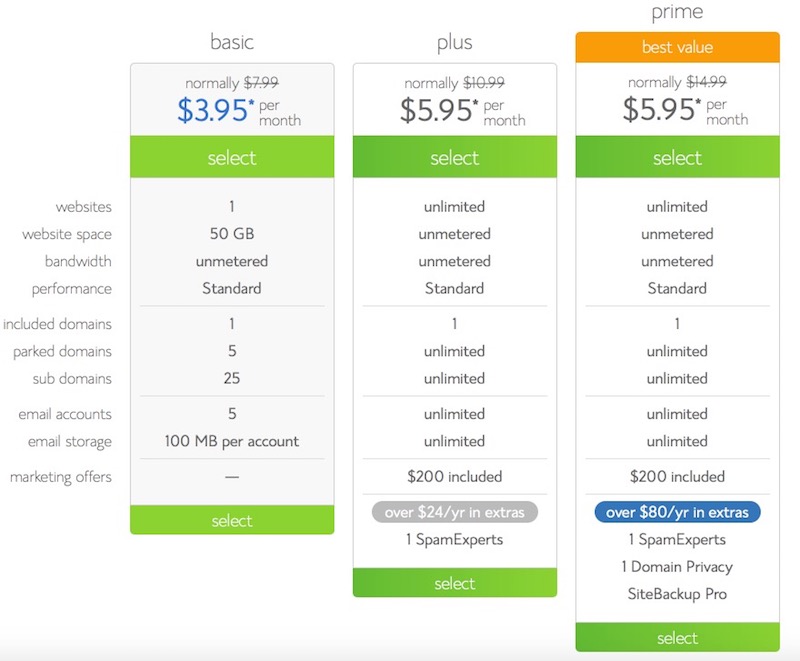 Basic Plan:
Features of Basic Plan:
Domains hosted 1
Storage 50GB
Free SSL Included
Free Domains 1
Free domain privacy Not included
Parked domains 5
Subdomains 25
Email accounts 5
Email Storage 100MB
Bluehost Basic plan is a simple and cheapest plan available on Bluehost. The basic plan is $3.95 per month if you Sign up using this special link. It is $7.99/month, but you get a discount using our link.
The basic plan allows hosting of only one website. So if you are a new blogger/website owner and want to run only one website, this plan might be for you.
There is a limit of 50GB website space with this plan and you don't get many extras provided by Bluehost on other plans like CloudFlare CDN etc. But you can always go to CloudFlare and sign up directly.
So it depends on whether or not you want to avail some extra features and host multiple websites. If you don't, then this plan should be enough for you.
Plus Plan:
Features of Plus Plan:
Domains hosted Unlimited
Storage Unmetered(Not unlimited)
Free SSL Included
Free Domains 1
Free domain privacy Not included
Parked domains Unlimited
Subdomains Unlimited
Email accounts Unlimited
Email Storage Unlimited
Free offers $200 worth
This is a most popular shared hosting plan from Bluehost and I personally recommend this plan to everyone because it has all the features you'll need plus it allows hosting of as many websites you want.
In short, this plan doesn't have restrictions of the basic plan and includes most of the features of the prime plan, So it is a sweet deal out of the three.
You can avail Plus plan for $5.95 per month using our discount link (Normally $10.99).
One thing to keep in mind when you are ready to sign up is, Make sure to buy the plan for 2-3 years.
Because you only get the discount provided by our link once. You won't get any discount for renewals.
So you should save as much as you can when signing up and you don't have to think about renewals for the next 2-3 years!
Prime Plan (Now Choice Plus):
Features of Prime Plan:
Domains hosted Unlimited
Storage Unmetered(Not unlimited)
Free SSL Included
Free Domains 1
Free domain privacy Included
Parked domains Unlimited
Subdomains Unlimited
Email accounts Unlimited
Email Storage Unlimited
Free offers $200 worth
CodeGuard Basic included
Whether you have a very successful website which receives many views a day or advanced web scripts you need to run, Prime plan will suffice.
The prime plan starts from $5.95 per month using our special link (Normally $14.99).
There are no limits with this plan, just like the Plus plan and you get many extras which include, Whois domain privacy and SiteBackup Pro.
Whois domain privacy will hide your personal details from domain registration. So your name, address, etc. won't be visible to other users when they search for your domain's registration data. That is a very useful feature if you don't want to share your personal details with the public.
SiteBackup Pro is an advanced tool offered by Bluehost for automatic online backups of your site. It automatically creates a daily backup copy of your site to protect from any data loss. You can search any backup file you want to restore and restore it individually using SiteBackup Pro.
SiteBackup Pro also backups your MySQL databases. It is an incredible feature because problems can arise anytime and having backups of everything puts your mind at ease.
Business Pro (Advanced):
Business Pro is the most advanced Bluehost plan for shared hosting and should be suitable for most advanced websites. The Business Pro plan is ideal for businesses hosting their websites on shared hosting and needs extra features.
You can get Business Pro for $13.95 per month which costs $23.99 per month usually.
This plan offers many additional features over the Prime plan and if you are a small business, it should be good enough for you.



This plan offers two additional features over other plans, Which are Dedicated IP and SSL Certificate.
If you are running an e-commerce website, dedicated IP and SSL Certificate will provide https SSL security on your website which is a must for e-commerce.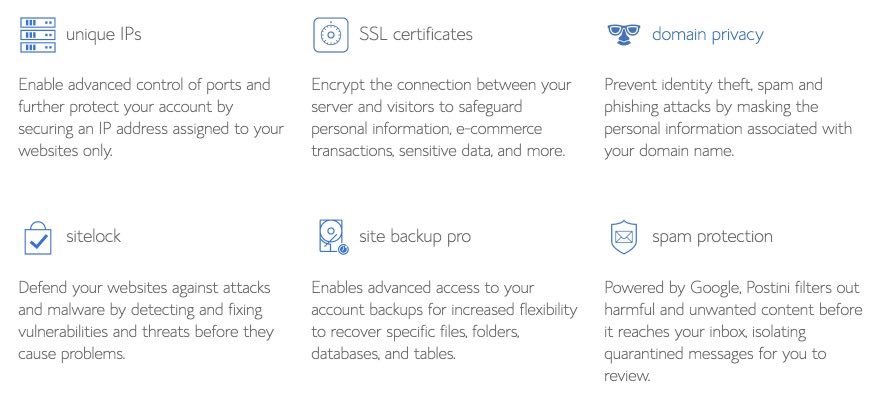 Get Exclusive Bluehost Discount 2019
Bluehost plans offered right now are already on discount but we got you even greater discount deal.
Sign up using our discount link given below and receive exclusive Bluehost discount.
Visit Bluehost & Get Discount >
Plans Comparison
| | Basic | Plus | Prime |
| --- | --- | --- | --- |
| Websites | 1 | Unlimited | Unlimited |
| Storage | 50GB | Unmetered | Unmetered |
| Bandwidth | Unmetered | Unmetered | Unmetered |
| Free Domain | Yes | Yes | Yes |
| Free Domain Privacy | No | No | Yes |
| CodeGuard Basic | No | No | Yes |
| 12 Month Pricing | $5.95/mo | $7.95/mo | $7.95/mo |
| 36 Month Pricing | $3.95/mo | $5.95/mo | $5.95/mo |
| Renewal Prices | $7.99/mo | $10.99/mo | $14.99/mo |
Bluehost Basic VS Plus
If you are starting a new website and don't expect much traffic for a few months, then the Basic plan is your most ideal plan.
It is most suitable if you don't have the budget to spend too much on your website in the start.
One of the big limitations of the Basic plan is that you can't host more than 1 domain with this plan. So if you have 2 websites or want to start more than 1 websites, then Basic plan won't allow it.
Plus plan, on the other hand, allows you to host more than one websites and allows gives more resources.
For most people, Plus plan is a perfect choice because it provides the most idea configurations in the most ideal budget.
Bluehost Plus VS Prime
At first glance, Bluehost Plus and Prime plans seem like identical, but there are some differences. The prime plan is ideal for someone who runs a high traffic, high-resourced website.
If you run an e-commerce website especially, then the Prime plan is the right choice.
But Prime is not needed for most. For any normal website or blog, Plus plan is the best Bluehost plan.
Bluehost Basic VS Prime
Comparing Basic and the Prime plan is not really necessary because they are worlds apart.
As discussed before, Anyone who needs more resources and features would go for Plus plan than Prime. So Prime plan is mostly for people who need more security and even more resources.
Out of Basic and Prime, It depends on the needs of the user when choosing between Basic and Prime.
FAQs on Bluehost Hosting
Would shared hosting plans be enough for me?
For small to medium traffic websites, shared hosting should suffice. For new bloggers, shared hosting is exactly what you want. Later if you need more, you can upgrade to VPS or Dedicated hosting.
Can I get some discount from Bluehost some way?
Yes. You get special discounts from Bluehost when you buy it through our links above. And you don't need any coupon code or anything!
What if I need help with my shared hosting from Bluehost?
Bluehost provides many ways to contact them if any problem arises, You can chat, call or submit a ticket to Bluehost support from your Bluehost control panel once you sign up.
Is Bluehost Trustable? 
Yes. Bluehost currently hosts 2+ million domains worldwide. It is a leading hosting provider. It won't be there if it was not a trustable hosting provider.
What if I find later that the plan I selected is not the best Bluehost plan for me?
If after signing up you feel that the plan you purchased is not good enough for you, you can easily upgrade to any higher plan at any time.
Is it easy to set up a WordPress site on Bluehost for a newbie?
Absolutely. Even if you are someone who never hosted a site online or don't know much about hosting, it is fairly easy to host your WordPress site on Bluehost. You can refer to this step-by-step guide on how to setup WordPress blog on Bluehost.
Final thoughts: Which Bluehost Plan Should I Get?
Here is my quick summary for you to quickly pick one:
Running a small single site or blog: Choose the basic plan
Running multiple websites or blogs: Choose either Plus or Prime depending on what features you need
Need dedicated IP and SSL: Choose Business Pro
If you are new to purchasing hosting and domain name, here is the guide on buying hosting from Bluehost.
So this concludes our guide on choosing the best Bluehost plan. We hope you were able to decide which one you should get.
If you need personal assistance choosing the right plan for you, comment below or contact us.