Bluehost Vs GoDaddy 2021: Which is a Better Hosting Option?
Bluehost and GoDaddy are big names in online space. Bluehost is known for it's hosting services and GoDaddy is mostly known for domains, but they also offer hosting services.
So who provides better hosting services? Find out in this comparison of Bluehost vs Godaddy.
About the Hosts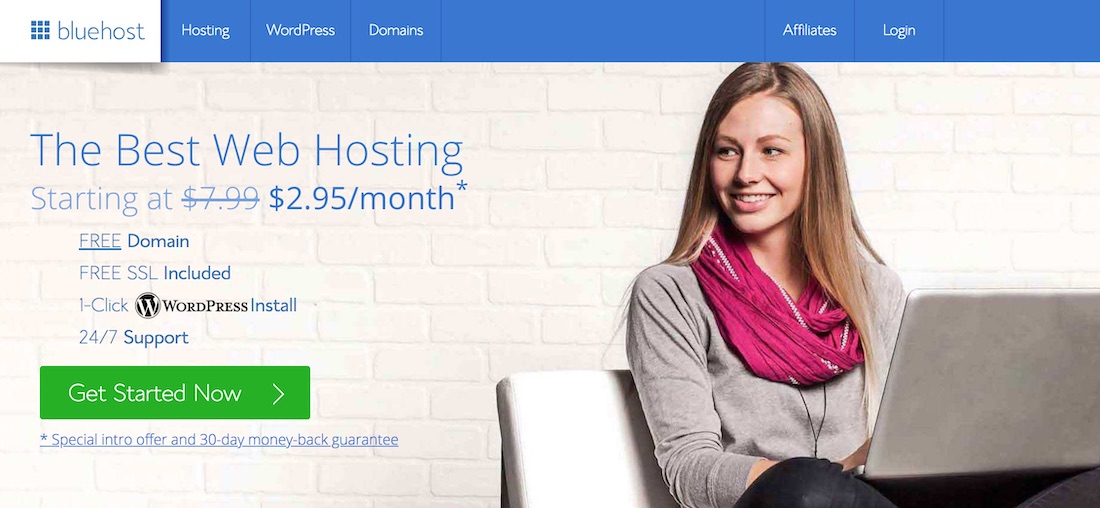 Bluehost is among the oldest names in the web hosting industry. It was founded in 1996 and it is owned by EIG (Endurance International Group) and it focuses mostly only on web hosting.
It is most reputed for its shared hosting services.
If you compare prices, features, and support, Bluehost is one of the best WordPress hosting providers.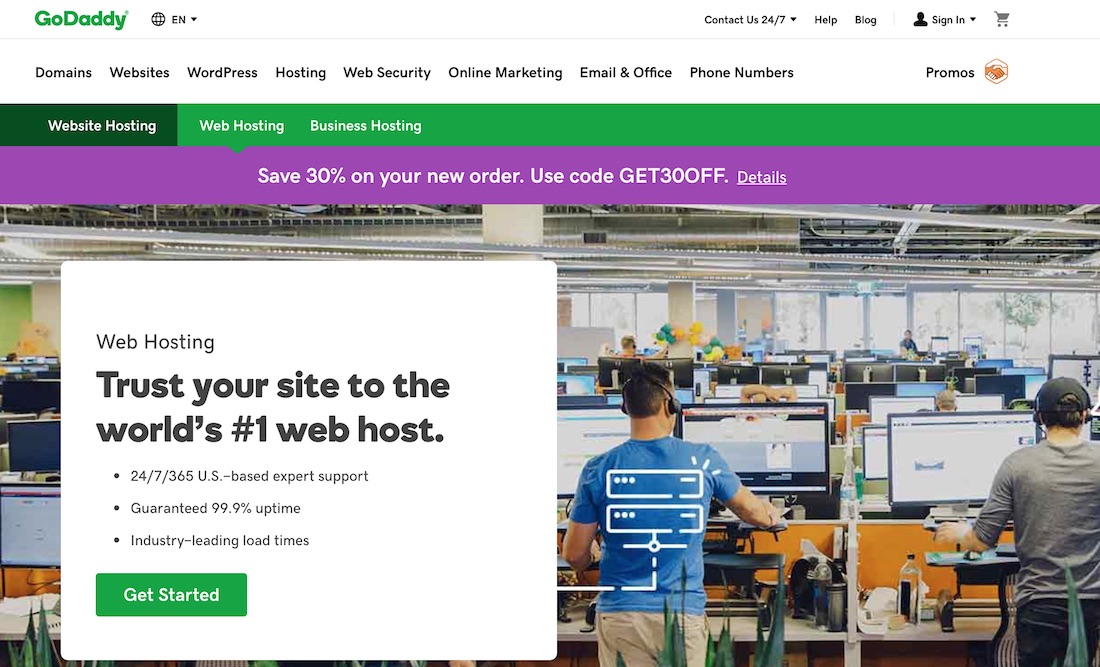 GoDaddy, on the other hand, was started in 1997 and it is well known for its pricing, brand, and mind-share in the web industry. It provides tons of services besides web hosting.
GoDaddy was originally started as a domain registrar but it has since diversified into emailing, accounting to mention just but a few.
In 2014, GoDaddy became the world's biggest ICANN accredited registrar. It registered more than 59 billion domains under its management.
Besides that, GoDaddy is also acting as an online provider for several small businesses. It is also popular for its aggressive advertising.
This and other services has made it renowned globally.
Bluehost, on the other hand, has made a name in web hosting alone.
However, GoDaddy's many services do not make it a better host than its Bluehost counterpart.
The major difference between the two hosts is the price.
Bluehost is less expensive as compared to GoDaddy because it offers more features such as SSL certificate and email accounts at the same price. GoDaddy on the other hand requires adds on purchases which at the end of the day tends to be more expensive.
In this post, we are going to compare Bluehost Vs GoDaddy on different aspects such as customer support, price, hosting features, usability among other things.
So, let us now compare Bluehost and GoDaddy for the best web hosting brand for either individuals or businesses that run their own websites.
Quick Feature Review
| Features | Bluehost | GoDaddy |
| --- | --- | --- |
| SSD Storage | Yes | No |
| Bandwidth | Unmetered | Unmetered |
| Free Backups | Yes | No |
| Free SSL | Yes | Only on Higher Plans |
| Control Panel | cPanel | cPanel |
| FTP Access | Yes | Yes |
| Cron Jobs | Yes | Yes |
| Support Ratings | 4/5 | 2/5 |
| WordPress Support | 4/5 | 2/5 |
| Recommended by WordPress.Org | Yes | No |
| Pricing from | $3.95/mo | $7.99/mo |
Price and Subscription Types
A comparison between Bluehost and GoDaddy based on price is not easy due to the following major reasons: both companies run frequent specials deals on their sites, therefore, their prices are not going to align.
Also, both hosting companies break their tiers of service down more often. Bluehost's price tier is very cheap just like GoDaddy. Therefore, the prices between Bluehost and GoDaddy are as oranges to apples.
Generally speaking, the prices of Bluehost are cheaper on a long-term scale, mostly after one year. Also, based on the features that you get from them, their prices are cheaper.
However, if you have a small website that requires a small storage space, GoDaddy is relatively cheaper with specials. But Bluehost's Starter plan is more comparable since it is only $1 more expensive after the promotion.
Bluehost's Plus package costs $10.99 per month with everything unlimited i.e. database, domain mapping and storage space. This is ideal for WordPress websites.
The good news is that if you sign up for a longer period of time, they will give you a discount to $2.95 or less per month.
GoDaddy's Delux plan is almost similar to Bluehost's Plus plan only that it limits the number of databases that you can have.
It is a bit cheaper as compared to Bluehost at $8.99 per month and $4.99 per month when you sign up for a whole year plan. Their Ultimate plan costs $14.99/month and $7.49 per month when discounted.
The package comes with unlimited databases, premium DNS, SSL certificate and adds on.
On their high end hosting plans, Bluehost comes with more features.
So if you are looking for a hosting company based on price, both companies have pocket-friendly prices. But if you want a host that comes with more features and no caps at no extra cost, then Bluehost is the best.
In terms of subscription, Bluehost does not have a short-term subscription on their shared hosting plans. They only have either 1 year, 2 year or 3-year subscription options.
Bluehost also offers incredible Cloud Hosting which is better in some terms than standard shared hosting.
On the other hand, GoDaddy offers shorter subscription options for their shared hosting plans. For instance, their Economy plan has a one-month subscription. They also have 3 months.
However, for dedicated and VPS hosting packages, both companies have some flexibility in terms of subscription.
Customer Support
In the hosting industry, customer support is very important.
This because you can experience an issue at any moment and you would like to get help ASAP.
Bluehost is renowned for its fast and solid customer support. You can get help via phone, email, and tickets. Bluehost has great customer support because of its transparency.
GoDaddy on the other hand, their support is adequate. You can reach their support also via phone call, email or ticket. When you can them, you will have to wait a few moments before they answer your call and you will have to explain your issue several times but at the end of the day, you will find the help.
Both Bluehost and GoDaddy have huge knowledge bases.
As a customer, you can visit their knowledge base and find several blogs and articles which you can use to solve any minor issue. The main difference between the two is GoDaddy seems to skew their knowledge base towards their services and products rather than hosting help.
While with Bluehost, their knowledge base is geared towards self-help – before you contact their support center, you must select your support issue before contacting them. GoDaddy, on the other hand, tends to push all their issues to phone lines to let their staff help you.
There are those clients who prefer self-help. One advantage of Bluehost's choosing an issue before calling is that you will be directed to a help desk easily instead of queuing with other customers.
Both companies provide customer support 24/7/365 phone and chat services. But the separating wedge is in terms of helpfulness and wait time.
Therefore, in terms of customer support, Bluehost has an upper hand over GoDaddy due to its approach to solving issues.
Also read:
Usability
A good hosting company should be able to strike a balance between control and convenience. This is because many users it might be technical to handle. Therefore, it is paramount that their dashboard should be user-friendly and clean.
Both Bluehost and GoDaddy use the industry-standard control panel for their servers. And both companies have customized their cPanel to make them user-friendly. When you sign up with a hosting company for hosting, you do not get a website but a space to put your site. In simple terms, you are given a dashboard to operate your account i.e. add domains, install your site, manage your database and install files.
Bluehost uses cPanel to host accounts. Mostly, a cPanel comes with a straightforward interface that is not polished.
But Bluehost has polished their cPanel as compared to most hosting companies. They have partitioned it with different tabs, added many educational options and 1 click WordPress install button.
GoDaddy on the other hand also uses the cPanel dashboard but you can get it at a cost. They ask for $1 per month for their cPanel. Their cPanel is also customized and made user-friendly as their Bluehost counterpart.
When it comes to the usability for both Bluehost and GoDaddy, it boils down to what you are looking for in a dashboard. If you are a newbie and you are looking for a simple and easy to use control panel, then go for GoDaddy.
But if you are looking for a long-term dashboard that is flexible and has more options on their control panel, then Bluehost is ideal for you.
However, Bluehost has an upper hand on usability because it comes with the 1-click WordPress installation and other educational touches. In addition to that, they have a clean design, more thoughtful upsells. These features give Bluehost an upper hand offer GoDaddy on usability. GoDaddy's $1 per month extra charge for their cPanel is also a deal-breaker as compared to Bluehost which gives their cPanel free of charge.
With Bluehost, you can manage all your websites easily with the help of their unlimited MySQL database. GoDaddy has limited MySQL databases in their shared hosting plans.
Bluehost has automatic backup directly from its cPanel but GoDaddy does not have such a feature. However, both companies allow you to perform manual backups free of charge.
Money-Back Guarantee
Bluehost offers a money-back guarantee of 30 days in all their hosting packages. This guarantee comes with a pro-rated refund policy. Within this time period, you are free to switch to another host if you are not satisfied with their hosting services.
GoDaddy, on the other hand, offers a 45-day money-back guarantee on all their plans. This longer money-back guarantees period shows that GoDaddy is confident in their services.
Under this feature, GoDaddy wins. However, 30 days are enough for you to make a decision about whether you want to continue using the services or not.
Hosting Features
There are different features that are essential in web hosting. But the core features in a hosting plan includes the following:
a) Number of websites or domains that can be assigned on a site on an account
b) The number of databases or the unique sites that can be installed on the hosting account
c) Disk space – this determines the number of files that you can put on your server.
If you are looking for a host to host only 1 small site, then GoDaddy's Economy plan is ideal for you. It comes with limited storage space, databases and the number of websites. The same applies to Bluehost's Basic plan.
But as you go higher on to high-end plans, the features change drastically. Bluehost does not limit any of the above mentioned salient features. GoDaddy, on the other hand, caps its features at 25 on their Deluxe plan.
On the flip side, GoDaddy's Unlimited plan comes with unlimited domains, storage, and databases. It also comes with SSL certificates and premium DNS.
Another very crucial feature in the hosting industry is the memory limit. The memory limit refers to the number of files that your website can produce whenever a customer visits your website. The bigger the memory the better the speed because it will load faster.
On one hand, Bluehost has set its memory limit at 256 MBs by default. GoDaddy, on the other hand, has not set any memory limit. And if you want to expand your memory space on GoDaddy, it will cost you $12 more per annum.
Generally speaking, Bluehost has better features such as unlimited storage space and dedicated IP address among other features. GoDaddy, on the other hand, comes with cheaper tiers for its middle hosting plans.
If you want even better hosting features and support, SiteGround is a good option too.
Uptime and Speed
Uptime is crucial in web hosting. Bluehost does not guarantee any uptime on its website but it offers an uptime of 99% while GoDaddy, on the other hand, claims to offer an uptime guarantee of 99%.
In reality, GoDaddy's actual uptime is lower than what they guarantee. So Bluehost beats it hands down on this.
Bluehost's server response time or the time it takes to load a page is considerably lower than that of GoDaddy. Therefore, sites hosted by GoDaddy are likely not able to handle peak traffic with good response server time.
Here's the speed test of a website hosted on Bluehost:
Here's the speed test of a website hosted on GoDaddy:

Bluehost boasts of uptime of 99.97%. this means it experiences a downtime of 13 minutes in a year while GoDaddy, on the other hand, has an uptime of 99.94%. This means GoDaddy experiences a downtime of 26 minutes in a year.
In terms of uptime and speed, therefore, Bluehost is a better host. Though you can't expect to get speed and uptime like WPX Hosting, that starts at $25.
Also read:
Performance
The performance of a hosting server is paramount because it determines the speed at which a page can load. The performance of a server can be measured by measuring how quickly the server receives the requested page and send the file byte of information to the requester.
According to many tests that have been performed, Bluehost has a faster speed as compared to GoDaddy.
Both Bluehost and GoDaddy have very robust data centers and very powerful servers. Bluehost uses AMD power centers and CPU segregation technology which allows them to control their CPU intelligently and thereby protect your site against spam attacks and viruses.
GoDaddy, on the other hand, uses the Intel Core i7 processors. Apart from that, you can opt to use either Linux OS or Windows when you sign up.
SSL Certificates
An SSL certificate is used to change the URL to "http". In addition to that, it adds a padlock icon sometimes with the statement "secure" next to a website on your address bar. This ensures that the website is safe and it is encrypted such that private information can be added such credit card information, password among other information. Websites that use SSL certificates are likely to be ranked higher by Google as compared to those that don't have.
Therefore, the SSL certificate is very paramount in web hosting. Google has penalties for webs that do not use SSL certificates. Despite its importance, most web hosting companies do not offer it. As a matter of fact, Bluehost is the only company that offers SSL certificate free of charge. GoDaddy, on the other hand, provides SSL certificates at a fee.
Bluehost offers free SSL certificate in all their web hosting plans. However, if you need a private SSL certificate, then you will have to pay $50 per annum for the same. A private SSL certificate adds the name of your site to the certificate but it does not offer any SEO benefits.
GoDaddy, on the other hand, does not offer the SSL encryption to the shared hosting plan but only to Business and Ultimate hosting packages. Also, if you need a private SSL certificate then you will be required to pay $59.99 per year for the same.
Domain Names
Besides hosting, each site requires a domain name in order for it to start running. Both Bluehost and GoDaddy gives free domain names. However, GoDaddy has better domain names as compared to its Bluehost counterpart.
Bluehost offers a free domain name for the first year. After one year, the domain name is available at a cost of $15.99 per year. Apart from that, the domain privacy protection, which helps to protect your contact info from the public domain register, also costs $14.88 per annum.
GoDaddy, on the other hand, offers free domain name for a period of 12, 24 or 36-month plan. After the expiration of the initial signed up term, their domain name costs $14.99 per year. They also charge $7.99 per year for domain privacy protection. Also, if you are purchasing a new domain and you pay upfront for a couple of years, it is available at $7.99/annum.
We also compared Bluehost with another known domain provider, Namecheap, and Bluehost is better at hosting than Namecheap too.
Conclusion
In the comparison between Bluehost Vs GoDaddy, Bluehost is the winner.
It has the highest performance and it is very reliable.
The main difference between the two is the value you get for your money.
Bluehost provides all that you need in a web hosting upfront whereas GoDaddy charges extra for some crucial features. Even though GoDaddy provides a wide range of services other than web hosting services Bluehost is better.
However, if you are looking for a host with Windows hosting, then GoDaddy is the best option.
Besides that, if you are new and you are on a tight budget, GoDaddy's shared hosting plans are better as compared to Bluehost's.
But as your website continues to grow and needs better uptime, speed, and reliability, then Bluehost is the best option.