GoDaddy Hosting Review: Why You Should Just Stay Away!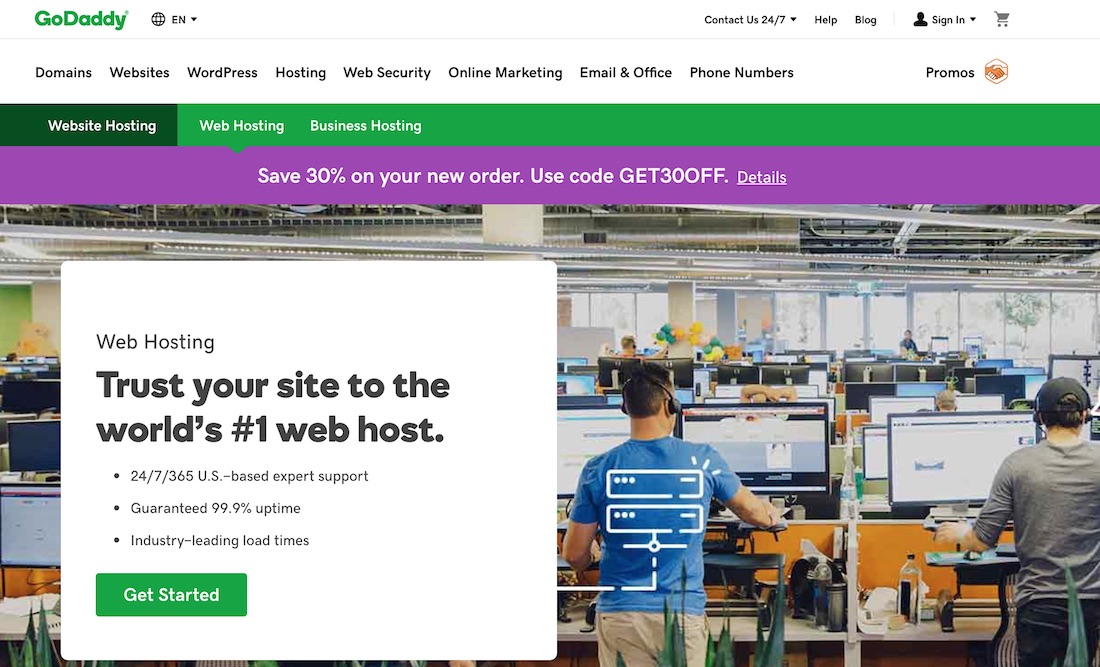 GoDaddy is one of those most famous and used web hosting provider. That's because they advertise it effectively. Any newbie or someone who doesn't have much experience on web hosting etc. might make a mistake of choosing GoDaddy as their hosting provider.
Well, I'm here to warn you to stay away. GoDaddy is a company which is in this business just to make money. They don't care about providing good services or anything else.
I have read countless bad reviews and experiences from GoDaddy users and I myself experienced it many years ago when I was starting out.
Chances are that you are planning to host a website and you have been introduced to GoDaddy as an option just like I was when I was starting out 8 years ago.
A friend of mine convinced me that I could use GoDaddy to host my website and I decided to consider it.
I had hosted my website under a free host but with an increase in traffic to my website, it was time to finally upgrade to a paid hosting site.
I signed up on GoDaddy and since that moment, several negative incidences with GoDaddy has made me regret taking that step.
I will like to intimate you on some of such negative incidences so that you do not make the same mistake of hosting with GoDaddy.
Some of the major issues I have with GoDaddy that has necessitated the writing of this article will be explained below.
The essence of this article is to ensure you do not make the same mistake I made in hosting in GoDaddy.
And in the event you decide to go ahead and host with the platform, at least, you will be aware of what to expect.
And in case you might end up having yourself to blame at the end of the day.
Pricing
When you want to buy a particular item, you want to be sure that you are getting it at an affordable rate.
Even when you are willing to pay more than the norm, you will want to get value for your money.
This is because paying more than the norm, should mean that you should get more value than the norm
While we will delve into value much later, let us concentrate on pricing first.
There are a number of things you have to subscribe to, implying you have to pay monthly or yearly.
When this is the case, you want to be sure that the prices do not fluctuate frequently and unnecessarily, especially when the fluctuation only goes upward.
If this was a matter that had to do with only you, it would have been easier to manage.
But now, imagine when it has to do with several clients, some of which can be very impatient and irrational.
Remember that you can't address your customers with such terms, considering that your customers are always right.
So I decided to buy a GoDaddy domain and I was charged about $35 for the year and I thought it was going to continue like that.
However, after the first year and I decided to renew and the pricing for renewal was $5.99 per month.
Then I understood that it was a promo, but somehow I thought I could get a deal.
This was for the economy hosting, which is the least level hosting.
While the bandwidth was unlimited, my disk size was limited to 100GB of storage.
This could look much until when you start having a lot of audience and you need to keep up with their hunger for videos.
Remember that even GoDaddy wouldn't have set such limits, if they knew it was excessive and you will never need more than that.
Talking about getting a deal, I decided to check what the pricing was for 3 months, but it was exactly $5.99 multiplied by 3.
I checked for 6 months and it was exactly $5.99 multiplied by 6.
I then thought to myself, they want me to pay for a year, fine, I would, even if I could get just $10 or more discount.
But at last, I also checked for 12 months and it was exactly $5.99 multiplied by 12.
Then I thought to myself, why pay for 12 months, when I will not be saving anything.
So I started paying on a monthly basis.
Sometimes in early 2017, the price suddenly changed to $6.99 per month.
So I continued paying that amount per month.
And then around a year later, the amount changed to $9.99 per month.
And paying for 12 months was still to cost me exactly $9.99 multiplied by 12 months.
Now it was my website and just a singular one, but despite that, I am already in the midst of plans to transfer to another web host.
Now imagine this scenario, you are a web master and you are hosting websites for clients on different accounts because they want the user name and password to their account.
And then as part of managing the client's account, you are to pay their web subscription monthly.
How do you cope with telling your client every other month that they have to pay more for web hosting.
Especially when in some cases, the leap could be as much as almost 33 per cent more.
You will most likely be torn between bearing the cost in silence and paying on behalf of your client.
The other option might be losing your client completely, as the client might not understand that it is your web host that is increasing the fee.
If you can however, bear regular increase in price for web hosting, especially when that is not the only problem with the web host and there are several other better potions, then you are free to host your website on GoDaddy.
Perhaps by the time, you first year of promo expires, that is assuming you subscribed for a year at that time, you might be starting with a payment of $13.99 per month.
And probably by the fourth year, you might be somewhere around $24.99 per month.
Before then, I will be long gone and probably be on a platform where I will be required to pay much less than that.
The outrageous pricing of GoDaddy is not limited to its web hosting services.
Buying a domain name from GoDaddy costs $9.99 for the first year.
When you want to renew, you will be expected to pay $14.99.
What is more, you have to pay for other extras like SSL certificate, and WHOIS privacy.
You will thus, be paying over $23 every year for your domain name after paying more than $18 for the first year.
For as low as $8.99, it is possible to get a domain name, SSL certificate, WHOIS privacy and other extras on some other web hosting platforms.
So when it comes to price, you are definitely not safe with GoDaddy.
Movement
We all know how important our website and the audience to our website are.
We all know how a significant part of your audience could easily get pissed off because they tried to visit your website and it was offline for a few minutes.
Now imagine how many you can lose, if your website should go offline for days.
Now, from my research, several web hosting platforms complete the movement of your website within a few minutes to a few hours.
This is however, not the case with GoDaddy.
I was shocked when during the movement of my website from the free hosting platform to GoDaddy took 2 days.
I was doing this to achieve more trust from my audience and subsequently increase my website traffic.
You can imagine when by the time my website came back online, my audience had dropped by about 30 per cent
I had to invest on advert in social media and send mails to inform my audience I had their details that we are back online.
However, I only reached about 85 per cent of my former audience for 2 months.
Majorly new traffic helped cover up for the shortfall in the third month.
I am sure I won't have suffered such loss if my website was completely moved within 2 to 3 hours after I moved it.
I had to strategically do that by midnight, with the hope that before my audience woke up in the morning, my new platform should already be set up without any of my audience noticing it.
So you can imagine my dismay when it took that long.
So if your business or your clients cannot afford being offline for a few minutes, but you finally find a gap where you feel you can take advantage of 3 hours to move.
Do not consider GoDaddy at all.
Your 3 hours might just turn to 3 days, with all hell letting lose during the period.
There are several better and cheaper web hosting platforms that can help you move your website within hours.
Look for such websites and you can save yourself the stress of waiting endlessly for your website to be back online.
It will also save you the stress of moving into unstable prices and other negatives that moving to GoDaddy will lead you to.
Limitations
Another thing you will have to battle with on GoDaddy is limitations despite the high prices.
The economy hosting that currently sells for $9.99 implying $119.88 per year will only give you a disk space of 100GB
You can also only host one website or one domain name on the account.
This is a bit too outrageous for such limitations.
There are several other web hosts that will allow you host about 5 websites on an account that costs that much.
There are also other services you might be interested in that are also limited or you have to pay separately for on GoDaddy.
An example is email account.
Email accounts allow you to open emails@yourwebsitename.com.
Now for less than $100 a year, there are web hosts that allow you to have unlimited e-mail addresses and unlimited space for email.
Now imagine having to pay almost $120 per year and then you are limited to just between 5 and 10 email addresses, with all of them having a space that cannot exceed 100MB.
You read that right, 100MB for between 5 and 10 emails.
It means if an anxious customer decides to attach to 20MB file to all of your 5 emails he or she was able to get, your mail will be full.
Now imagine being online and an urgent business mail was sent after then to your official email @yourwebsitename.com.
Such emails will bounce back to the client, most likely with the reason that your email box is full and you cannot receive further messages.
Chances are that the client will wonder what type of businessman allows his email to get filled up.
He will wonder if you don't check your mail or delete old mails and if you didn't notice when the limit of your email was almost full.
He would not know that you are churning out $120 for just 100MB space for email and that you think you are getting the best value for the amount.
Because GoDaddy seems to be a big web host and they can't give you less.
He or she might just conclude you are not a serious person and will look for other more serious businessmen that do not allow their email address get full.
You however, have the choice of not being though careless by events mostly beyond your control by running away from GoDaddy web hosting.
Except you are probably okay with all the other disadvantages being discussed and you have a big sized email with an email provider such as gmail or yahoo that is @yourbusinessname.com.
You should know it won't be also be professional getting an email address that is @yahoo.com or @gmail.com as your official email address.
Some clients might doubt the authenticity of the email address and be scared to be business of the email for good reason.
Scammers can easily create @yahoo.com, @gmail.com or @OtherLessPopularEmailProviders.com to try to scam people with your business name.
Once your clients are aware that you use @yahoo.com or @gmail.com, it might be easy to scam them with such name.
When they are however, aware that your email is @yourbusinessname.com, they will most likely not fall for other generic emails as they will suspect it is a fake one and rather relate with your official email.
You should not be careless with your email. Ensure you get a good email address @yourbusinessname.com with adequate space.
GoDaddy will not give you that despite their expensive price for economy web hosting.
So it would be best you avoid GoDaddy and go for more serious web hosts.
Reputation
The reputation of the web host you use is also very important.
There are a lot of businesses and organizations that are on the blacklist of several people and clients due to various reasons.
While some of the reasons could be as a result of events that are beyond the circumstance that the business and organization could manage, most of them are as a result of things that the businesses and organizations do.
Many people have blacklisted businesses and organizations because of their poor services and high charges.
Others have blacklisted because of offensive adverts and actions of employees or owners of the organization.
GoDaddy is one of the few organizations whose reputation has suffered as a result of the combination of these 3 reasons.
The high prices of GoDaddy, the time for movement and poor email address leading to loss of clients has chased away a lot of people away from GoDaddy, myself inclusive.
For a very long time, GoDaddy has being involved in sexist adverts.
This is a company that is involved in the sales of technological services as opposed to fashion or lingerie store.
Yet for a very long time, they are using females with tight fitted sports bra for their advert.
A lot of people see this as objectifying women and utilizing their boobs as a means to for selling their hosting and other services.
For a very long time, Jillian Michaels was the model that was used for this sexist advertisement.
So imagine a client who is offended by such, only to tell him in your proposal that you are going to host on GoDaddy.
That might be the last word in your proposal he will see before throwing the proposal into the waste bin.
As if that was not doing damage enough, they filmed a controversial superbowl commercial in 2012.
In the commercial, they portrayed their selves as being sexy while kissing a nerd with disgusting sounds.
Well, perhaps they were trying to really provide a hint to let the audience know that registering their domain on GoDaddy is going to lead to a disgusting experience.
Anyways, the commercial sparked a lot of outrage, further making a lot of people to blacklist the company as an option for their domain and web hosting needs.
Then that is not the end of it.
In a world where conservation is being promoted and elephants are being protected since they are getting endangered as a result of the hunt for them due to their expensive tusks, the GoDaddy CEO didn't think that was important.
Not only going ahead of shoot and kill an elephant, he personally released of video of himself when he was in that act.
You can now imagine someone trying to contract you to host a website on environmental protection, and you mention GoDaddy as your website of choice.
That will be the end of your consideration for that contract, because you can't tell a person to drink more poison to treat the poison he has ingested.
Now, there are a lot of people who as a result of the bad reputation of GoDaddy, do not want to do business with them.
If you are a web designer, you would save yourself the risk of losing customers from their bad reputation by staying away from using their services to purchase domain and web host.
If you are also a personal business owner, you do not want some of your clients to start leaving the instant they notice that you are hosting on GoDaddy.
Apart from this, there have been complaints by a minimum of 759 people in the past 3 years about GoDaddy.
Go with GoDaddy, and you might add to the statistics of those complainants.
Or you could save yourself the stress and just host with someone else from the start. Check out Bluehost and Godaddy comparison.
Ease of Use
When we want to purchase anything, we want it to be easy to use as much as possible.
This is however, not the case with GoDaddy despite the huge amount their services cost.
From their home page to the instant you log into the platform, you get bombarded with a lot of adverts, trying to sell you one thing or the other.
As a webmaster, you should already know everything that you need to set up your website.
A good web host should already know that you know what you need and you are knowledgeable enough that they can provide it for you.
And even if not, you will rather prefer to know that on your own through the use of search engine, as opposed to being interrupted when you are pressed for time with a lot of distractions.
This is especially when the distractions make it much more difficult to carry out tasks you intended to perform.
This is apart from the confusing and clunky interface.
When you log into most other web host providers, you are taken straight to a control panel.
However, this is not the case with GoDaddy, logging in will take you to a page with domains, web hosting and email amongst others.
And then a new user to the platform might spend the next 30 minutes trying to look for where to upload files, as there is no link showing file manager from here.
He might have to try to reach customer service and then try to search the articles on their blogs and even use Google.
For those not too used to online platforms, they might still be looking for where to upload files 3 hours later.
Even after recognizing that you have to click on manage in front of web hosting, you are taking to another page that is not really the control panel yet as well.
It is from this page, you might have to select control panel before finding file manager or the menu where you can select file manager from will be there.
Traffic analytics for your website that some web host give you for free despite hosting you for a lesser price must be purchased separately on GoDaddy.
Even after purchasing, you might still find it difficult locating where to find such statistics.
You might shout Eureka after roaming about the whole page and finally see something that looks like Stats and Monitors.
Only to open the page and you will find out that even the Traffic logs option under the Stats and Monitors doesn't take you to where you will find the information you require.
At the end, you might end up going in a loop and still not finding what you are looking for.
It is also almost impossible to use automated service that are available on other platforms and that saves time.
So if you know you are not yet an expert in web hosting, then you should stay away from GoDaddy.
Even as an expert, getting used to their technicalities will take you quite some precious time, that you could save yourself by using other platforms.
Trying to find some of the simplest links on GoDaddy could become a nightmare and you should try to avoid it.
Downloading and Uploading of Files
When you use a web host, you want to regularly upload files that are related to your website.
There are also cases where you feel like backing up your website and you want to download back all your files.
Perhaps, you had made some changes on some pages using the html editor provided on the platform and you want to be sure you have the latest website.
On the other hand, you might have lost your computer or crashed your hard disk, so you do not have your working files on your computer anymore.
Imagine when you try to download multiple files and then you find out that you can only select a file and download.
You cannot even download 2 files at a time.
That is what you will experience on GoDaddy.
So imagine you have about 20,000 web pages on your website.
Considering it is possible to just check all the pages and download into a folder or as a zip folder on some other web hosting platforms.
For GoDaddy, you will have to click on a single web page, click download, when it starts downloading, you go to the next.
A task that shouldn't take you 5 minutes with fast internet, might end up taking 5 days where you have to frustratingly repeat the same process.
In terms of uploading, you cannot upload a folder on most other web browsers.
You are forced to install Google Chrome if you want to be able to upload a folder to the file manager of a web hosting platform you are paying about $120 for monthly.
What if your favorite web browser is Mozilla Firefox or even Safari.
No, you just have to use Google Chrome if you must upload a folder to your GoDaddy file manager.
Perhaps one day you will wake up and only Google Chrome will be able to upload files to your file manager.
Conclusion
At the end, the choice is yours. But for now, I am terminating every business I have with GoDaddy and never to return.
Perhaps, you can start getting customers that insist on hosting on GoDaddy, that we are not interested to work with.
Better to go with Bluehost, SiteGround or WPX Hosting, depending on your budget.
But you can be sure it would be a matter of time before you lose more promising customers and even the current customer due to the pricing, reputation and technical problems of GoDaddy.