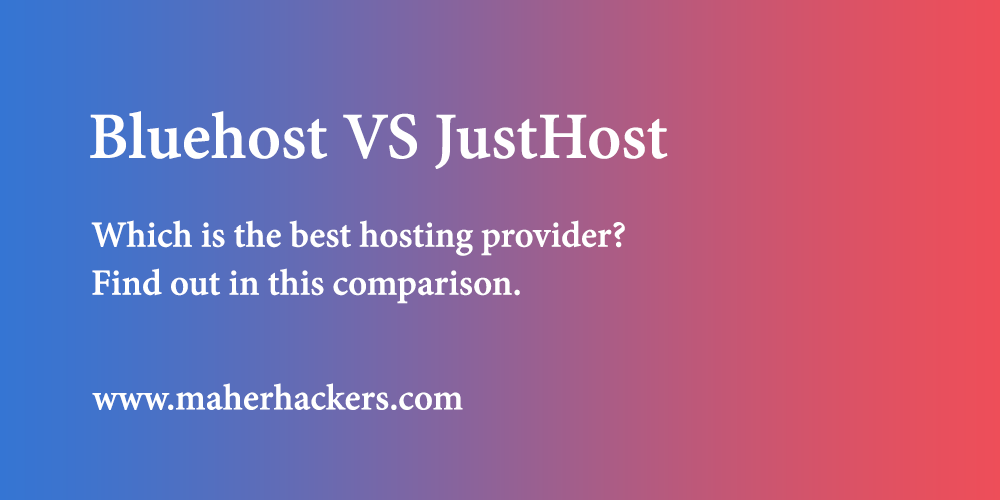 Bluehost and JustHost are two of the best web host providers in the world today.
JustHost caters to more than a million customers, while Bluehost caters to more than 2 million customers.
If you are trying to find the right hosting service and need an in-depth look at what each one offers, this article can provide you with all the know-how to make an informed decision.
The following is a complete comparison of Bluehost and JustHost.
About Bluehost and JustHost
JustHost has a very simple brand strategy. It aims to make web hosting easy for the user. It offers a simple process which minimizes offerings in order to make the overall experience of website creation easier.
It is well-equipped to handle most businesses. However, it lacks the kind of scalability offered by other big hosting service providers. It provides affordable VPS and shared hosting.
Bluehost was founded in 2003 and has been around for a long time. It has consistently upgraded its performance and features to cater to the demands of its ever-rising customer base.
It has provided an excellent service to its customers as evidenced by the lack of negative feedback. Surprisingly, it has done all this at an affordable rate, which makes it an attractive option for customers.
Features
SSD Storage
Web hosting services previously used the standard storage option. This has become almost obsolete in today's world with the advent of SSD storage.
Today, most web hosting services opt for SSD storage since it provides greater performance, faster speeds, and relative stability. SSD storage, therefore, is an essential component when choosing a web hosting provider.
Both Bluehost and JustHost provide SSD storage instead of the outdated standard storage. The SSD storage is a constant on all plans.
Free SSL Certificate
Bluehost and JustHost provide SSL certificates free of cost and have been very reliable.
WordPress Support
Most businesses today use WordPress to create their websites as it is easy to use and makes the entire process of creating a website hassle-free.
Therefore, WordPress support becomes a must. A web hosting provider that does not offer adequate WordPress support will make you suffer.
In the case of Bluehost and JustHost, you will not have to worry about this feature at all.
If you are using Bluehost, you will find that using WordPress is simple with this web host. You will get various themes and a lot of support while using your WordPress site.
Bluehost is one of the most popular WordPress Hosting Provider.
JustHost also provides this service to its customers. It helps them during the entire process. It simplifies the process to the extent that even beginners find no trouble getting their tasks done.
Website Builder
If you are not using WordPress, a website builder can come in handy for you. It will help you make a website with drag-and-drop options.
JustHost and Bluehost both offer different website builders. Bluehost uses the Weebly website builder, while JustHost offers a custom website builder.
Money-Back Guarantee
Money-back guarantees are provided by both Bluehost and JustHost.
While they are both very reliable at returning your money, the guarantee is only applicable for the first 30 days.
Thus, you will have to make sure the hosting provider is right for you within the first 30 days.
Control Panel
You will get cPanel with both Bluehost and JustHost, so this aspect will not affect your decision too much. With the cPanel, you can easily install apps and set up MySQL databases, FTP accounts, email accounts, and subdomains.
Bluehost has improved the cPanel somewhat to give a better user experience. These improvements are particularly helpful for beginners as they make various tasks easier.
Overall, the control panels provided by Bluehost and JustHost are excellent for users.
Uptime
Bluehost and JustHost have an uptime of 99.9%, though JustHost tends to be a little inconsistent and you might get a lower uptime sometimes.
The main thing to note here is that even with inconsistent uptimes, JustHost manages to provide a great experience and you would only rarely have to face a downtime.
Backups
Both Bluehost and JustHost offer free backups for their customers.
This is unlike many other hosting providers that charge for this service. This is great for users who are used to continuously backing up their data.
Hidden Costs
Bluehost and JustHost do not feature any kind of hidden cost with their plans. All the plans provided are listed on their websites, and the features provided with each plan are prominently mentioned.
Hence, you can expect to get only the features detailed in the plan without the fear of any hidden costs creeping up on you.
Customer Support
Both Bluehost and JustHost provide 24/7 customer support, so you can get help whenever you need it.
While Bluehost has a capable staff that can easily deal with any issues its clients may face, JustHost has received some flak for this aspect.
Various users have complained about its slow response time and the team's know-how about customer problems.
Also read, Other hosting comparisons:
Loading Speeds
Loading speeds are important to consider when reviewing or choosing a web hosting service. This is a very good indicator of the overall performance of the service.
Loading speed of a website hosted on Bluehost:

Loading speed of a website hosted on JustHost:

Bluehost offers good loading speeds, while JustHost provides a slow and highly inconsistent loading speed. JustHost has failed to improve its loading speed, which has been a drawback for its customers.
Bluehost or JustHost?
JustHost performs well when it comes to providing cheap plans along with various features. It has a dedicated userbase as well.
However, the aspects where it's lacking are customer support and speed.
These are important factors to consider when choosing a web hosting provider and can't be overlooked.
On the other hand, Bluehost is consistent throughout. Plus, it offers more scalability.
If all the discounts and plans are taken into account, Bluehost turns out to be the more affordable and overall superior option.