How to Start a Blog: A Beginner's Guide To Success
Over the last few years, Blogging has become one of the best ways to make money online.
You read many stories of success, Where some people start blogging, and when they see success with their blogs, They leave their jobs, and some even make a six-figure income from blogging.
Everyone dreams to start a blog and make money from it, but most people don't know where to start.
It's the "How to" of blogging that's keeping people from starting out and making extra income from the web.
Setting up your blog and managing it is not difficult but you have to have knowledge of certain things to start. And that's why we are here.
I've been asked many times how to start a blog, so I decided to write this easy to follow guide for anyone interested in making money online from blogging.
We'll provide you A to Z details on how to start your first blog and make money from it. This article will cover every aspect of it, and you don't need any prior knowledge of blogging to understand this article, It's written for everyone in mind, Newbie, intermediate or Pro!
You don't need any technical or coding skills; you just need motivation and a few hours a day to blog.

If you're still skeptical whether or not to start a blog, you're making a mistake. Even if you can't work too many hours on this, With a little work and right direction you can make at least some extra money from online if not five or six figures.

You can have an additional source of income. Even if you just make $200 or $300 a month from your blog, on top of your standard job, it wouldn't hurt. So don't hold back, That's my personal advice to you.
By the time we've finished, You will have a fully functional WordPress blog ready. So what are you waiting for? Let's start!
Pick your Niche
Niche is the main topic of your blog you are going to write about. Here on MaherHackers, We write about Blogging and things, so Blogging is our niche. If you write a blog about smartphones, then that is your niche.
If you write about iPhone cases, then that is your niche. You can be as specific you as you want to. The more specific your niche, The less competition for your blog. Ranking a blog with less competition is easy.
What should be your niche?
Before going in with any hot niche or someone else's blog's niche, Think about what interests you and write about that. Write about a niche in which you have some knowledge, and you'll love to write about.
When you blog about something you know and love, It'll provide value to your users, and you'll get rewarded for it in social media and search engine, and your blog will get frequent visitors, which in turn, converts to dollars.
If you start a blog on a niche on which you don't have much knowledge and interest, You'll get bored of it in a few days! You might be fully enthusiastic to start out first, but if you are not passionate about it, you'll end up avoiding writing more about it and providing useful information to your visitors.
Don't start with a highly competitive niche unless you're sure you can get traffic to it. Find a less competitive niche.
But there's too much competition…
Competition is part of life. If you think there are already too many blogs about the niche and you won't be able to get ahead, You are wrong. Blogging is not about who came first and how much traffic they get, It's about the value you provide to your visitors. As long as you have some knowledge about the niche, You can write unique and specific content; you'll get visitors to your blog.
So the thing is, To find your area of expertise:
Do you have experience in Bodybuilding and can you provide useful information to new Bodybuilders?
Can you provide information on how to gain weight on a low budget?
Can you tell them about how to lose weight at home?
Can you provide valuable and unique information on smartphones or laptops?
So it doesn't matter if there are too many blogs about the same niche, All you got to do is find something which you love and provide a new and unique perspective on the topic.
For example…
The online shopping deal sites are a good example of this. There are many people who have started successful and profitable deal site blogs.
The difference is, Everyone is posting about different product deals, they are providing deals for various areas, Some are writing blog posts about deals in Electronics, some on Sports Supplements, some on Home Appliances, some on Fashion and so on. Some are writing deals for a particular shopping destination like Amazon, Walmart, Target, etc.
Some bloggers even focus on specific stores in specific cities or areas. So there is something for everyone, You just have to know what you like and would like to write about.
Pick Your Blog Name
Choosing a name for your new blog is no easy task. It's how your blog readers remember you and revisit your blog. So it needs to be something simple and catchy.
It'll stay with you for a long time, So be sure to pick something interesting.
Interesting, Huh?
By interesting, I mean, Something that'll be easy to remember and set you apart from the rest.
Not so hard, I guess.
The important thing to remember is, Don't waste too much time trying to decide a name for your blog. It'll get you nowhere and just waste your time. I have been there. Decide something good enough and purchase the domain name for that. Don't dwell on the name too long.
Purchase Your Domain Name
A domain name is the address of your blog where visitors can find you.
maherhackers.com is our domain name.
In short, We chose MaherHackers name for our blog and so bought maherhackers.com domain name for it.
There are many websites from where you can purchase the domain name, but the best way is to purchase the domain name from your Hosting provider. You'll get a domain name free with your hosting purchase.
So you don't have to pay extra for the domain without any need.
Your hosting provider is where your blog's data will be stored and shared with your visitors. You can't have a blog without hosting.
You have to pay monthly rent to your Hosting provider to host your blog so that you can be live on the Internet.
Let's discuss hosting in details:
Which Hosting Provider Should You Choose?
So you have decided your blog name and ready to purchase the domain and hosting to get started. But which host should you purchase for your blog?
We recommend Bluehost.
Why BlueHost? Bluehost is one of the best WordPress hosting providers and host millions of blogs. It's an excellent option for new bloggers and pro bloggers alike.
Bluehost offers state of the art hosting services, and it's loved by many well-known bloggers. That's because your blog is fully secured, always loading fast and never goes down. Which is not something you can say for all the hosting providers.
Bluehost is optimized for WordPress, So that's exactly what we need as we'd be using WordPress for our blogging platform. And Bluehost is recommended by WordPress itself as the best host for WordPress.
And recently, they have updated their hosting services and they now auto-install WordPress on your site once you signup and shows you an option to install free themes on your site right in the process.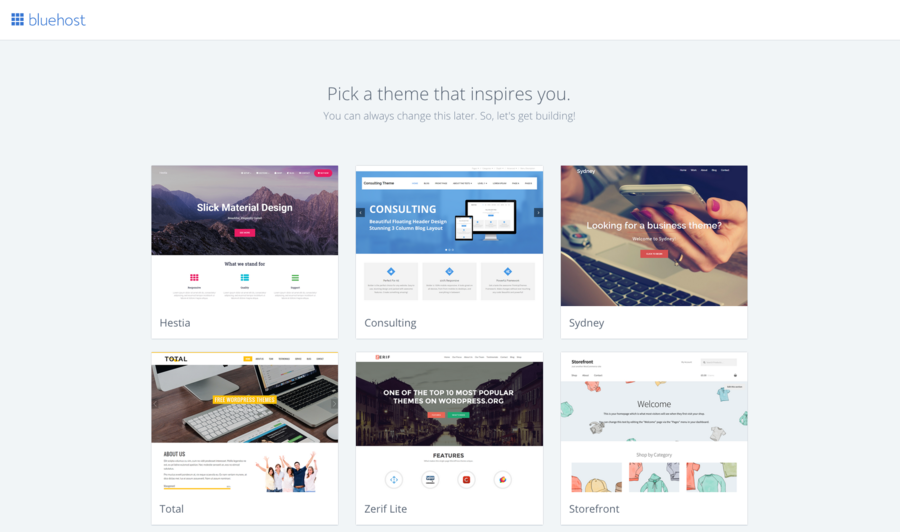 Signing up with Bluehost is pretty straightforward, If you know how to purchase hosting from Bluehost, You can visit the link below and sign up using our provided discount link.
Sign up on Bluehost with Discount
If you aren't as computer savvy, don't worry, You can read the post from the link below for the detailed article on how to purchase hosting from Bluehost.
⇒ How to buy hosting and domain from Bluehost – Detailed Guide
Read the instructions given in the article, Sign up with Bluehost and then come back here so we can go on to details on how to start a blog.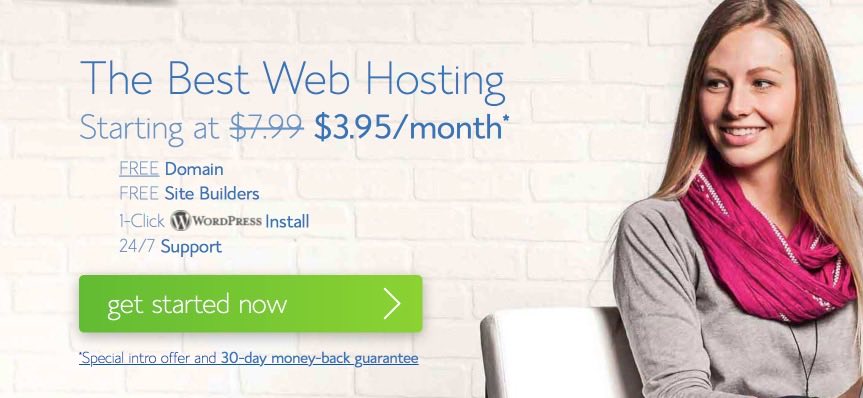 Install WordPress on Your Host: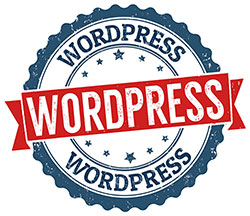 Alright, so you've purchased hosting and domain from Bluehost and ready to go ahead. We're pretty close now, Bear with me.
Next step, Install WordPress on your Host.
WordPress is the best and most used platform for bloggers. WordPress is fully customizable and easy to manage.
Some of the most popular and big brands prefer WordPress as their blogging platform.
One other perk of Bluehost is, You can install WordPress very easily right from your Bluehost control panel!
Update: Bluehost now auto-installs WordPress to your site and you don't have to go through the process shown below. As soon as you sign up, they will show you a window that asks you to pick a theme for your WordPress site and your WordPress site will be ready automatically.
You can skip the section below and go to the next section now!
Go to your Bluehost control panel
Now that you're logged into the Bluehost control panel, Look for the website builder section and click on Install WordPress. (As shown in the image below)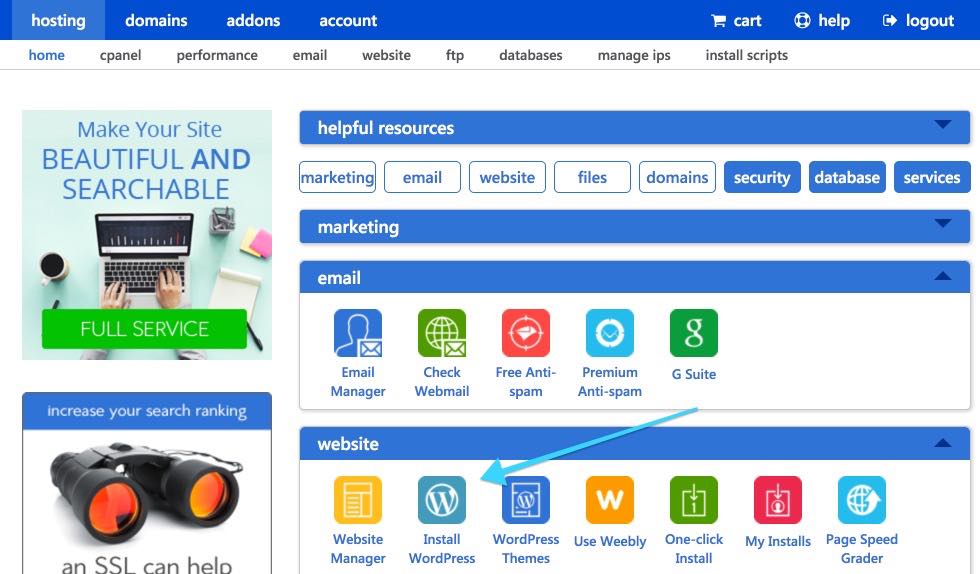 In the next screen, You'll see two options, To Start a brand new installation of WordPress or Import an existing configuration.
To Install WordPress, Click on the Start button.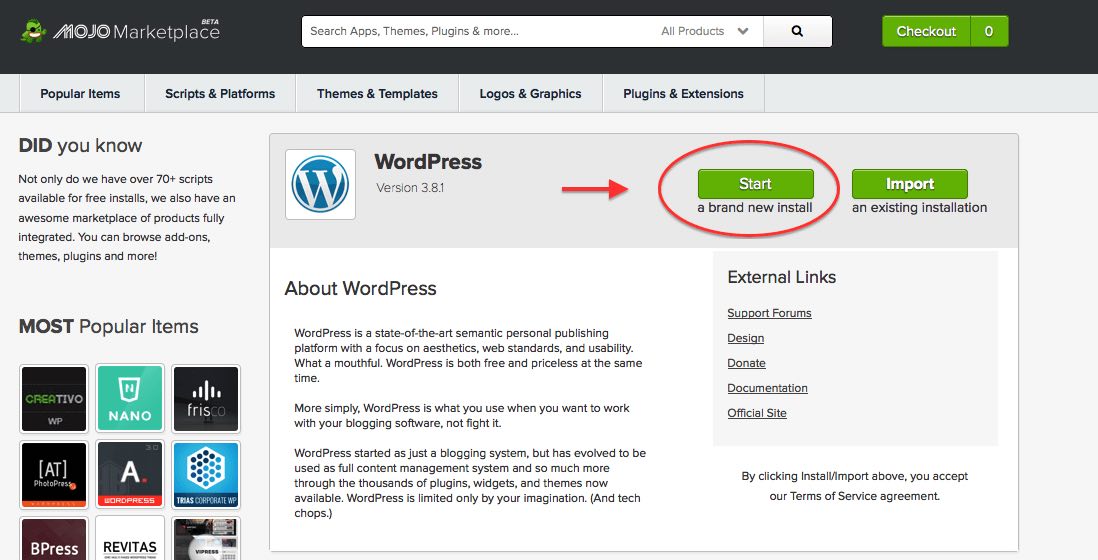 After that, you'll have to select which domain you would like to install WordPress on. Your domain will be selected by default if you have only one.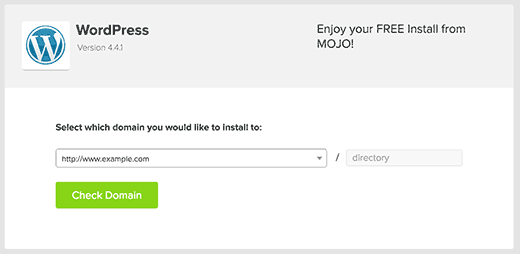 Now, It'll begin the process of installing WordPress on Bluehost to your domain. You don't have to do any technical stuff.
You're now one step away from being the WordPress Blogger!
One the next window, It'll ask for some more details about your Blog title, your username and password to log in, and email address.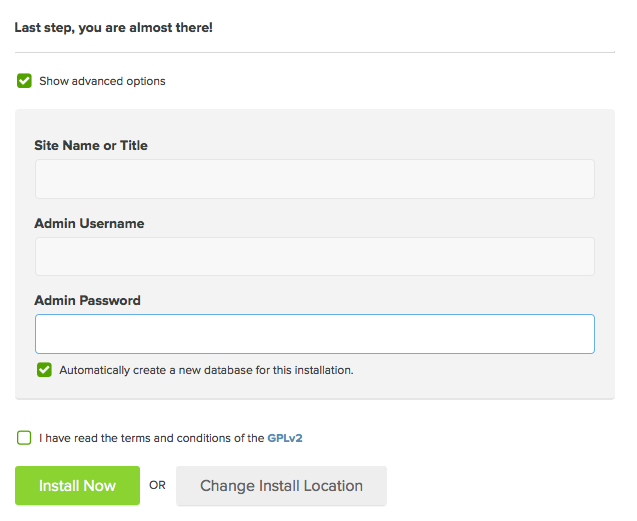 When done, click Install now button. Then it'll go through the installation process and show you "Your install is complete" message when it's done.
That's it. You've got your own WordPress blog now.
When you are ready to log in to the admin panel and start making changes, head over to your WordPress admin panel. Add /wp-admin after your domain name, and it'll take you to your WordPress control panel.
For example: yourdomain.com/wp-admin
When you visit that page, You'll get a page like this: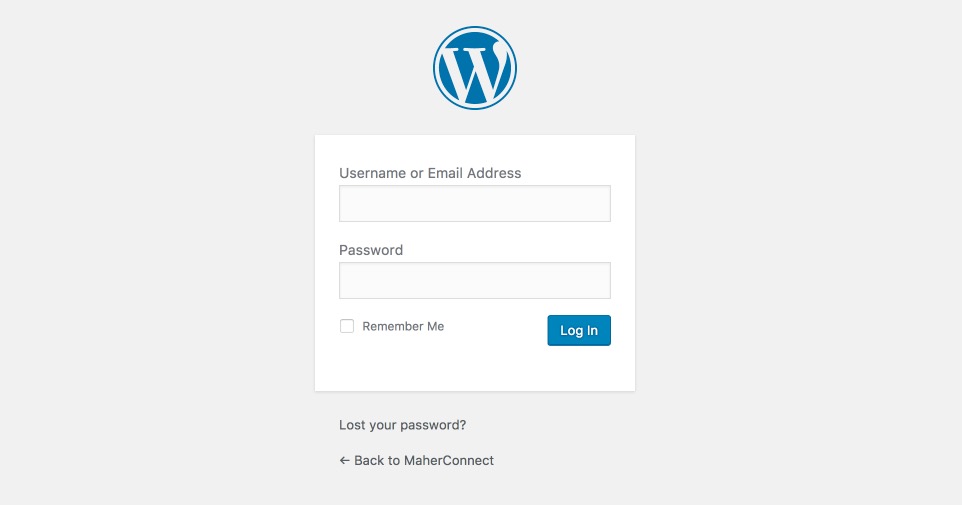 After you log in, you'll be redirected to your dashboard. It's from there you can create posts, pages and change the look of your site and customize it any way you want.
Customize The Blog
Your blog is ready now, but before you begin posting, Let's personalize the site a little bit to give it a professional look.
There are many Free themes available on WordPress, Go to Appearance -> Themes and click Add new to browse the free themes available on the WordPress marketplace. You can choose from thousands of themes.
If you want to invest a little bit more and get a Premium theme for your blog, check this list of Best WordPress Premium Themes.
Premium themes come with many unique features and designs to set your blog apart. It's your choice whether to use a free theme or get a premium one. Browse for Free themes first and if you don't find anything you love, head over to our article on best premium themes as given above and see live demos of different themes and decide what you need.
Start Blogging
Your blog is up and running. You can now create new posts and start blogging.
There's also a free video course on Udemy, where you can learn many things about WordPress. WordPress.org codex has useful tutorials that will help you know more about using WordPress as well.
Get Traffic to Your Blog
Getting traffic to your blog is essential. If you open a local shop and no one comes there, it's of no use. But the good thing about blogging is, With some efforts, you can get a decent amount of traffic. And with hard work over some time, your blog's traffic will keep increasing.
There are many ways to drive traffic to your blog, we'll be writing a detailed post about that in some time, but right now, We'll discuss Social Media, that is easy and gives quick results, and SEO, which provides persistent results for a longer time.
So for now, You have to: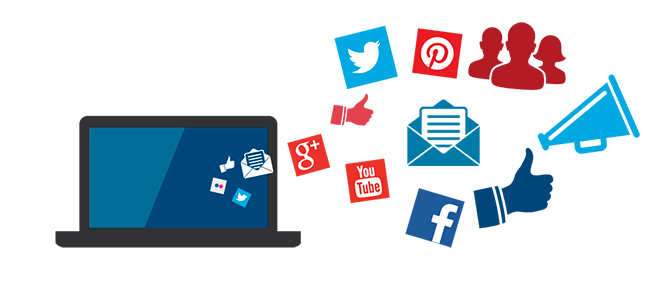 Social Media is nothing new to any one, Once you create a post on your blog, share it on Social Media.
Major Social Networks and how to share:
Facebook: Share your posts on your Facebook profile, share it on your Facebook groups and also ask your friends to share it on their timeline.
Twitter: Tweet your post on Twitter and don't forget to use a relevant Hashtag.
Pinterest: Pinterest is turning out to be a beneficial social network for getting traffic to your websites. Design a good photo for your post and share it on Pinterest.
I cannot stress enough, the importance of Pinterest sharing, All you need is good content and an elegant, eye-catching image to share. We'll share some ideas about how to create a beautiful image for Pinterest soon.
Google+: Google+ didn't catch up to be as popular as others, but it still is vital. Share your post on your Google+ profile and your blog's business page (Make sure to create one). Google+ shares are also believed to be used as a ranking factor on Google.
Besides these four leading social networks, You should also share your link on other social networks like Reddit, Stumbleupon, LinkedIn, etc.
Search Engine Optimization (SEO):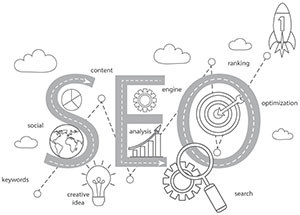 SEO is crucial for a site. We'll be talking exclusively about ranking your blog on Google. The primary purpose of SEO is to rank your blog post on Google for the keyword of your post.
For example, You have created a post about, let's say, "How to lose weight in 30 days". Now when people search for how to lose weight in 30 days in Google, we want your post on the first page (Preferably on the first position, however, it's not that easy) so you get that visitors to your blog.
Ranking your post on Google is not as simple. It takes time, some research and if you are consistent, you'll get there.
There are a lot of factors that go on to SEO optimize your website for SEO. There is On-page SEO factors, For On-page SEO, You have to make your blog SEO ready by using specific keywords in the post, adding headings, adding images with alt tags, etc. But the good thing is, You can use a plugin like Yoast SEO, which gives you tips on what you need to do on the Post editor page.
You should install Yoast SEO on your blog, So you're good on the On-page SEO part.
Then there is Off-page SEO, which depends on how many backlinks your blog is getting from other sites and many other factors. Off-page SEO is complicated, but you don't have to worry about that.
Most SEO experts believe, The key to good SEO is quality content. If you are posting quality content consistently, then eventually, you'll rank on Google because you are providing value to the people.
Have a look at our comprehensive guide on SEO to learn more about this.
Make Money Blogging
Making money is the whole point of having a blog. There are numerous ways with which you can earn from your blog. But the two most important ones are:
We already wrote a post about how to signup and get your Google Adsense account approved. Check out the post to learn more.
And here's the post about Making money through Amazon affiliate niche sites.
Not sure which monetization method to use? Check out Affiliate Marketing vs Google Adsense comparison.
So that concludes our guide on how to start a blog. We hope you've got your Blog running and ready for success. If you need any help, You can always reach out to us from here: MaherHackers Contact
This content uses referral links. Read our disclosure policy for more info.