How to Make Money Using Amazon Affiliate Niche Sites
This is the most definitive guide on Amazon affiliate niche sites & Amazon Affiliate Marketing you'll find online.
We have covered very basic stuff to very advanced topics, So get a cup of coffee and get started.
Blogging started out as a fun hobby done by a few. Many blogs back in the day were online journals were people wrote about their lives. There are still some blogs that follow this format to this day.
Blogging has grown and is now a serious business taken up by many people around the world.
The biggest issue currently facing many bloggers is monetization. How can they make money via their websites?
How many times have you given up on your site simply because you haven't found a way to make it pay for itself?
How many monetization methods have you tried on your sites?
Amazon is the world's no.1 retailer. It's one company to rule them all. Amazon and e-commerce have become synonyms and it's only going to get better.
In short, Amazon is on the rise and opportunities to make money through it are only gonna increase.
You have probably heard of the Amazon Associate Program.
How much do you know about this program? Not much? Don't worry we're here to help you understand and take advantage of Amazon affiliate niche sites to make money online.
But first, here's an infographic on Amazon affiliate marketing to help you understand what it entails:
1. What is an Amazon Affiliate Niche Site?
Before we define what an Amazon Niche site is, we need to understand what the Amazon Associates program is all about.
The Amazon Associates Program is the official affiliate program run by Amazon.com. It's a platform that allows anyone with a site (that meets Amazon's conditions) to promote the many products that the company has to its readers.
The way it works is simple:
You place an affiliate link on your site
The reader clicks the link.
It takes them to the Amazon website.
The reader makes a purchase
You get a commission on the sale.
Amazon uses cookies on its affiliate links to track your links.
Once clicked your affiliate link is attached to the URL of the reader. Your links are valid for 24 hours from the last click and 30 days when the reader adds a product to their cart.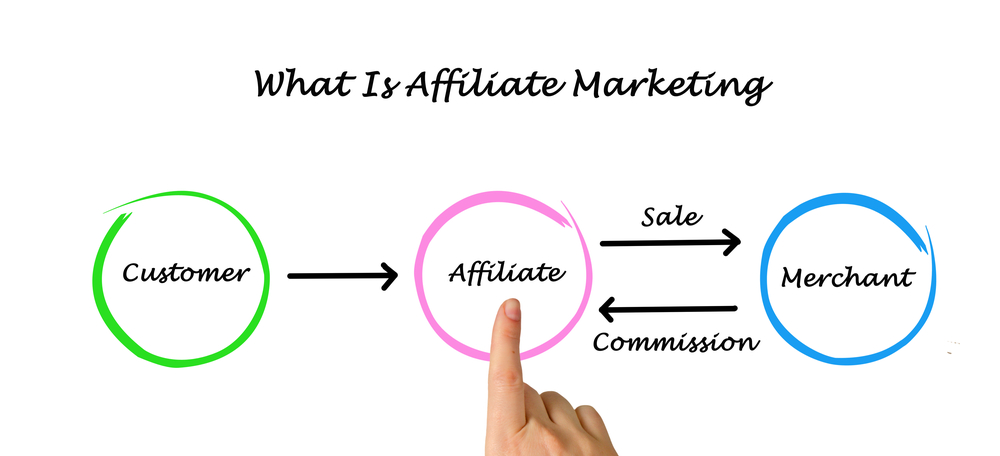 The beauty of the Amazon Associate Program is that you don't have to work on the selling aspect rather your work is on leading the reader to Amazon. They deal with the rest.
Now that we know about the Amazon Associate Program, let's focus on Amazon Niche Sites.
What is a Niche site exactly?
The definition will vary depending on who you ask. With that said, many define a Niche site as a site that focuses on specific products or topics.
They target a certain single market and that's it. The entire scope of the site will be on that target market.
For example, 10Beasts.com is a famous niche site that deals only in the technology market.
Websites that make money from the Amazon Associates Program don't have to be niche sites necessarily. There are some broad/general focused websites that have made money from the program.
Any site that makes money from the Amazon Associates program can be considered an Amazon Affiliate website.
If you want to get more technical any niche site that promotes a handful of specific products or a few similar products from Amazon can be considered an Affiliate Niche Website.
Amazon affiliate niche sites are websites or blogs that focus on only one specific category to rank faster and start making money through the Amazon affiliate program.
Niche Site Vs Authority Site

You could choose to make a Niche site or an Authority site. These two do differ a bit. A niche site is normally easier and quicker to set up. It doesn't take time to have one up and running with content and links.
It's the model many marketers use to make money with the Amazon affiliate program (and they have made plenty!). The downside is its harder to scale up with such a site. In addition, bigger authority sites can easily beat you in rankings as they have more content and links as well.
Alternatively, we have authority sites. These are sites that cover a broad topic or target a broad market. They take time to set up and so it may take longer for you to see a return on your investment.
The good news is once it picks up. You can scale up easily and it becomes easier to outrank the smaller niche sites on Google.
2. Why You Should Use the Amazon Affiliate Program
Amazon is a Trusted Brand
Amazon is one of the biggest companies in the world. They are a well known and trusted brand. One thing you can be sure of is they will pay your commissions when the conditions are met.
On the other side, consumers (especially those from Europe and North America) love Amazon. It's brought convenience and the quality of their products are trusted by many. As far as buying online, Amazon is always considered the best and safest option.
Good Commissions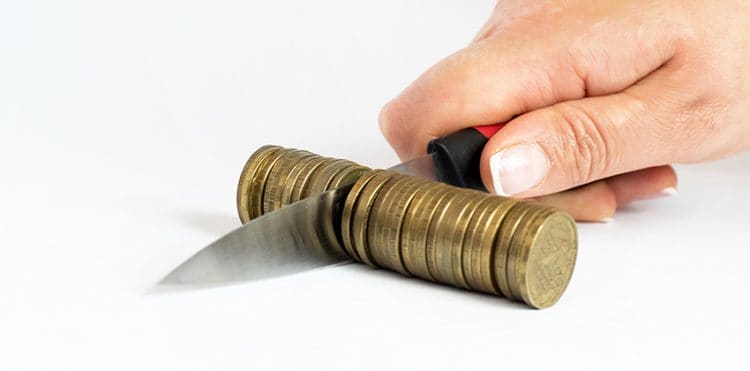 As we write this, commissions on Amazon have changed since the inception of the program. Commissions previously ranged from 4-8% with the possibility of it going up depending on the goods you sold via your affiliate link. That's not the case anymore as products have been given fixed commissions.
With that said, the potential for earning plenty of money is still there. Target high-value products and your commissions will still be high. On top of that, you get the commission on whatever the reader buys whether it's related to what they clicked on your link or not. The more products in their cart, the better.
You should also remember, Amazon is the largest online retailer in the West (North America and Europe). There is "plenty of fish in the sea". Many people are still looking for information/reviews online on the products they want.
Build trust and provide good, unbiased informational/product review articles and you could be making good money.
Plenty of Tools to utilize
Amazon doesn't leave its marketers high and dry. They utilize plenty of tools that help you get into their sales channel.
For instance, you have an online dashboard to see your commissions and clicks.
You can use this to gauge your CTR (Click Through Rate) and analyze where you need to improve.
Boom Times
Boom times are another term for the holidays. From Thanksgiving all the way to Christmas. They are referred to as such because they are periods that people shop the most and so the likelihood of making money is high.
Amazon with its array of products tends to have sales during this time. It's for this reason that people shop more aggressively, thus increasing your chances of making way more money in those times.
3. How to Build a Successful Niche Site
Find a suitable Niche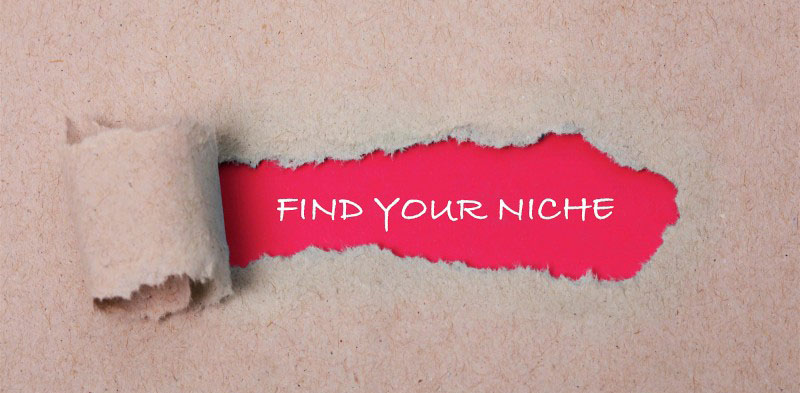 This is a crucial step when building a niche site. It could make or break your business. Your chances of ranking your Amazon affiliate site and thus success depend heavily on the niche that you select.
Before you choose a niche, you need to know the types of niches.
Types of Niches
There are 3 types or categories of niches. There are high competition niches, medium competition niches, and low competition niches. As a beginner in the niche site world, we'd advise you to always go for low competition niches, but more on that later. Let's expound on these niche categories.
High Competition Niches
As the name implies, these are niches that are competitive. We consider these the low hanging fruit as far as niches are concerned.
Everyone who starts a niche site will try to get into this niche. As a beginner, this category is not good for you.
Why? Because it's hard to rank and will require quite an investment in terms of site design, content and link building to actually see results.
Medium Competition Niches
This is a much better place to start when compared to the previous category. There are still some experienced affiliate marketers lurking here, so it might be difficult to outrank them.
You might need to put in some investment in site design, content and link building to get to the top.
Low Competition Niches
Low competition niches are sometimes known as zero competition niches. You could simply say that all zero competition niches are low competition niches, but not all low competition niches are zero competition niches.
Zero competition niches are niches with no competition. It's difficult to find a niche that has zero competition, so don't use too much time and energy searching for this.
As a beginner, you should work hard to make sure that the niche you're pursuing falls into this category. It's easy to rank a site in a low competition niche. Not much investment is needed and with a bit of work, you could be making good money.
How to Know You've Found the Right Niche
We've talked about the different competition levels for niche sites, but how do you know that your niche site falls into the right category? The good news is there are some properties that a suitable niche should have, like:
It's easy to rank in
A suitable niche should fall in the low competition niche category. This means it'll be easy to rank your site once you start adding keywords and optimizing your content.
It has enough products and subcategories
Just because you're building a niche site doesn't mean you go for one that has few products. You need to choose a niche that has a number of products and different subcategories with related products that you can use to base your site around.
You have some interest in the Niche
It's crucial that you're interested in the niche you choose to work on. Niche sites are not only about outsourcing and generating content. You need to understand your market and optimize your site around it.
Besides, how will you make sure that the information you provide is accurate if you are clueless about the niche you operate in.
It doesn't have Hype Based Product(s)
We're looking at your hoverboards and fidget spinners. Two products that were so hyped and yet fell as quickly as they rose. Be wary of building sites based on hype. As soon as the excitement for the product disappears, so do your earnings.
Get The Right Niche & Product Idea
The final step before selecting the niche to work on is to identify the products that you're going to write reviews about. Having a product idea(s) also helps analyze the competition and gives you a good understanding of what you're up against. There are a few ways that you can use to gather product ideas like:
Amazon Product categories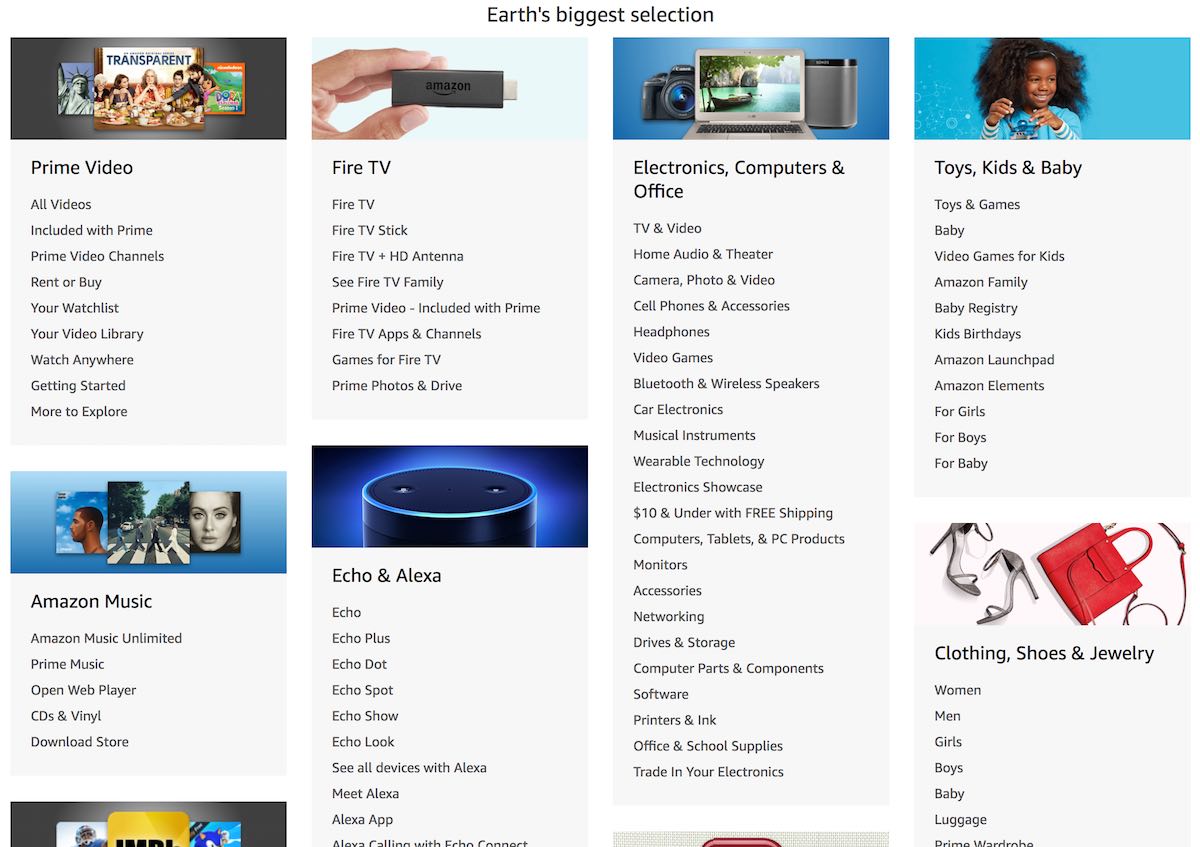 Where else is better to get product ideas from rather than the seller themselves, Amazon. Go through the product categories in the niche that you want to rank in. Check the sub-categories as well while you're at it. Does it seem interesting to you? Are there enough products to build your niche site around?
For example, If you go to the Camping & Hiking category, you will see a page similar to the image below, with sub-categories on the left side: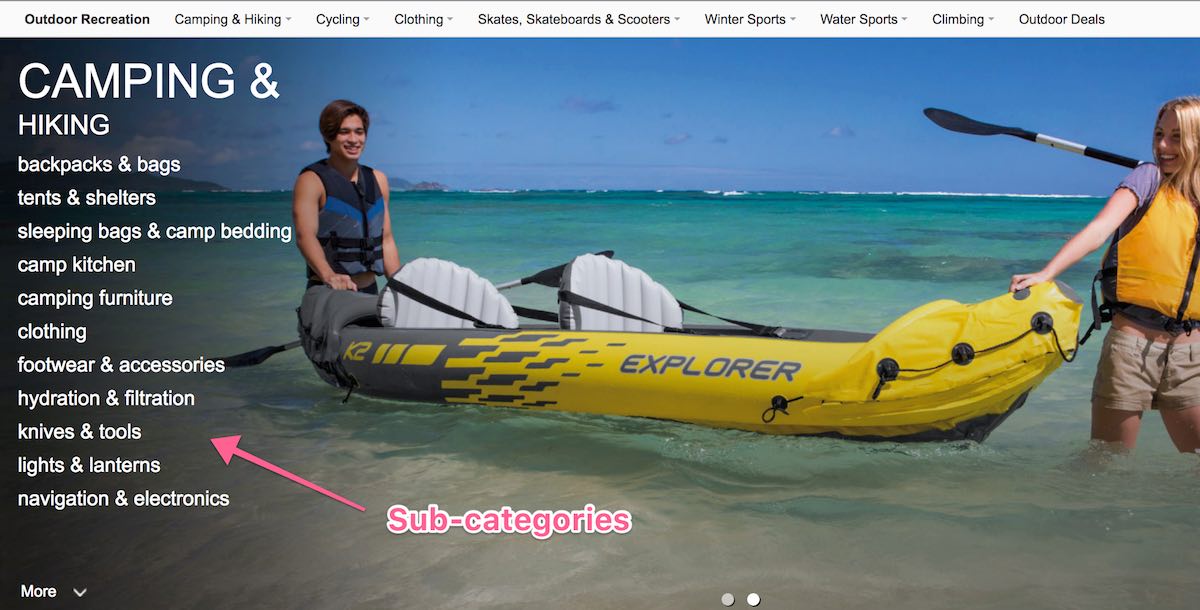 You can get very specific niche ideas from here. For example, You can select the camp kitchen and check different products to get the product ideas and start building your blog and writing about that.
You can also go inside these subcategories to get more sub-subcategories of the sub-category. If you go inside 'camp kitchen' subcategory, you can see further categories like this: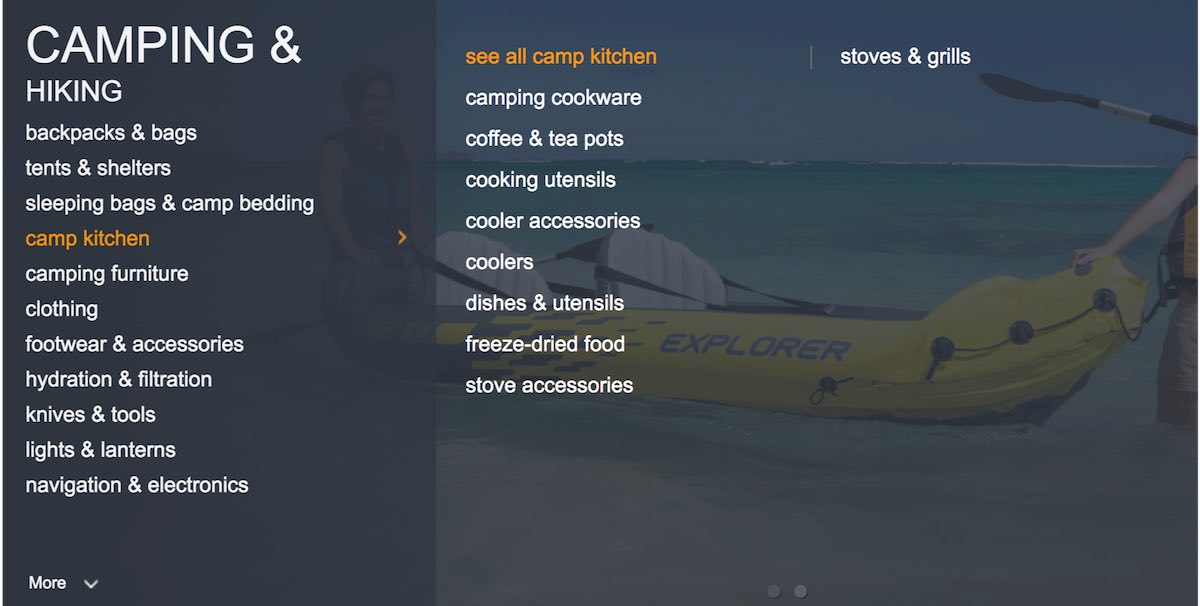 You can really dig deep and find your suitable niche & products just by researching on Amazon store directory. So do spend some time browsing through it.
Sitemaps of Popular sites
Another good place to get product ideas is in the sitemaps of big popular sites. Think about it, they have done it and succeeded, so why not just emulate them. The sitemap can be a goldmine in helping you know what products and keywords you should target more aggressively.
SEO tools like SEMrush
They might be expensive, but it's with good reason. The data that you can get from these tools are valuable. You can get significant insights into your competitors.
We understand as beginners, you might not have the money to use these tools all the time. The best thing to do is to start with their free trials, gather as much information as you can and act on the info you obtain.
If you have the budget, I highly recommend SEMrush. It's really worth it. You can also find keyword data and related keywords etc, just by searching for a keyword.
For example, this is what you get just by simply searching for the keyword "pre workout supplements":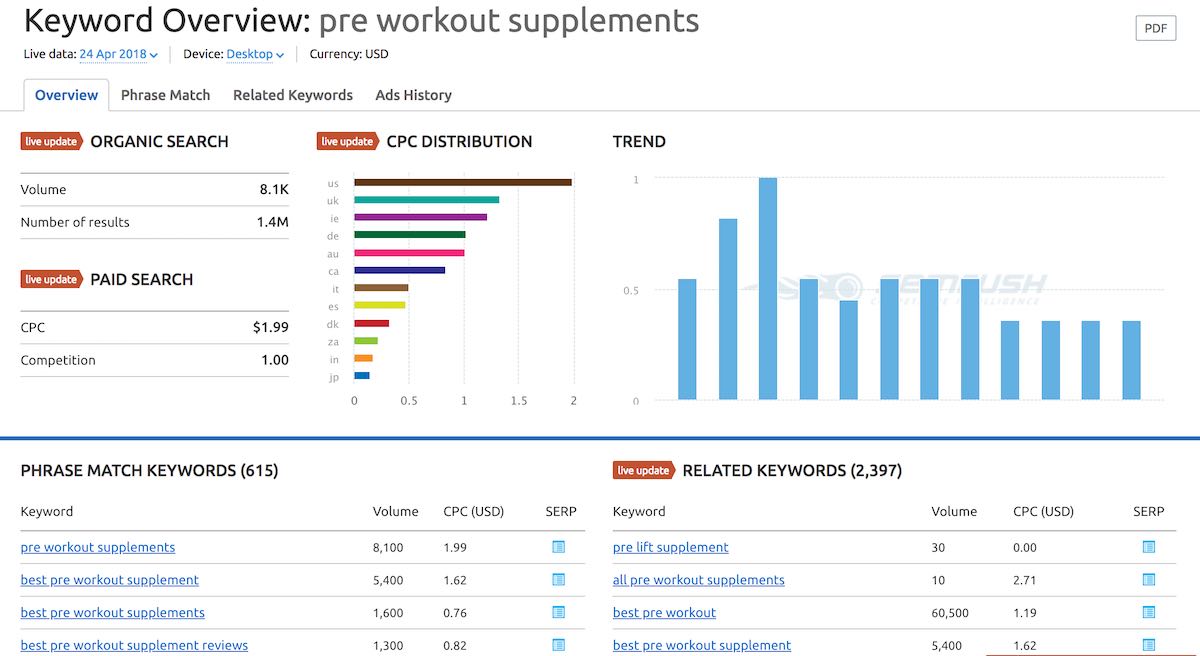 As you can see in the screenshot above, it shows you thousands of related keywords. You can easily find low competition keywords from this list and build your site or post around that.
Finally, let's close this section by looking at what makes a good product. How do you know what products to select for reviews on your site? Here are some key things to look at:
An average product price of $50
An average customer rating of 3.5 on Amazon
At least 500 monthly searches in the US for "best (product category you're trying to rank)" or "(product category you're trying to rank)" reviews.
The Domain Name is the Key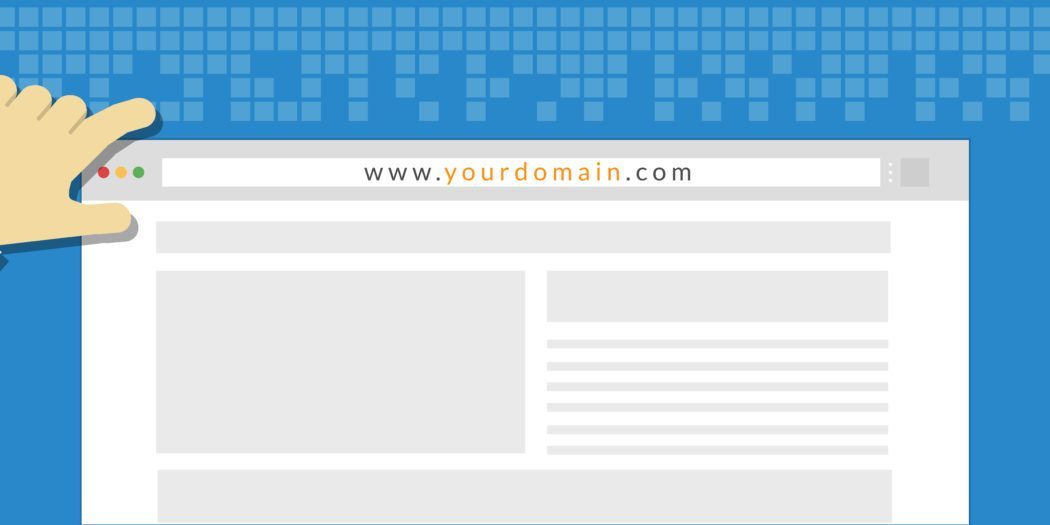 The next step after securing your niche and everything it entails, you need to have a domain. You can't start a domain without a domain name.
There are two choices that you have; An Exact match domain name and a Brandable domain name.
Exact match domain names are ones that match the specific niche/business that you're in. They involve using the main keyword you're trying to rank on. For instance, if you're in the laptop niche and your main keyword is "best laptop reviews". An exact match domain would be bestlaptopreviews.com.
This used to be great back in the days and would win you some SEO points which meant higher rankings. Sadly, people misused these privileges and would spam the internet with low-quality sites.
In recent times, Google has made updates to its algorithms to counter people that use these types of domains. Using an exact match domain would be a terrible choice as it would mean a possible penalty from Google and even Amazon.
On top of that, you'll get fewer visitors to your site as people would have the perception that your site is low quality.
A brandable domain name is different. It's a domain name that guides the user about your brand. For instance, using the example above, a brandable domain name would be laptopguide.com.
Getting an idea for a brandable domain name can be quite the task especially if you're not creative. Lucky for you, there are some online tools that you can utilize to help guide you in the right direction.
Always go for a brandable domain name as it ensures long-term success for your niche site. In addition, if you choose the right name, you could easily scale your site to other business ventures with no hitches.
Domain Name Extension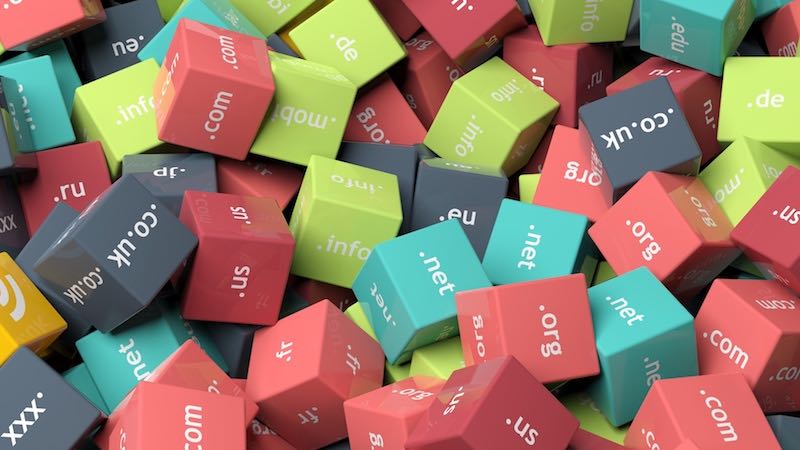 There are many extensions that you can use for your domain name. You could go for a ".com", ".net" or even ".org". It's always best to use a ".com" domain extension as it's more common. It's always easier for users to remember and recognize a website with a ".com" extension.
Once you have your domain name in place, it's time to check if it's available to use. You can do this by going to hosting sites like Bluehost. If the name is available, then purchase it so that it's yours to use. If it's not available, then it's back to the drawing board.
We recommend Bluehost to all users for hosting and domain. They will provide you a free domain name with your hosting purchase. We'll discuss more in the next section.
Choose your Host carefully
A web hosting service is a company that offers to store your website on its online database. There are hundreds of web hosting providers online. Some are good, some are bad. So we always recommend our users to buy hosting from Bluehost as their hosting service is really awesome for new and professional bloggers alike.
A web host is crucial to the success of your niche site. How? You might be wondering!
Simple, Uptime and Load speed. These two are crucial metrics for your site.
Uptime is how long your website is online. Poor uptimes impact user experience as people won't find your site when they search for you.
On this note, let's talk about support. Cheaper web hosting companies might not have the proper support system in place. This is not good as it means you're on your own when any issues occur with your site. Always consider the support system as well when looking for a hosting company.
Let's get back to the main point, Load speed is how quickly your website loads when a person visits it. Load time is also important for the user experience. Users expect your website to load within 6 seconds. Any longer and they leave to visit other websites.
Needless to say, this shouldn't happen often as it might signal the end of your site. Even more crucial is Google considers users experience a key factor when ranking sites.
With poor uptimes and load speeds, you'll have higher bounce rates. This is not good for the long run as Google might demote you and place you in the lower rankings.
Don't be stingy when choosing a web host. Go for the ones that are recommended by the experts. Your earnings depend on it!
We recommend Bluehost. Buy from our provided link and you'll receive additional discounts!
Sign up for Bluehost hosting now!
WordPress is the King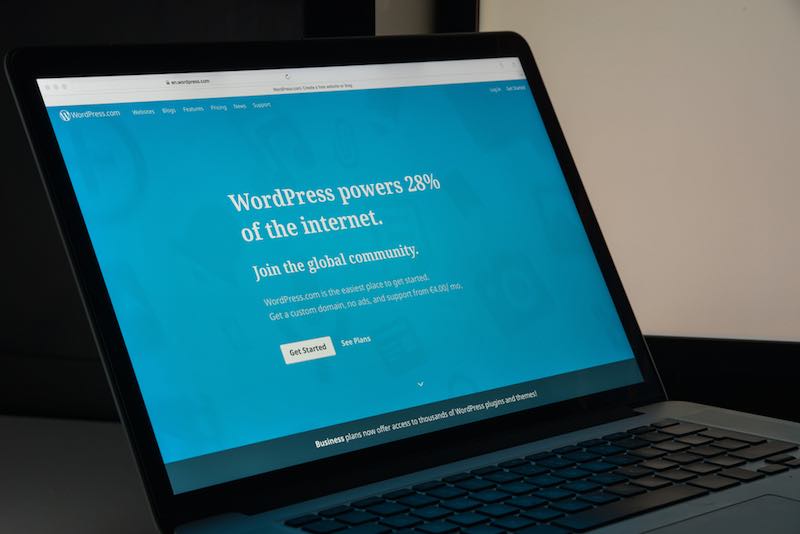 Now that we're done with the domain name and hosting, the next step is to set up the website.
In order to set up the website, you'll need a CMS (Content Management System). This system is what will help in creating, editing and displaying your content online.
There is a lot more to cover, but let's not get too deep. You need to understand that there are plenty of CMS' available to use, but as the heading states, WordPress reigns supreme.
Most niche sites are powered using WordPress. Its popularity is probably influenced by its ease of use that many of the other CMS can't seem to emulate.
And if you have signed up on Bluehost, It'll actually install WordPress on your domain right away and provide you with many unique themes to choose from right away. It'll jump-start your process and save you a lot of time.
Themes and Plugins
You also need to think about what Theme to use on your site. There are plenty of themes available online. You can simply browse and find the one that suits your needs.
You could also use the popular options recommended by experts like Marketers Delight, GeneratePress and MyThemeShop themes to name a few. Either way, the theme you choose should tick all the following boxes:
It should be mobile responsive. This is an absolute must considering the number of people that use mobile today. You stand to lose a huge chunk of visitors if your site (theme) is not optimized for mobile.
It should be fast and well optimized. A heavy theme is a useless theme. The theme should be light and have a quick response time. Even the fastest server in the world can't save a heavy bloated theme.
It should be flexible. What we mean by this is that there should be different customization options available to you. Some formats work better than others, so your theme should give you the ability to change content formats or site design when need be.
Essential plugins differ depending on who you ask. Everyone has a different opinion. The key to success is always trying and testing. Test the different plugins and see which ones work best for you.
We'd say Yoast SEO is a must for any site looking to rank number 1 on Google. The plugin helps guide you on how to properly optimize the content on your site among many other things.
We should warn you that having too many plugins on your site could slow it down.
Here's the plugin I use on all my niche sites
Yoast SEO: This needs no introduction. Any site using WordPress should install Yoast SEO because of the on-page SEO benefits.
W3 Total Cache & Autoptimize: I use both these plugins for caching purposes. Using these two plugins will take care of your website's cache needs and improve load times.
Contact Form 7: To add a contact page on your website.
EasyAzon Pro: It's a must-have plugin to automatically add Amazon affiliate links and to localizing your links to not lose commission when people purchase through your link outside of the US.
Jetpack by WordPress.com: I use Jetpack on all my sites because of the easy and convenient website stats and some other important features.
WP Review Pro: To add a star/percentage/thumb review on site and show review schema on search engines, it's a must.
On a side note, there are a few pages that you should always set up on every niche site. Consider them mandatory. They are:
About
Contact
Privacy
Amazon Affiliate & FTC disclosure
Terms of Service
Content and SEO; two peas in a pod
SEO is a broad topic with a lot to talk about. Also, known as Search Engine Optimization, SEO is what will help your site rank on top in the search engine result page.
If you're new to SEO, Also take time to read our beginner's guide to SEO.
A huge part of a good SEO strategy is keyword research. This research helps you identify the queries that people type into the Google search bar.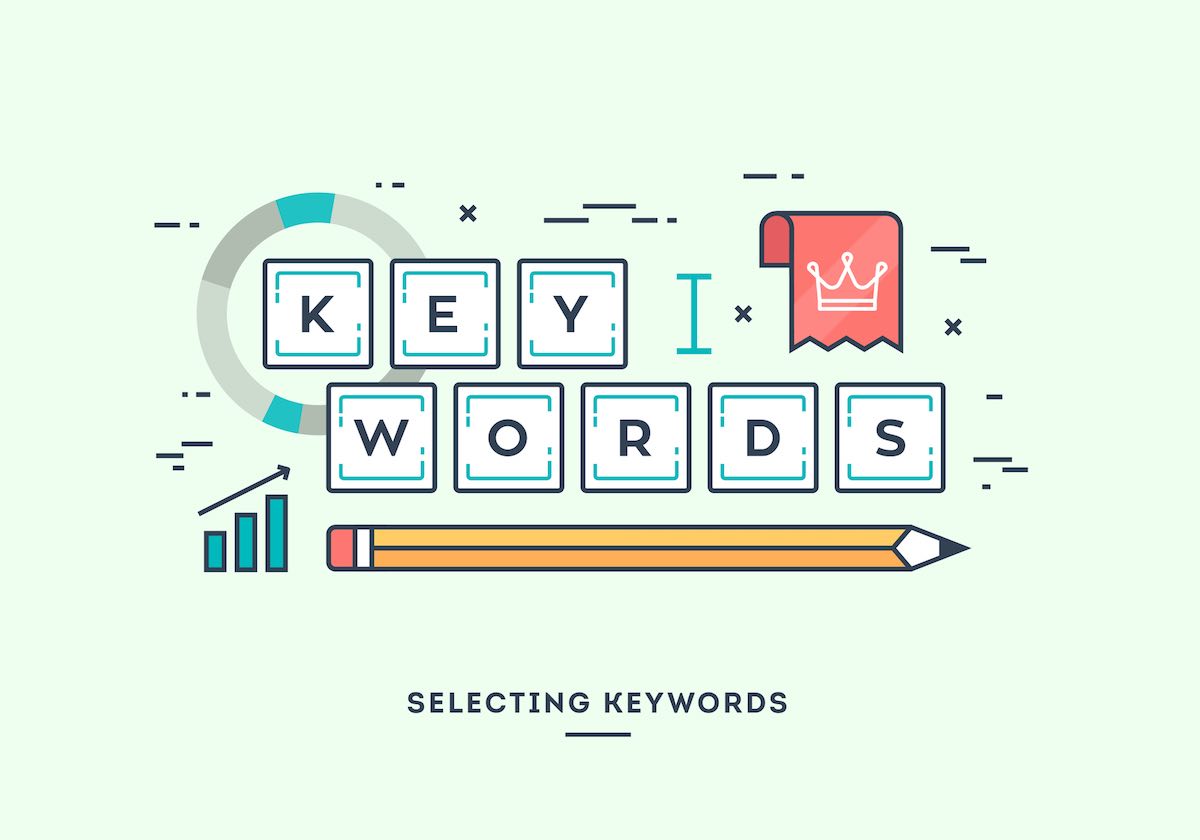 Keyword research gives you a good idea of what keywords to target to rank on page 1 of Google. It also helps you identify your competitors in the niche.
There are many methods that you could use to perform keyword research some of the more common ones are:
By using paid tools like SEMrush
By using Google Keyword Planner
By using the Google Search Results Page
Once you have the keywords that you want to target, you need to focus on one of the pillars of your niche site, Content. Online, content is king! Without proper content, your website is bound to fail.
It's your content that will communicate with your visitors and convince them to purchase the product. You need to use the right tone in all your articles. A friendly yet authoritative tone always works best.
How to Build Authority for Your Niche Site
You also need to build authority in your niche for your visitors to trust you and buy from your links. Building authority is not difficult, but it does take time. The first step to building authority is to always provide value.
You can provide value by having more than just product reviews on your niche sites. In fact, a website with only product reviews is normally considered a thin site by Amazon and Google. This could lead to a penalty as they'll consider your website spammy. You need to provide more articles other than product reviews/Best product roundups. Other types of articles you could publish are like:
Informative articles- These articles aim at providing information on different topics surrounding the niche. They help guide the users on things they don't know about the niche and are not long. Maybe 1000-2000 words.
Answer Type articles- As the heading suggests, these types of articles aim to answer a question for the user. They are like informational articles in that they provide info, but differ a bit as they can easily tie into the product reviews/product roundup.
List type posts- These are posts in the form of lists. Studies have shown that people are more likely to click on a link when it's a list than a simple general article. You should have a few of these on your site as part of your overall content.
How to Generate Content Ideas
We understand that generating content ideas can be a challenge in itself. Not everyone is creative enough to come up with topic ideas on a weekly basis. The good news is you don't have to reinvent the wheel.
As we said earlier, there are no zero competition niches, so any niche you choose will have another site(s) also trying to rank number 1. You can get content ideas by analyzing these sites and seeing what works best for them.
You could also use social media like Twitter and Facebook to see what's trending within your niche.
Google SERPs is also a good place to get content ideas. Simply type a broad term within your niche and examine what content works for them.
Take notes and provide better content than them. For example, you notice an article ranking well in your niche from a competitor's website. Take that article, make it longer and more in-depth. If they wrote 2000 words, you write 3000 words.
A higher content length is good for search engines like Google. This is because a higher word count makes the search engine think that the article has covered the topic more in-depth.
Outsourcing and Link Building
Not everyone is a good writer. If writing is not your strongest point, then consider outsourcing to freelance writers. Freelance writers can get the job done at a minimal cost. A rate of $1 per 100 words can attract decent writers that can populate your niche site with good content.
Once you have the content you need, you need to focus on link building. Building authority doesn't end with your visitors. You need to build authority for the search engines as well.
The best way to do this is via backlinks. A backlink is a link from another site to your site. Having a healthy number of backlinks can help boost your rankings significantly.
There are many methods that you could use to build backlinks like guest posting, Web 2.0s, Blog commenting and Forum link building to name a few.
As we said earlier, SEO is a broad topic. You need to learn more about the major ranking factors if you'd like to succeed in ranking your niche sites.
4. Things to Remember When Building Amazon Niche Sites
Make your site relevant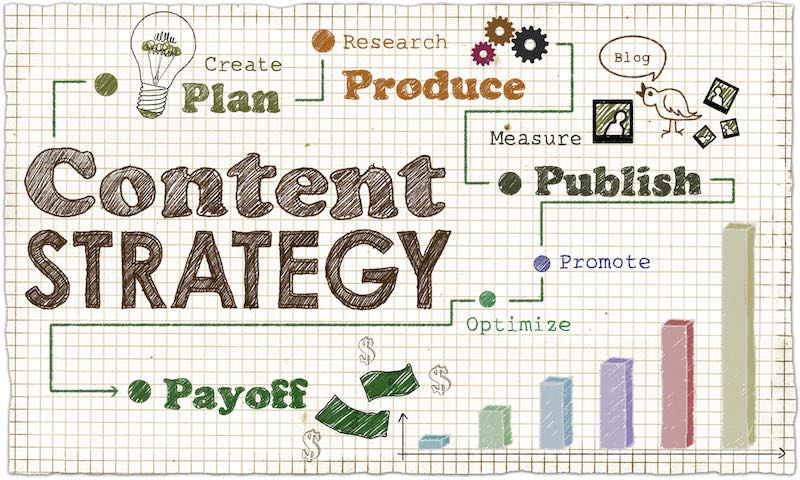 This one should be a no-brainer, but you should always make your site relevant to what you write about. Don't write product reviews about umbrellas and informational articles on mattresses.
Before building a site, you need to know the theme of the website. What do you want to talk about? Once you decide on that, stick to it. It'll help you build authority quicker and rank higher as well.
Learn about the buying cycle
A mistake that many beginners in the affiliate marketing space make is that they don't think like marketers. Different search terms show different buying intents.
A user that searches "what are shoes" is probably not looking to buy a product right away instead requires information about the product.
This is different from a person that searches "best shoes under $100". This user has the intent of buying shoes and so wants to know what shoes will fit their price category.
As an affiliate marketer, always consider the buyer intent when doing keyword research for your website.
Loyalty and Trust is Key
This is why we talked about building authority earlier. It's without a doubt that most people that will be clicking on your affiliate links will be repeat readers rather than first-time visitors.
Your audience will be people that have consumed and enjoyed your content. To these people, recommendations made by you hold weight as they consider you an authority in your niche.
Building loyalty and trust comes with the valuable content you provide consistently over time. Loyalty and trust don't come overnight, it's going to take some time.
Contextual Promotion works Best
For many experienced marketers, this is probably an already obvious point. You should include links to your affiliate offers in your text as well. This is what contextual promotion is all about.
The banners and widgets provided by Amazon don't convert as well as they used to. Always include the affiliate links within the blog posts, they tend to convert better. You could pair this with adding affiliate links in the product pictures on your websites for the best results.
Build an Email List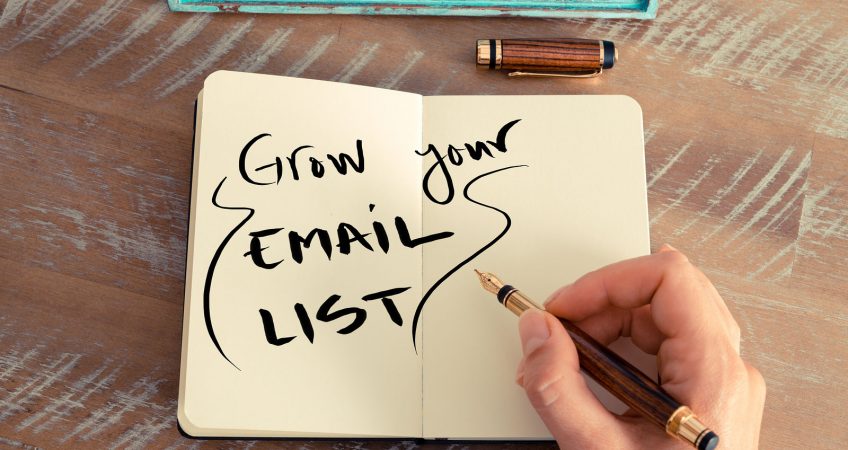 If you have been in the internet marketing space, then you've probably heard of this so many times. It's important to build an email list as it can have several advantages to you.
An email list allows you to promote your products directly to your audience. People in your email list voluntarily hand you their emails. This means they trust you and would like to hear more from you.
Building an email list also takes time. One popular method of building a list is via the use of an email magnet. An email magnet is a freebie that you offer the user in return for their email.
Promote Discounts and Offers to Your List
Discounts and promotions are not a new concept. Every year, during certain holidays, Amazon creates dedicated sales pages to offer killer discounts. As an Amazon affiliate marketer, you need to take advantage of this.
You could make an article(s) based solely on the discounts and promotions that your visitor might gain on that particular holiday. You could also send this article to your email list for even better conversions.
5. Tips to Make Money (Increase Conversion) Using Amazon Affiliate Program
Include CTAs in your content
CTAs are also known as Call To Actions and you're missing out if you're not using these on your site. CTAs can vary from text like "Buy Now!", "Leave a Comment below" to buttons containing text like "Buy Here!" and much more.
CTAs are important as they push the visitor to take a particular action while on your website. They are a tried and tested method of improving conversions on a website. Always include a call to action in your content.
Comparison Tables can do wonders
Comparison tables/charts can help increase your conversion rates. Some of the top marketers attest to how comparison tables helped them increase conversions.
These tables/charts improve the user experience which is good for the long run. They provide users with a summary of the products and their key features.
It gives users a clear and simple way to compare the products without reading a huge wall of texts. These tables appeal more to users that are looking into making quick purchase decisions as all the info they need is displayed in an easy to understand manner.
Add multiple links in your content
As said earlier, banners and widgets don't convert as well as they used to. This doesn't mean you abandon them entirely. You can use them in combination with in-content links to boost your conversion rates.
Provide quality content and add the links within your articles. Depending on the length of the article, you could add a number of links.
International Commissions
Many niche site owners are missing out on international commissions. This is because many don't know that Amazon offers commissions for clicks from certain countries (like Canada and the UK) other than the US.
You can now monetize the traffic from other regions by using link localization. Link localization allows for the affiliate links to automatically change based on the location of your visitor.
There are some premium plugins like EasyAzon 4 that can do automatic link localization. It's a great option to increase the money you make via Amazon.
Conclusion
We have tried to cover as much as we can on how you can make money using Amazon affiliate niche sites. The potential for you to make money using Amazon is huge. Make all the right choices and you could be making serious bank.
We haven't covered everything in this guide as the scope of niche marketing is huge! Either way, we're always open to helping you out. Let us know what gives you trouble as far as making money using Amazon niche sites is concerned!