SiteGround VS WPX Hosting: Which one is the best choice for you?
SiteGround and WPX Hosting are two of the most respected hosting providers today. Both are known to provide genuine hosting services. But both differ from one another by features and pricing.
So which one is most suitable for your needs? Let's find out in this SiteGround Vs WPX Hosting comparison.
About SiteGround & WPX Hosting
SiteGround (read my SiteGround review) was launched in 2004 and it's being operated from Sofia, Bulgaria. Currently, SiteGround hosts 1.8+ million domains worldwide.
SiteGround has made a name for itself by providing quality hosting for years. SiteGround is often compared to Bluehost, another popular hosting provider and when it comes to real hosting services, SiteGround always comes on top.
WPX Hosting (read my WPX review) was launched just a few years back in 2013. Unlike most other hosting providers online, WPX Hosting providers just managed WordPress hosting services (Though you can still host non-wp sites with it).
WPX Hosting is a bit expensive than the other hosts but the quality and features it provides are unmatchable.
Features Comparison
Both SiteGround and WPX Hosting provides value for money hosting services. But let's compare their features to find out which one provides better features than the other.
| Features | SiteGround | WPX Hosting |
| --- | --- | --- |
| SSD Drives | Yes | Yes |
| Free SSL | Yes | Yes |
| Free Migration | Yes | Yes |
| Support | 4/5 | 5/5 |
| WordPress Features | 3/5 | 4/5 |
| Free Backup | Yes | Yes |
| Caching Solution | SuperCatcher | WPX Cloud |
| WordPress Staging Area | On GoGeek Plan | On All Plans |
Free SSL Certificate
Both hosts provide a free SSL Certificate on all plans. You can easily activate an SSL certificate on any of your websites through the back-end panel.
Though activating the SSL Certificate on WPX is more convenient than SiteGround because of WPX's unique control panel, but there's not a big difference.
Free Backups
A host that provides free backups and restores is essential. Many popular hosts charge hefty fees for free automatic backups, while some provide free backups but charge very big fees for backup restores.
Fortunately, SiteGround and WPX Hosting provides free backups and restores on all plans. So you can always rest assured your data is secured with them if anything bad happens.
Control Panel
SiteGround uses the usual Cpanel that is used by most of the hosting providers while WPX uses its own control panel.
The standard Cpanel provides many options and sometimes can be a bit confusing for new users but the WPX control panel is very easy to use even for newbies but it lacks some features that Cpanel provides.
CDN Integration
In today's world, your website will be accessed from many different locations in the world. So you need to make sure it loads faster everywhere in the world and not only where your host's servers are located.
So CDN is very important.
WPX Hosting has created its own CDN named WPX Cloud that comes free with each plan. You can easily activate it and it takes care of your CDN needs without you needing to pay third-party CDN provider.
SiteGround, on the other hand, doesn't have any CDN built-in, but they provide easy integration of Cloudflare CDN. They also have a SuperCatcher feature built-in which takes care of server lever caching.
SiteGround Vs WPX: Loading Speeds
If you value your online business, it's essential that your website loads fast for many reasons, including user engagement, higher Google rankings and so on.
So you need a host that uses premium hardware and software and provides more server resources on each account.
We did a speed test on websites hosted on each host and here are the results: (MaherHackers is also hosted on WPX, so we used it for the test on WPX)
The speed test of a website hosted on SiteGround: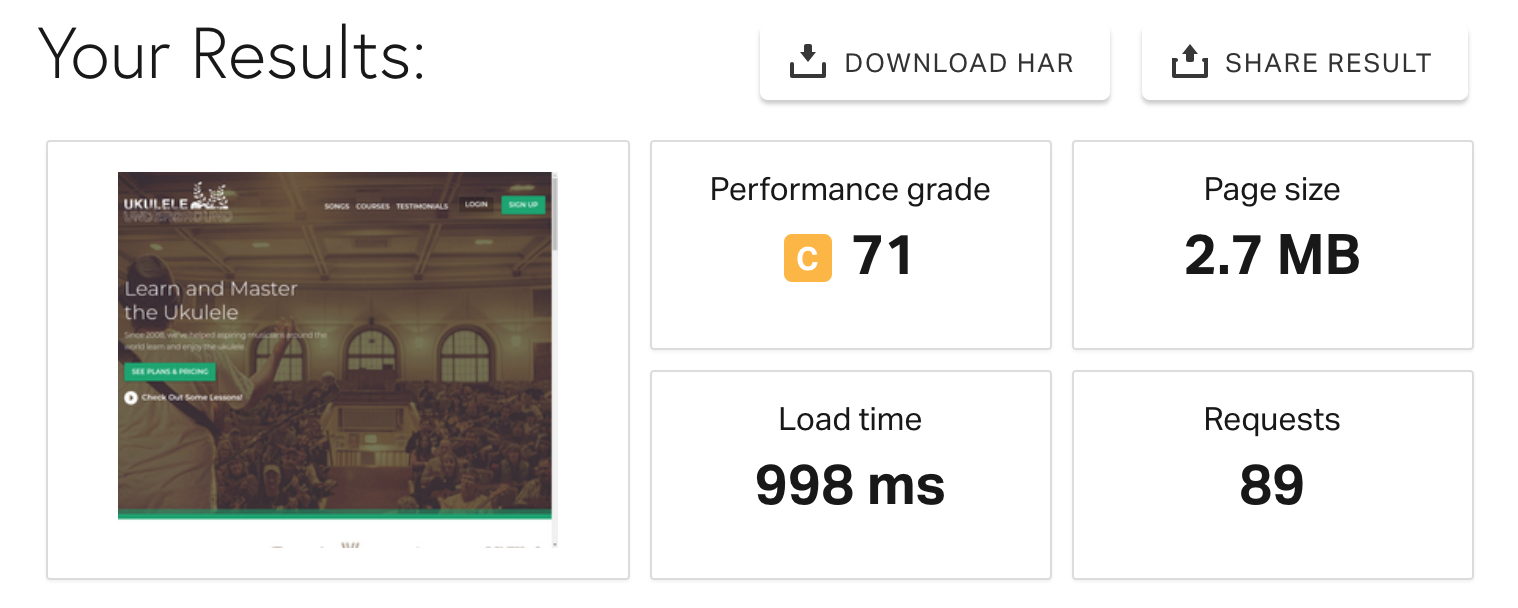 The speed test of a website hosted on WPX Hosting: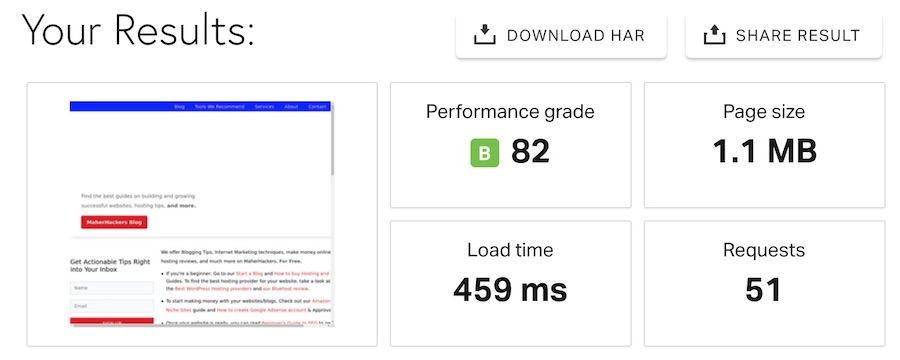 Essentially, it's the same thing. Both hosts use state-of-the-art hardware and software that ensures your website loads faster and doesn't disappoint the visitors.
Pricing Comparison
WPX Hosting provides only the managed WordPress Hosting while SiteGround provides many different hosting packages including Shared Hosting, Cloud Hosting, Reseller Hosting, and Dedicated Hosting.
For this comparison, we'll compare SiteGround Shared Hosting with WPX Hosting.
| Plans | SiteGround | WPX Hosting |
| --- | --- | --- |
| Starter Plan (First Invoice) | $3.95/mo | $24.99/mo |
| Middle Plan (First Invoice) | $5.95/mo | $49.99/mo |
| Top Plan (First Invoice) | $11.95/mo | $99.00/mo |
| Starter Plan (Renewal) | $11.95/mo | $24.99/mo |
| Middle Plan (Renewal) | $19.95/mo | $49.99/mo |
| Top Plan (Renewal) | $34.95/mo | $99.00/mo |
SiteGround is way cheaper compared to WPX Hosting but the problem is, after your first invoice is over, you have to pay higher fees for renewal.
So when signing up for the first time, sign up for 2-3 years and pay first invoice prices for the duration of your subscription.
WPX, on the other hand, doesn't charge hefty renewal fees and all prices are the same even when renewing. But their prices are higher than SiteGround by default.
Customer Support & User Satisfaction
SiteGround and WPX Hosting provides support via Chat, Phone, and Ticket. Their support is available 24/7.
But besides support being available all the time, it's important that the support knows about hosting and WordPress and able to understand and fix your website's issues.
In that regard too, Both hosts do well. Their support is well versed with hosting and WordPress issues and helps you fix them instantly.
Though WPX's support system is better than SiteGround when it comes to speed and knowledge.
You can get in touch with WPX's support in a matter of seconds through the chat and they will help you out on any issue you have on your server or website.
SiteGround doesn't always respond too fast and they might not be able to help if the issue is not related to their hosting service.
Here are some of the reviews of both hosts on Social Media: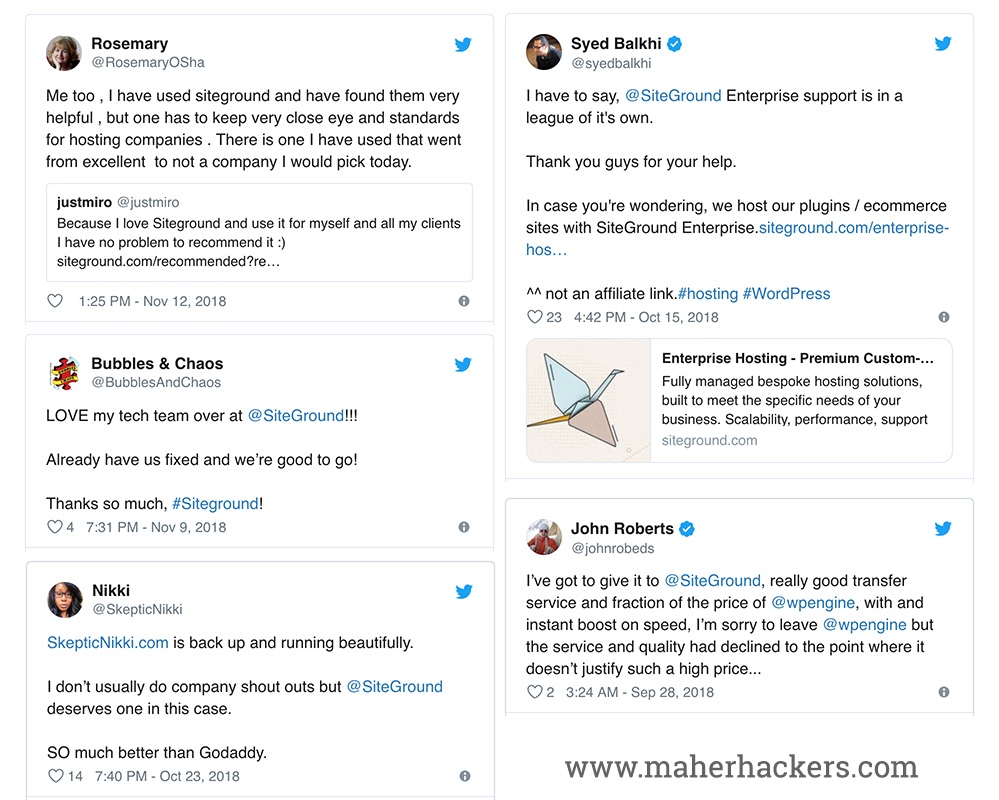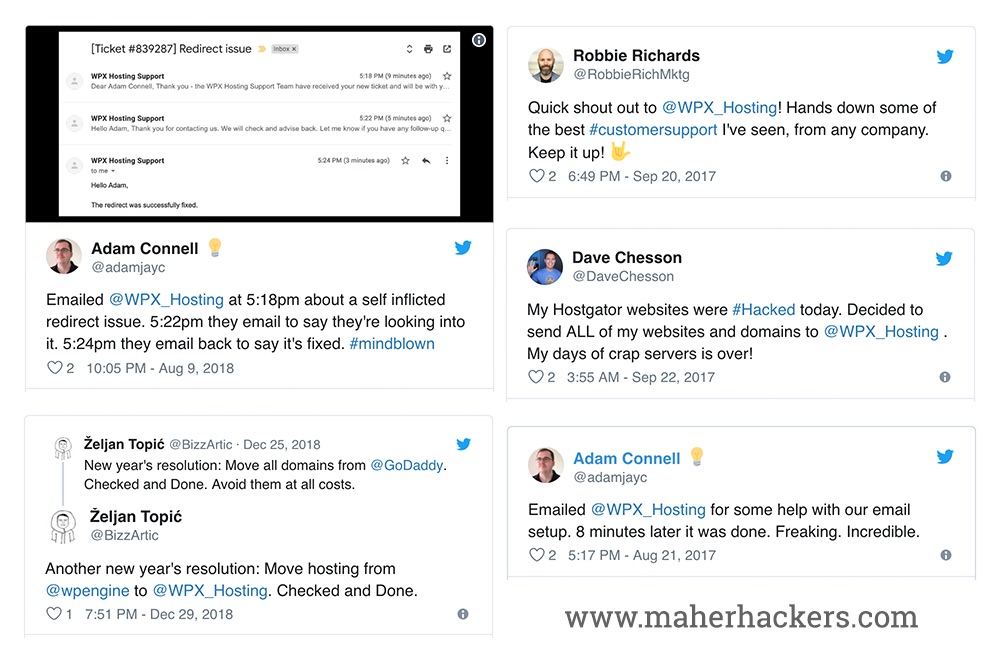 SiteGround Vs WPX Hosting Conclusion
SiteGround and WPX Hosting are two respected hosts that provide incredible hosting services. As you can see, both are highly praised on social media sites.
If you are looking to sign up for either SiteGround or WPX Hosting for your websites, you can go for it since both are quality hosts.
Which one you choose out of the two depends on your needs and budget.
If you are looking for quality hosting in the budget, Go for SiteGround. If you have the budget and if you are looking for hosting for your highly trafficked website, Go with WPX Hosting.
Whether you choose WPX Hosting or SiteGround, We've got you exclusive discounts for both hosts.
Sign up using the links below and receive exclusive discounts: