WPX Hosting Vs WP Engine: Which Managed WordPress Hosting is Better?
Are you looking for the best semi-dedicated web hosting? Then this WPX Hosting Vs WP Engine write-up is ideal for you.
In this article, you will learn why it is crucial to have a managed dedicated hosting.
We will also consider the pros and cons of each company so that we can find out which one is the right choice.
WPX Hosting (read my full review) is voted as the fastest, secure and reliable managed hosting choice for WordPress. Its basic hosting plans cost $24.95 per month.
WP Engine, on the other hand, is the number one managed WordPress hosting solution. It is mostly used by WP experts and its startup hosting plan prices start at $39 per month.
No matter the purpose of your site, quick loading time is key.
Improving the loading time of your site can lead to increased visitors, increased visibility on the search engine which in turn also translates into higher conversion rates.
The following are some of the reasons as to why you need a fast website:
Avoiding downtime – a host with low speed lead to frequent downtime issues. More often, newbie bloggers prefer to use either cheap or free hosting services. This is the biggest mistake that a blogger can make. Such hosts are prone to frequent downtimes. To avoid such mistakes, make sure you select a host with good uptime.
Clients want a fast loading site – depending on how fast your site loads when a visitor clicks on your web is crucial. If you get a host with poor speed, you will get poor quality hardware. This, in turn, will lead to a poor number of visitors which translates to poor sales. The faster your site loads, the higher the number of visitors you will get which translates to higher conversion rates hence improved income.
Better support – when you choose a good hosting company, you will get better customer support. But, a host that has poor support is likely to affect the functionality of your website. Good hosts like WPX hosting and WP Engine has good support which in turn has better services.
Improved SEO ranking – web hosting plays a significant role in the speed of your site which has a direct impact on the ranking on the search engine. If you want your site to be ranked highly on the search engine, then choose a host that has good speed.
Features Comparison
| Features | WPX Hosting | WP Engine |
| --- | --- | --- |
| SSD Storage | Yes | Yes |
| Support Ratings | 5/5 | 5/5 |
| WordPress Support | 5/5 | 5/5 |
| Free Backups | Yes | Yes |
| Free SSL | Yes | Yes |
| Anti-Hack Protection | Yes | Yes |
| CDN | WPX Cloud | MaxCDN |
| WordPress Staging Area | Yes | Yes |
WPX Hosting Features Breakdown
Let's discuss WPX Hosting features, pros, and cons to know what makes this hosting the right choice for anyone.
Free SSL Certificate
WPX hosting offers a free SSL certificate to all their hosting plans. Their certificate is sponsored by Google.
In order to activate the SSL certificate for your hosting plan, click on the cPanel and you will get the certificate free of charge.
Free Website Migration
Most people do not like switching hosting companies for the simple reason of the trouble involved in transferring a website.
You do not have to be worried about the troubles involved in transferring your website from a different host to WPX hosting.
They offer free site migration, but not only that, they will migrate your website data to their server within 24 hours of the request.
All you need to do is select the hosting plan that you want and fill in all the relevant information. After that, submit a ticket to WPX hosting and request them to transfer your website. When submitting a ticket, remember to include your WordPress admin login details and FTP server details.
After submitting the ticket, you will receive a notification that they have started the process of migrating your site and once the process is done, you will be notified.
Once your site has successfully been transferred to the WPX hosting servers, you should re-configure the site's W3 total cache plugin.
You can download WPX's W3 total cache plugin from your cPanel. As soon as you download it, you can import it into your admin panel.
Money-back guarantee
WPX hosting has a 30-day money-back guarantee.
Therefore, if you sign up with them on any of their plans and you are not satisfied with their services within 30 days, you are free to cancel the package and you will get a full refund of your money.
Customer Support
One of the outstanding things about WPX hosting customer support is that they reply instantly. Their response is within a few minutes. They reply to tickets within 5 minutes. Also, their live chat is instantaneous.
The WPX hosting customer support is awesome. Look at these reviews: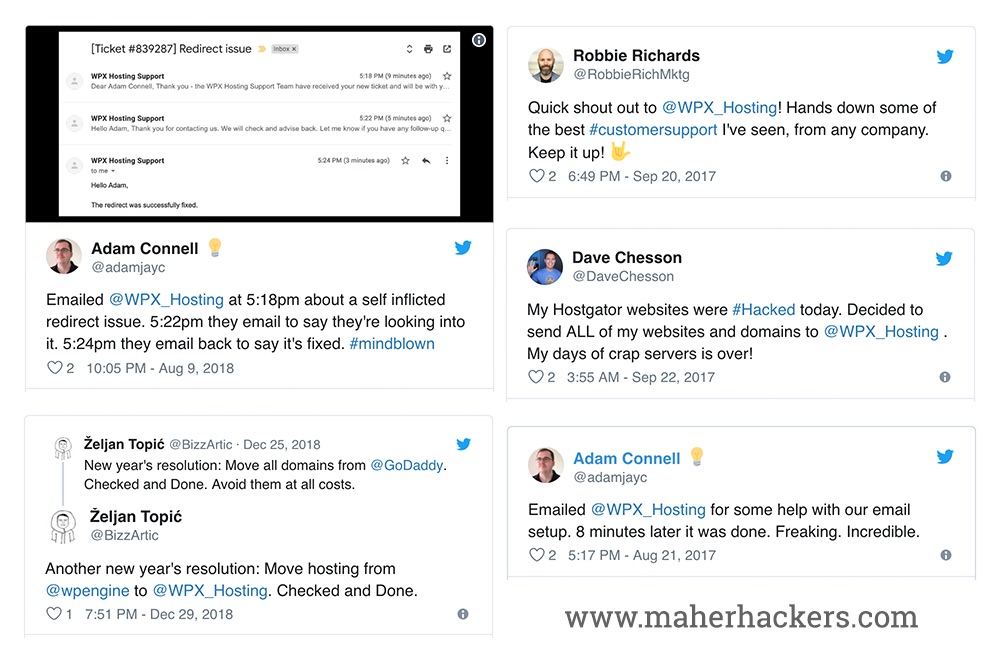 Daily Backups
WPX hosting offers daily backups, daily malware scans, DDoS protection. All these features are available free of charge.
Dedicate WordPress Hosting
Only WPX hosting that offers dedicated WordPress hosting services.
Their servers are optimized in such a way that they are able to squeeze as much speed for WordPress as possible.
Besides that, when compared to its WP Engine counterpart, it is a cheaper WordPress host. Also, it offers more features that are worth the money you pay.
High Traffic Loads
WPX hosting has the ability to handle high traffic loads. It can stimulate high traffic of up to 25 virtual users at the same time visiting your site without a problem.
Most hosting companies cannot handle this high traffic at the same time. This is made possible with their SSD servers which enhance speed.
Control Panel
WPX hosting's control panel is very simple. They use the cPanel which you can use to manage a thing like domains, database and email in your account. From the cPanel, you can be able to:
Install WP in any of your domains
Create FTP and email accounts
See the usage details of your bandwidth
Create and manage new databases through their PHP MyAdmin
Speed
Speed is a crucial factor in the web hosting industry. This is because it affects the experience of a user which in turn will affect the number of visitors returning to your site. The speed of your site also affects the ranking of your website by Google.
WPX hosting has a fast and reliable speed. They use the SSD servers which play a role in enhancing the speed of a website. When it comes to speed, WPX hosting has a good speed hence it is recommendable for web hosting.
When you compare WPX hosting Vs WP Engine, WPX hosting has a faster speed than WP Engine. This is because it uses SSD servers. Apart from that, your web is likely to handle more traffic as compared to WP Engine.
Our site is hosted on WPX Hosting. Here is the speed test of the site: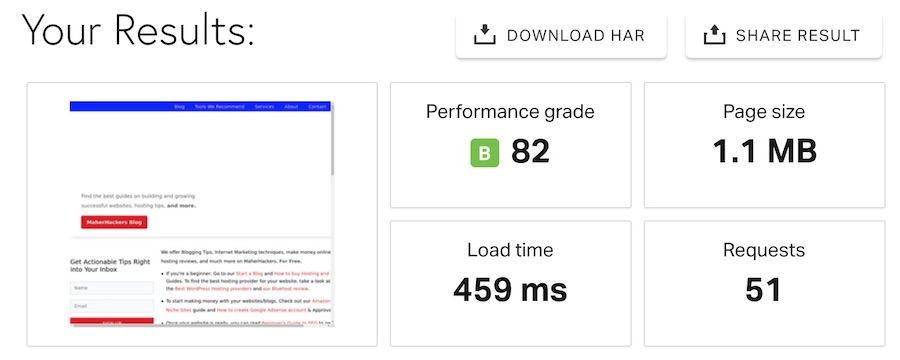 In comparison, here's the speed test of a website hosted on WP Engine:

CDN Integration
The WPX hosting offers its customers a free integrated CDN named WPX Cloud which is very helpful.
WP Engine, on the other hand, charges its customers $19.95 for their CDN services.
Suitable for E-commerce
WPX hosting has wonderful servers that are more compatible with many E-commerce sites.
Their servers can effectively handle E-commerce software as compared to WP Engine which does not have a very good performance in this case.
Pros of WPX Hosting
The following are the pros of WPX hosting
WPX hosting has a fast and responsive customer service
It offers email creation for any domain
It offers free website transfer within 24 hours
It has dedicated RAM and SSD servers which are fast
It keeps the backup data for 2 weeks and if you want to restore any data, it is free of charge
WPX hosting offers anti-spam and virus filtering services
They have no restrictions for WordPress plugin installation. In addition to that, it supports multiple installations at the same time.
Cons of WPX Hosting
Lacking some features – their dashboard misses some crucial features. This limits the use of some functions which are available with other hosting companies.
Expensive – their startup plan starts at $24.95 per month. For a newbie blogger who is working on a budget, this cost might the too high.
WP Engine Features Breakdown
In this section, we are going to consider the features, pros, and cons of WP Engine. The following are some of the salient features of WP Engine:
Advanced Security Features
With the ever-increasing cyber attacks, encryption and security is a top priority. WP Engine is reputed for its beneficial security features.
WP Engines comes with numerous premium security features. Before they upgrade any of their clients, they perform a thorough test for any major updates.
They have prevention and proprietary intrusion detections which enables them to block any brute force attacks, block DDoS attacks, SQL-injection attacks among others.
Apart from that, they have partnered with some third-party security firms which enable them to conduct regular security audits and code reviews. Therefore, with WP Engine the security of your website is guaranteed. In case of any attack or hacking, WP Engine will fix any of your security threats within a record time.
Most importantly, they have a discrete password-protecting system. This system helps to run automatic backups to ensure that any threat is kept off-site.
Control Panel
Besides the primary control panel which is responsible for backup, security and other aspects of the domain, WP Engine offers a secondary control panel which is commonly known as "User Portal".
This control panel allows for the facilitation of most account-related tasks such as creating redirections, creating backups, adding new WP installs among other functions.
Customer Support
WP Engines has more than 100 WordPress professionals. You can get help from time 24/7/365 either through phone calls, live chat or ticketing. However, for the Personal Plan, they do not allow phone call support.
Besides that, you can also get assistance via email 24/7. Simply put, their customer care is knowledgeable.
Their customer care is dedicated and they work around the clock in order to improve the quality of WP Engine customer experience.
If your issue cannot be solved immediately through either the phone or live chat, then an internal ticket is created to ensure that the issue is addressed appropriately.
Servers
WP Engine has the fastest servers which offer great speed to its customers. Therefore, the webs that are hosted by WP Engine are fast.
They have also partnered with NetDNA which is a content delivery network that helps to enhance WP Engine's server to be faster.
Money-Back Guarantee
WP Engines has a 60-day money-back guarantee. Therefore, if you are not content with their hosting services within 60 days, you can cancel the hosting plan and get a full refund of your money.
However, this guarantee is available to business, personal and professional hosting plans only.
Pros of WP Engine
It has many advanced security features that ensure that your site is protected. Most hosting companies lack these important features.
Even if you are using an unoptimized WP install, it will do well. This is due to the fact that their platforms perform extra work to ensure that it works well.
WP Engine has a proprietary front-end layer system. This layer is meant to handle any traffic spikes without necessarily slowing the speed of your website.
They have excellent customer support
They have good features such as caching, staging and easy backup
They have trained and professional staff who are WordPress experts.
Cons of WP Engine
There are certain plugins that you cannot be able to install on your WP site because they are likely to cause high server load.
It is very expensive as compared to other hosting companies. However, their services are worth every penny you spend.
They do not offer domain registration. You are required to register your domain with another company, this might be inconvenient to some clients more especially newbies.
Pricing Comparison
| Plans | WPX Hosting | WP Engine |
| --- | --- | --- |
| Starter Plan (Monthly) | $24.99/mo | $35/mo |
| Middle Plan (Monthly) | $49.99/mo | $115/mo |
| Top Plan (Monthly) | $99/mo | $290/mo |
| Starter Plan (Annual) | $20.83/mo | $29.16/mo |
| Middle Plan (Annual) | $41.58/mo | $95.83/mo |
| Top Plan (Annual) | $83.25/mo | $241.66/mo |
WPX Hosting Pricing
WPX hosting has three types of pricing and they are as follows:
a) Business plan – this hosting package costs $24.95 in a month. It is ideal for newbie bloggers who need reliable, fast and better WP hosting services. Under this plan, you will get features such as 50 GB bandwidth, 10 GB disk storage space, SSD servers which significantly boost the loading time, dedicated RAM and you can host up to 5 domains
b) Professional hosting plan – it starts at $49.99 / month. It comes with great flexibility. You can host up to 15 domains, 100 GB of bandwidth, SSD servers to increase speed, 20 GB of disk storage space. It also comes with a dedicated RAM. Besides that, this plan comes with a 30-day money-back guarantee.
c) Elite plan – this hosting plan costs $99 per month. This hosting plan is ideal for high traffic websites therefore if your site is experiencing high traffic, then this package is for you. It comes with features such as 35 domains, 40 GB disk space, unlimited bandwidth, SSD servers to boost your website's loading speed and a dedicated RAM. Apart from that, this package also has a 30-day money-back guarantee.
When comparing with WP Engine, you will save $5 per month with WPX hosting under the business plan. Under the professional plan, you will save up to 50%.
Besides that, with the WPX hosting you can host more domains as compared to WP Engine and for less money in that case. For instance, it is 1 domain versus 5 under the basic hosting plan.
One outstanding thing about the WPX hosting plans is that you will enjoy 24/7/365 customer support, daily malware scan, free email setup, free site migration, daily backup among other features.
WP Engine Pricing
As compared to its WPX hoisting counterpart, they are a bit expensive. They have 3 primary shared hosting plans which begin from $29 to $299 per month. Their lower-end plan – personal plan costs $29/month and it comes with 1 domain installation and you can get up to 25,000 visitors per month.
Apart from that, they also offer dedicated managed WP hosting. There are at least different plans which include: enterprise-grade, personal, business, professional and premium plans.
All of their hosting plans come with the following features:
Unlimited data transfer
Instant creation copy of the user's site for testing
The main difference between the different hosting plans is site optimization, data storage capacity, availability of imported SSL certificate and the number of WordPress installs.
The business plan exclusively comes with access to WP optimized Google Analytica data which helps you to increase content strategy directly to your user's interface.
All the plans get 24/7 customer care through live chat while the business plan gets 24/7 phone call customer support.
Conclusion
In this review about WPX Hosting Vs WP Engine, both companies offer excellent hosting services.
So, study carefully the features of both companies and depending on the hosting needs of your site, choose the one that best suits your site's needs.
In my opinion, WPX Hosting is a lot better than WP Engine. They provide value for money hosting with useful features and customer support.
We also found websites hosted on WPX Hosting to be fast compared to WP Engine in our speed tests.
So go for WPX and you won't be disappointed.