Membership sites are all the rage right now. Starting a membership site is the right decision right now because there are many businesses going in that direction and they are all successful.
Membership sites are in your control and you can control how you earn money with it and how to run it.
Because of the high demand for WordPress membership sites, there are a lot of plugins.
So we created this list of the best WordPress membership plugins that should help you archive the goal of creating a successful WordPress membership site.
Why You Need a WordPress Membership Plugin?
Do you want to generate a recurring online income or build a list of loyal registered members or better still sell online courses?
If your answer is yes, then you need a WordPress membership plugin.
With a membership plugin, you can be able to create a premium content library.
In addition to that, you can make your plugin site accessible only by your registered members.
However, it is paramount that you choose the right membership plugin that will suit your business.
This is because once you have registered, it is very difficult to change to a different one.
But, don't worry, because this write-up will help you to choose the right WordPress membership plugin that will suit your business.
When you create a membership site, you will have the right to limit access to downloads, offer support to all your registered members, limit forums and content available online.
Apart from that, you also stand a chance to enjoy the following benefits:
Create an engaging email list. You can be able to create a content library that is only accessed by your registered members. Also, you can add all your registered members to your mailing list. This allows you to collect emails of the most active users.
Recurring income earning. It is easy to persuade your members to pay their subscription fees. This way you are assured of a recurring income.
Establish your niche authority. When you start a membership plugin site and publish good content, it gives you a chance to establish yourself as an authority in a given niche. Additionally, it helps you to establish a good working relationship with your registered members. This way, you can get a loyal customer base.
What are the Best WordPress Membership Plugins?
Before you choose a WordPress membership plugin, you need to evaluate what you're looking for and which plugin provides that.
Not every membership plugin is the same.
Here is the list of the best WordPress Membership Plugins.
From this list, you can choose the right membership plugin that suits your business needs.
| Plugins | Pricing | Links |
| --- | --- | --- |
| | From $129/y | |
| | From $99/y | |
| | From $149/One time | |
| | From $29/mo | |
| | From $89/One time | |
| | Free & Pro From $297/y | |
| | From $19.95/mo | |
| | From $97/One time | |
| | From $159 | |
| | From $149/y | |
| | From $197/y | |
| | Free | |
Note: It is important to note that many of these plugins offer pricing with 1-year support and updates. If you don't wish to keep getting updates, you don't have to renew.
And some plugins also offer full access with updates with a one-time fee.
1. MemberPress

MemberPress is known as the most complete WordPress membership plugin available on the web today.
This is due to the fact that it comes with all the features that will help you create your own membership plugin site without breaking a sweat.
Unlike most of the plugins available on the internet today, MemberPress allows you to transform your already existing website into a fully-featured WordPress membership plugin easily.
With MemberPress, all that is required of you is to install the MemberPress plugin to your already existing site.
After that, enter your payment gateway details, next, set up your products and then begin inviting your clients to join your membership site.
The advantages of using MemberPress include: restricting access to selected pages and posts, custom post your posts or any already existing file from any of your regular clients.
Most importantly, MemberPress seamlessly integrates with most of the popular email marketing services such as MailChimp, Aweber, GetResponse to mention just but a few.
Also, MemberPress offers already built-in support for major payment gateways such as Authorize.net, Stripe, and PayPal.
Moreover, you can be able to create dynamic pricing pages in a very simple and quick manner.
This membership plugin also comes with a number of templates for pricing pages to help you come up with a unique outlook of your site.
2. Restrict Content Pro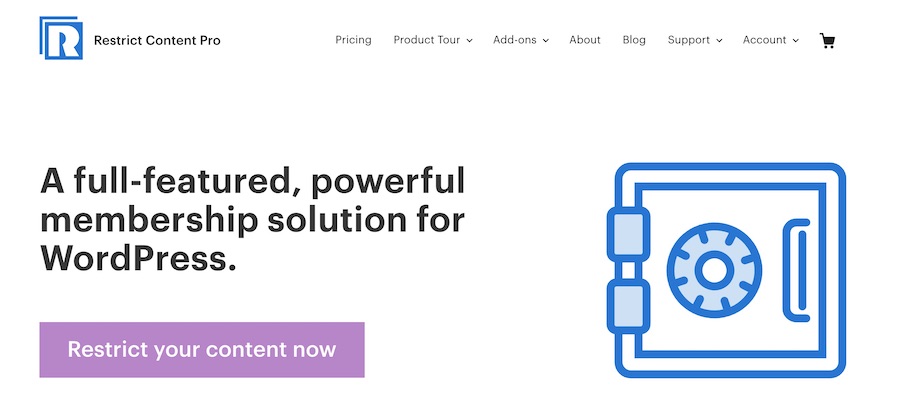 Restrict Content Pro is one of the light-weight WordPress membership plugins which allows you to create your own fully-featured membership website easily.
It comes with a bundle of features that are necessary for your WordPress membership website.
Restrict Content Pro was founded by the same group of professionals that created the Easy Digital Downloads plugin.
This membership plugin comes with lots of already built-in payment plan integrations like PayPal, Authorize.net, Stripe, 2Checkout, Braintree among others.
There are four major plans that you can use with Restrict Content Pro. These are:
Private forums – you can create private forums and then restrict the access to these private communities.
Club memberships – you can create a premium content library on your site and restrict it to be accessed only by registered members.
Member blogging – through multiple network sites, you can allow subscribers to pay and then write their own blogs.
Magazine subscriptions – through this plan, you can be able to generate a recurring income by selling online magazine subscriptions to registered premium members.
The Restrict Content Pro comes in a light version. This version is downloadable from WordPress's official plugin repository.
The plugin comes with the ability to design customized login forms and registration.
Besides that, it allows you to be able to restrict access to content using a shortcode.
3. aMember Pro

aMember Pro is another comprehensive WordPress membership plugin that has been in use for a very long time.
However, it is not an original WordPress plugin. It is a membership platform that was created for PHP but it allows its users to integrate it with WordPress.
Therefore, since this plugin was not originally created to be used for WordPress plugin, sometimes it experiences compatibility issues with some WordPress plugins.
Besides that, aMember Pro comes with all the features that are essential for a membership plugin. It has unlimited membership levels, more than 200 payment systems including but not limited to PayPal, Stripe e.t.c, and full-featured membership management.
The aMember Pro is available at a cost. However, after purchasing it, you can install it on an unlimited number of websites. Its plans start at $179.
4. Teachable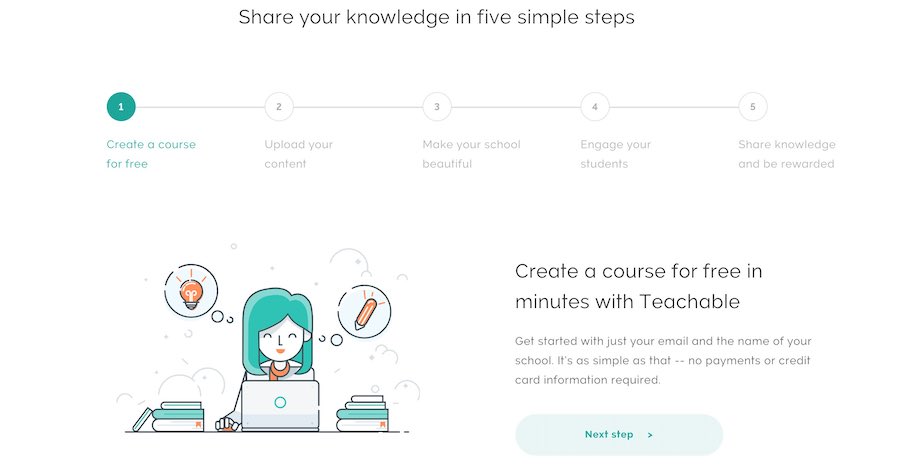 Teachable is a multipurpose plugin which can be used either for creating or publishing online courses.
Teachable is a standalone platform, therefore, it allows you to integrate your already existing online courses into your old web or you can host them on Teachable's domain.
It has a good editor which helps you to create and launch customized sales pages.
Through such pages, you can convert your visitors into paying users.
Hereunder are some of Teachable's amazing features which make it stand apart from the crowd:
Integration tools – it is possible to import your content from your google drive or one drive or Dropbox. Teachable allows you to connect your web with any tool online which is supported by Zapier.
Marketing tools – you can use these tools to improve your sales. You can achieve this by creating coupon codes, advanced pricing options, affiliate programs and much more.
Learning tools – on Teachable's site, you can easily create discussion and question forums. In addition to that, you can be able to issue certificates to your users who complete their courses.
5. S2Member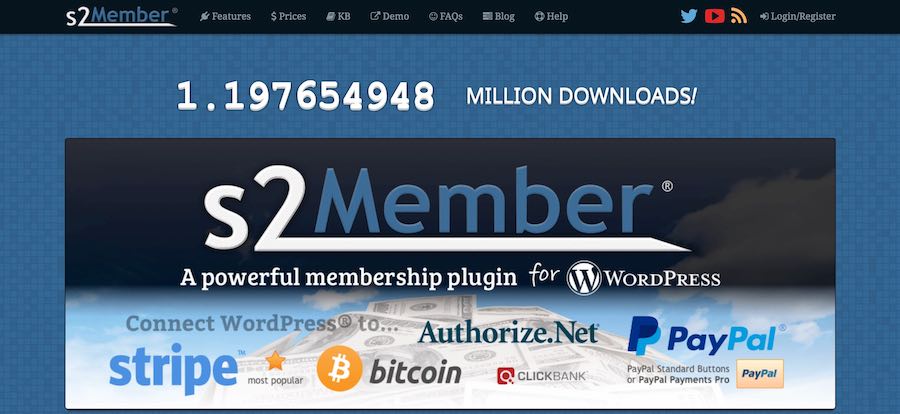 S2Member is one of the most comprehensive WordPress membership plugin available in the market today.
It comes with numerous features. It is also possible for you to extend your S2Member site with the most popular plugins such as BuddyPress and bbPress.
S2Member has lots of features which makes its user interface to be a bit complicated as compared to other plugins.
Therefore, before you can start using S2Member. It is crucial to learn how to use it.
This plugin is powered mostly using shortcodes. It is very easy to accept recurring payments on their site. Its basic plan is free to install and use.
The advantage of S2Member's basic plan is that it is possible to accept payments through PayPal and also to restrict your content.
Its other versions are available at a fee. For instance, the S2Member Pro version can be downloaded at a onetime fee of $89.
6. Paid Membership Pro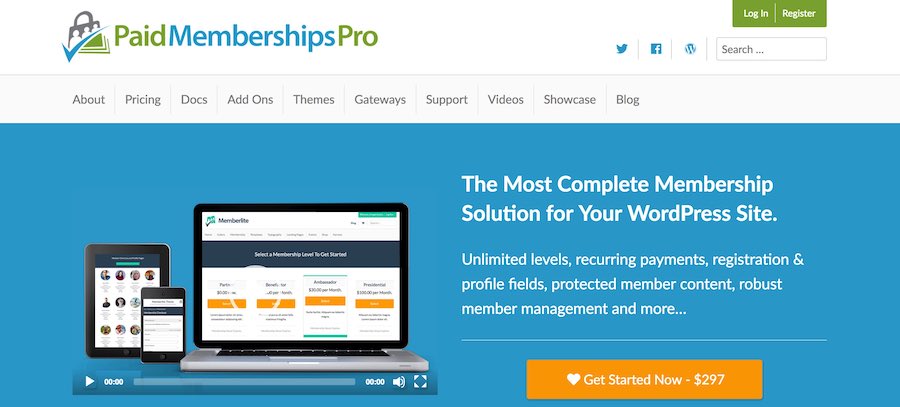 Paid Membership Pro is a free membership plugin that you can start using anytime. It can allow you to restrict visitors to your content to registered members only.
It comes with two premium options:
The premium price plan – it comes with great support and documentation.
The premium content and members' only plan – it comes with similar features as above.
The plugin comes with a number of features which makes it an excellent choice for those looking for no-budget plugin more especially newbies.
Some of the salient features that you will get from aMember Pro include:
Unlimited membership levels
Accepts recurring subscriptions
It offers discount codes
Easy payment gateway integration
You can expand the features using the free add-ons and extensions
Customization of email notification
Set membership levels and access for different pages and posts
Free membership trial period and flexible pricing for your site users
7. MemberMouse

MemberMouse is a premium eCommerce membership plugin. It allows you to create a membership website within a short time.
The MemberMouse was created with the non-tech users in mind and you can install it within 2 minutes.
With this plugin, you can easily restrict your content using an inbuilt password feature.
The MemberMouse makes it very easy to customize and deliver your products on different membership levels.
You can limit your content to users depending on their membership period, affiliates and much more.
Besides that, it is also possible to showcase the kind of content that is available to your members and what you intend to release in the near future.
Some of MemberMouse's salient features include the SmartTags which allows you to display your content, offers, discounts, upsells, member attributes and much more using simple shortcodes.
Other great features of MemberMouse include:
Different payment gateways – such as PayPal, Coinbase, Authorize.net, ClickBank, Braintree among others.
Customer management
Coupons
Sharing auto-lock
Group functionality
Self-configuring checkout
International currency
Protected upgrades
Overdue payment handling share anywhere links
However, for you to enjoy all these excellent features, they come at a price tag.
The starter plan begins at $19.95 per month and the high-end plugin is available at $39.95 per month.
8. MagicMembers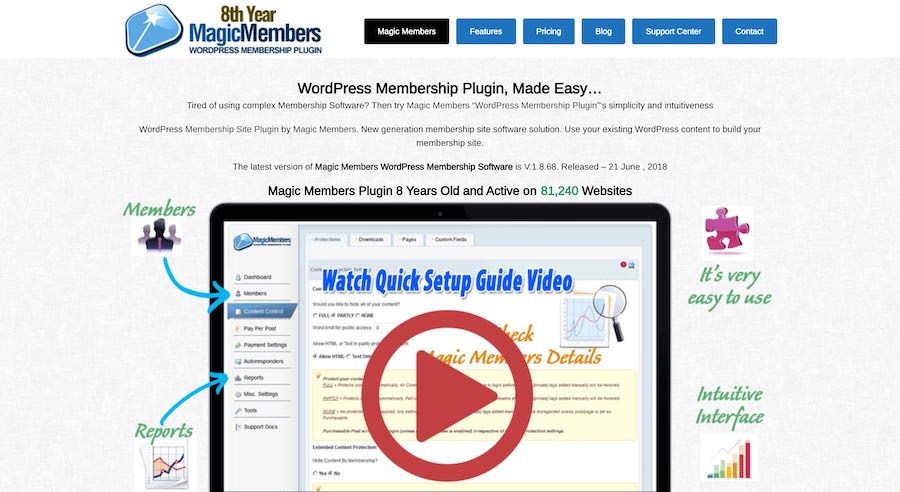 Are you looking for a membership plugin that will enable you to deliver on your online course? Then look no further.
MagicMembers enables you to drip feed your content instead of making all the premium content available on your site. This plugin comes with amazing content dripping abilities.
MagicMembers is a premium WordPress membership plugin, therefore, its services are available at a cost.
It has 3 main payment plans to choose from and each package comes with its detailed support to help you install the plugin and get it running within a short time.
The following are some of the key features that you will get from MagicMembers:
Pay per view for specific content such as videos
File access restriction more especially to downloads
Multiple payment gateways such as PayPal, Authorize.net, ClickBank, Braintree to mention just but a few
Sequential course delivery more especially for dripping content
Integration of email newsletters with giant mail newsletters like MailChimp and Aweber
Automatic reminders for email expiry
9. LearnDash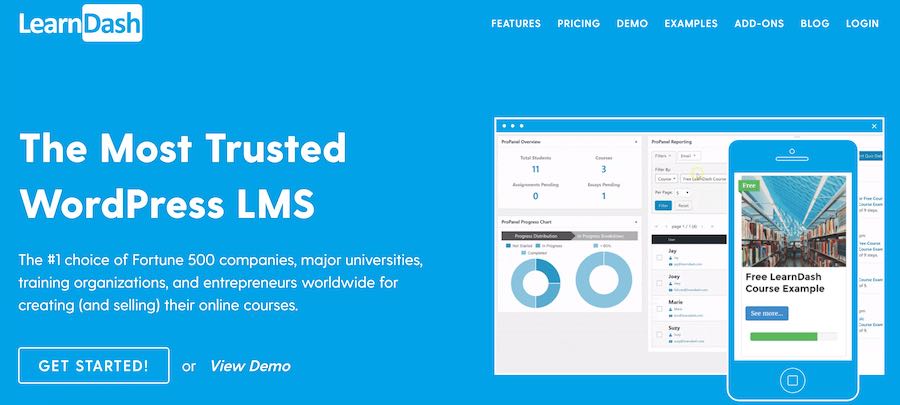 LearnDash was started for the sole purpose of creating and selling courses online on your WordPress website.
LearnDash lets you offer a robust learning platform to all your registered members.
Apart from that, it supports the latest micro-content, ramifications, and social learning.
LearnDash has made the selling of courses online very easy.
There are three major ways of selling courses online using LearnDash and they include the following:
One time price – through this plan, you can implement a shopping cart where your visitors can purchase single courses from your site.
Subscription – through this plan, you can earn recurring income through the selling of courses that are based on subscriptions.
Memberships – through this plan, you can offer your registered members access to all your available online courses.
LearnDash gives the registered members a chance to unlock new courses based on the number of points they have earned from the courses they have already completed.
This helps you to increase your customer retention hence making your customers more engaged with your courses online.
The most interesting part is that you can be able to award your users with highly customized badges and certificates based on the learner's performance.
Additionally, you can give front-end user profiles whereby your clients will be able to track their activity.
LearnDash is the most trusted WordPress Membership plugin that offers to sell online courses to major universities across the globe, training organizations and business owners.
10. WooCommerce Memberships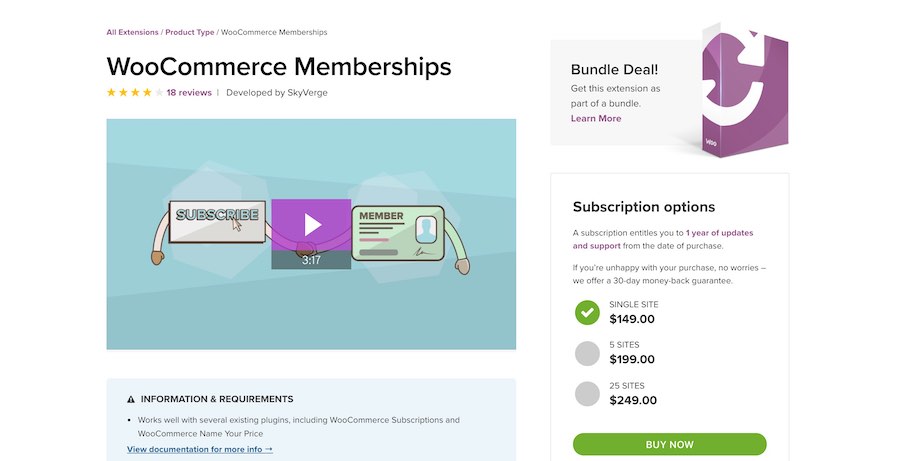 WooCommerce Memberships is an addon for WooCommerce.
It gives you the freedom to restrict your content only to your registered members on your website.
If you are already selling products online and you intend to start selling memberships, WooCommerce Memberships is the right choice for you.
However, remember that this is not a single plugin solution that will enable you to create a membership site.
You will be required to use their free WooCommerce plugin.
Also, if you will accept their recurring payments, you will be required to install their WooCommerce Subscriptions plugin.
The major advantage that you will enjoy from using the WooCommerce Memberships is that you can restrict your products so that it is only members who can be able to buy them.
In addition to that, you can be able to offer discounts on your site to only your premium members.
Most importantly, if you have any problem with the WooCommerce Memberships, they have one-month money-back guarantee.
So if you register and you are not satisfied with their services, you can be refunded your money within 30 days from registration.
11. Wishlist Member Plugin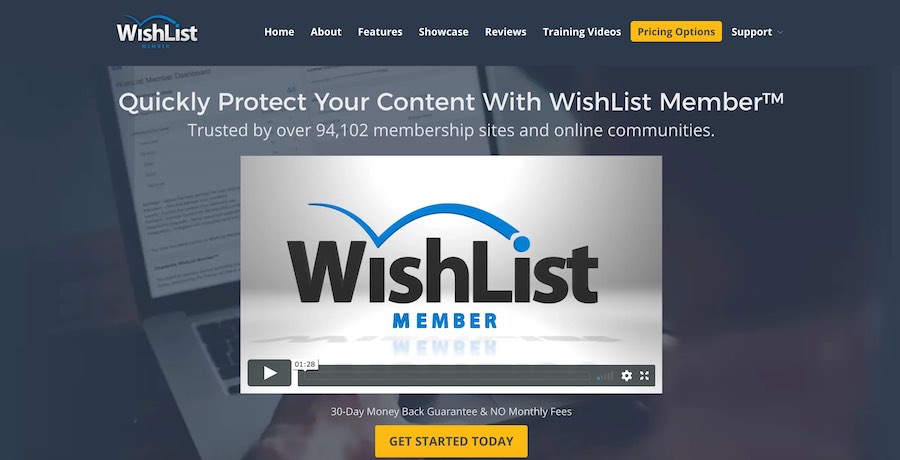 Wishlist Member Plugin is a renowned premium WordPress membership plugin that gives you full control over how you can limit or make content available to your customers.
It also comes with lots of features which if you are a newbie can be a bit confusing.
However, it comes with an expansive menu and lots of features which gives you all the control that you need.
The Wishlist Member Plugin comes with great support material to help you get started.
Some of the support material that you will get is video tutorials, one-year unlimited support, support guidelines and one-year unlimited updates.
However, since Wishlist Member Plugin is a premium plugin, it comes at a cost. For a single website license, you will pay $197 and for multiple licenses, you will pay $ 297.
The good news is that the Wishlist Member Plugin can be integrated with the WooCommerce store with the help of a premium extension.
The plugin also comes with a number of different add-ons.
But most importantly, it comes with all the features that are needed to set it up and restricting some content on your site or managing it.
The following are some of the salient features of Wishlist Member Plugin:
Secure RSS feeds
Unlimited membership levels
Partial content display of as small as a sentence for content protection
Auto-expiry subscription length
Hands-free paid and trial memberships
Ability to hide or restrict content from non-member users
Easy integration of different payment gateways such as ClickBank and PayPal
Free previews which also comes with protection after the 'more' button
12. Simple Membership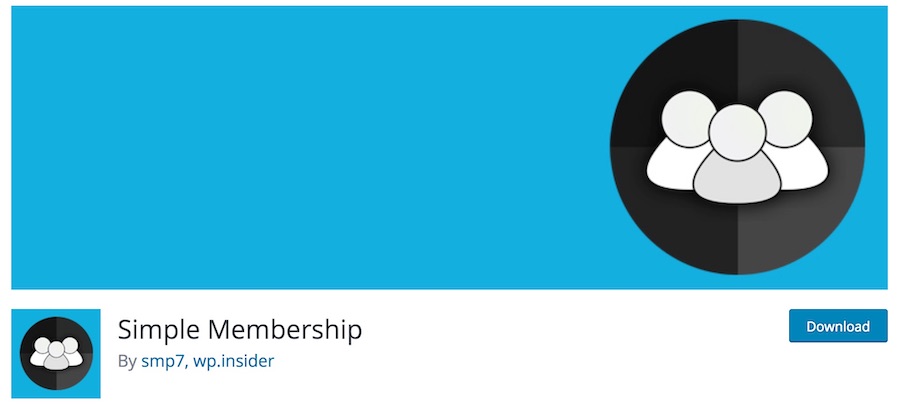 Simple Membership is a free membership plugin and offers an easy way to integrate membership functions into WordPress.
Simple Membership offers many features the same as the premium plugins, so it is a worthy addition.
Simple Membership is being used by more than 30,000 users, and it gets updated pretty frequently, so it is a well-supported plugin.
Simple Membership Features:
Unlimited Membership Levels
User-friendly interface
Paid & Free Memberships
PayPal & Stripe Integration
Easy to integrate into any WP Theme
Show teaser content for non-member users
Conclusion
So far MemberPress is the best WordPress membership plugin.
It contains all the major features that you will need to set up your site.
Also, it has good support and documentation.
However, if you are looking for a simple and flexible plugin, then Restrict Content Pro is a good runner-up.
The staff behind it is well renowned for an excellent record of products.
If your business is to sell online courses, then LearnDash is recommendable. It comes with excellent features for creating and selling online courses.