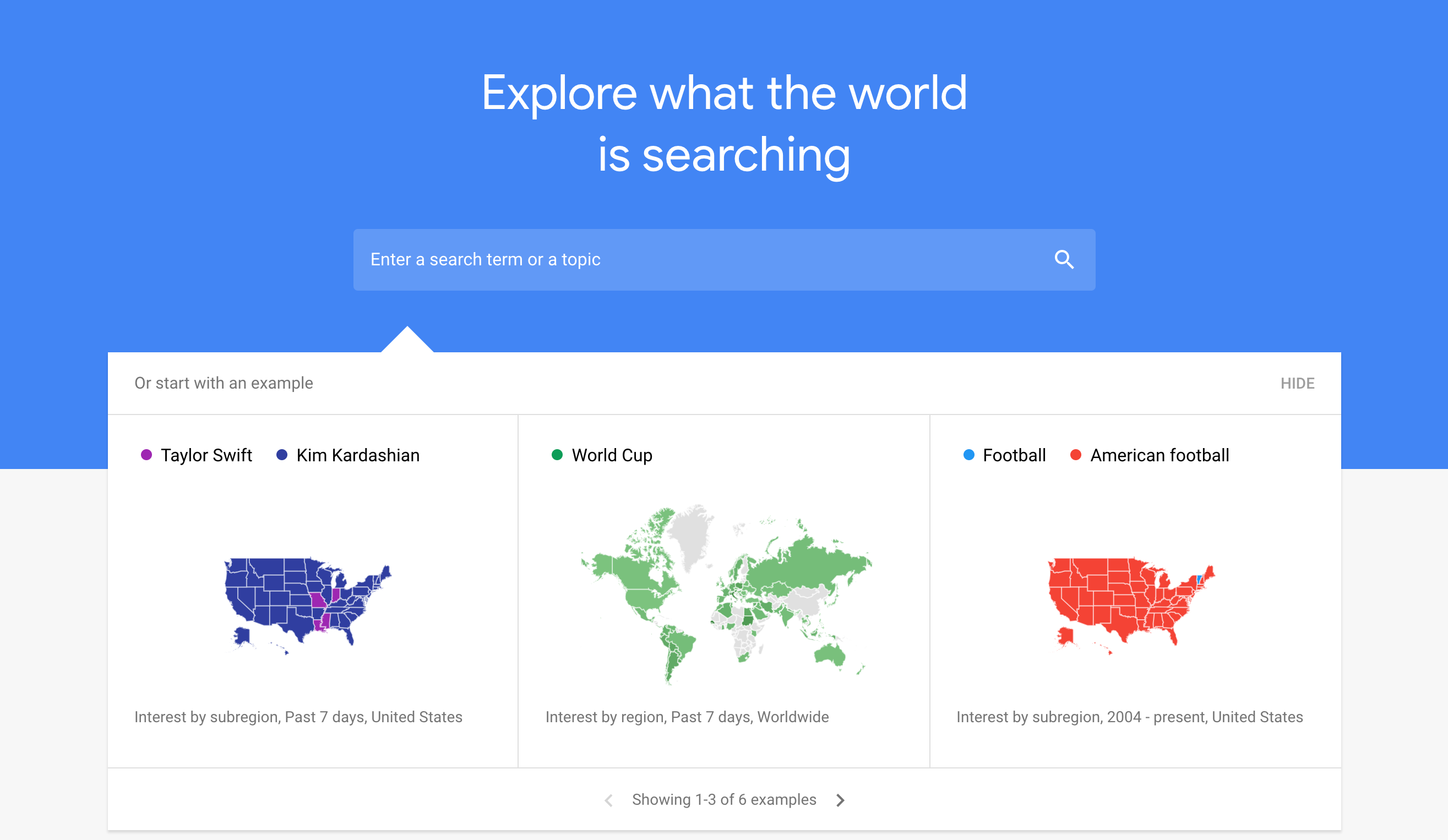 Do you want to attract more traffic to your blog? Are you looking for better optimization? Have you run out of content creation ideas for your log?
Today, I'm going to familiarize you with arguably the most effective optimization tool,
What Exactly is Google Trends?
As the name suggests, it is a service that Google offers to make it easier for the website and blog owners to see what people in different regions are searching for.
It lets you know about the trends, likes and dislikes, and the most popular topics, etc.
For any blogger, regardless of the experience, the first challenge is to come up with the right ideas.
At times, even the experts experience a blockage, a blank, or a temporary inability to think of an impressive idea.
This is the time when Google Trends jumps in to save your day.
Reasons for Start Using Google Trends
There is a long list, but in this post, I'll limit it to the topmost reason for using Google Trends.
Helps with an Improved Content Calendar
As a blogger, it is important to timely update the content calendar. If you don't, you simply can't manage the blog properly.
Creating highly impressive content requires proper planning and it often requires a lot of time. People often struggle with their content calendar.
Google Trends saves your time in this case. It helps you to efficiently track the seasonal trends and improve your content calendar accordingly.
Google Trends lets you…
Anticipate the upcoming search patterns
Plan for the killer content well ahead of time
Plan the frequency of blog posts per week
Anticipate what your audience might search for in the coming months
Helps to Choose the Right Keywords
Better optimization is what everyone is looking for and Google Trends Can make it happen for you.
A poor optimization strategy can make your blog fall flat.
The selection of poor keywords, without due consideration, and relying on the clusters of random keywords, ruin the game.
Google offers exclusive tools, such as Keyword Planner, but you can make things even better by spending some time on Google Trends. Google Trends lets you:
Compare search terms (maximum 5 terms) on the basis of popularity
Search keywords on the basis of different regions
Regional search trends are extremely helpful for your blog if you're trying to attract local audience
Apart from the keywords, Google Trends also serves with related queries to help you extract relevant search trends for your blog
You can extract the declining keywords, on the basis of popularity, so it becomes handy for you to avoid wasting time on these keywords
For example, Searching for the blogging term on Google Trends gives me how much term blogging is popular and what related terms are searched hugely right now: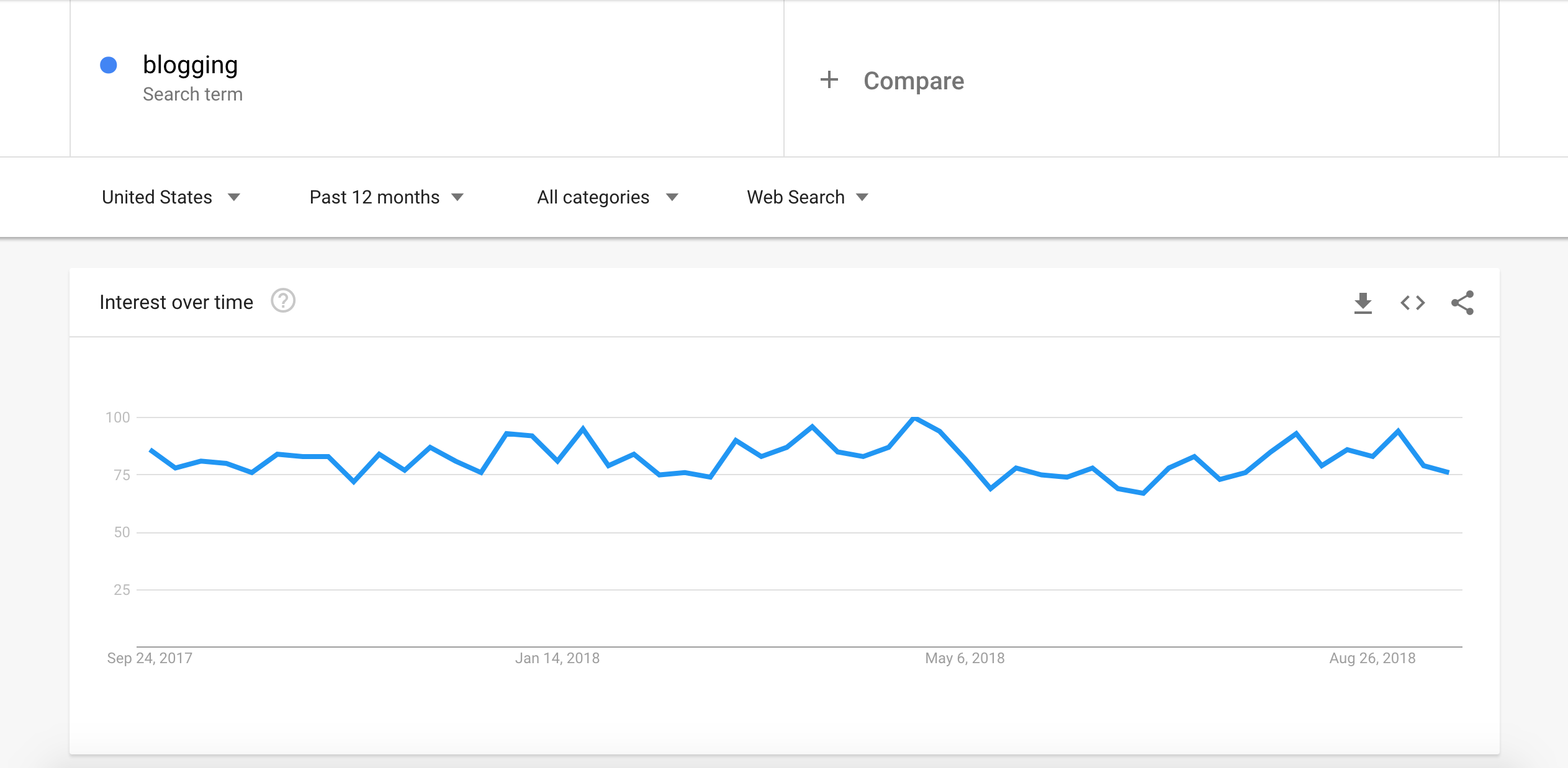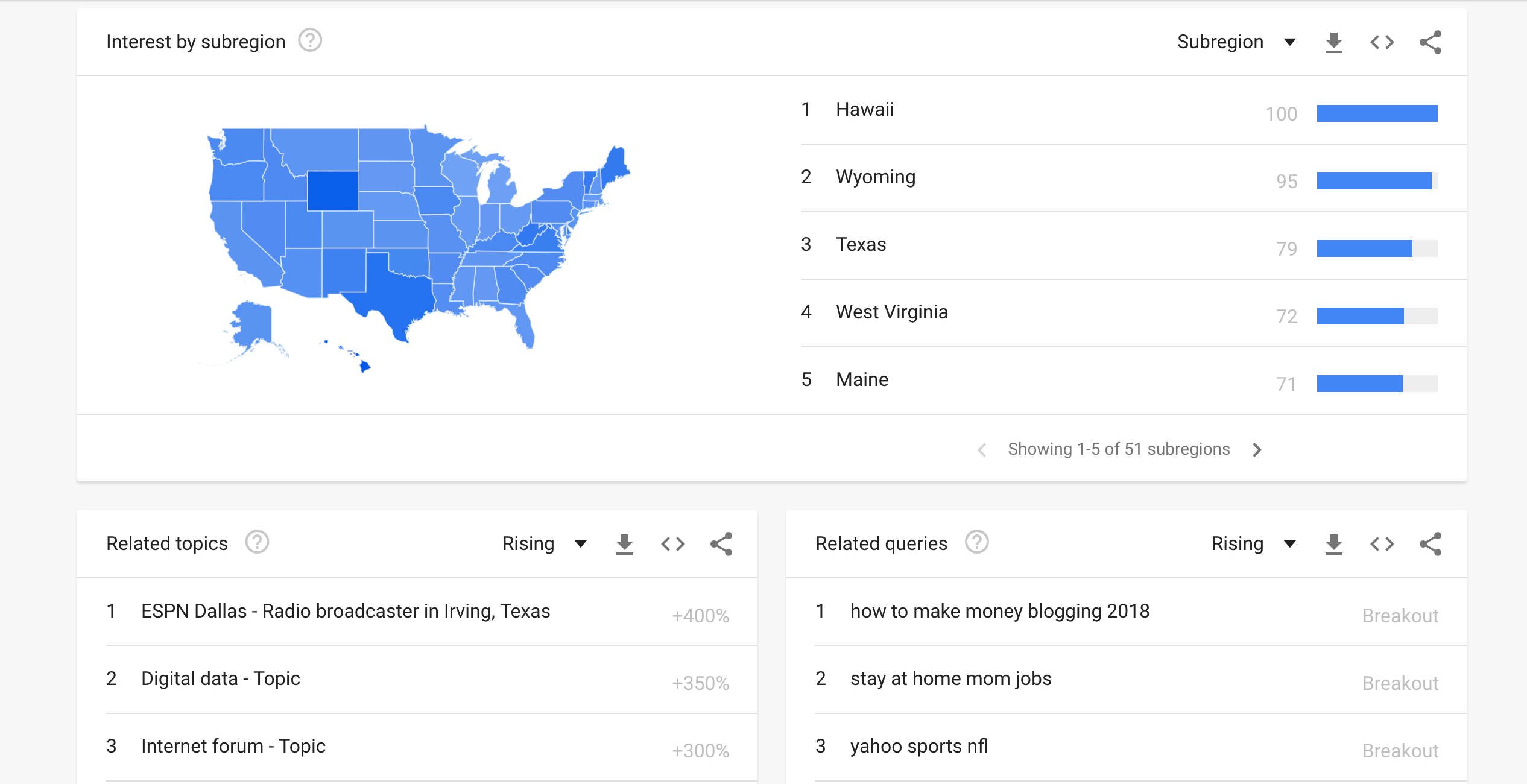 It's not as helpful for finding a lot of keywords as Keyword planner, but still, it can give you some interesting insights and ideas.
Stay Updated about the Changing Trends
Things are happening quicker and instantaneously in the world we live in.
As a blogger, you need to keep up with the changing trends, but it isn't an easy task. Thanks to the Google Trends you can keep yourself updated about the changing trends and preferences of the people using the internet.
But you need to act smartly, because even with Google Trends, I've seen bloggers committing blunders.
They sometimes overlook the importance of some key determinants, Top, Hot, Trending, Rising, and Declining, etc.
When finalizing the content calendar, you need to focus on the rising trend/searches
Sometimes, it becomes difficult to ignore the Top/Hot trends. While working on the calendar, it is your duty to anticipate about the search trends in future.
If you're working on the calendar in September, and you select the Top/Hot keywords for a post you'll upload in January, you'll have to make sure that these keywords will hold this position.
You need to select the Top/Hot keywords for the current week or month to anticipate better results. These trends change quickly, even quicker than you may think!
Closely observe the rising trends
I love selecting the rising trends/keywords for my blogs. There are some solid reasons…
Rinsing trends are yet in the making and you can take the lead if you use them now.
When the more number of websites and blogs start using the same keywords, your chances of reaching a higher Google ranking, drop down.
In addition, there are some common blogging mistakes when using Google Trends.
Google Trends– Most Common Mistake
Google Trends is impressive, but you can't expect everything in the world in just one tool. This is why it becomes important to know the power and limitations of different tools, Google Trends is no exception.
There are things that help you maximize the impact of your strategies, but at the same time, there are some factors you need to focus on.
You can't expect from any tool to do it all for you while you sleep carelessly.
These are machine driven tools, they serve you with reliable statistics and data, but it's up to you how well you perceive and anticipate things, based on available data.
Ignoring the Context
This is highly important Google Trends is a machine driven tool, it only presents you with the search terms, but doesn't tell you why people are searching these terms.
Suppose, you come to know that "what is cryptocurrency" is one of the top searches in Asia, it doesn't tell you exactly what people want to know.
If you start stuffing your blog by introducing the digital currency, it will not make an impact.
It is important to consider the context.
People in Asia do know about digital currency.
You need to dig in deeper.
What is driving people to use this term? It may be that they need to know if investing in cryptocurrency profitable.
So, as a blogger, you have to think of multiple possibilities. For instance, you can enlist the following possibilities…
What is the legal status of cryptocurrency in Asia?
Is it a good idea to invest in cryptocurrency?
How do cryptocurrency exchanges work?
Can cryptocurrency make you rich overnight?
If you ignore the context and start telling people what cryptocurrency really is, your blog will fail to impress.
Why? Because you are simply beating about the bush.
There are millions of pages telling people what cryptocurrency is. You need to tell them something new that most of the Asians may not know.
What Else You Need to Know about Google Trends?
To help you out, I want to enlist some FAQs to let you know more about Google Trends.
1. Can I rely on Google Trends for keywords research?
For hobbyists, it is alright to just rely on Google Trends, but if you want to generate income by attracting traffic to your blog, you need something more.
You can try Keyword Planner and SEMrush.
Google Trends, alone is a handy tool, but it is just the icing on the cake.
So, it is not a good idea to shift the whole responsibility on Google Trends.
It just tells you about the popular search terms. It is not the ultimate keyword research tool neither does Google promise so.
2. How accurate are the Google Trends results?
I can't say that it generates 100% accurate results. But you can trust these results because it generates results with the help of other Google tools including Keyword Planner.
It gives you a better idea of what's going around in different regions of the world and what people are looking to search.
This is why you need to use this tool as an additional assistance rather than completely relying on it.
3. How can I use Google Trends to know about the latest trends?
You don't have to pay anything as Google Trends is a free tool.
Then you need to use this tool in combination with the Google Alerts.
It will let you receive Google Alerts about the trending topics that are relevant to your blog's subject. Google Trends will tell you about the level of popularity of these trends.
It is totally free, so why not give it a try?
Before You Leave!
For a blogger, there is nothing more significant than generating passive income.
But to do that, you need traffic and to attract traffic, you need to offer something that your audience is looking for.
Though Google Trends comes with its limitations but being a free tool, it serves more than enough.
At least you don't run out of ideas.
You can manage your content calendar well ahead of time. You can keep your audience engaged with frequent posts.
You simply need to see what's popular these days! If you do it right, it will help you to make your own blog popular among the audience.
But don't take things for granted. You must not underestimate the necessity of exclusive keywords research tools.
I love the fact that Google Trends really brings new ideas that I can work on. I never used it a few years ago and underestimated its power, because I just took this tool like all other "free tools" that offer no value at all.
Once I started using Google Trends, I started to regret those old days during which I struggled to anticipate popular ideas and trends.