RoseHosting Review: Is this Hosting for you?
If you follow the hosting world closely, you would know that most of the hosting providers spend lots of money on marketing and acquire customers but in return, don't provide quality hosting service.
RoseHosting is one of the sites that don't focus on marketing, rather on providing quality hosting service for the money.
Besides Shared Hosting, RoseHosting is best known for its VPS Hosting Service. It is one of the best VPS Hosting services around.
This RoseHosting review will help you decide if RoseHosting is the right choice for you.
About RoseHosting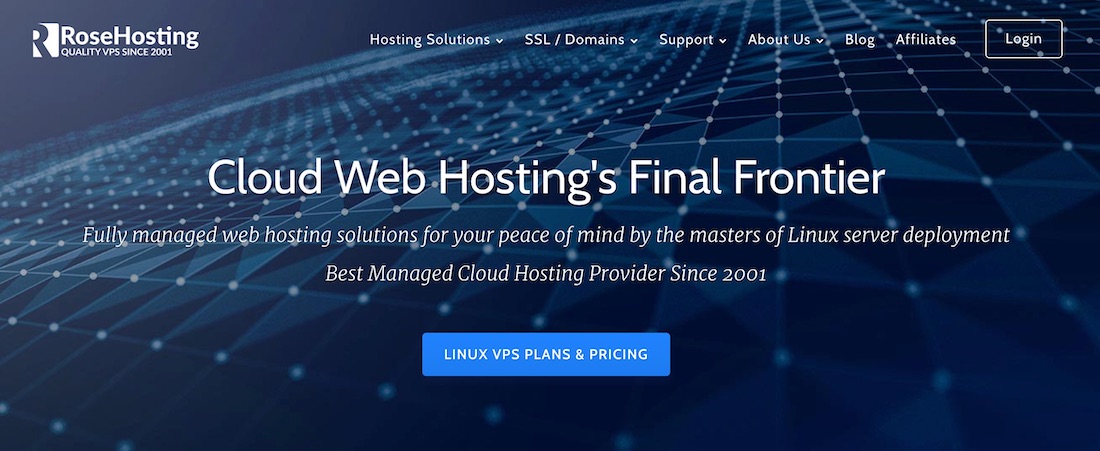 RoseHosting was founded in 2001 and it currently has its head office in St. Louis, Missouri.
It stands apart from other hosting companies by the fact that it is the first company to offer Linux virtual services to their clients.
In order to maintain a competitive advantage over their rivals, they offer user-friendly account features that work to meet all the customer needs, 24/7/365 customer support and never overselling their services beyond customer needs.
RoseHosting customers get everything they ask for without any pressure from the company to go beyond or above their hosting needs. Besides the amazing VPS hosting, RoseHosting also offers shared and dedicated server hosting from their St. Louis data center.
Their data center prides itself in state-of-the-art safeguards featuring dual redundant air conditioning systems that help to keep their pieces of equipment as cool as possible.
Besides that, they also have redundant dry fire extinguishers that are located all over the location to protect against fire outbreak.
RoseHosting has taken these safety precautions in order to allow them to offer their customers maximum speed and efficient connectivity to their hosting data information.
Additionally, their server network runs on a multiple OC-3 connection, Gigabit, and 10GigE settings.
Their Gigabit system runs on the Ethernet ports while their servers run on 2x Quad Xeon CPU pieces of equipment.
All these state-of-the-art pieces of equipment are meant to help RoseHosting to give their customer base among the fastest processing speed in the hosting industry.
Best Shared and
VPS Hosting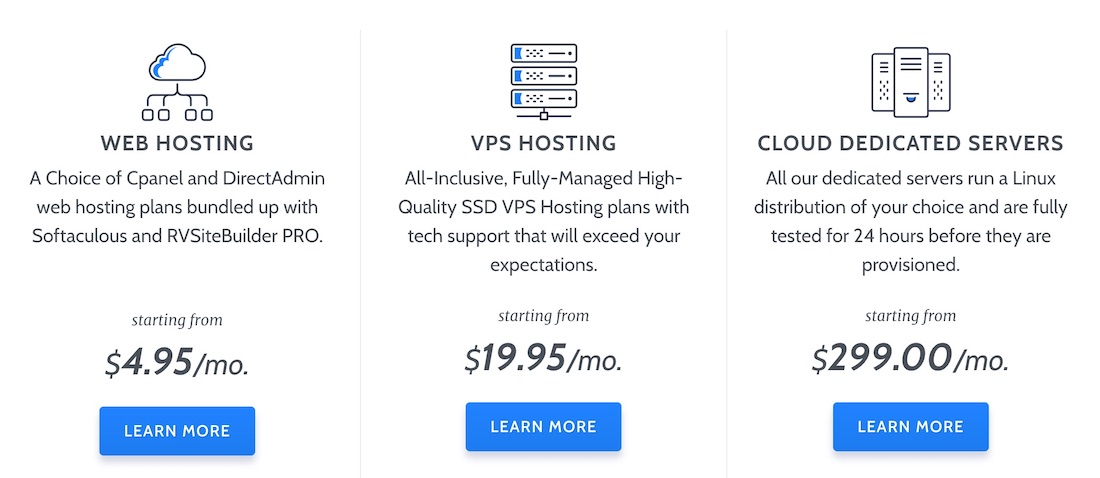 RoseHosting has five different hosting options.
All of their shared hosting packages come with SSD storage, cPanel or DirectAdmin panel, RV site builder pro, Softaculous 1 click installation, and free weekly backups.
Their hosting plans differ from each other in the number of domains they can host, email accounts, bandwidth, sub-domains, storage space and the number of databases that you can install.
However, their high-end packages come with a dedicated IP address and unlimited FTP support.
Besides that, RoseHosting is mostly known for their Linux VPS Hosting Services. It is the best in class.
These packages are fully managed and come with at least dual CPU, 1 IP address, free weekly backups, and SSD storage.
They give up to 8 pre-designed plans beginning with their starter VPS which has a small RAM, bandwidth, and storage all the way to the high-end plans which come with unlimited bandwidth, SSD storage, big RAM.
RoseHosting has a total of 8 Linux dedicated server packages. All of these plans have a Xeon processor, DirectAdmin panel and 1 IP address.
However, these plans differ from each other based on a number of factors such as bandwidth, type of processor, storage space and RAM.
Most of their plans use the RAID5 storage while the high-end packages use SSD drives which make them faster and efficient.
Most importantly if you want a customized server, you can be assigned one upon request.
Features
RoseHosting offers numerous features that make it stand apart from the crowd in the hosting industry.
The following are some of the salient features of RoseHosting:
1. Free Website Migration
RoseHosting makes the process of transferring a website from a different host to their very easy for new customers. They offer a free website transfer. Many hosts charge hefty fees for website migration.
As a customer, you can move your site that was previously hosted on either cPanel servers, DirectAdmin servers, Webmin servers or servers without cPanel to RoseHosting servers seamlessly and stress-free.
Once you open a new account on their hosting service, it will work to find out all the necessary information that is related to your previous host.
The admin will then work by taking all the necessary actions to ensure that your website is transferred successfully to the new RoseHosting account.
Once your web has been transferred to the RoseHosting server, you can continue using your site as usual.
2. Free Backup
One of the biggest fears for anyone who has a website whether private or business is losing their content. RoseHosting has taken the necessary steps to ensure that this does not happen to you. They offer free weekly backup services to all their hosting plans.
Every weekly backup works to replace data from the previous backup.
In addition to that, the backup also helps to resolve any issues that might be available.
3. SSD Storage Space
SSD storage makes a server to function and perform its work way faster as compared to its hard disk counterpart.
RoseHosting uses an SSD storage system which makes it faster as compared to most of its hosting competitors.
Therefore, you are advised to select a hosting company that uses SSD storage system.
4. Fast and Reliable (+ Speed Tests)
Generally speaking, RoseHosting has a good web host maintaining.
It has a remarkable uptime and loading speed. It has an overall uptime record of 99.99%.
And their website loading times are Amazing. Take a look at the speed tests below.
Speed test of a website hosted on RoseHosting: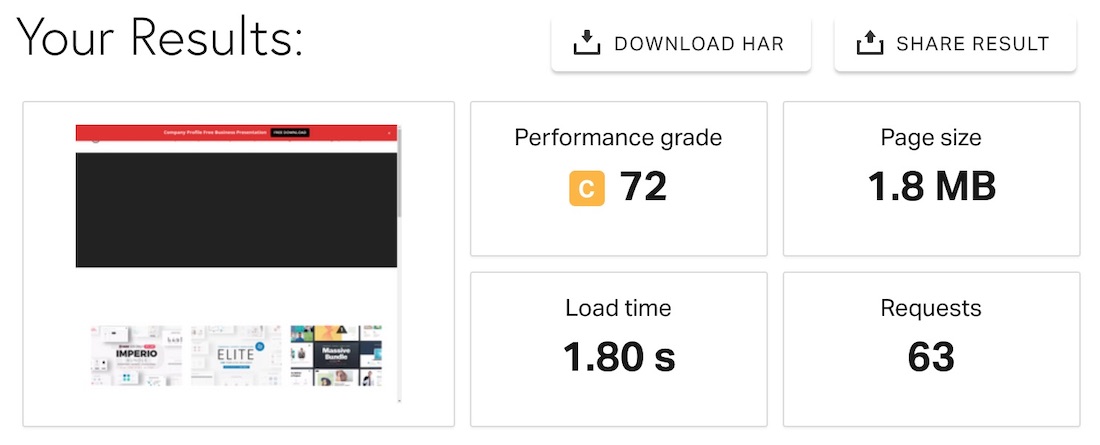 Their uptime is ideal for site hosting and the average response time is good too. This makes RoseHosting an ideal host.
5. Customer Service
In the hosting industry, customer care is of paramount importance.
RoseHosting offers customer service 24 hours a day, 7 days a week and 365 days a year.
They have different methods of communication which include tickets, emails, and phone calls. Most of the support tickets and emails are responded to within 5 minutes.
Their support staff is well versed with any hosting-related issues including WordPress.
6. No Overselling Policy
RoseHosting does not oversell services.
This means that they never sell any additional services such as bandwidth, storage space or other features that your website might not need.
This helps to decrease lots of adverts on the site and you pay for what you use only.
7. Payment and Billing Policy
You can pay for RoseHosting services using any of the major credit cards. All of their hosting plans automatically renew themselves on the first day of the billing cycle whether for yearly or monthly payment plans.
Accounts that are not paid for within 7 days from the billing cycle will be suspended. On the same note, accounts with more than one month overdue will be terminated permanently.
Any account that is suspended will be charged a reconnection fee when reinstating the account.
All cancellations to billing arrangements must be done through the cPanel before the beginning of the next billing cycle.
RoseHosting Plans and Prices
The price of hosting is a crucial factor when selecting a hosting company. As much as the price of hosting should not be too expensive, it is worth noting that the superior the service provided, the higher the price.
RoseHosting has one of the most competitive prices in the hosting industry. They have different hosting plans and each plan comes with its own price.
The following are some of the common packages and their prices:
Shared Hosting
Their shared hosting package starts at $4.95 per month. At this price range, you can host your site for less than $100 in a year.
The entry-level tier of shared hosting comes with 1 domain, 2GB of SSD storage, 200GB of data transfer and 2 sub-domains.
As you go higher in the shared hosting plan, more features are unlocked which include a unique IP address, 2TB of data transfer, 20GB of SSD storage space, unlimited sub-domains to mention just but a few.
I like the way they advertise their hosting plans. Many of the hosting companies write storage and bandwidth as Unlimited, But it's never unlimited.
Once you start using it, you start getting issues and you find out that not only it's not unlimited, it's very low!
So I really like that RoseHosting clearly states storage and bandwidth data so you get what you pay for.
All of the plans under the shared hosting come with free setup, Cronjobs, spam blocker, money-back guarantee and unlimited parked domains. The prices per month differ from one plan to another.
Also, the features differ from package to package.
However, RoseHosting does not offer free domain during the signup process.
What makes RoseHosting's shared hosting standout is its use of SSD storage. This makes their servers to run faster as compared to their competitors hence better uptime.
They have four types of packages at the shared hosting and they are:
SSD basic at $4.95/month. Some of the salient features of this package include 1 domain, 2 sub-domains, 2 mailing lists, 200GB data transfer, 2GB SSD storage space, lacks own IP address, 2 MySQL DBs, reliable 24/7 customer support.
SSD business at $9.95/month. It has a coupon per year. It comes with features like 20 mailing lists, 5 domains, lacks own IP address, 1000GB data transfer, 20 sub-domains, 8GB SSD storage space, unlimited FTP accounts, unlimited automatic responders and 24/7 customer support.
SSD ultimate at $19.95 per month. It has a 1-year coupon. It has features such as 20 domains, 2000GB data transfer, unlimited sub-domains, own IP address, unlimited autoresponders, 20GB SSD storage space, unlimited email accounts, unlimited mailing lists, unlimited MySQL DBs, unlimited FTP accounts and epic 24/7 customer care services.
Virtual Private Server (VPS) Hosting
For many business owners, VPS hosting has a better balance between value and performance. It allows the user to customize the features as well as enjoy unlimited domains.
RoseHosting's start VPS plan starts at $19.95 per month.
It comes with 2TB data transfer, 1GB RAM, 30GB SSD storage, dual-core CPU among other features. VPS hosting allows the user to enjoy full control of the server since it is a standalone server.
This hosting plan is ideal for big websites with many active users.
RoseHosting has four different types of VPS hosting packages and they are as follows:
SSD 1 VPS that costs $19.95 per month. It comes with features such as dual CPU core, unlimited websites, 1GB RAM, 2TB data transfer, a dedicated IP address, full root access and free fully managed support.
SSD 2 VPS which costs $39.95 in a month. It comes with full root access, unlimited sites, 2GB RAM, 60GB SSD storage, 4TB data transfer, a dedicated IP address, and fully managed customer support.
SSD 4VPS at a cost of $59.95 per month. It comes with 6TB data transfer, 100 GB SSD storage space, dedicated IP address, 4 CPU cores, 4GB RAM, full root access and free fully managed support.
SSD 8 VPS which costs $79.95 in a month. This plan comes with full root access, unlimited websites, a dedicated IP address, 8TB data transfer, 6 CPU cores, 8GB RAM, 150GB SSD storage space and free fully managed support.
When you purchase the VPS hosting plan, you will get a copy of cPanel or DirectAdmin form RoseHosting as a gift.
Cloud Dedicated Server Hosting
This is a superior version of the VPS hosting. It is richer in features and it has a standalone server.
This hosting plan is ideal for big companies that need long-term and permanent hosting solutions.
RoseHosting's dedicated server hosting starts from $299 in a month. This price is way higher when compared to other hosting packages but it also has superior performance hence worth every buck.
Some of the salient features under this plan include the following 500GB of RAID5 storage, dual Xeon E3 core, 2TB of data transfer and 2GB of RAM.
When you purchase this plan, you will receive a copy of DirectAdmin or cPanel just like its VPS hosting counterpart.
The following are the main dedicated server hosting plans:
Dual-core plan at $299 per month. This plan comes with the latest generation Xeon, 24GB RAM, 14 CPU cores, 500GB SSD storage space, 3TB data transfer, free cPanel or DirectAdmin panel and free fully managed support.
Dual special which comes at $349 /month. It also comes with the modern generation Xeon, 1 IP address, 32GB RAM, 18 CPU cores, 6TB data transfer, 667 SSD storage space, free DirectAdmin or cPanel and free fully managed 24/7 customer support.
Quad-core is available at $399 per month. It comes with the latest generation Xeon, 1000GB SSD storage, 48GB RAM, 10TB data transfer, 28 CPU cores, 1 IP address, free DirectAdmin or cPanel and free full managed 24/7 customer support.
Quad special at $449 in a month. It has the latest generation Xeon, 96GB RAM, 56 CPU cores, 2000GB SSD storage, unmetered data transfer, 1 IP address, free cPanel or DirectAdmin and free fully managed 24/7 support.
Pros of RoseHosting
The following are some of the advantages of RoseHosting:
Stable prices – unlike their competitors, RoseHosting does not hike their package prices after the first term. The price that you sign up with is the same price you will pay as long as you are using their services.
Free site migration – they offer free web transfer for all first-time customers. When you switch to RoseHosting, they will transfer your site from whichever host you had been using previously free of charge.
RV site builder pro – all of RoseHosting's shared hosting plans come with RSV site builder pro. This helps to save a lot of time for newbies and those with minimum or little technical know-how. With the help of this, you can build a simple website from scratch without any prior experience.
Cons of RoseHosting
The following are some of the downsides of RoseHosting:
Paying the extra money for the control panel – RoseHosting does not make their cPanel an inclusive feature in their plans. On most of their hosting plans, the control panel comes at a cost of $10 per month. This charge is beside the monthly hosting package fee.
For a hosting company that has the best interest of their customers at heart, making an essential feature available at a cost is a deal-breaker.
Short money back policy – as much as a money-back guarantee is an attractive feature in the hosting industry, RoseHosting's money-back policy is disappointing. RoseHosting's policy gives its new customers only seven days to decide whether they want to use RoseHosting's hosting services or not.
At the end of seven days, a new customer can get a full refund if they are not satisfied with their services.
Seven days is not enough time to know how a hosting company works and its services. Service provision is key in the hosting industry and seven days is a short period.
Server Location in one place – RoseHosting has its own server which is located in St. Louis. They do not have any other server in a different place. This is likely to cause a lot of latency issues for most of the websites within the US.
Conclusion
RoseHosting is ahead of the hosting competition because of their Linux VPS hosting services.
They also have a good customer service with short response time and quick resolving of issues. Besides that, they have pocket-friendly hosting plans that suit every hosting budget.
They also have additional features that you can use to create a customized site that meets your hosting needs.
Although they lack the control panel but their charge per month is affordable by most businesses. It also has other premium features such as free Managed Support, Free Backups, SSD Storage and much more.
Together, all these features make RoseHosting one of the best web hosting companies available in the market today.