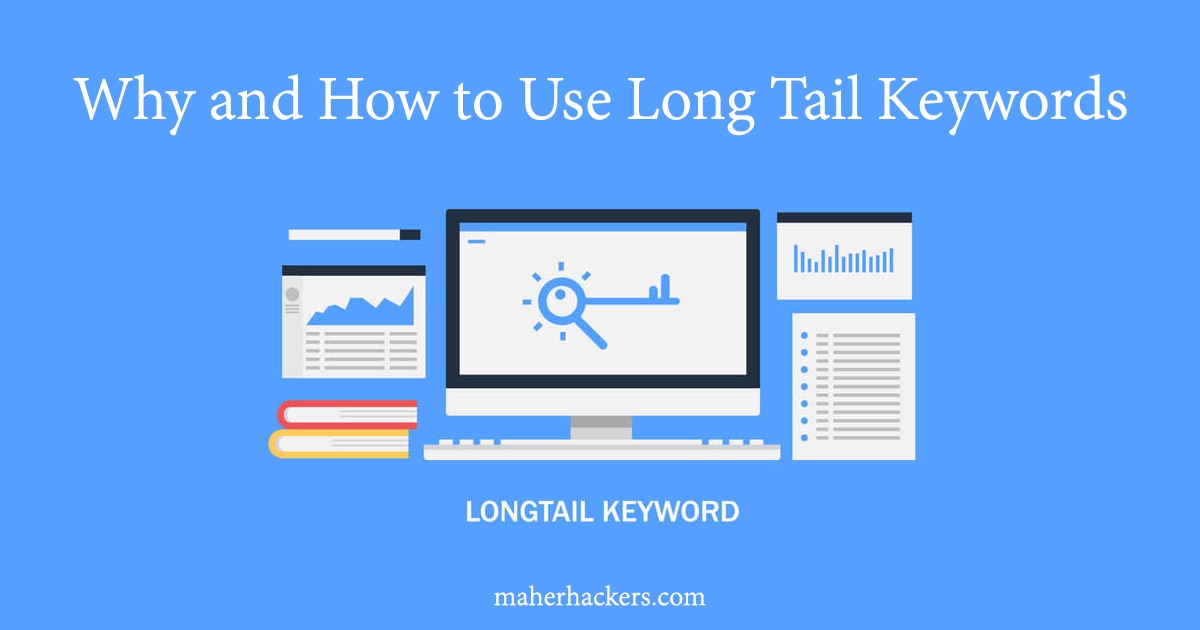 Keywords are the foundation of the search engine optimization process.
As the competition in organic search engine results is increasing, more and more businesses and individuals are turning to the use of long tail keywords.
If your aim is to increase the traffic on your site and make it more accessible on the web, the most basic task of achieving this goal is keyword research and using long tail keyword is a popular trend in search engine optimization today.
Making sure that your web page and your content is optimized with the proper keyword research can boost the organic search results for your web page and the use of long tail keywords is one of the ways to do so without having to pay for the AdWords or paying per click.
What are Long Tail Keywords?
Long tail keywords are keyword phrases that have at least three or more words in the phrase.
These keywords are used when you want to refine the search terms of your web page, as well as when the visitor/searcher is looking for something rather specific.
Long tail keywords just like normal keywords are used to define what the web page is about, its content and what you want to be found on search engine results pages.
For example, If the keyword were Best Shoes, Long tail keywords will be:
Best shoes for gym
Best shoes for running
Best shoes for walking all day
The list is endless. You can find related, high performing Long tail keywords on any topic very easily using tips given below in this post.
The Impact of Using Long Tail Keywords
People are now getting more particular when searching for something online, they no longer tend to use broad or short tail word keywords, but prefer using long tail keywords.
Long tail keywords are rather more specific and draw less traffic to the web page, but the traffic drawn to the webpage is quality traffic with higher conversion rate than normal or broad keywords; moreover, using long tail keywords gives you an opportunity of having a lower number of competitors using that particular keyword.
As talked in the example above, Lot of websites will have pages with "Best shoes", but not many websites will be using "Best shoes for walking all day" keyword.
With a lower number of competitors using the keyword, your website traffic tends to double overtime.
There is a list of benefits of using long tail keywords out of which some benefits are discussed below:
Benefits of using Long Tail Keywords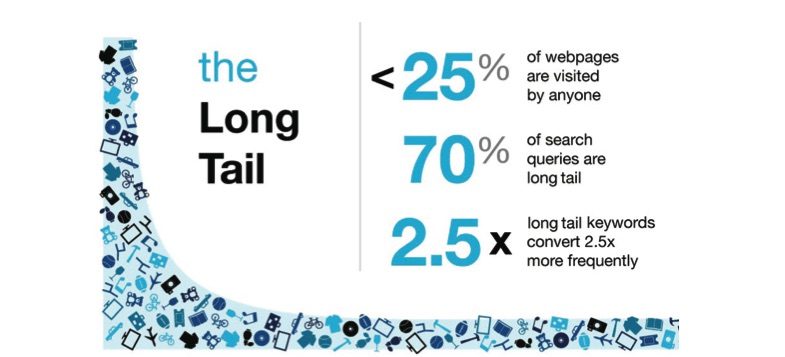 Less Competition
When it comes to competition, long tail keywords might work best for you. This is because when you opt for simple and broad keywords with the higher number of hits, these keywords are already being used by the well-known competitors in the market.
Hence, your product or web page might fail in making it to the top of search results.
For example "Sports Shoes" might be used by multiple competitors, as a result of which, your page might never get a chance to see the light.
Instead, going for "Shoes you can wear all day" may work best for you. This is because just a few companies may consider using such a long tail keyword; thus, less competition leading to greater profit.
According to the results of a study conducted by a company based in New York, long tail keywords with and without on-page optimization were impacted more than single-word head terms.
Which translates that using long tail keyword is one of the ways how you can overtake the competitors.
Better conversion rates
Unlike people using broad keywords who are still in the research mode and are uncertain about what they want, the people who opt for using long tail keywords usually tend to look for something more specific; these people have already worked on narrowing down their preferences and hence are looking for specific items.
Referring to the initial example of Shoes, a person searching for Sports Shoes may not be sure which type of shoes they want, whereas a person searching for Shoes you can wear all day is sure about the product he is looking for; hence, leading to a higher conversion rate.
According to a recent research carried out by WordStream, the top 10% of landing pages convert at 11.45%, whereas, the average conversion rate for long tail keywords is 36%.
Easier to optimize for
It is easier to perform the on-page optimization when it comes to optimizing for long tail keywords.
This is because, first of all, you don't need so many of them on the page. Second, a couple of long tail keywords look more natural on your webpage than short tail terms.
Less Expensive
Due to less competition in the market, fewer people are bidding on long tail keywords; hence, these keywords are cheaper, whereas the broad keywords or short tail keywords tend to be more expensive.
This is because a huge number of individuals and business are using short tail keywords; hence, there is a huge number of people bidding on them on Adwords.
It is thus cost-saving to opt for using long tail keywords which are quite cheaper and profitable as well since most people landing on your website are most likely to end up buying your products.
Impressive Search Volume
Long tail keywords are reported to have an impressive search volume.
In today's world, where the buyers are more informed and knowledgeable about what they are looking for, they tend to search for the products by elaborating the search terms.
For instance, a person searching for a laptop with a specific price range in mind will surely include the price element in the search term.
This automatically leads to the keyword becoming a long tail keyword, leading to the web pages with the specific type of laptop he/she intends to buy.
Google has revealed that individuals tend to search for long tail keywords with 3-4 words more than one-word keyword, although this number tends to decrease as the number of words increases.
Connecting with your audience
One of the benefits of using long tail keywords is that it helps in connecting you with your audience.
Long tail keyword gives a better clue to the audience as to the content that you are offering.
All you need to do is to analyze the keywords that deliver traffic to various web pages and incorporate those keywords into your content.
Coming up with Long Tail Keywords
If you want to obtain better search ranking results for your webpage, using long tail keywords can do the trick for you, double the traffic on your website and increase your website performance for SEO.
Searching for long tail keywords manually is quite frustrating if not impossible.
To produce more reliable and accurate keywords, it is commendable to automate the process of searching for long tail keywords that you use for your SEO.
There are multiple keyword research tools that can provide useful data, i.e., number of competition and the number of the searches for the keyword both globally and locally, keyword difficulty and how easy would it be to rank for those keywords.
The tools that are available for free include Google keyword tool, keyword tool denominator, and WordStream free keyword tool, etc.
But if you want more accurate and detailed keyword analytics, It's better to use paid tools like SEMRush or Long Tail Pro.
Following are some of the ways to come up with long tail keywords:
Focus on the intent of the searcher
When coming up with keywords for your content, you need to focus on what is the searcher trying to achieve and how is your content going to help them reach their goal and get what they are looking for?
When working on optimizing your search results, take enough time to understand what your target market is and what factors influence the buying decisions of the visitors.
By doing so you'll be able to understand what type of search terms you have to target to increase the traffic to your website.
Google's Keyword Planner
The Keyword Planner may have less specific data in comparison to AdWords, but it provides some useful information that helps the publishers with identifying the long tail keywords that will increase the traffic landing on your website.
The two functions of ad group ideas and keyword ideas provide related search terms that help you save time that is utilized on thinking of all the different variations of the keyword.
Use Google's suggestions
Being a publisher or someone who wants to optimize the search results on their website, you should never underestimate the usefulness of google suggestions.
They are unlikely to be the major player in your strategy, but they can certainly contribute in bringing traffic to your website.
Search for a keyword and see google's suggestions on the search area and footer of Google results. See the example images below: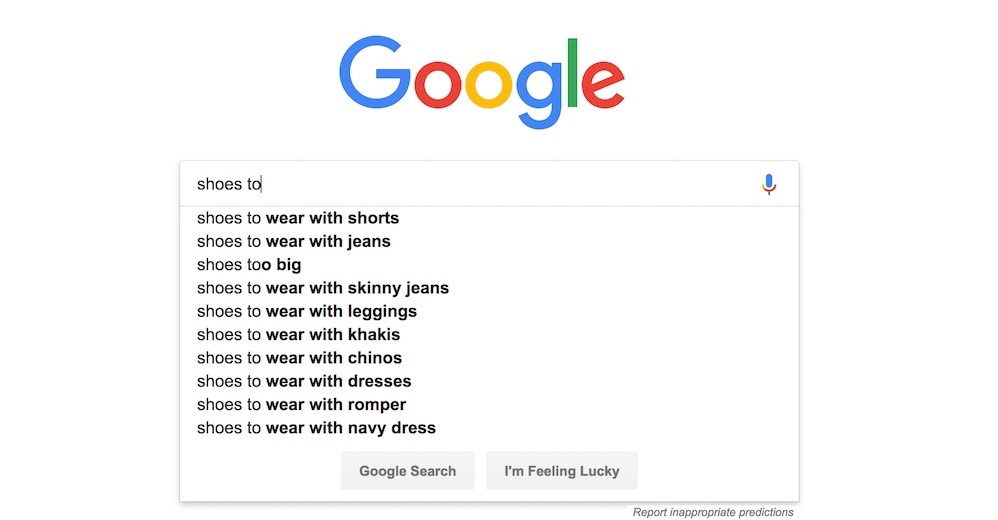 Conclusion
As we discussed the benefits of using long tail keywords and their impact which indicated that the long tail keywords outperform the broad keywords, it is important to discuss that the long tail keywords are used hand in hand with short tail keywords.
Hence, using a combination of long tail and short keywords is a good option to divert traffic towards your webpage.
While selecting what keywords to use, it's crucial to think about the audience that you're targeting and what the audience needs.
Long-tail keywords are a great solution that can help you boost your SEO plan.
By making sure that you are targeting the suitable long-tail keywords and providing the visitors with valuable content, you will eventually ensure that you maximize the limited traffic and encourage conversions.