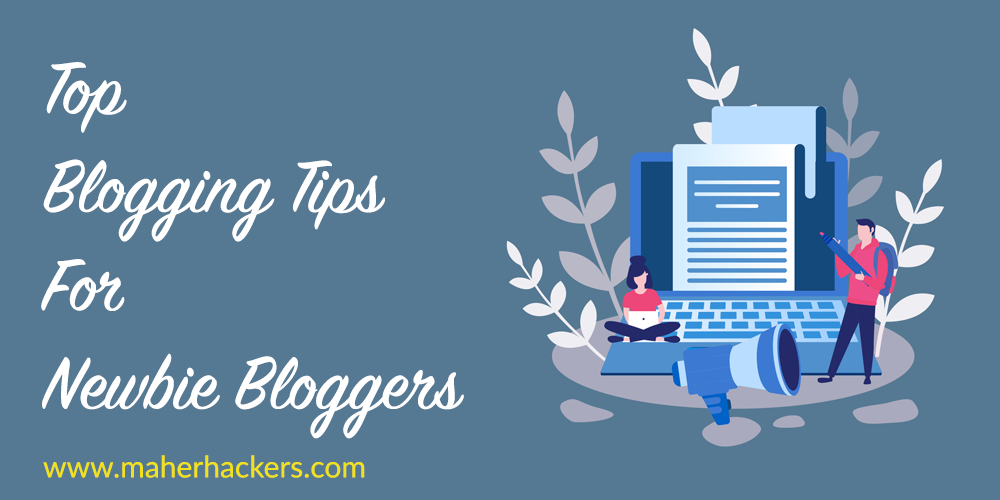 Many people dream of becoming a blogger.
And too many believe that becoming a blogger is much of an easy task.
There were times when blogging was relatively easier and less painstaking.
But, with how the industry is growing and more and more people are inclining towards blogging, a newbie blogger has to be well-equipped and patient to pursue blogging as his/her career.
With that being said, here are some of the most helpful blogging tips for beginners that would let you plan your journey as a newbie blogger.
Your enemies as a blogger
Sometimes, it makes more sense to tell people what they shouldn't do before telling them what to do.
While there is good information about blogging tips for beginners, here are some quick points to take note of- certain things you should be keeping away from if you want to be a good blogger.
Know that you are getting nowhere if you are not consistent.
If you are writing about things that solely interest you, you are probably losing out on audiences.
Don't expect people to be interested in your life, stories, and your interests. As you begin writing, you have to cater to what people love.
Try avoiding writing stories. People like to look for important points in a blog. If you make it flow like a story, it might get ambiguous for readers in most cases.
If you are referring to other articles and creating a copy of it or planning to plagiarize, you would fail as a blogger.
Are you focusing just on writing and completing sidelining SEO aspects? If so, it would be a major downside to your success as a blogger.
12 Blogging Tips for Beginners For Success in Blogging
1. Give it Time
If you plan to take blogging seriously, you have to give it a decent amount of time to work.
Newbies who have high expectations in a short span of time might end up losing motivation for how gradual the results start showing.
First of all, you have a good amount of competition. You are diving into a sea full of fishes. While it takes time to master the art of blogging itself, you would also need time to have people read your blogs.
To generalize, it would take you an average of six months to witness results, like traffic.
The mantra is to stay consistent and not lose motivation.
Most people start off with a great amount of motivation and only last about a couple of months.
If you want to be a successful blogger, you have to see beyond those couple of months and know it would take time and persistence to establish yourself.
2. Blogging is not Child's Play
For anybody who thinks blogging is a cakewalk, it is not, unless you have been in the business for a while.
For newbies, it has become all more difficult with so much competition.
Pick any niche and you would find thousands and even millions of bloggers fighting for attention.
This is just to paint a very realistic picture of what it is going to be and the amount of hard work it is going to take you to be successful.
3. You have to Give it Undivided Attention
If you are planning to take up blogging as a source for side income, you might as well think of another alternative.
Blogging is a serious job. As a newbie, you would have to dedicate so much of your time and efforts into it that it would barely leave you with any time for other tasks.
It has become so competitive that people who choose blogging as their very profession work way too hard to have the right kind of outcome.
If you starting off, you might have to dedicate at least 5 to 6 hours in a day to get some kind of outcome in a matter of months.
The time you invest is inversely proportional to the number of audiences you start building.
As you start establishing yourself stronger, you can reduce the amount of time you spend on each blog; and this comes out of experience and time.
4. Better if You Invest
Most people believe that blogging would need zero investment to give any kind of return.
For people who take blogging seriously, you have to know that you are expected to make a certain amount of investment in order to fetch a good return.
To be a professional blogger and give the right kind of competition to people in your industry, you would have to invest in the right kind of plugins you might need, SEO tools, a theme for your website, and many other things.
5. Draw Inspiration But Be Unique
As a creative person, you would have a few people you follow, few people whose style of writing would inspire you.
Having a number of people who inspire you would actually be an amazing way of learning better and being able to improve yourself.
When you read through people's blogs and get inspired, you come up with your own kind of assimilation of styles that become your unique writing style.
However, strictly keep away from drawing inspiration from one blogger and following his/her writing style completely.
While inspiration should help you discover your own unique way of writing, it should never persuade you to become a copycat.
Apart from that, be very sure you are not publishing plagiarized content. This would have obvious risks and no advantages to it.
As you go through different blog posts, analyze the posts and look for what is missing. As you make this analysis, you can come up with a blog post that has points that others have missed.
6. Be Interactive
One of the biggest mistake newbies make is they write in a very formal and stiff tone with the audience.
Every piece of content has a purpose and the tone of speech would totally depend on what the content is like and who reads it.
Blogs are supposed to educate people in the most interactive ways so that they keep readers interested.
If you write your blog like you are writing a letter to your boss, your audience would soon be bored from all the boring sentence structures and leave your page.
Your readers should feel like they are talking to you and should feel connected with you.
Make it a point to use second person references, like "you" and first-person references, like "me" and "we". This would help your audience know you as a person through your blogs and build interest and trust.
7. Know What Your Audience Wants
As a newbie, if you want to please more people and have more readers read your blogs, the only rule is- give them what they want.
You can't expect people to always be interested in what you write based on your personal interests. For this, you have to be a little insightful as to what your audience expects from you.
You can get ideas from the audience by encouraging commenting, email marketing, and referring to forums pertaining to your niche to know what is in trend.
Once you have that sorted out, you would be devoting your time and efforts into writing about what people would want to read articulately, making the most out of your efforts.
8. Have High Readability
Having a high readability means most people would be able to read your content.
Imagine stuffing all the complex words in your blog and making it look like a classic literary piece.
While that would attract a few people with an impressive knowledge of vocabulary, it would definitely drive away people who are looking for information without having to hold a dictionary while going through your content.
The simpler your blog post is, more and more people would be able to read and comprehend with ease.
This would save time for people and you would have more chances of people coming back to your website and reading other blogs that you write.
Be very sure about grammar, punctuation, and spellings. Don't use complex sentence forms. Stick to active voice and write in simple ways.
All of this would give your blog a higher readability.
9. Go for Long-Form Content
This is more of an SEO tip if you are looking for sure shot ways to rank better and have more traffic.
Google always aims to provide people with as much information as possible.
It is a common notion that the more words there are in a piece of content, the information it has for people.
This is why, aim to write a blog that more than at least 700 words, even better if it crosses 2000 words.
However, in an effort to write a long-form content, don't beat around the bush or get repetitive.
As a dedicated blogger, you have to conduct a better research so that you can provide people with a lot of useful information.
10. Make Your Content Scannable
You call a piece of content scannable when you don't have to read through the entire to find what you are looking for.
Most people would rather read the headings to decide whether or not they would want to read what's within the heading rather than having to tediously go through the entire content.
Make use of different heading tags, like H1, H2, H3, etc. so that your content is divided into sensible points.
You can also make use of bullet points and serial numbers when required.
As you write a blog, make sure you divide your blog into paragraphs. Each paragraph should at most have 3 to 4 sentences. Lengthy paragraphs would look overwhelming to readers.
11. SEO Matters
While you don't have to take SEO too seriously in the beginning, as you write blogs, you should also start educating yourself about on-page SEO factors.
Do a proper keyword research and add keywords to your content. However, don't stuff keywords– this might get you penalized.
Have a catchy title and a strong meta description.
Add keyword in the title, meta description, URL, and a sub-heading of your blog post.
And as you start writing, try getting backlinks to your blog as well. Make sure you only use white hat SEO techniques and strictly avoid black hat methods.
12. Promote Your Blogs
Now that you know how to write your blog and what all points to keep in mind, once you come up with quality content, you need to promote it.
While writing and taking care of SEO factors takes a little time, the real deal is promoting the content- which takes months.
You can send influencers emails requesting them to share your content. When you mention a brand or an influencer in your blog, it makes it easier to get that company or person share your post and get you more views.
Final Thoughts
These are some of the blogging tips for beginners that would help you build an audience and grow as a blogger gradually.
To have a flair for writing is one quality you need to become a blogger.
However, crafting the right kind of content and promoting it rigorously is what takes most of a blogger's time and efforts.
If you are serious, hardworking, and dedicated to putting efforts, these blogging tips for beginners would definitely fetch you some amazing results over time.
If you are thinking about starting a blog, don't waste time and do it today and start working on it today.
What are your views? Share in the comments below.