Best Hosting For Affiliate Marketers in 2021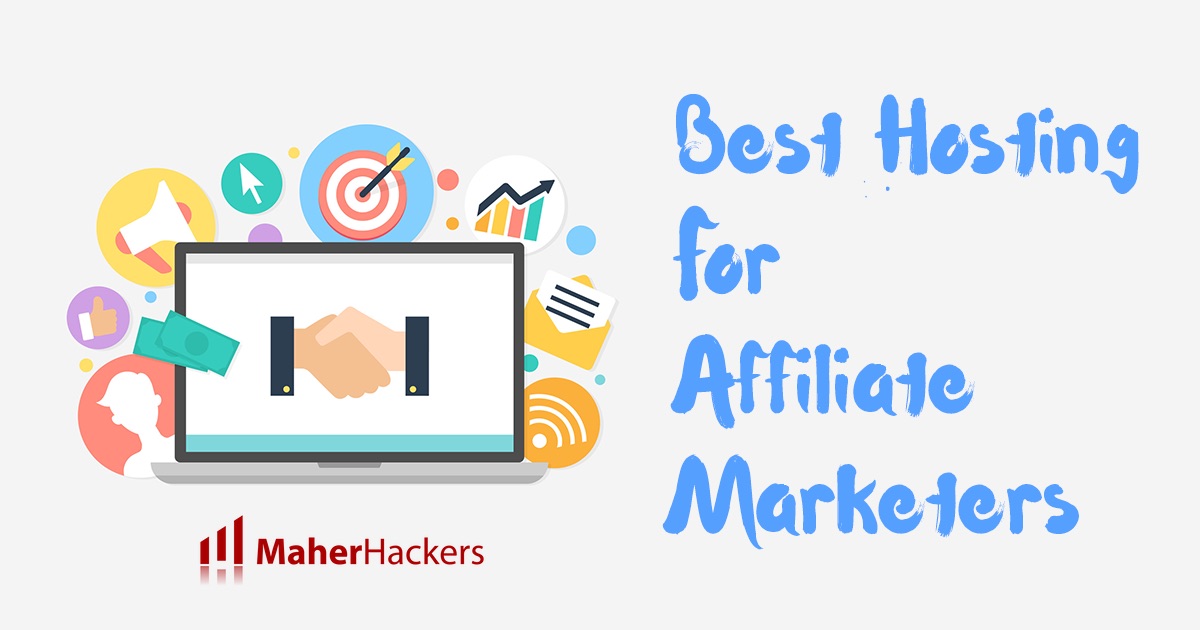 Making money online continues to evolve with the introduction of new techniques, better monetization strategies, and increasingly powerful hosting platforms.
If you are willing to try your luck as an affiliate marketer, choosing a good hosting site for affiliate marketing becomes a vital consideration.
If you're ready to help your online passive income make a significant contribution to your overall earning, you need to seriously consider the selection of a reliable hosting platform for affiliate marketing.
There are a number of available options, but in this post, I'll present the top 4 hosting sites to make it easier for you to focus on the top seeds.
What to Look For When Choosing A Hosting Provider For Affiliate Marketing
Pricing
If you're an experienced affiliate marketer, and you already have sufficient followers and readership, the price of the hosting site doesn't become a major issue.
But for the beginners, to start making money online takes time, at least a few months or even more than a year. For the beginners, the pricing of the hosting site matters.
For the beginners, it is better to choose from inexpensive hosting sites that provide good quality hosting. It will help you concentrate on affiliate marketing rather than worrying about paying the charges for monthly/yearly subscriptions.
User Interface
Again, for an affiliate marketer having some experience with computer coding, the user interface may not cause problems.
But for someone unfamiliar with computer coding, the interface means a lot.
A simple and easy user interface ensures smooth proceedings while setting up your blog or website.
All the hosting sites mentioned here below are the ones who care about user experience and provides an excellent user interface and control panels for easy installation of WordPress and making other changes without the need for any expertise.
Optimization Tools and Plugins
You can't even think of a successful affiliate marketing campaign without proper SEO optimization.
This is why, the availability of smart, updated, and powerful optimization tools, in addition to result oriented plugins, becomes the top consideration when choosing the hosting site.
Not all Hosting Providers are the Same…
Managing and hosting your own website is a tough task and it becomes irritating for the beginners with zero experience.
Sometimes, the affiliate marketers observe that most of their energies are spent in looking after the website, rather than concentrating on sales and content.
A reliable web hosting platform makes things super easy and enables you to concentrate more on affiliate marketing activities.
Don't get overwhelmed though, if you let adrenaline overcome your wisdom, things may fall apart.
You need proper assistance, and this is why you must give preference to a web hosting site that offers top-notch 24/7 support.
This is the topmost reason why WordPress becomes a second priority for most of the experienced professionals.
If something goes wrong, they have to seek help from some WordPress forums. On the contrary, today's increasingly popular hosting platforms are offering customer support to let them address things without unnecessary delays.
Apparently, in terms of numbers, there is no shortage of hosting platforms.
In terms of quality, reliability, effectiveness, results, efficiency, and productivity, you don't find too many hosting platforms that offer a comprehensive package in terms of features and performance.
Some have an excellent user interface, but lack reliability, some are inexpensive, but they lack optimization tools.
Ultimately, you find yourself in a position where shortlisting leaves you with less than 10 hosting websites to choose from.
My List of Best Hosting Sites for Affiliate Marketing
Realizing the fact that the selection of a hosting website is a tough task for the beginners, I'd love to help you out by presenting the top 4 best hosts to choose from.
Remember, I've finalized the list depending on the extent to which a hosting platform facilitates the affiliate marketers.
Overall, these hosting platforms are best for bloggers, small businesses, and hobbyists.
They are inexpensive and easy to use, making extremely preferable to the newbies, having no prior experience of building a website.
Let's begin.
1. SiteGround
One of the perfect WordPress companions, SiteGround (full review) offers a number of promising features associated with WordPress. The thing I love the most about SiteGround is that it facilitates with 1-Click domain transfer, which is completely free.
The 1-Click domain transfer is an excellent option for those looking to possibly change the hosting platform for their website.
The pricing is also reasonable, starting at $3.45/month, including promising features such as 10GB storage, website builder, free domain, free SSL, and free email accounts.
A guaranteed 99.99% uptime is what makes me include SiteGround in my list of the top hosting sites. It is fast and reliable!
The cPanel facilitates app-installation for free. Extremely user-friendly and smooth going cPanel also serves the uses with Drag & Drop backend. It makes things super-fast when it comes to setting up and getting the website ready.
Customer support is top-notch! Reliable guidance helps the users to come up with precise and well-crafted marketing plans.
SiteGround backend offers impressive optimization and SEO analytics tools. You can easily monitor the progress of your website and make timely changes to target your potential customers.
Click here to get an exclusive SiteGround discount >
2. Bluehost
One of the most popular and highly recommended hosting platforms, Bluehost (full review) continues to make life easier for small and medium-sized businesses. For affiliate marketers, Bluehost is no less than a happy hunting ground.
Bluehost tops the list for its impressive variety of marketing tools.
It is perhaps the best hosting website for beginners as it doesn't require prior experience. It is a highly user-friendly and easy-going platform.
It takes less than an hour to set up a website and get it running with Bluehost.
It offers one-click WordPress installation feature
Facilitates with scores of free WordPress themes
Starting at $3.95, Bluehost serves with unmetered bandwidth, multiple email accounts, and unlimited storage.
Impressive SEO optimization tools and analytics reports are available to track the performance of your website.
24/7 customer support is what makes Bluehost a preferred choice.
For new affiliate marketers, Bluehost is the perfect choice for its user-friendly interface and undoubted reliability.
Click here to get an exclusive Bluehost discount >
3. HostGator
One of the most popular hosting sites for affiliate marketing, HostGator has reached over 2 million hosted domains. When it comes to price-feature comparison, HostGator (HostGator full review) stands out.
Priced at $2.75/month (starting), HostGator offers unlimited storage, free website builder, unmetered bandwidth, free domain name, and free domain transfer.
The free website builder facilitates you with more than 4,000 templates.
99.99% uptime guarantee, in addition to a 45-day guaranteed refund, make HostGator an impressive hosting platform.
cPanel is not as user-friendly as we have seen with other hosts in this list. This is why I recommend HostGator only to the experienced affiliates marketers. Having said that, HostGator's backend does serve with impressive tools that you may not find with other hosting sites.
HostGator serves you with an impressive Quick App Installer to help ease the installation of the marketing tools.
Signing up with HostGator qualifies to receive $100 each for Yahoo! credit and Google Adwords credit.
Click here to get an exclusive HostGator discount >
4. DreamHost
If you are an entrepreneur or want to become one, DreamHost is arguably the best hosting platform for you. The price, $10.95/month is a bit higher than the rest of the competing platforms. But, it is just in accordance with the additional features.
Signing up facilitates you with free site builder, free domain name, and SSL/TLS certification with its free privacy protection.
As far as the storage is concerned, DreamHost leads the rest by offering unlimited storage, in addition to unlimited bandwidth.
More features include free credits during downtime, and 100% uptime guaranteed.
If you're worried about pricing, anticipating the possibility of not being satisfied, DreamHost offers a 97-day 100% money-back guarantee.
The control panel is customized exclusively to suit entrepreneurial requirements. Other platforms offer one-size-fit-all, which doesn't serve the purpose as much as a customized cPanel does.
It is easy to install plugins and marketing tools, thanks to the one-click installation.
Upgraded optimization and analytic tools give DreamHost an edge over its competitors.
The best and the most attractive feature is that signing up qualifies you for the award of Google Adwords $100 credit so that it becomes easier for you to start marketing.
Click here to get an exclusive DreamHost discount >
Before You Leave…
Setting up a website for affiliate marketing had never been an easy task and most of the enthusiasts ran away just to avoid the complications that come with managing a website.
Thanks to the likes of the above listed hosting platforms, things have become easier and desirable as compared. The good thing is that these hosting sites have opened the doors to impressive online money-making opportunities.
It makes easier for the marketers to focus on the essentials rather than keep struggling with coding and development.
You can choose any of the above-mentioned hosting platforms depending on your preferences.
Don't forget to consider the important factors, including price, user interface, and optimization tools.
If you are a beginner, I'll suggest you to get going with SiteGround. There is nothing wrong with other options, but you need to select the one that is easier and more helpful in terms of customer support.
New to Affiliate Marketing? These will help you start: