BlueHost Review: Honest Review + Performance Data

BlueHost is one of the best technologies out there in terms of its features, fast servers, and solid security for your websites and blogs. It's been around for twenty years and specializes in shared hosting. It has kept its quality consistent throughout the years. With time it has now started offering additional types of hosting services like VPS, WordPress, and dedicated servers. By doing a BlueHost Review, We want to help users determine if BlueHost will fulfil their hosting needs.
This budget friendly web host also offers cPanel and LAMP (Linux, Apache, MySQL, PHP) for users that don't look too deep into the variety of features being offered. With two million websites worldwide, it now claims to be the top hosting company on the basis of hosted sites volume.
BlueHost Review: BlueHost Hosting Features
Here's a little review of what the largest independently operating hosting website, 'BlueHost', has to offer.
The server is also quite quick to work with, and BlueHost has improved their server's hardware, greatly. That has improved its performance and has made it user-friendly.
Overall, BlueHost is a reliable, feature packed, cheaply priced web hosting provider. Easy for beginners and cheap in price compared to its competitors.
BlueHost Performance & Uptime

All this features and user-friendliness is important, but when signing up with a new host, you need to look into performance data and server uptime which is the most important thing. Most hosting providers these days offers many features to users and only after they sign up that they came to know about server issues. Their websites would be down most of the time, and it would take forever to load their sites. That is a nightmare. But fortunately, BlueHost users won't face those issues because BlueHost's server performance is top notch.
Before writing the BlueHost review, We did thorough research and tests on the host and found actual data that helps us determine whether or not it is worth recommending. We have tested many websites hosted on BlueHost including our test sites, and this is the average load time and uptime details:
Avg. Page Load Time: 1195ms
Avg. Uptime: 99.97%
* Last 7 days figures.
BlueHost Review: Plans and Current Offers

BlueHost provides three different options for shared hosting plans for the users to choose from. These are All competitively priced and depend on the number of add-on domains.
BlueHost Basic Plan allows hosting of 1 website and comes with pretty much all the features a new website owner will need. Even though it comes with very basic features, you won't feel it offers less than what you expect for a starter website.
BlueHost Plus Plan allows you to host unlimited websites and comes with premium features and much greater resources and it'll be suitable for most website owners. The Plus Plan also has no restriction nor limitation for storage whatsoever. Plus Plan users receive up to $200 worth of marketing offers/advertising credit.
The Prime Plan is the ultimate hosting plan that will offer you maximum resources and all the premium features you will need. The Prime Plan is introduced with an IP, an SSL certificate, an optional Site Backup Pro service and a few other advantages. Just like Plus Plan, You get $200 worth advertising credit with Prime Plan as well.
However, for the majority of the users, the plus plan and basic plan are more than enough because even the most serious users tend to actively manage only a couple of sites at a time. The pro plan is for extreme hardcore users.
Basic: $3.45/mo – Suitable for New websites
Plus: $4.95/mo – Suitable for most websites
Prime: $6.95/mo – Suitable for websites in need of much more resources
Usability
Using BlueHost for day to day tasks is a delight. Their Cpanel is custom designed and offers much more than what you get from standard Cpanel on some web hosting sites. You can check the live demo of BlueHost Cpanel from below link.
With this demo, You can check how backend looks like. With all the options on Home, Cpanel and much more. You can easily activate some free services provided by BlueHost right from Cpanel home like CloudFlare, Site Backup Pro, and much more.
WordPress Hosting with BlueHost

Most of the people who are looking for a new host are most probably looking for hosting their WordPress site. WordPress being the most used CMS in the world, easy of use and built with flexibility makes it the right choice. So you need a Hosting that not only offers to host the WordPress sites but also offers so much more and is specially optimized for WordPress.
Each shared hosting plan on BlueHost is optimized for WordPress. Some of the features provided by BlueHost for WordPress:
Expert WordPress Support
1-click WordPress Installation
Platform designed to handle WordPress
Free Themes for WordPress
Being one of the best hosting providers and optimized for WordPress, BlueHost is recommended by WordPress.org itself since 2005.
Get Great Discounts on WordPress Optimized BlueHost Hosting

Customer service and Support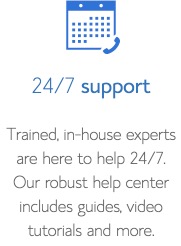 BlueHost has large knowledge bases and is adequate with their customer service. BlueHost's approach is preferable and manageable because it allows you to pick out your issue before calling. That is good for two reasons: One, you don't waste too much time waiting in line and Second, when you reach someone it is likely to be someone who has expert knowledge of what your problem is and how to fix it in a snap.
While BlueHost isn't the only host with the best customer support, It is one of the best. You won't get some 'don't know agent' who will keep asking you questions and won't have any solution to your problem.
BlueHost Hosting FAQs
1. What is BlueHost's Money-back Guarantee?
BlueHost offers 30-day Money-back Guarantee.
2. Is BlueHost good for WordPress sites?
Yes, BlueHost is optimised for WordPress hosting. They also offer special Premium WordPress hosting which is best for the medium to high traffic WordPress site. Though it is a bit expensive given the resources it offers.
3. How easy is it to upgrade to a higher plan?
With BlueHost, You can upgrade your shared hosting account to VPS or Dedicated in just a click. It's really easy and will be done in minutes.
4. How much disk space and bandwidth is included with my plan?
For all unmetered storage and bandwidth plans, There are no limitations. Even though that is the case for most accounts, there will be certain limitations if you use too much disk or bandwidth than normal usage.
5. What payment options are available?
You can pay via Credit Card or PayPal.
6. How do I pay if I don't have a Credit card?
You can use a virtual credit card if don't have a credit card and can't pay via PayPal. With Virtual credit card like Entropay, you can load money using your debit card/bank account to your virtual credit card and can pay to BlueHost with that card. (Indian users face problems with payments, Using a Virtual credit card like Entropay will help.)
7. Can I pay monthly instead of yearly?
No, BlueHost doesn't offer monthly payments. But you get very good savings with yearly options anyway compared to other hosts who offer monthly plans.
8. Does BlueHost Provides SSH Access?
Yes, BlueHost offers SSH access on all hosting plans. But before using it the first time, You might need to verify your account first. Contact BlueHost support for more explanation on that.
Conclusion: BlueHost Review

After spending days researching BlueHost Reviews from other users, testing with our test sites and observing closely, We found BlueHost to be the best web hosting provider for most websites. If you have a high traffic website which needs much more resources, BlueHost VPS plan will be suitable for you but for most websites of low or medium-high traffic, BlueHost shared hosting is perfect option.
So that concludes our Review for BlueHost. If you need any assistance regarding web hosting or anything else, Feel free to Contact Us.