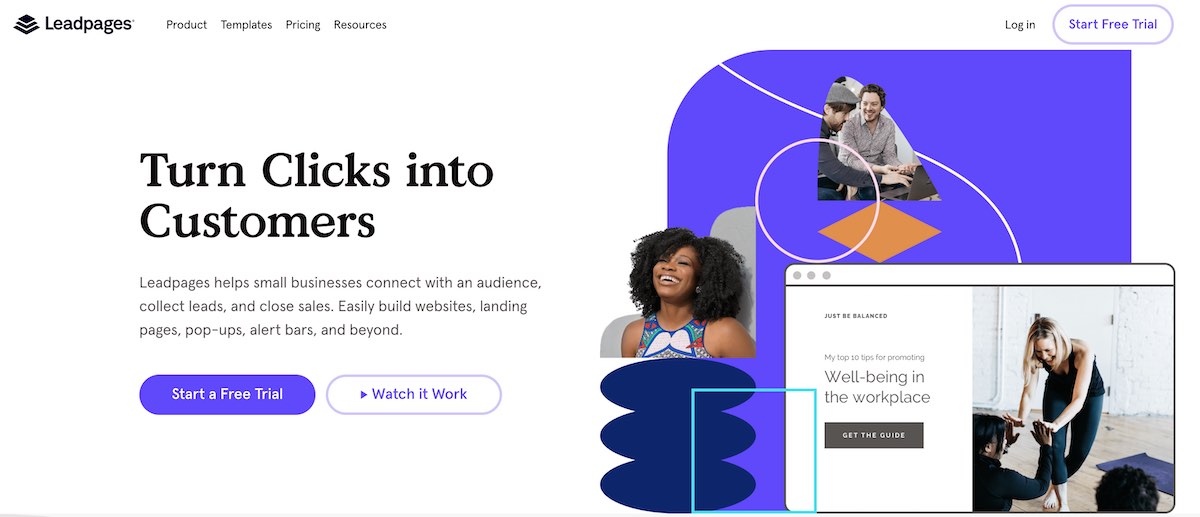 If you are wondering what Leadpages is and what it does, you are at the right place. In this article, I'll tell you all that you need to know about Leadpages. Let start with what it is, shall we?
Leadpages is an online tool that helps you create professional landing pages and provides tons of templates to help you increase your audience. It mainly helps you collect email subscribers. It also helps you create sales pages.
If you still don't understand how it works, keep reading and you'll understand.
What Is Leadpages Used For?
If you are an entrepreneur or have a small online business and need more subscribers, Leadpages is the answer to your prayers. It is used to create professional landing pages in just a few clicks to attract more subscribers.
It also provides so many other templates for making a complete website, which will help you grow your business to another level.
Leadpages has a variety of features, but I'm going to share some of the most important ones for freelancers and business owners.
Here are some very useful Leadpages features you can use:
Webinars
Webinars are seminars that you can give through the web or the internet.
Leadpages offers templates to help you set up everything.
You can convert your live webinar presentations into a Leadpages template and add a chat box too so that the audience can ask questions and interact with you.
Hence, if you are planning on giving webinars, Leadpages should be your go-to software.
Upgrading Content
When you use an email service like MailChimp, you might be totally confused about how to deliver content upgrades without having to add subscribers to a dozen lists and having to pay dozens of times for your subscribers.
Leadpages makes this much easier to fix.
All you need to do is create a new Leadbox in Leadpages and upload your upgrade, which will then be immediately mailed to your new member once they have logged in.
If you want to expand your list with content upgrades, this is an extremely useful tool.
Landing Pages
Creating an attractive landing page on your website is difficult for most people because you would have to mess with your website's coding and could possibly break something.
Leadpages makes it much easier to do. It has about a thousand varieties of templates to choose from, and you can even customize opt-in forms for your landing page.
Now, you may be wondering why you need a landing page when you can just directly bring the viewer to your website.
Well, although you can you do that, it's not very effective. Catching the audience's attention can be hard.
To ensure that the viewer will not leave without subscribing, you need to add a landing page that will do just that.
Create a professional but attractive landing page that will catch one's attention at a glance.
Sales Pages
If you are just beginning and can't hire a developer, Leadpages might be a great alternative to build a creative and converting sales page.
It offers plenty of templates that can be easily customized by anyone, so you'll definitely find something which goes well enough for your website.
Subscribers
The main function of Leadpages is to collect email subscribers. Now, there are various ways to get subscribers, whether it's through opt-ins or text messages.
However, telling people to subscribe through a website URL can be pretty time-consuming, so if you are giving an online session or doing a live video with your social media followers, just tell them to take out their phones and send a text.
Basically, you ask the audience to send a certain word or code on a certain number and they will then get a text to confirm their email to get subscribed.
It's pretty easy and effective.
You can also offer a discount through such text messages. You can ask your followers to text you a message to get the discount code. People love discounts, whether it's useful for them or not. The person will then get an email confirmation text, which will then lead to their automatic subscription.
There are certain drawbacks to only using text messaging, of course.
For instance, it cannot be used worldwide. I wouldn't advise using such a method as the primary strategy for gathering email subscribers unless you're at a conference or own a physical store in which case it might help you grow your business.
Thank You Pages
Saying thank you makes a very good impression.
It makes you seem like a nice, polite person, which is what you want your new subscriber to think.
Thank you pages are as important as landing pages. They make people feel welcome. They may have subscribed for some reason, but they can always unsubscribe and to prevent that from happening, be as friendly and polite as you can.
But that's not the only reason why you need a thank you page. At the end of the thank you note, you can add a little tool to help the viewer to share it on social media. It's a marketing strategy and will help your business grow.
If you have 10 subscribers and don't have such a page, that means only 10 people have signed up and that's the end of it.
However, if you have a thank you page with the option to share, all those 10 people might very well end up sharing it with all their followers, leading to more and more people subscribing to your list.
Video Templates
Leadpages offers all kinds of templates including video templates, which can help you grow your business.
You can make videos about explaining your product or about any topic related to your work.
They are very effective and are highly liked.
How to Use Leadpages?
You will log in after a simple application process and be encouraged to form your first project. Here, you can select an option based on what you want to create.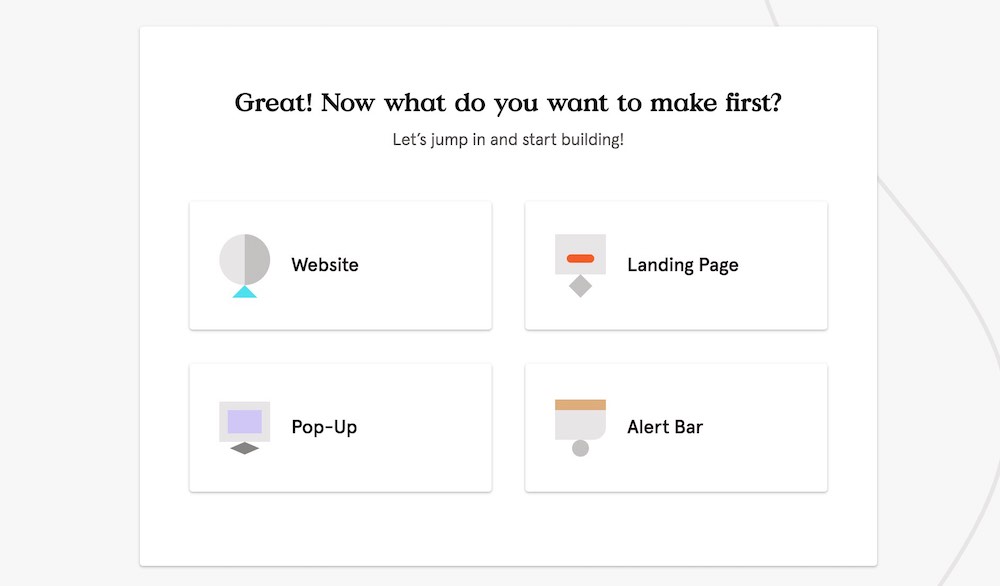 If you want to create a landing page, simply click on Landing page option and it'll take you to the next screen.
Here you can select the purpose of your landing page and what you want to archive with it.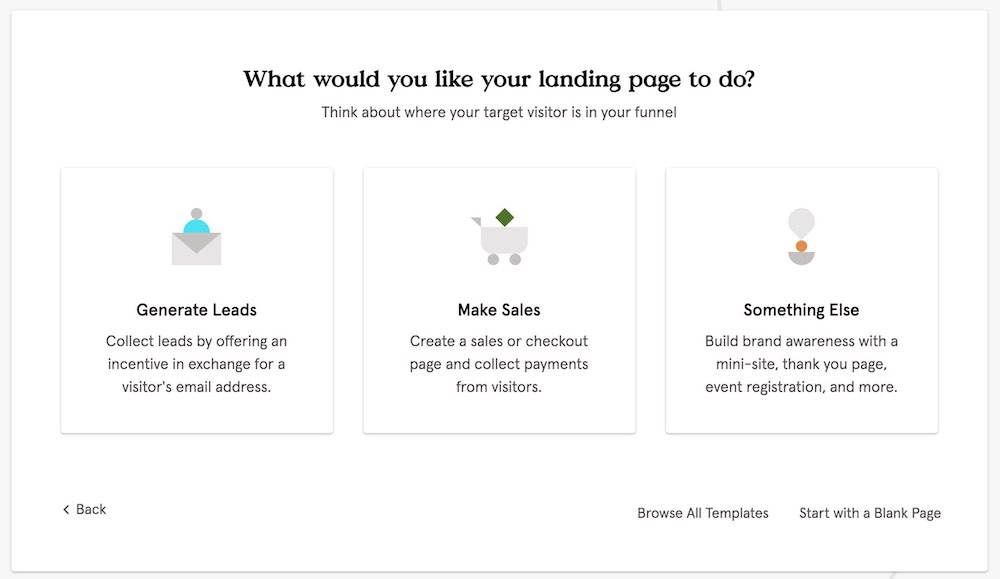 Most people would be looking to create a landing page to make sales. But select the apporopriate option based on your purpose.
Once you select an option out of these, you'll get the option to choose a template to build your next landing page.

It is important to note that the two types of templates are available here. First, you have more customizable and modern drag-and-drop templates. Then, you have your conventional templates which are tested to ensure high conversion rates.
Standard templates with hardly any room for alteration are simple to use. While you can edit the text and substitute the sample images, you can't move any of the components around.
You can choose to hide any item for which you don't have any use, but users need to take care as hiding components hiding can lead to significantly empty spaces.
Once your landing page has been designed, click on the Lead Page Options button on the left sidebar in order to add SEO as well as tracking information. Use this to add information about metadata as well as codes for tracking.
You can now go down the list and save your work before making it public. If you have still not linked your email service provider to your Leadpages account, you will be led to do so. Otherwise, you're not going to be able to save the emails you collect.
Drag-and-drop templates are different. They offer more options than standard templates. The sidebar shows four gadgets, which offer wider editing options.
In order to publish the landing page, open the drop-down menu, click on the user icon on the top right of the screen, load the page where you can link your domain, and select "Domains."
Also read:
Is Leadpages Effective?
Leadpages is very useful for people who don't have much knowledge about technologies.
Setting up a landing page or website online can be very difficult to deal with, especially if you are new to it and have no clue how to market it or grow it.
Leadpages is the answer to all these problems. It's super easy to use and understand.
It is a little expensive, but if you wish to succeed, you will have to invest a little in this amazing tool. Trust me, you won't regret it.
Pros
Easy usage
Variety of templates for each category
Easily send newsletters to your subscribers
Allows you to incorporate SEO into all your pages
Cons
A little basic for pro users
Conclusion
Overall, Leadpages should be the go-to tool for business owners, especially for novices.
It's easy-to-use structure and variety of templates make the task completely simple for you.
If you want stylish, functional landing pages that will help you improve your conversion rate and earn more money, the tool will not disappoint.
However, there are many other options that offer this service, perhaps not at the same level, but there are alternatives that you can consider.
One of them is creating your WordPress site yourself by getting hosting and domain name directly.