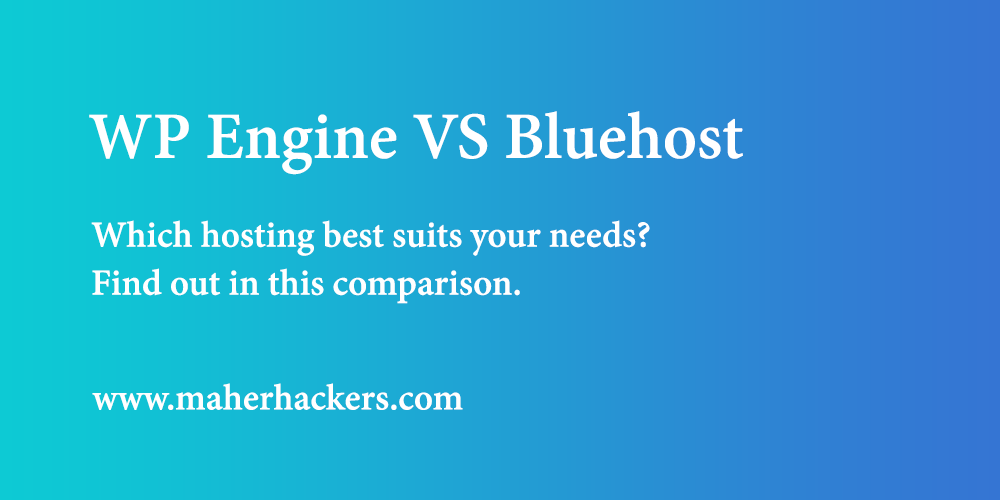 Choosing a web host according to the needs of your company can be hectic sometimes.
You would want to look at every detail of your web host before finally deciding which one will suit you the best.
We bring you the two leading web hosts that offer some of the best features but completely different prices and features.
WP Engine is a WordPress hosting service that is based in Austin, Texas, whereas Bluehost is a cloud-based service that provides web hosting.
We will compare different aspects of these two famous web hosts in this article, so if you really want to decide between the two today, you certainly will.
Price
| Plans | WP Engine | Bluehost |
| --- | --- | --- |
| Starter Plan (First Invoice) | $29.16/mo | $3.95/mo |
| Middle Plan (First Invoice) | $95.83/mo | $5.95/mo |
| Top Plan (First Invoice) | $241.66/mo | $5.95/mo |
| Starter Plan (Renewal) | $29.16/mo | $7.99/mo |
| Middle Plan (Renewal) | $95.83/mo | $10.99/mo |
| Top Plan (Renewal) | $241.66/mo | $14.99/mo |
WP Engine provides you a 60-day free trial, so you can easily decide between continuing with it after two months or switching to another web host.
There is a personal plan which does not cost too much, but the professional plan costs a bit more.
The business plan can seem expensive if you have a small-scale business, but if your business is quite large, you probably do need this plan.
The business plan has some of the best features that this service can provide and ensures that your business doesn't suffer. It costs more than Bluehost because of the added features you use each month.
Bluehost, on the other hand, has many price points that you can choose from according to your budget. It wants you to feel comfortable and not feel pressured about the money you pay each month. It looks for your trust.
Bluehost's most basic plan starts from such a low price that anyone can afford it.
If you have a small business and can't afford too much, this is the best plan for you. For large businesses, the Plus plan (which costs just a bit more than the basic plan) is perfect. The Go Pro is the master plan of them all that offers every feature supported by Bluehost.
Speed
WP Engine is very proud of providing high speeds. The pages of the websites it hosts load in mere seconds. It has its own servers that do this job efficiently.
While the speed provided by Bluehost is not as fast as WP Engine, it is somewhat comparable. If you have a premium plan, you would get speed worth talking about.
Loading Speed of a Website Hosted on WP Engine:

Loading Speed of a Website Hosted on Bluehost:
Features
WP Engine provides the latest technology. Some of its features include:
Firewall
Malware Scan
EverCache
SSL ready
CDN ready
Daily backups
1-click restore
It has a highly successful system and architecture that does not let your business suffer in any way. It delivers up to 800 hours of service to its clients so that you don't have to worry about anything once you have signed up for its plan. It has hired engineers to help it improve every day.
On the other hand, Bluehost makes sure that every feature it provides gives you satisfaction and you would want to come back to its service even after years. Following are the features that Bluehost offers:
Fast servers
Power and user account backups
True resource management
Control panel
PHP
Uptime guarantee
Joomla
WordPress
Linux
Perl
SSH secure shell access
It is known to give 24/7 customer support, which we will talk about later in this post. All of these features have satisfied many customers over the years.
We have done many comparisons between WP Engine and SiteGround, WP Engine and WPX Hosting, Bluehost and Godaddy, Bluehost and SiteGround, Bluehost and Namecheap, and Bluehost and WPX Hosting. So do check them out for more thorough research.
Customer Support
WP Engine makes sure you get its support on every step of your journey. In order to make your life a whole lot easier, it has added links on the website to help you understand every part of the website properly.
Even if you get stuck somewhere and cannot understand something on any link, it can help you out through its customer support team, which is available every second of every day.
Bluehost customer service is similar across the board. It has an entire dedicated help center where everything is at your disposal.
In addition to helpful links, it provides videos to help you out at all times. Videos tend to make it a lot easier because you don't need someone to spoon-feed you. You can watch every step, know exactly how to do it without any confusion and apply it in seconds.
Furthermore, it offers an in-house service, where someone would be always available to help you out.
Hence, if all other avenues fail or if you directly want someone helping you in real time, you can easily make a phone call. Customers have rated this service 99 out of 100 because of all the support it provides.
Conclusion
WP Engine and Bluehost are both among the leading web hosts and are popular choices.
When compared, WP Engine costs a lot more than Bluehost, so if you have a business that generates a lot of profit per month and you only have a WordPress site, you should definitely think about getting WP Engine.
Otherwise, Bluehost gives the best service at an affordable price.
The speed of both web hosts is great, but for Bluehost, you need to have a pricier subscription to enjoy unlimited speeds. They both offer excellent customer support services with additional benefits.
Each host has its positives and negatives. If we were to advise you to choose between the two, we really can't because every person has different needs according to their business. You can even check out the websites of these two to make sure you make the right choice.
We generally recommend that you think about Bluehost if you have a small business, but if you have a company that deals with thousands of clients each day, you should look toward WP Engine.
However, again, your choice might differ due to your requirements.
Hence, your choice between WP Engine and Bluehost will come down what you are looking for.
That's it for our comparison of WP Engine Vs Bluehost. Did you find your perfect hosting based on your needs?
Whichever it is, Sign up using the links below and receive exclusive discounts: