Finding the right hosting service for your website at the right price and good quality is hard.
That's why we are always reviewing hosting services to help you find the one that suits your needs.
After reviewing MDDHosting, I found that it is a highly underrated hosting service.
Here is our unbiased and most detailed MDDHosting Review.
About MDDHosting
MDDHosting is a private web hosting company that was founded in 2007.
Its headquarters are found in Mooresville, Indiana and data centers in Colorado and Denver.
When looking for a hosting company, the following three qualities are essential: Speed, Uptime, and Service.
These are the core values that make MDDHosting stand apart from the rest.
It offers shared hosting both to private servers which are handling data for big companies. It is a relatively small company but it is growing by the day as more and more businesses and people are using MDD for web hosting.
Over the years, they have upgraded their servers to newer, more capable hardware, faster and more dedicated and experienced staff.
However, one thing has remained constant over the years – the quality of their support. In the shared hosting space, the MDDHosting has the best technical support.
In addition to that, they have also introduced many new features such as Litespeed Cache support, Let's Encrypt and StorPool powered servers which have better uptime.
They updated their entire network recently which has made their servers very stable and responsive.
MDDHosting's new network has self-healing SSD servers which have increased their operation per second by 900% and a bandwidth increase by 1200%.
The overall outcome of these updates is better uptime and exceptional reliability.
Also read, More Hosting Comparisons:
Pros of MDDHosting
Speed
When it comes to server performance, MDD's shared servers are incredibly fast.
They are among the top 5 hosts, speed-wise in web hosting.
Here are speed tests of a website hosted on MDDHosting: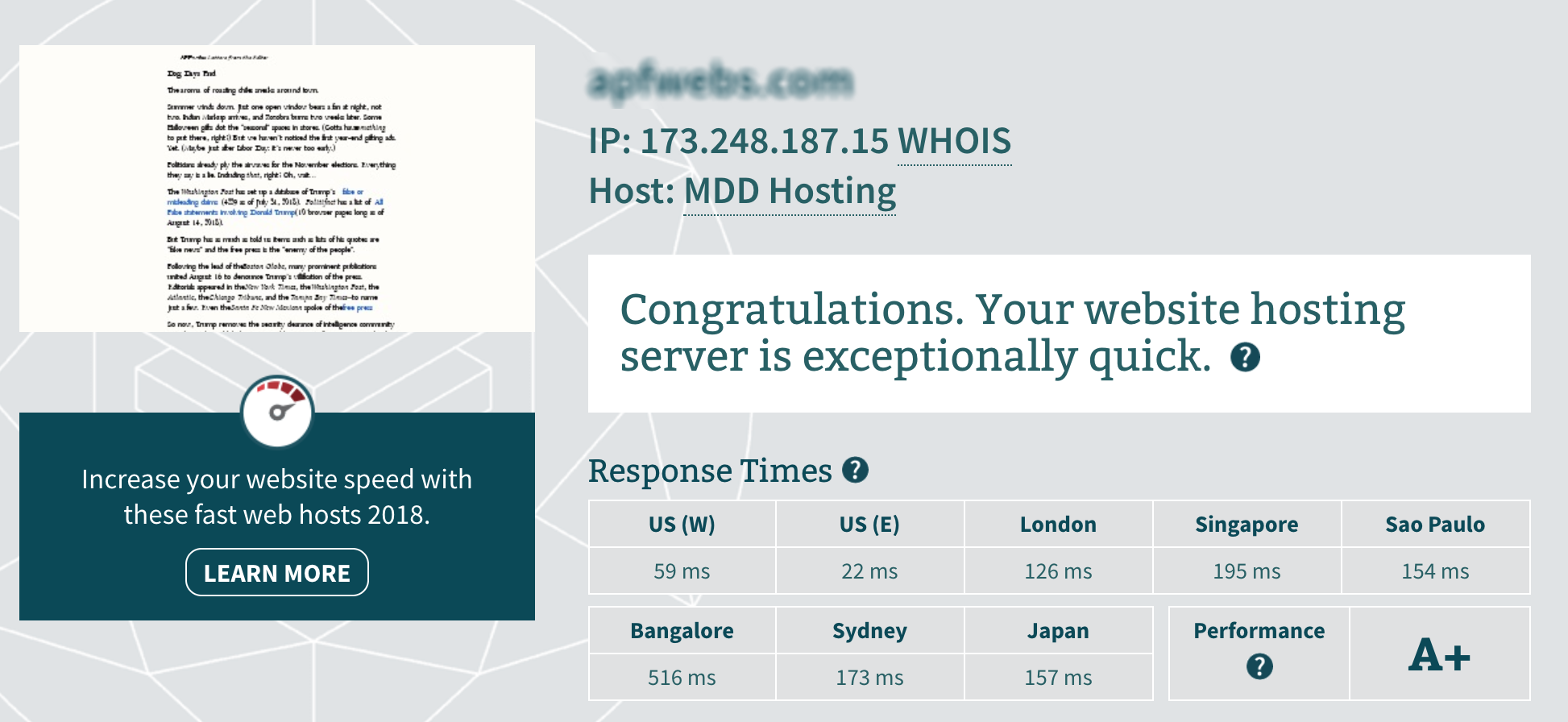 This is an incredible speed compared to other hosting companies.
All websites hosted by MDDHosting have very fast page loading time.
Even during peak hours, their loading time is very fair. Also, irrespective of the location of the customer from the server, there is no much difference in the loading time.
Any website's speed under 2 seconds is considered fast. A speed range of between 2 and 3 seconds is termed average and speed above 3 seconds is considered slow. MDD's speed is approximately less than 1 seconds, which is very fast.
MDD's high speed is due to the following factors:
Their servers are powered fully by SSD. This leads to a faster speed of I/O times
They use the StorPool storage platform. This storage platform allows the user's data to be stored in more than one driver at the same time. Besides that, the platform allows the data to be accessed from more than one driver at the same time. This greatly increases the I/O performance per second.
They use the LiteSpeed Web Server. This server supports the LiteSpeed Cache module. This is the best and fastest caching solution for WordPress hence high speed.
They support the latest PHP version. The 7.2 version has a faster performance as compared to HHVM.
The factors listed above indicate that MDD Hosting gives site speed a lot of importance.
You can also see that they are very proactive in server performance.
They have ensured that they achieve this by constantly upgrading their servers and installing faster, better and newer hardware and software.
They go this extra mile to improve their web reliability and performance.
Uptime
MDD Hosting has an exceptional uptime. They do not have downtimes which makes it the best shared hosting company.
They are the first hosting company to offer 1000% uptime guarantee.
The reason behind their unbelievable uptime is their StorPool powered hosting servers.
These servers are "self-healing" due to the redundancy of data.
In other words, the data of a user is shared across many SSDs which are also interconnected with each other and synced in real-time.
The advantage of data redundancy is that in case one server fails, a client's website will be served by another drive which contains the same data in your site.
Their uptime is the best because they use LiteSpeed which is 9 times faster as compared to Apache.
Another thing that is making their uptime fast is because they are protected by the "R1Soft Continuous Data Protection," this protection allows you to restore your data on a daily basis or even go back up to 7 days.
Security
MDD Hosting has the best data security system.
When you sign up with them, you do not have to worry about your data being lost. You can restore any of your data from their backup points.
MDD has security features such as user authentication, firewalls, and daily backups.
In addition to that, they also have frequent notifications whenever a change is made. These notifications are crucial because they will help you notice any suspicious activity so that you can protect your account.
Reliability
Despite the fact that MDDHosting is relatively a small host, it is very reliable. It does not go down except during normal maintenance schedules.
In addition to that, it does not have performance problems hence it is a reliable host.
Having powerful hardware and software, you don't have to worry about your website going offline every now and then like most cheap hosting solutions.
Dedication
MDD Hosting is focused on offering hosting services. They do not offer any other services and their focus on one area has enabled them to do their work very well.
On their About page, they say that "We do not see our clients as a number or a dollar sign."
They are dedicated to proofing their statement right. They do not give excuses for their services but deliver what they have promised.
Customer Support
MDDHosting has a super-fast customer support 24 hours 7 days a week. They can reply in less than 5 minutes and any of your problems can be solved within an hour of you contacting them.
However, if your problem is more complicated, it might take longer to solve. Their support team is very capable and efficient.
Their customer support is available via support tickets, emails, and phone calls. Their phone call services are meant specifically for sales and bills related inquiries. Also, they are available during the normal working days from 8 am to 4 pm.
They do not have live chats but you can use their ticket support system.
With the ticket system, you will provide all the necessary information about your problem, attach screenshots if necessary and submit your ticket.
Once you have submitted your ticket, within a short while your issue will be resolved. The main advantage of the ticket system is the freedom it gives you. You do not have to be put on hold as you wait for someone to attend to you.
MDDHosting has one of the top-notch customer care support on every step of their services.
See the MDDHosting support reviews from real customers: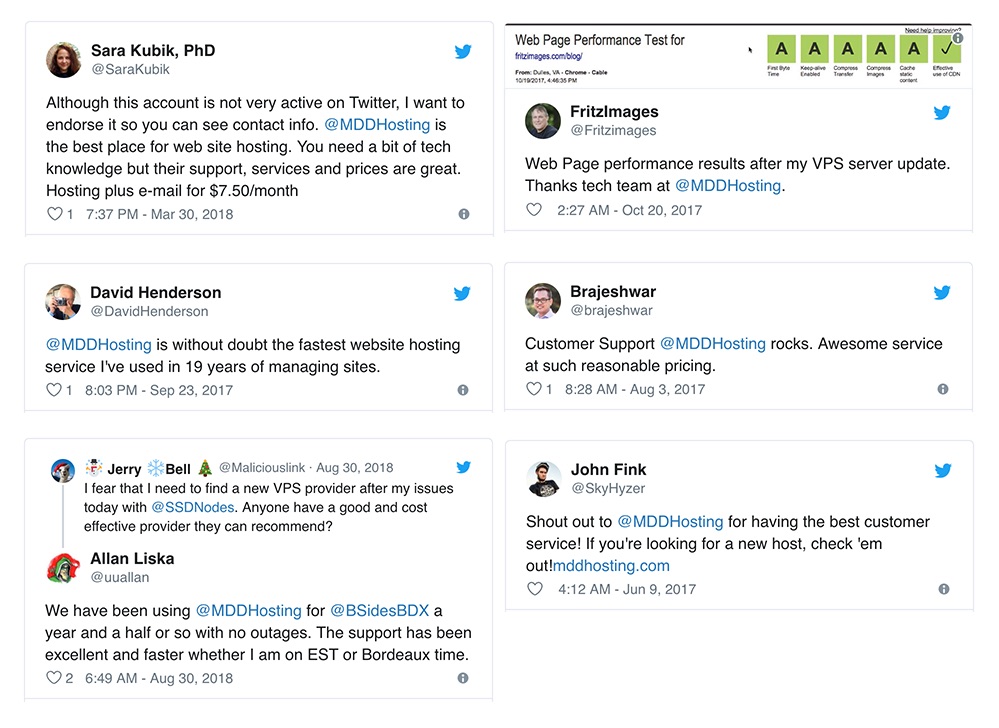 Cost
There are different hosting plans and therefore, each plan has a different cost. However, their hosting costs are not the cheapest on the internet.
But on the positive side, their cheapest hosting plan in Cloud Starter and it does not have a limit on the number of domains that you can host on this plan.
Unlike other hosting companies, MDDHosting offers you unlimited domain hosting on their starter hosting plan.
Their best hosting plan is cloud 1 which is meant for medium to high traffic sites. This plan has unlimited storage space.
Billing Policy and Procedures
MDDHosting has very competitive prices across all their hosting plans. As a user, you can register with them for many years at a go.
If you wish to be their long-term client, you can register with them for up to 10 years.
The good news is that no matter the number of years that you register with MDD Hosting, you are still eligible for the one-month money-back guarantee.
If within one month of signing up you are not satisfied with their services, you will get back a full refund of all your money except any additional setup fee that you might have incurred during signing up.
Money Back Policy
Within a month of signing up with MDDHosting, if you are not satisfied with their services, you have the freedom of canceling their services and you will be refunded your money.
However, the following conditions must be met before applying for a money refund.
You cannot be refunded your money if:
You paid for a domain
You bought any customized software
You bought a dedicated server package
Your web was stopped or terminated by MDD Hosting itself
You paid any installation fee
No Upselling
Unlike most web hosting companies, MDD does not have upsells.
Right from the time you sign up with them, they will not try to sell you anything that was not in the original plan.
This is actually very important because most of the other hosting providers will try to upsell you in so many different ways while you are registered with them.
Free Offsite Backup
Most hosting companies charge separately for offsite backup or sometimes when you want to restore a backup.
MDD does not charge for their offsite backup. You can restore the backups either in full or partially from their offsite backup.
Their offsite backup usually stores your site's data for 7 days.
Free Lifetime SSL
MDD offers both cPanel's AutoSSL and Let's Encrypt which you can use to install SSL to your domain free of charge.
Additionally, it automatically renews itself hence you will not need to renew it manually.
Free Transfers
If you would want to transfer your website from another hosting company, MDD will help you do so for free.
There are no hidden fees involved.
Many other hosting companies charge as much as $150 to migrate your data from your previous host.
Free Cloudflare Railgun Support
Are you a CloudFlare user? Well, you are well aware that with other hosting companies it costs $ 20 per month. But if you choose to host with MDDHosting, you will have it free of charge. This is due to their partnership with Cloudflare.
The advantage of using this feature is that you will enjoy the faster connection between your server (MDD host) and CloudFlare's CDN server. This will lead to overall faster web performance.
MDDHosting has one policy, "what you see is what you get. " Their hosting services are straightforward. They do not change their prices except those advertised on their website. Also, they do not limit any of their features. Most importantly, you can opt to pay either on a monthly basis or annually according to your needs.
This is good for money interest because MDDHosting does not change anything extra. They do not have any limited options except for their cheaper hosting packages. And if they have any limitations, they indicate them clearly.
Otherwise, whether rich or poor, expensive plan or cheap, they all have similar features.
Cons of MDDHosting
There are two sides to a coin. The following are the cons of MDDHosting:
Cost
As already indicated above, MDD Hosting has excellent uptime, speed and customer support among other things. But their cost is a bit higher as compared to other companies.
Their Cloud1, the most suitable plan starts at $9.99 a month or $7.00 per month if you subscribe to their annual plan. This is among the most expensive shared hosting cost.
The following are some of their shared hosting plans and their costs:
Cloud Starter plan – this hosting plan costs $5.99 / month. The plan has features such as unlimited domains, unlimited email accounts and databases, 10 GB disc space, unlimited bandwidth.
Cloud1 plan – this hosting plan costs $ 9.99 a month. Some of the features that come with this plan include unlimited disc space, unlimited databases, domains, data transfer and so much more.
Cloud2 plan – this hosting plan costs $ 19.99 a month. It comes with features like unlimited bandwidth, disc space, domains, email accounts and databases.
Lengthy Signup Process
MDD Hosting has a very lengthy signup process. However, their account activation is very quick.
Limited Emails
If emailing is your primary means of communication on your website, then you might want to consider this limitation. If you send more than 2,000 emails a day, MDD will limit you on that. However, there is an explanation for that.
The big number of outgoing emails put a server on the danger of being blacklisted. In addition to that, it makes the server more vulnerable to spam. Therefore, it all depends on your email needs.
If emailing is crucial to your website's communication needs, then it is crucial for you to consider this email limitation with MDD Hosting.
Also read:
Services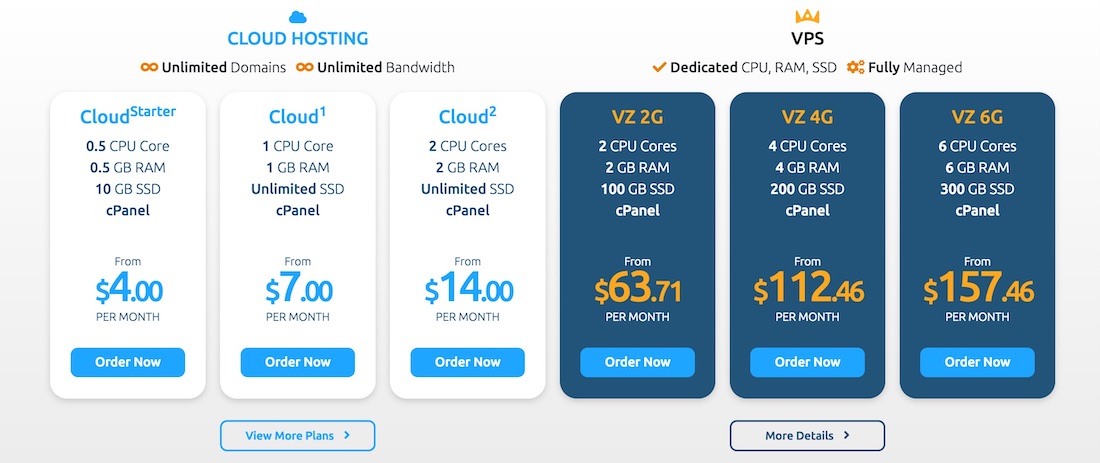 MDD offers a wide range of services that are meant for a site of different sizes.
Their services are ideal for big companies and even individuals such as bloggers.
The following are some of their hosting services:
Cloud Hosting (Shared Hosting)
They have the most varied shared hosting plan compared to other companies offering similar services. Their different plans are meant for websites of different needs.
Unlike most web-hosting providers, MDDHosting offers Cloud Hosting as Shared Hosting. These plans have more resources than shared hosting. They also have better bandwidth, free LiteSpeed and up to 14 CPU cores.
There are different plans based on needs. So no matter what your requirements are, there are plans for everyone: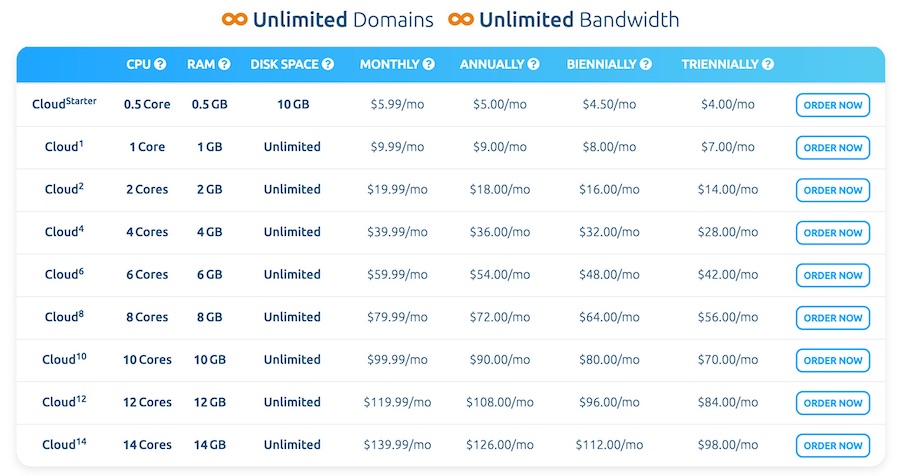 Besides that, you can either upgrade or downgrade easily to suit your website's needs. Most of their shared plans have the best features such as fewer websites on the same server. This ensures a higher speed.
The shared hosting plan does not have a setup fee. It also has unlimited email accounts, forwarding, auto-responders, unlimited domains and subdomain support. If you choose to pay your bill annually, you will get a discount.
They have three plans under the shared hosting plan and they are basic, intermediate and advanced packages.
The MDD shared hosting plan has a clean and crisp interface that is user-friendly more especially to a newbie in web hosting. For experienced web hosting users, you will find everything that you need to make your hosting experience joyful.
Additionally, you will get all the apps and scripts that you will require to create, maintain and promote your site.
VPS Hosting
VPS Hosting is mostly designed for medium-sized websites that need a little more speed and control so as to remain competitive in their respective niches.
This hosting plan offers you more control over how your site server is configured and the bandwidth that suits your shared hosting needs.
Like the other hosting plans, this plan is free to set up as well. They use the CentOS 6 operating system which grants you full access to the control panel. Similar to other hosting plans also have a discount for the annual billing plan.
This hosting plan might be a bit expensive – $75 per month but it has a number of impressive managed services. Some of the managed services that you will enjoy include US-based phone support. Fast and reliable servers and several other add-ons.
It also has a user-friendly interface which is good for newbies. With this plan, you can get your website up and running within a short time.
There are three major plans under the VPS hosting plan and they are basic, intermediate and advanced. Each of these plans comes with a high level of security, speed, and reliability at no extra cost.
Reseller Hosting
Are you looking to expand your online business? With this reseller plan, you can resale hosting packages and become a reseller of domain names to different clients.
MDD Hosting allows you as their client to resale their hosting packages. As you do all these, the company will give you all the infrastructure and support you need to carry out the package reselling business.
Also, just like the shared hosting plan, the reseller hosting does not have a setup fee. Similar to shared hosting, for annual billing under this plan, you will get a discount of 5, 10 or 15 dollars a month. There are three packages under this category as well: basic, intermediate and advanced.
MDDHosting Vs Similar Web Hosts
There are many other web hosting companies that are offering very similar hosting services. Some of the other companies that have similar services include Inmotion Hosting, StableHost, SiteGround, Bluehost to mention just but a few.
However, when compared with the other companies, MDD Hosting stands apart. Here's a simple table that shows you why:
| Features | MDDHosting | StableHost | SiteGround | Bluehost |
| --- | --- | --- | --- | --- |
| Cloud Hosting by Default | Yes | No | No | No |
| Websites on Basic Plan | Unlimited | 1 | 1 | 1 |
| SSD Storage on Starter Plan | 10GB | Unlimited* | 10GB | 50GB |
| Site Builder | SitePad Site Builder | Site.Pro Site Builder | Weebly Site Builder | Weebly Site Builder |
| Free Backups | Yes | Yes | Yes | No |
| Site Migration | Free | Free | Free | $149.99 |
| Pricing from | $4.00/mo | $3.50/mo | $3.95/mo | $3.95/mo |
As you can clearly see, MDDHosting offers features that competitors don't. That, together with high-quality hardware makes it a wise choice for anyone looking for quality hosting.
MDDHosting Review Conclusion
MDDHosting is a wonderful host.
They have proven over the years to be the most competent and reliable hosting company that delivers services worth the money they charge.
If you decide to use their services, you can be sure that you will not have to put up with slow loading time, downtime or careless customer support.
They treat their clients with uttermost respect. Even if their cost per plan is a bit higher as compared to other companies, but their services are worth every penny that you pay.
MDDHosting is ideal for any kind of website.
However, it is most suitable for small businesses and individual bloggers. You can give it a trial today to verify this review.
Anyway, if you do not like it after signing up, you can get back your money within a month of signing up.